A part-time UberPool driver got attached to his flight stewardess passenger after he picked her up, literally.
This occurred three months ago when the driver, Dylan, picked up his passenger, Dora, who was on the way to the airport in an UberPool ride.
An UberPool ride is where the car and driver is shared among other paying commuters who are on the way and the cost is split so everyone riding pays less.
Dora was the last passenger to be dropped off, leaving them the opportunity to chat a little bit more.
The casual conversation between driver and rider revolved around how was her job, why she chose to be in her line of work and which university did she graduate from.
However, Dylan did not ask for her number during the trip as it was not the right thing to do since he was providing a service.
So, he turned to his social network and asked friends, and friends of friends about her.
Within two days, a "friend of a friend of a friend" got back to him.
Through this intermediary, he asked whether she remembered him and she said she did.
He then asked whether it was alright for him to get her phone number. And she said yes.
The couple just celebrated their first Valentine's Day together.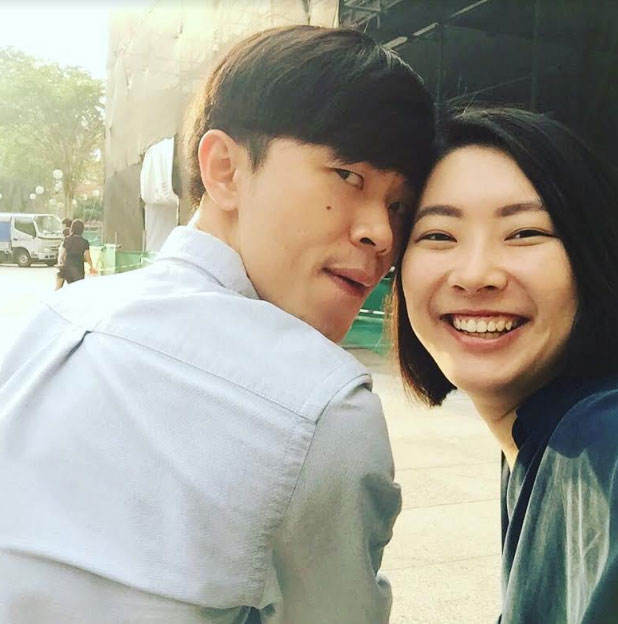 Here are some questions we asked Dylan:
1. Do you think your story brings hope to other UberPool drivers who might be looking for love while plying the roads?
My story isn't typical -- it really depends on a person-to-person basis. I like to talk to my riders to connect with them and, at the same time, keep myself awake.
2. Was your girlfriend creeped out initially when an UberPool driver sought the help of a friend of a friend of a friend to look for her, despite only meeting for a short while?
I started the conversation with her talking about general topics -- how's her job, why she chose to go into that line, where she graduated from etc -- general and friendly topics.
3. Would you recommend other UberPool drivers do the same, such as asking a friend of a friend of a friend to look up a passenger?
I asked around friends and friends of friends, and when one of them got back to me, I did say to ask her if she remembers me (she did) and let her know that I wanted to get to know her better, and if she would be okay with me having her number. We then started chatting, meeting up and going for suppers.
4. What was the opening line you used to reconnect?
How do you find your job?
This is an important article to check out for the week:
10 modern day mathematics questions that schools should use to prep students for the cruel world
If you like what you read, follow us on Facebook and Twitter to get the latest updates.
If you like what you read, follow us on Facebook, Instagram, Twitter and Telegram to get the latest updates.