This story reads like something straight out of a Hollywood movie script, but what you're about to read is entirely real and poignant.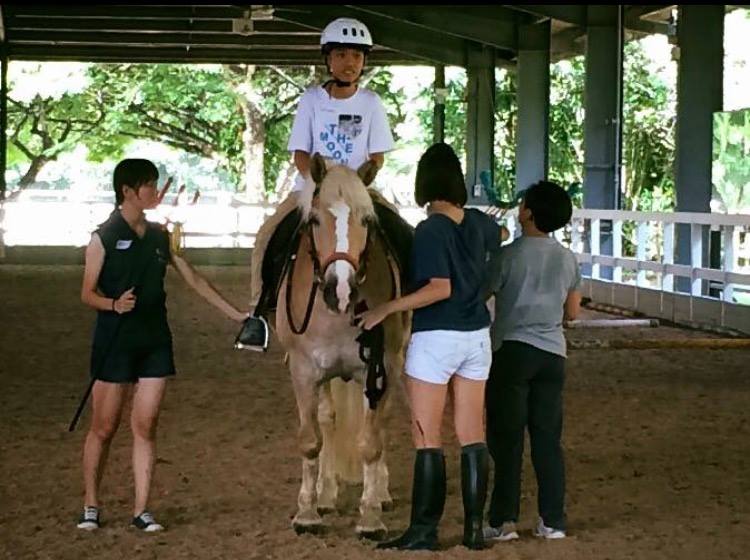 This is Malcolm Lim.
He is 13, and was diagnosed with Autism Spectrum Disorder when he was around three and a half years old.
The beautiful horse he is riding is Lukas, a therapy horse at the Singapore Riding for the Disabled Association (RDA).
Now, just as a sidenote, RDA Singapore is a charity organisation founded in 1982 that provides free horse-riding therapy programmes for children and adults with disabilities. It also happens to be the first and only one here that does this.
Lim's letters to Lukas
Lim, who is completely non-verbal (he does not speak at all) in his communication, started writing for the first time by penning his thoughts about horse-riding in his diary in May last year. This, in itself, was a huge breakthrough for him at the time.
Consciously or not, the boy struck up an unlikely friendship with Lukas as he rode with him in therapy sessions. But on Sep. 25, Lukas met with an accident when he was jumping in the paddock, and had to be sent to the veterinary hospital for treatment.
Lukas's vital organs were thankfully spared from injury, but the accident left a huge gaping wound which required close veterinary care and attention.
According to Lim's mother, he was never taught how to write a letter, but for the sake of writing to his injured therapy horse, Lim began to write sincere, loving letters to Lukas.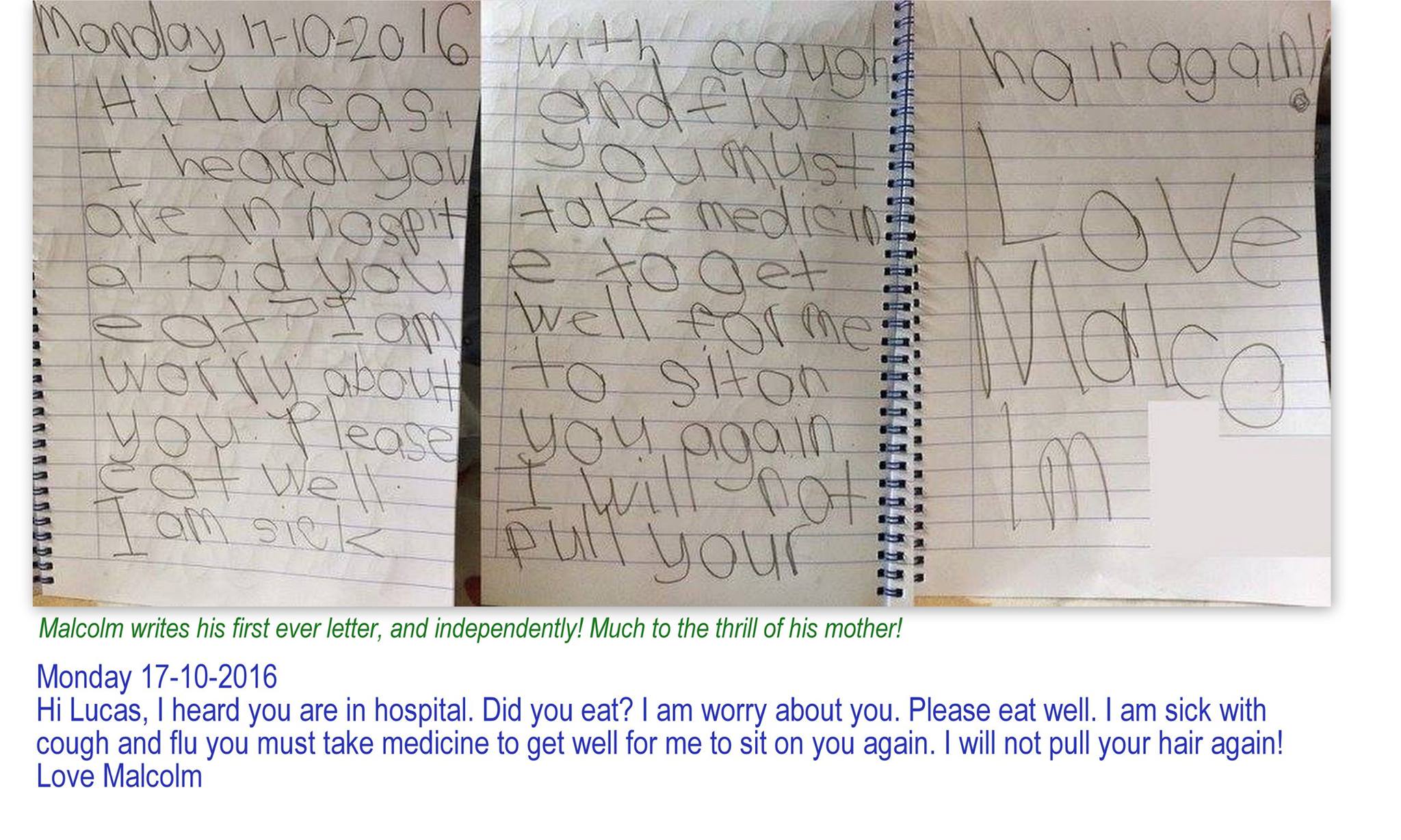 Moved by this change in him, an RDA volunteer printed the letters Lim wrote and presented them to Lukas, who joyfully licked them as a reciprocal gesture.
His bandage was also cutely signed with a friendly greeting addressed to Lim:

Lim was over the moon — in this letter, he writes that he was deeply humbled by the experience, and that Lukas had given him a special warmth of friendship and understanding that no one else was able to.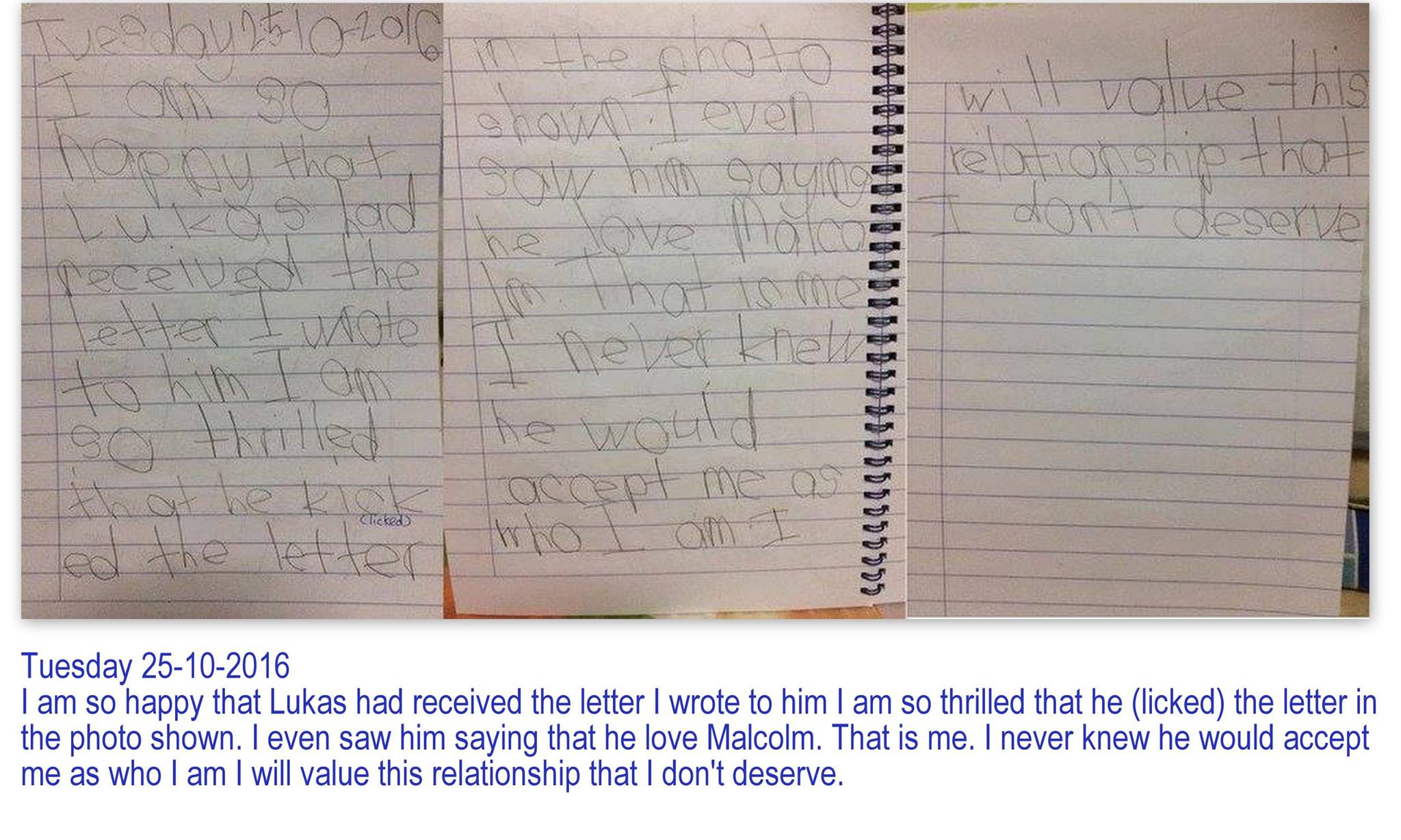 Mutual support
With the help of a lovely human, Lukas was able to write a reply to Lim, who was also struggling with bouts of seizures and other problems. The letter reassured the boy, even giving a few words of encouragement to him: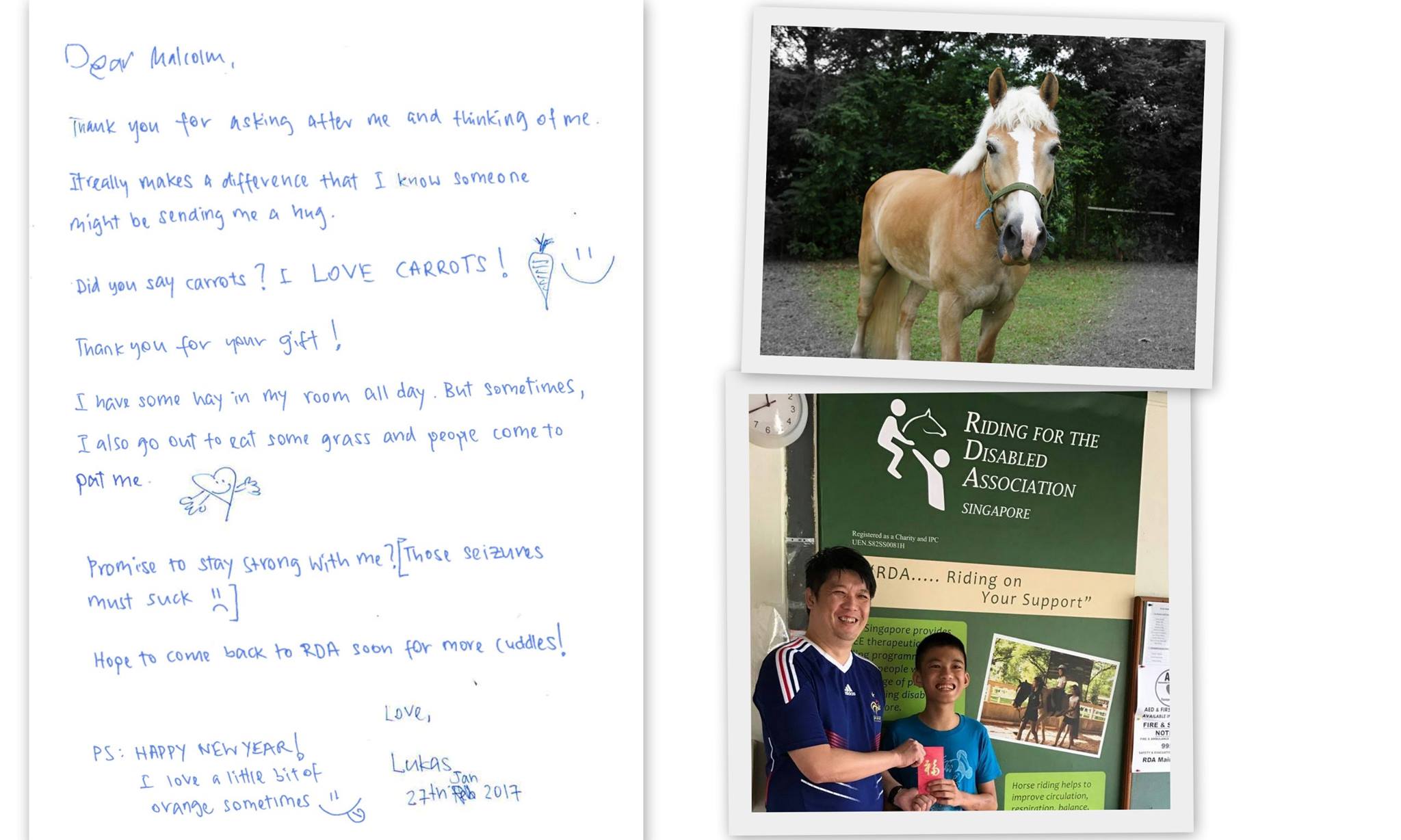 Dear Malcolm,

Thank you for asking after me and thinking of me.

It really makes a difference that I know someone might be sending me a hug.

Did you say carrots? I LOVE CARROTS!

Thank you for your gift!

I have some hay in my room all day. But sometimes I also go out to eat some grass and people come to pat me.

Promise to stay strong with me? (Those seizures must suck :()

Hope to come back to RDA soon for more cuddles!

Love, Lukas.

PS : HAPPY NEW YEAR! I love a little bit of orange sometimes.
With both struggling with their personal difficulties together, Lim entered the Chinese New Year sharing his anxiety and frustration with having to face prying relatives with Lukas, now clearly a kindred spirit to him: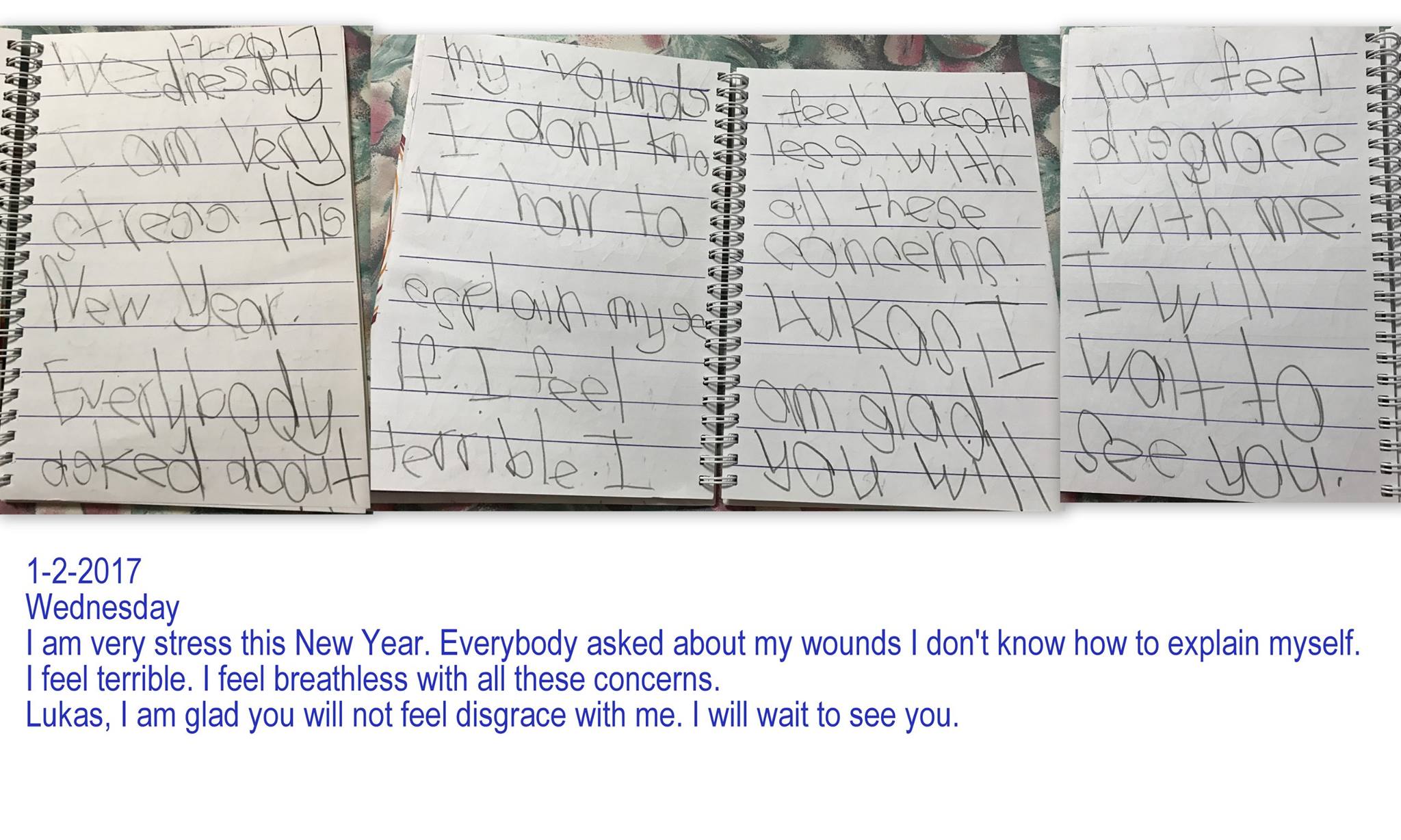 Even on happy days, Lim's diary entries were centred on Lukas and his well-being: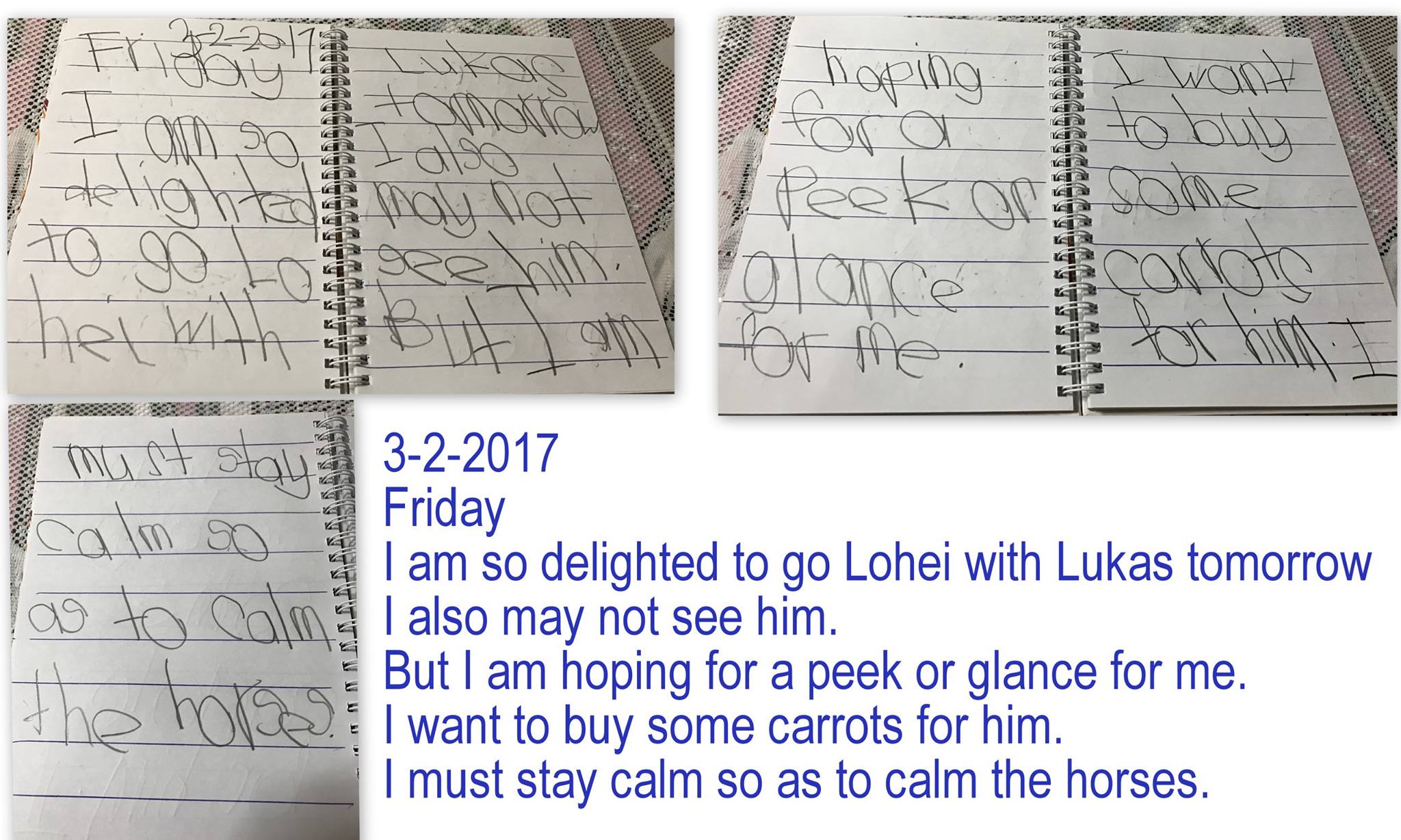 He wanted so much to see Lukas that he hoped to at least meet him in his dreams: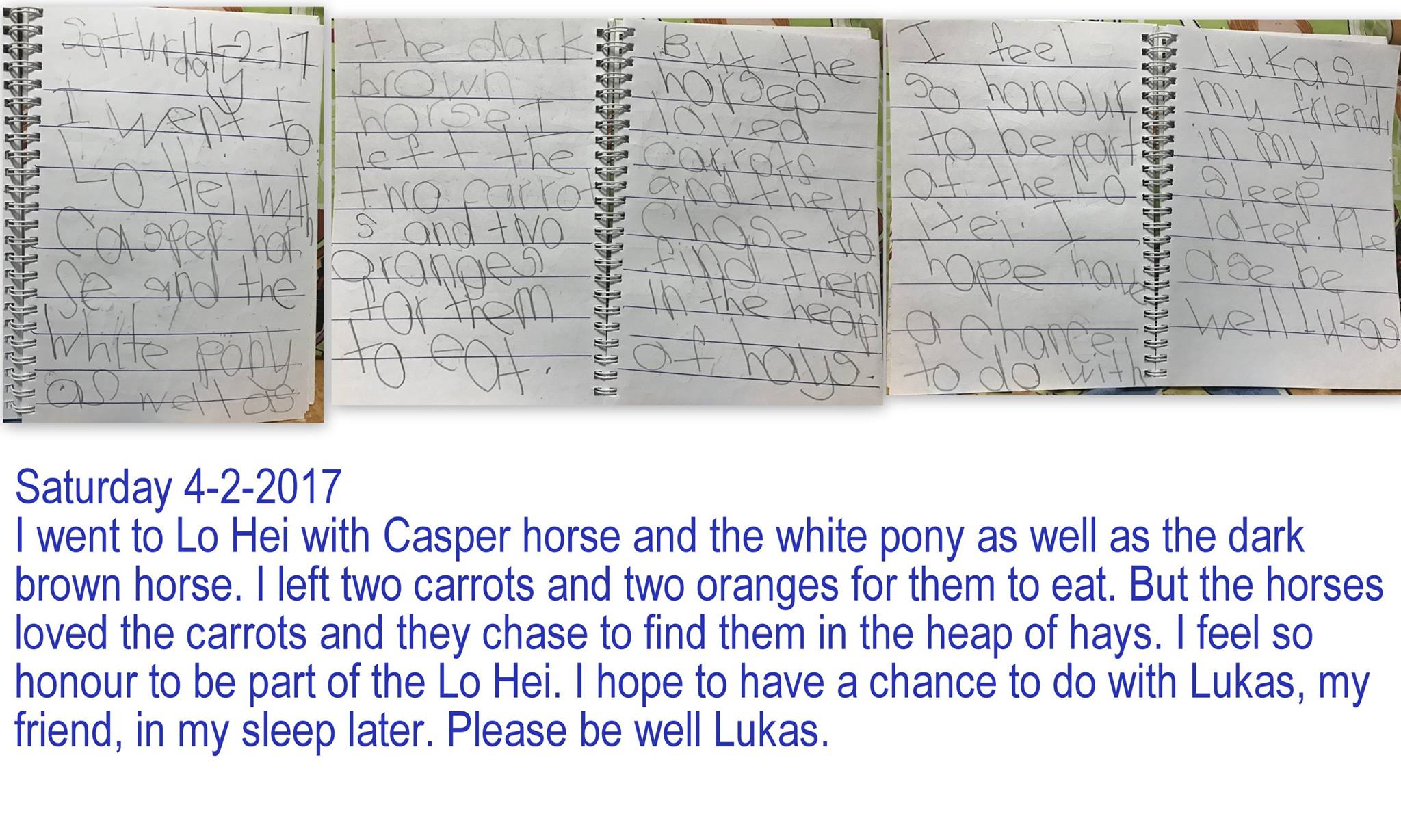 Lim's words and the feelings he shared in his letters reveal poignant but astute observations of the world, sharing with Lukas how much he envied the carefree life of a horse, without having to cram into lines, both of the literal and metaphorical kind, for instance: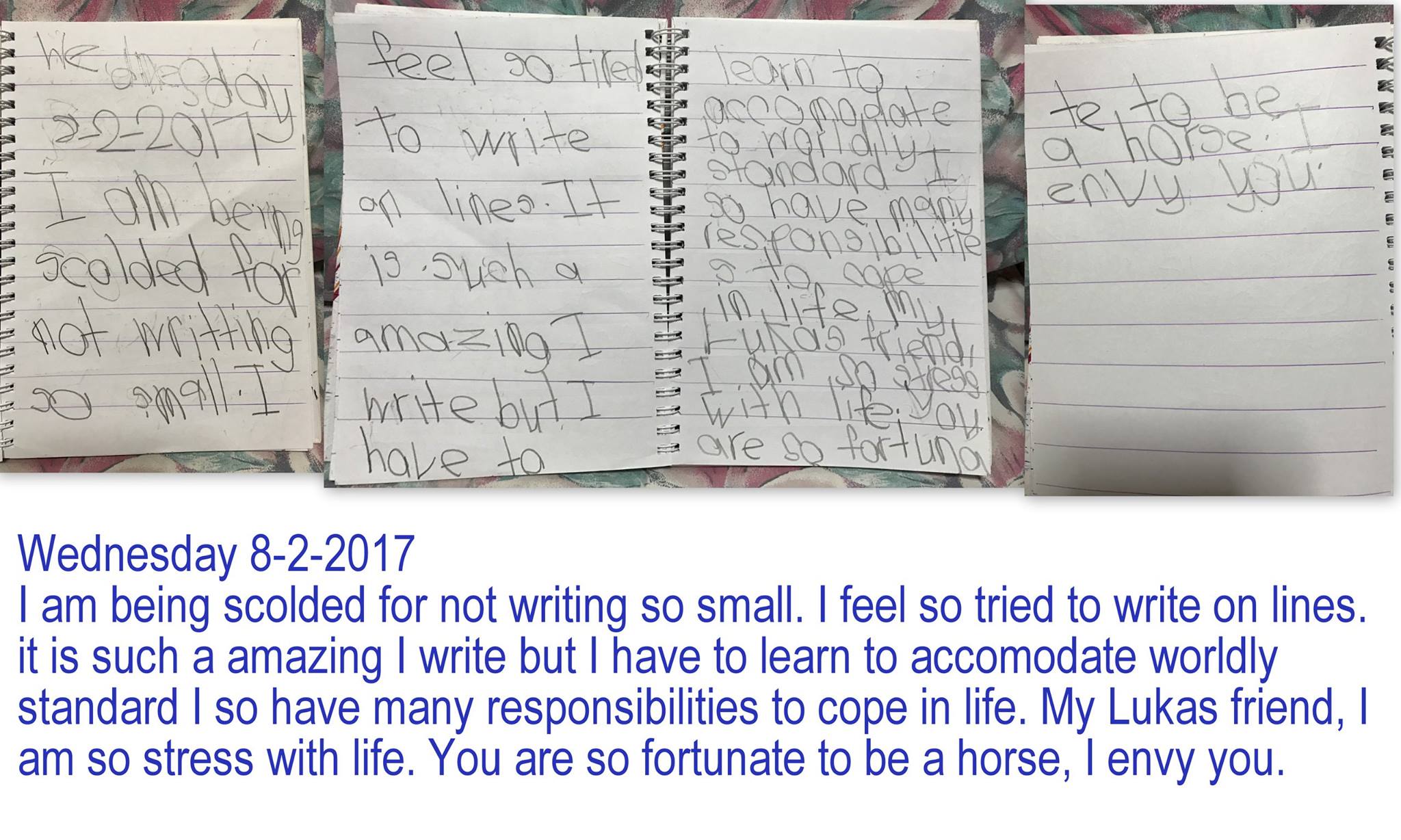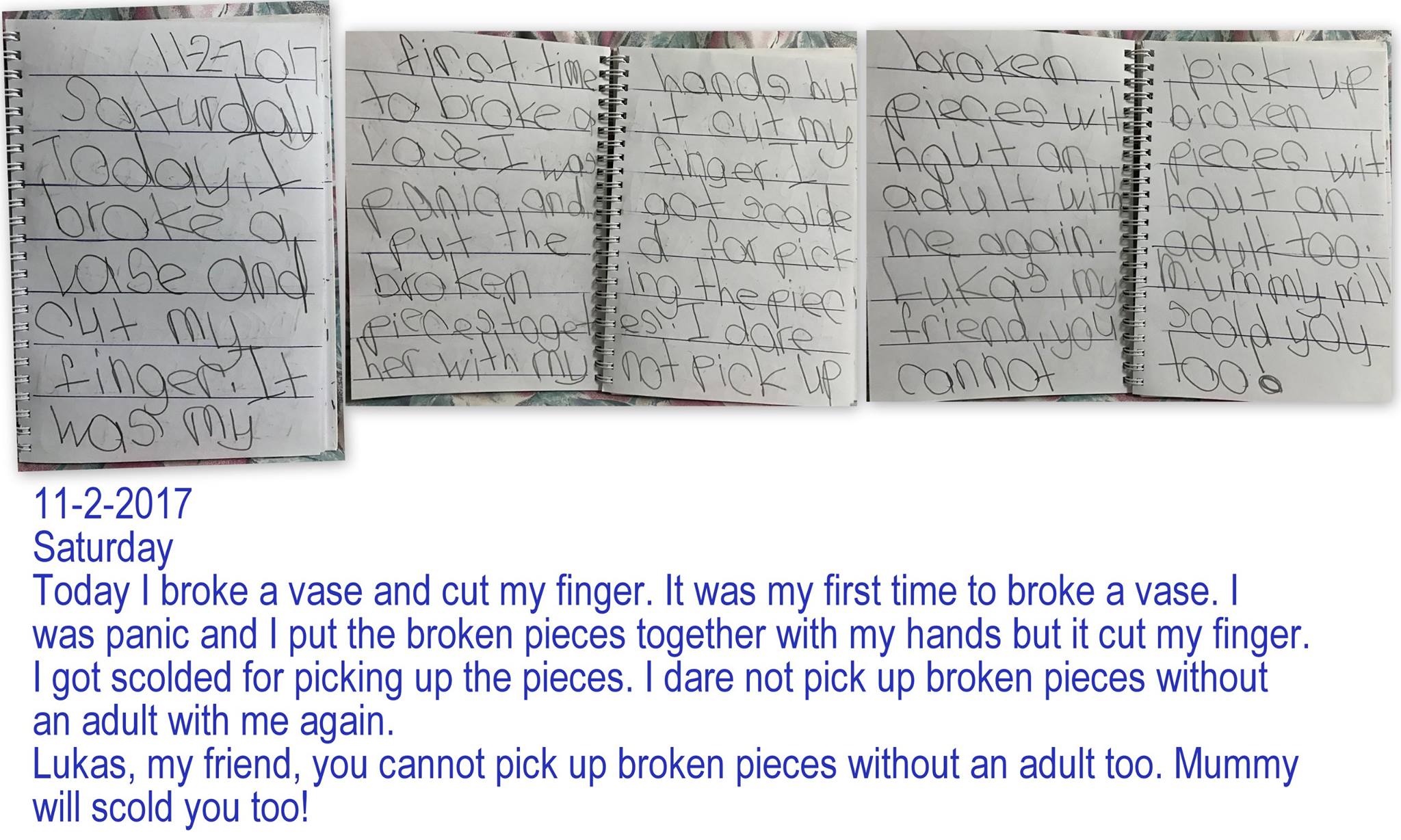 Forever Friends
On Feb. 15, the day Lukas went for a major surgery, Lim poured his heart out despite him and his mother being ill, praying Lukas's procedure would go smoothly.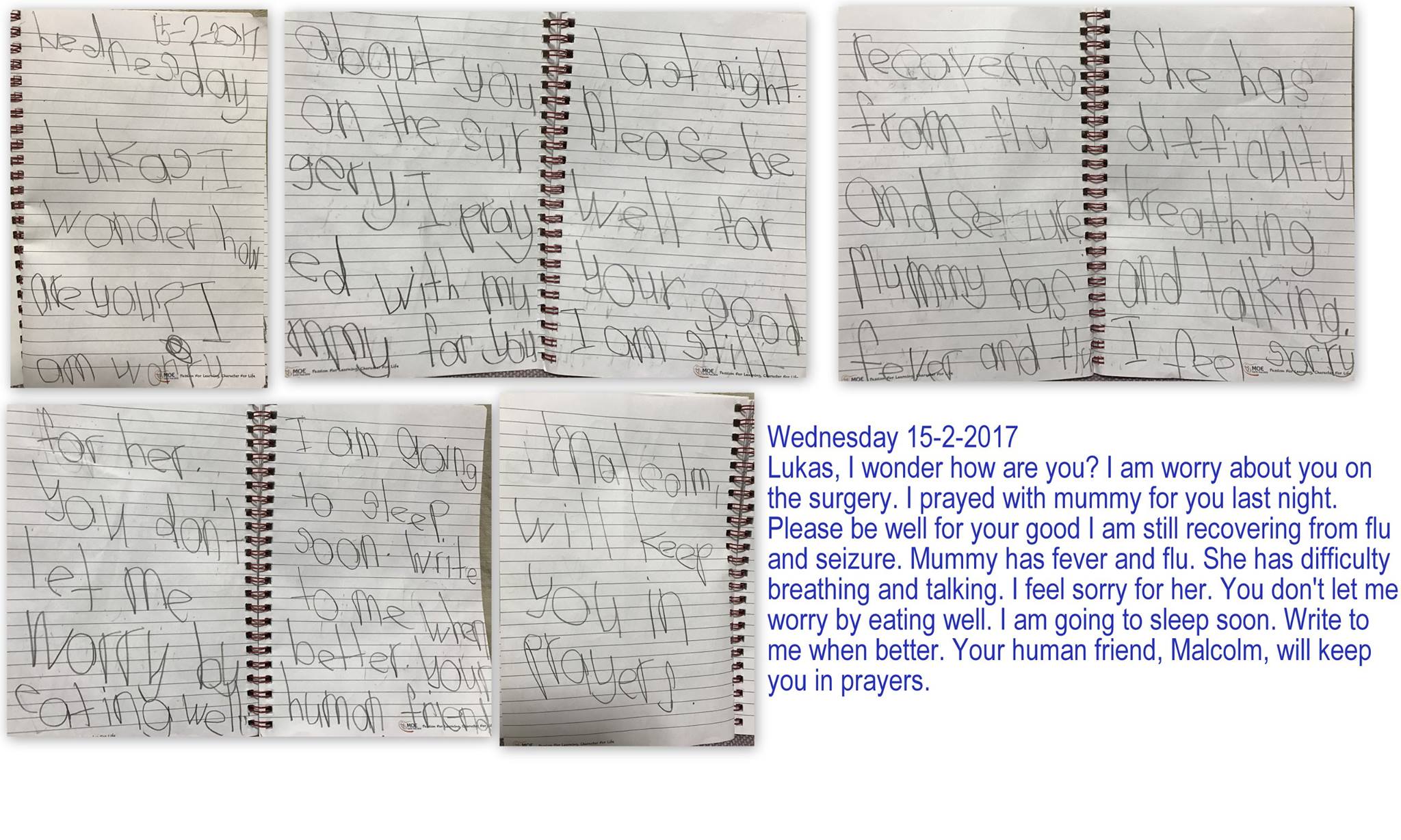 Tragically, that letter was the last Lim would write to his dear friend while the horse was still alive.
Lukas did not make it and passed away after the surgery that day.
This letter from Lukas was the last one he would "write", via friendly human pen, of course, while alive: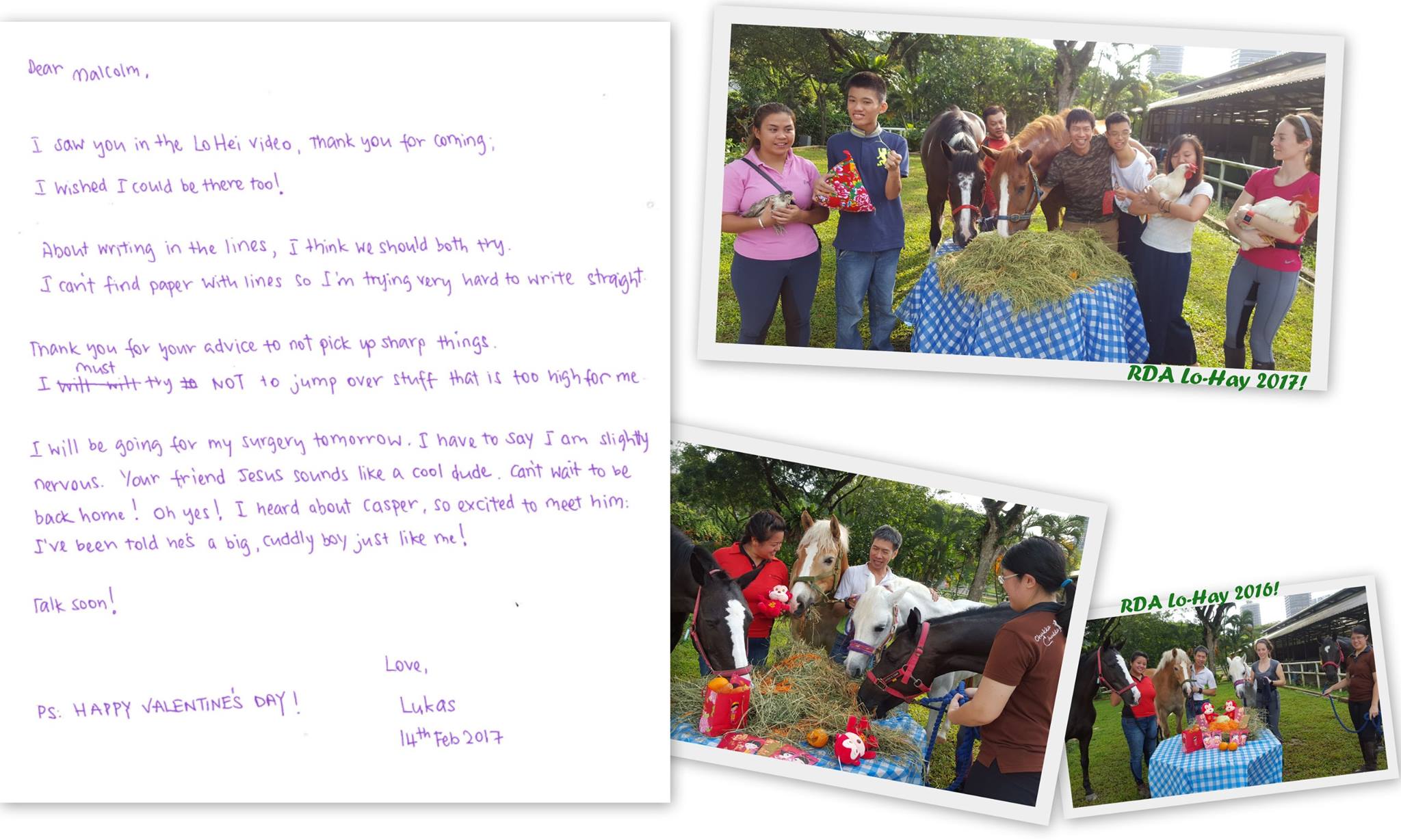 Dear Malcolm,

I saw you in the LoHei video, thank you for coming.

I wished I could be there too!

About writing in the lines, I think we should both try. I can't find paper with lines so I'm trying very hard to write straight.

Thank you for your advice not to pick up sharp things. I must try NOT to jump over stuff that is too high for me.

I will be going for my surgery tomorrow. I have to say I am slightly nervous. Your friend Jesus sounds like a cool dude. Can't wait to be back home! Oh yes! I heard about casper, so excited to meet him, I've been told he's a big, cuddly boy just like me!

Talk soon!

Love,

Lukas

14th Feb 2017

PS. HAPPY VALENTINE'S DAY
Lim was inconsolable to learn of Lukas's passing — even with his current therapy horse, Jota, his mother writes he is still very emotionally attached to Lukas.
In the words of Malcolm's mother in a caption on one of his letters, "he doesn't have much inner feelings with Jota. He must [have] seen a quality of Lukas that he likes."
Lim later put his grief into writing, and it's hard not to feel his pain reading this letter: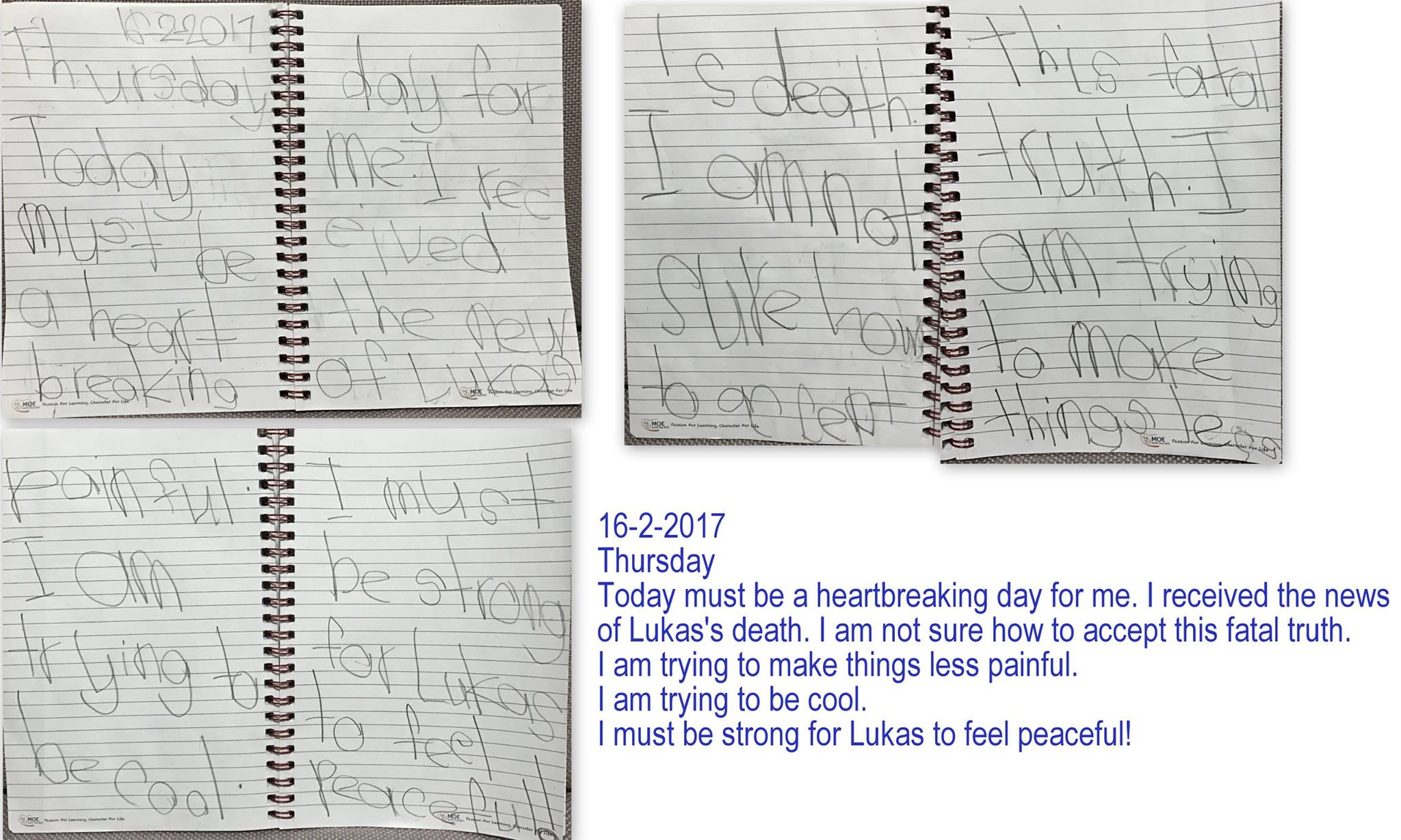 Lim does however, believes his friend is in a better place: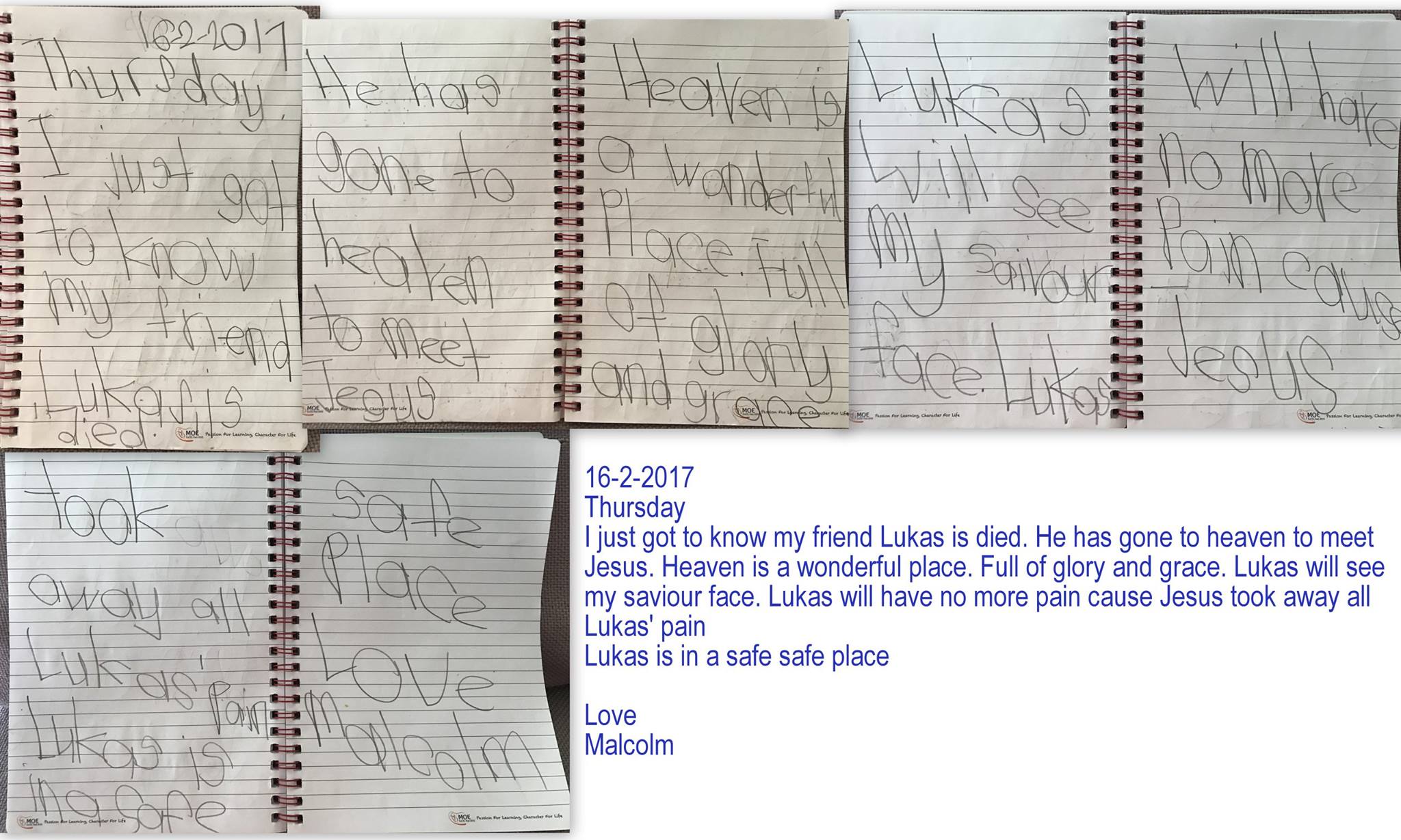 And on Saturday morning, Lim placed flowers at a memorial put together for Lukas at the stables.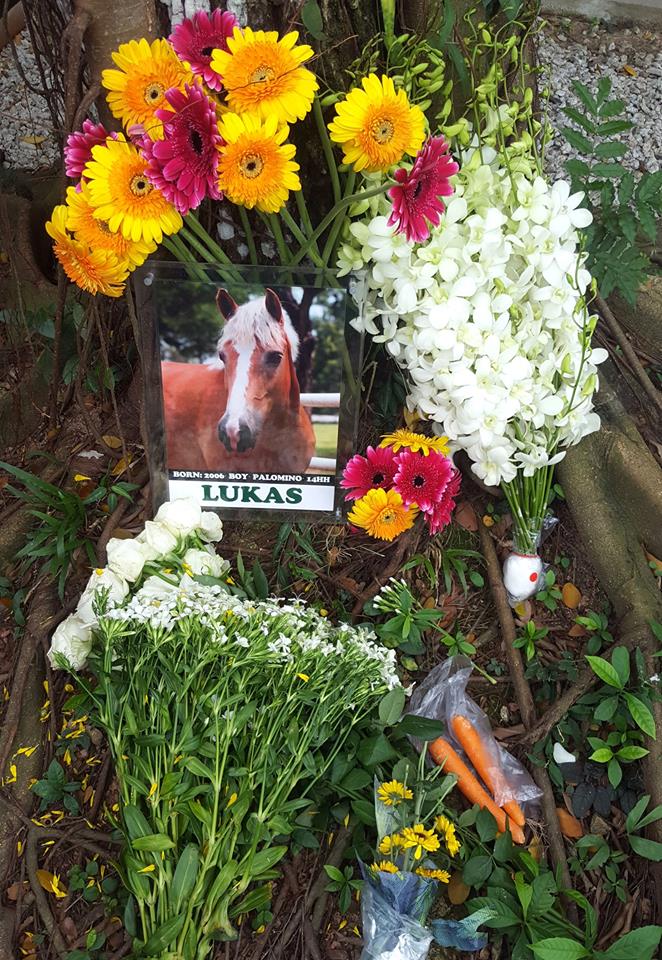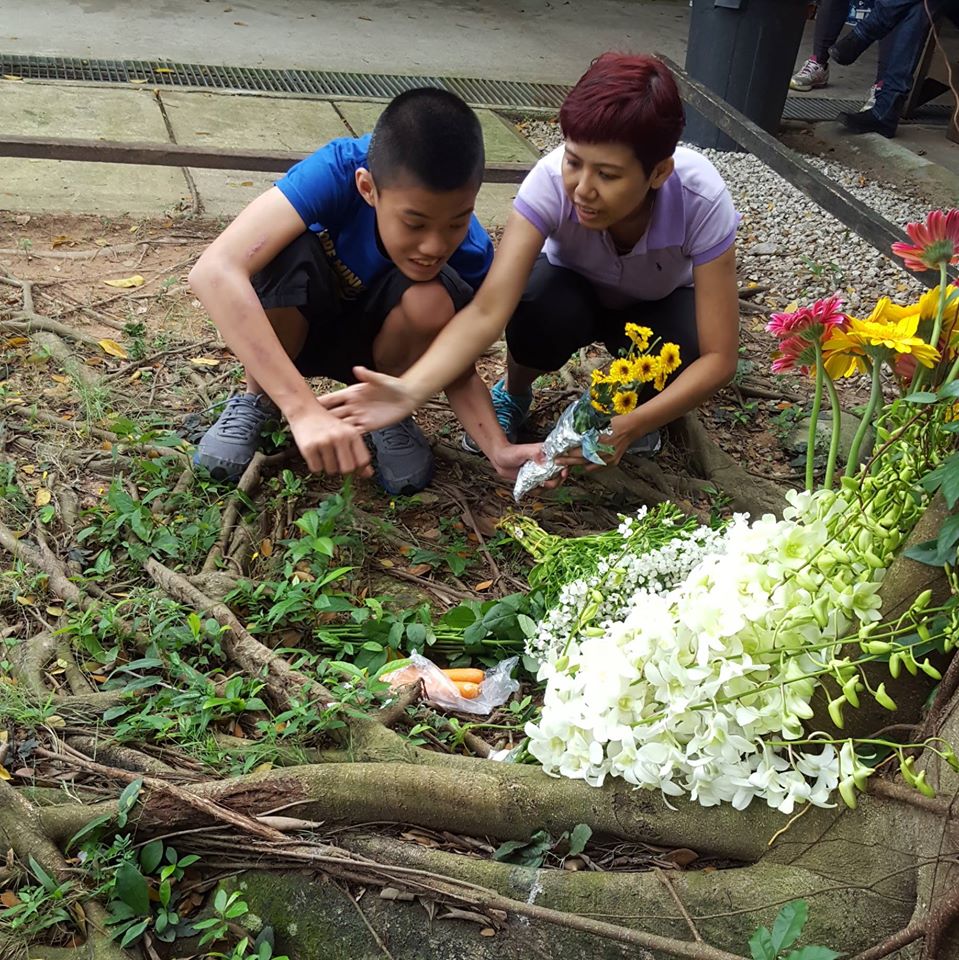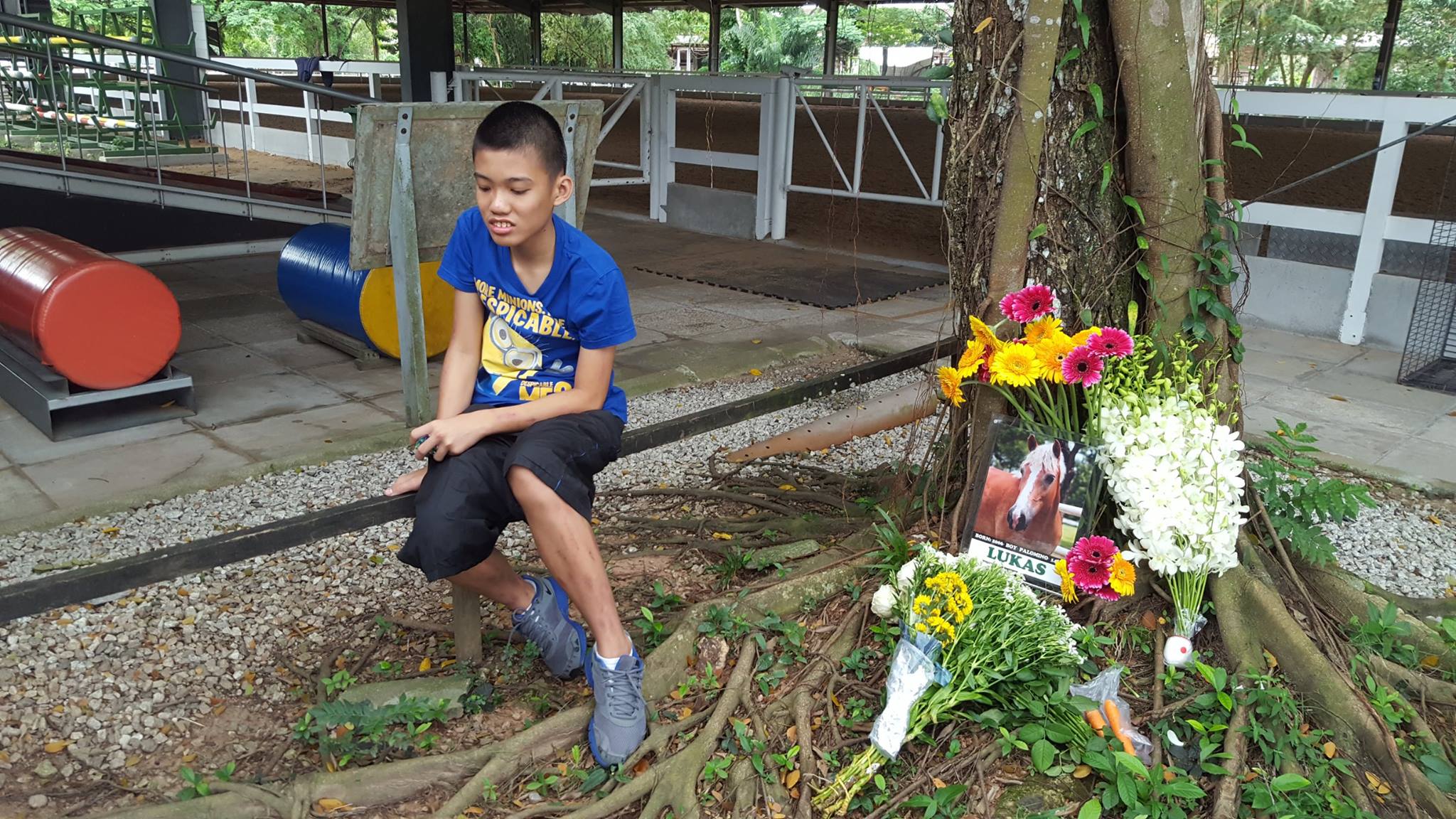 He then went through Lukas's final letter to him: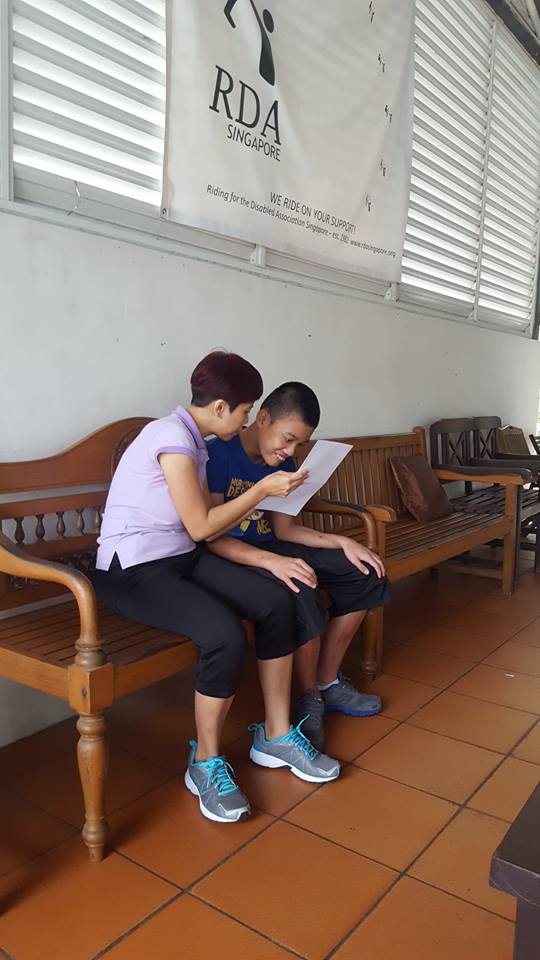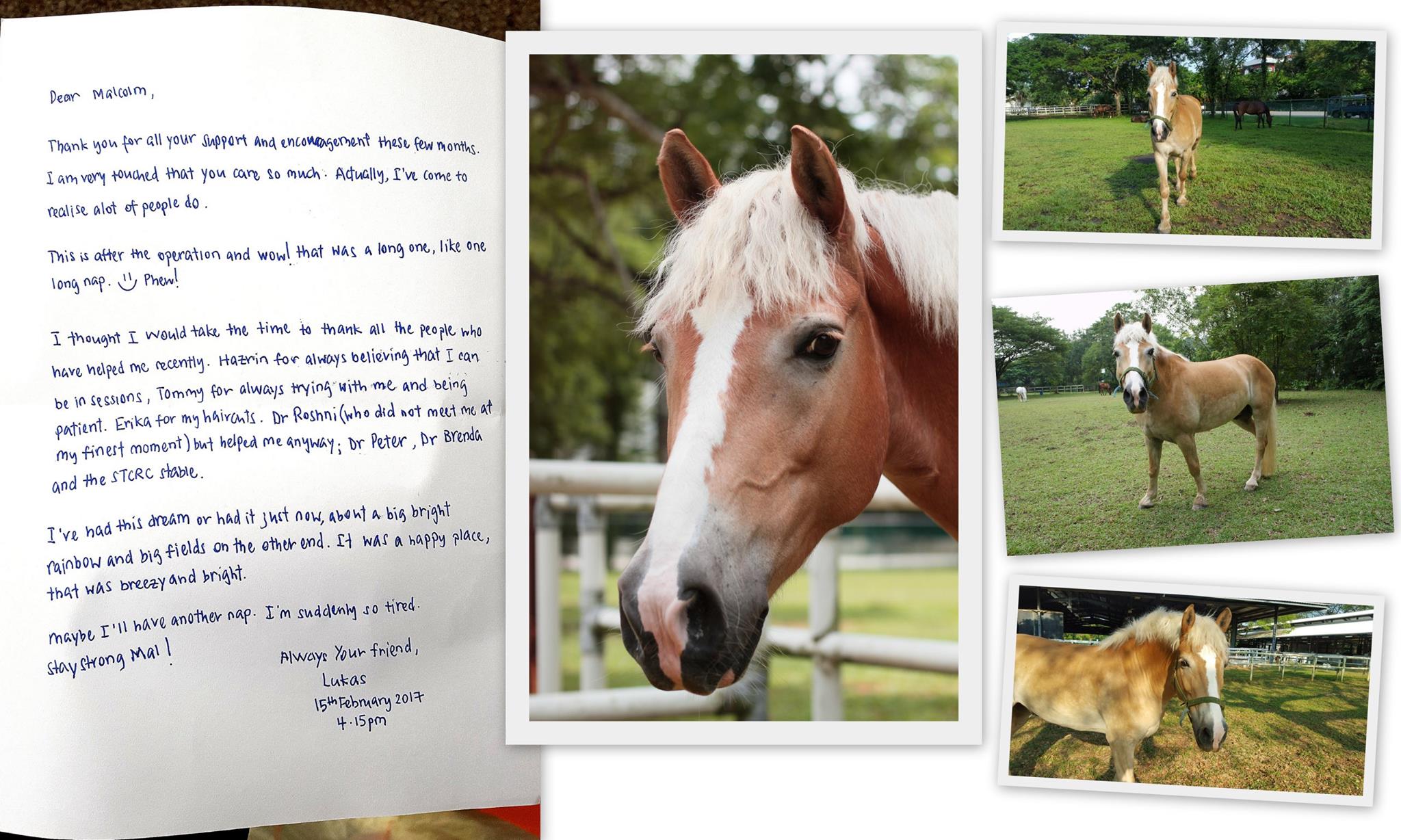 And here's what it says:
Dear Malcolm,

Thank you for all your support and encouragement these few months. I am very touched that you care so much. Actually, I've come to realise a lot of people do.

This is after the operation and wow! That was a long one, like one long nap. :) Phew!

I thought I would take the time to thank all the people who have helped me recently. Hazrin for always believing that I can be in sessions, Tommy for always trying with me and being patient. Erika for my haircuts. Dr Roshni (who did not meet me at my finest moment) but helped me anyway, Dr Peter, Dr Brenda and the STCRC stable.

I've had this dream or had it just now, about a big bright rainbow and big fields on the other end. It was a happy place, that was breezy and bright.

Maybe I'll have another nap. I'm suddenly so tired. Stay strong Mal!

Always your friend,

Lukas

15th February 2017

4:15pm
The Giving.sg crowdfunding campaign for Lukas that was set up to raise funds for his medical procedures is still open if you wish to donate to support the RDA in his memory.
Proceeds will go towards supporting the RDA in their daily activities free-of-charge for beneficiaries like Lim, who finds companionship, stability and strength from the animals.
Rest in peace, Lukas. You can rest easy knowing you've changed at least one young boy's life.
You can read all of Lim's letters to Lukas in this Facebook post from the RDA.
Top image via RDA Singapore Facebook page and ANZA Singapore Facebook page
If you like what you read, follow us on Facebook and Twitter to get the latest updates.
If you like what you read, follow us on Facebook, Instagram, Twitter and Telegram to get the latest updates.