[Update as of Jan 7., 1300Hrs: Minister K Shanmugam's 'You are not going to get angels in power all the time' comment can be found on the print copy of The Straits Times and The New Paper.]
They were the first comments by a Minister on the Corrupt Practices Investigation Bureau (CPIB) investigations related to a staff of the Ang Mo Kio Town Council (AMKTC).
To cut the long story short: Victor Wong, the general manager and secretary of AMKTC has been removed from his duties and is under investigation by the CPIB. Wong works for the managing agent of AMKTC and was asked to go on leave after the town council received a complaint about him.
K Shanmugam, Minister for Home Affairs and Law, who was actually speaking at a news conference on another matter, told the media on Jan. 6 that we (referring to the government) "take probity in public office very, very seriously" and that the allegations would be "investigated and no one will be spared".
More importantly, Shanmugam added that "no town council, no one, nothing will be swept under the carpet".
Sweeping under the carpet was exactly what Channel NewsAsia and The Straits Times did to parts of his comments in their reports.
Refer to this full quote in CNA: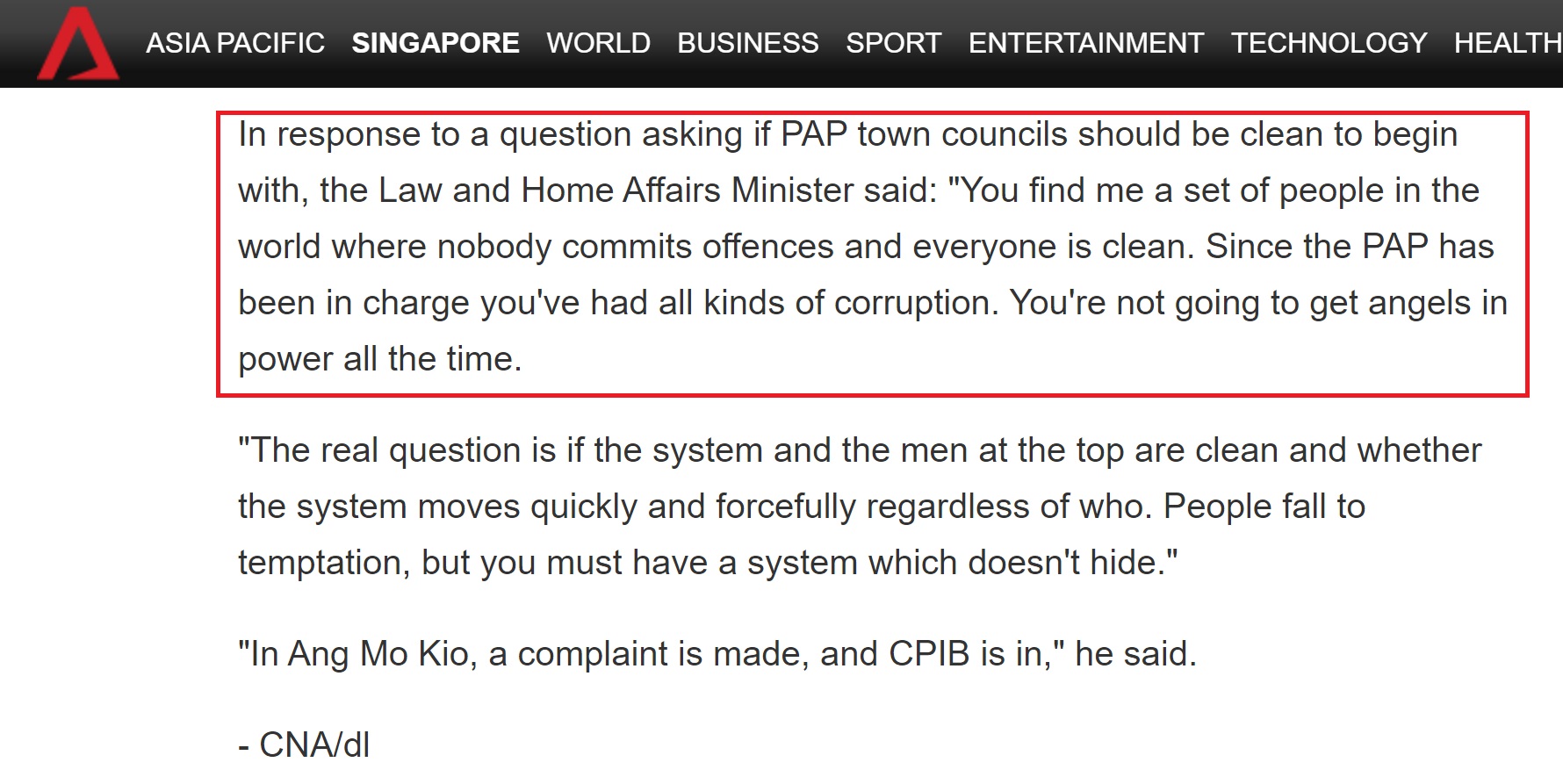 Now, compare the quote in CNA a few hours later: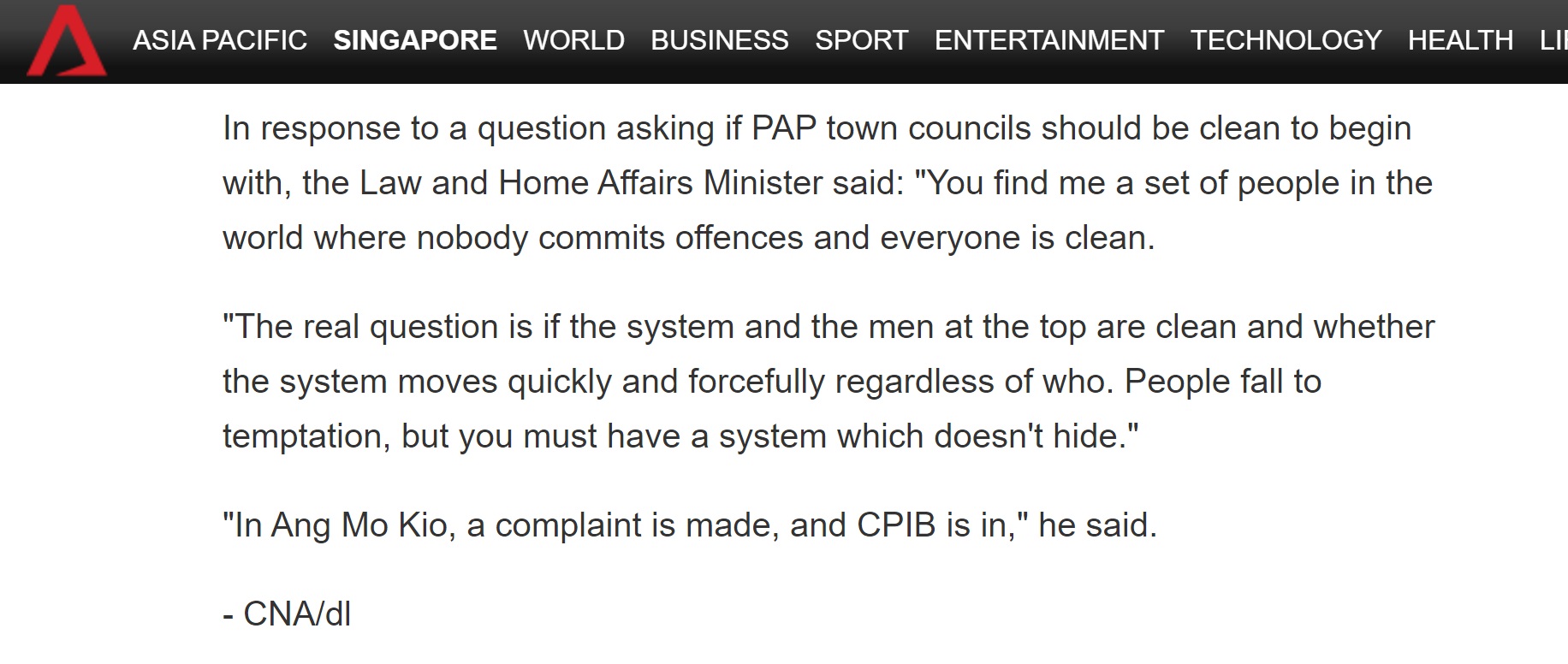 Take a look at this quote in ST: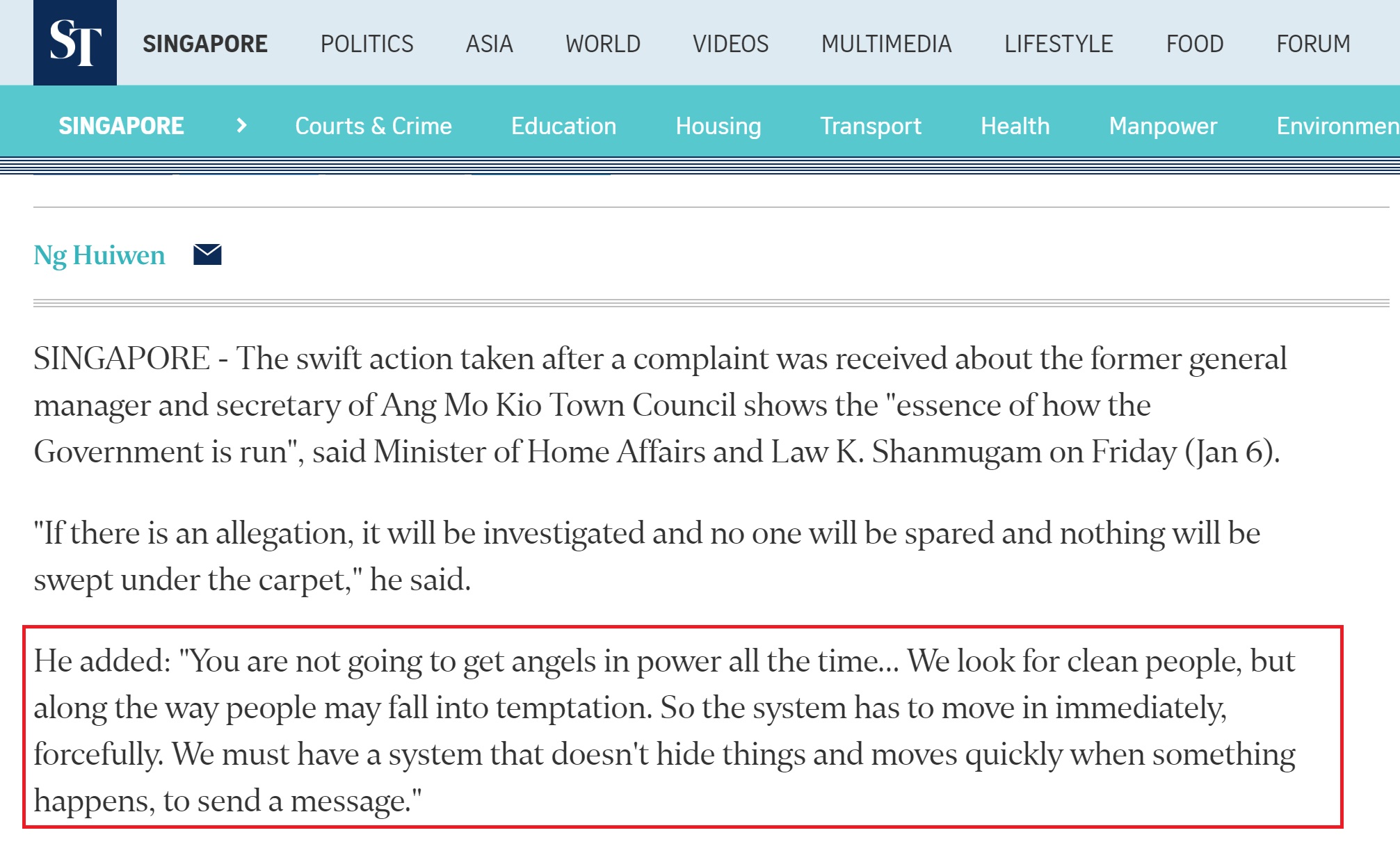 Take a quick blink and look at the same ST article now: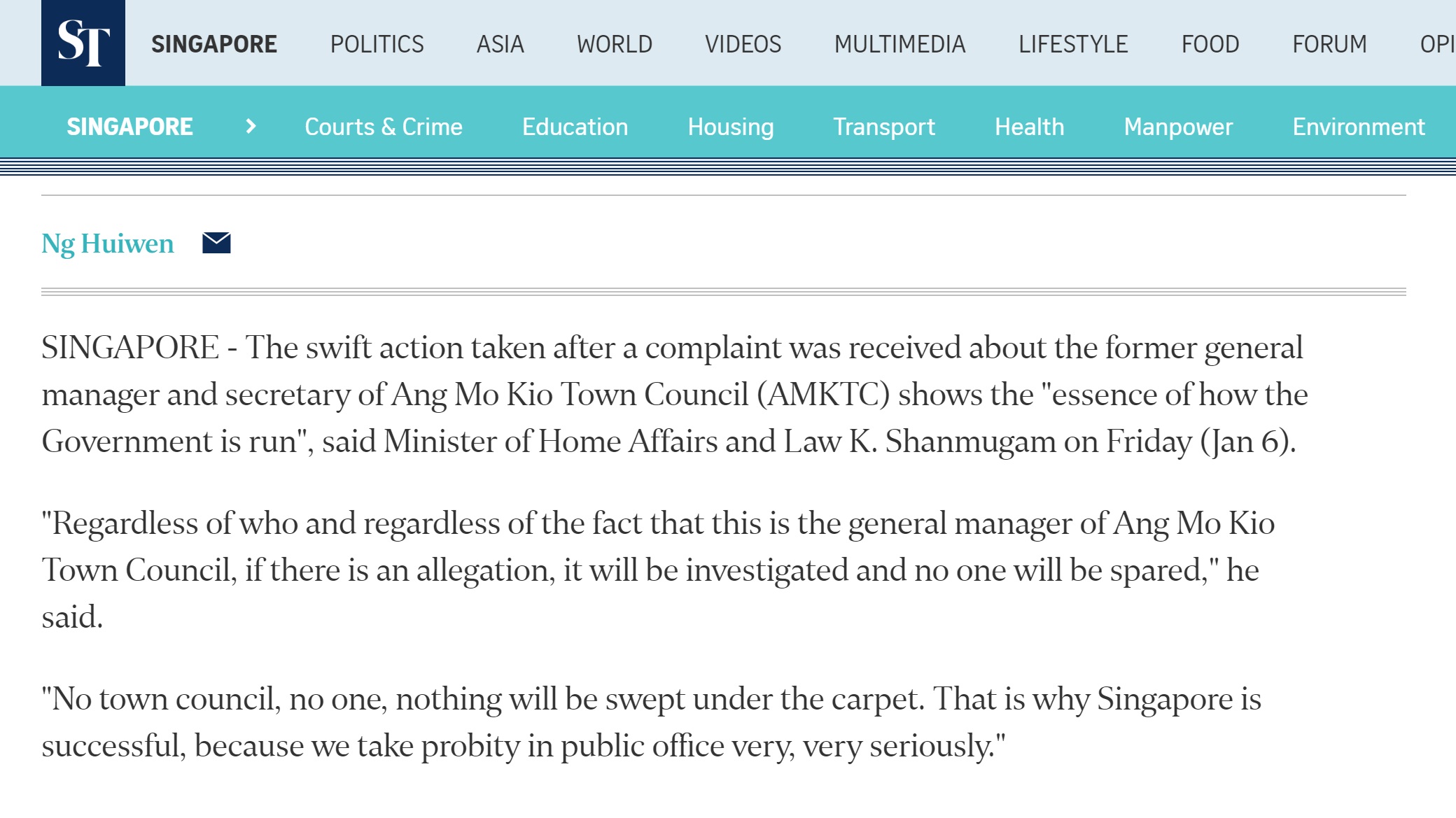 It's sweet to know that the editors of CNA (owned by Mediacorp) and ST (owned by Singapore Press Holdings) have such telepathy in over-zealously censoring the Minister's remarks.
After all, the Minister is not wrong to say that Singapore is not utopia -- in fact, there have been ministers charged for corruption during Singapore's early years.
Minister's remarks escalated to yet another exchange with WP
Shanmugam's main point was to highlight that the system and the top leaders are "clean" and the system moves quickly to punish people "who fall to temptation".
His secondary point? To jab at opposition Workers' Party (WP)'s handling of the Aljunied-Hougang Punggol East Town Council (AHPETC) funds.
"But Ang Mo Kio Town Council, complaint made, CPIB is in. Aljunied Town Council, court application after court application, auditor general to investigate because they wouldn't give the information to their own auditors, their own auditors prepared a report saying we are being denied the information. You call that good behaviour with public funds?"
Which promptly resulted in a salty remark by WP.
"Some people jumped prematurely on the possibility of fraud and ficticious payments without waiting for the results of the audit.

When no fraud and fictitious payments were found, the speculators kept quiet.

Premature speculation, especially when done by influential people, may pervert the course of justice by shaping investigations. So let's wait for the findings of the CPIB on the AMKTC case and let the law take its course".
PAP and WP, talking about the town council issues since 2014.
How about wishing some people a Happy 2017 first?
Top photo from K Shanmugam Facebook
If you like what you read, follow us on Facebook and Twitter to get the latest updates.
If you like what you read, follow us on Facebook, Instagram, Twitter and Telegram to get the latest updates.