The controversy surrounding sand trade between Singapore and Cambodia resurfaced three weeks ago when a Singaporean law firm was reportedly hired by Mother Nature, an environmental NGO, to investigate alleged discrepancies in the sand trade figures reported by Singapore and Cambodia, as compiled by the United Nations.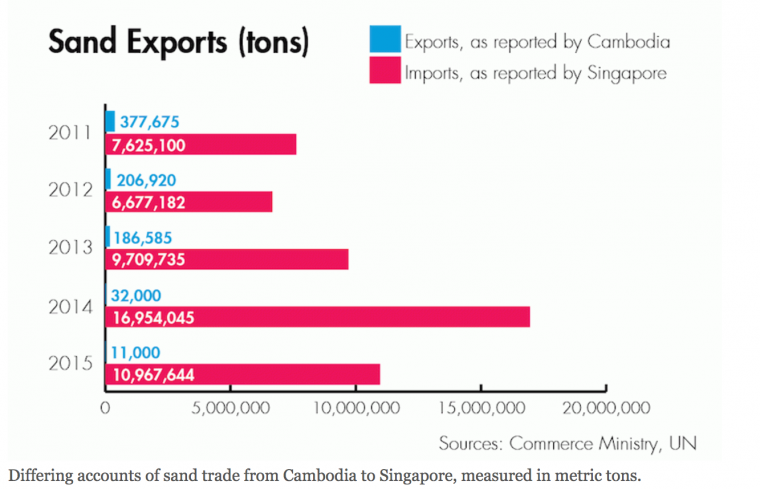 The irregularities garnered attention on possible law-breaching misconduct from the companies and/or countries involved, in addition to the environmental devastation (destroying mangroves and the livelihoods of local fishermen) at Cambodia's shores.
According to a Jan. 24 report by The Cambodia Daily, Singapore has reportedly stopped importing sand from Cambodia since last November. At the same time, Cambodia has in turn suspended its sand exports.
In response to that, Ministry of National Development spokesperson Gene Ng attributed the irregularities to the inconsistent calculation methods between countries:
"Import or export figures reported by a country are dependent on their own calculation formula."
Ng also reiterated MND's stance against any unlawful actions:
"Singapore does not condone any trade or extraction of sand that breaches the source countries' laws and regulations on environmental protection. Our contractors endeavour to import sand from viable sources and are expected to obtain sand supply in accordance with domestic laws and regulations... If there is any evidence that our contractors are not in compliance with the source countries' laws and regulations, Singapore will respect that legal process will take its course."
While the emphasis of sand trade has often been on the social injustice and ecological destruction caused, as highlighted by academics and activists, a secretary of state at Cambodia's Ministry of Mines and Energy Dith Tina was quoted as saying in a public forum on Cambodia's sand exports:
" We should be proud that our sand is taken for use everywhere in the world. We should congratulate ourselves and not think that when we see sand being used in another country it means they stole our sand."
According to The Phnom Penh Post, fellow secretary of state Meng Saktheara did not admit to any irregularities from Cambodia's sand exports data, but acknowledged it did find "loopholes" in the current procedures which rely on certifications for clearance.
After an investigation, he said the Cambodian government will enforce inspection of shipments and include pre-export and post-export declaration in future export procedures.
¯\_(ツ)_/¯ We'll just have to wait and see where Singapore gets our sand from next.
Related articles:
S'pore law firm reportedly hired by Cambodian NGO to investigate S'pore's sand imports
S'pore importing sand for land reclamation destroying Cambodia shores: Sydney Morning Herald
Top photo from a screenshot of Mother Nature video
If you like what you read, follow us on Facebook, Instagram, Twitter and Telegram to get the latest updates.