Recently, the U.S. Central Intelligence Agency (CIA) made its repository of declassified documents available to the masses online. The documents can be browsed via the CIA Records Search Tool (CREST).
Our searches on Singapore through CREST yielded interesting takes on some notable people of Singapore's past.
Keeping an eye on Singapore's 20th century influencers
During the Cold War, U.S. intelligence actively monitored the spread of communism, especially in Southeast Asia.
According to the declassified CIA reports, some of Singapore's Chinese community leaders, such as Aw Boon Haw and Tan Kah Kee, were sympathetic to the communist cause in the 1950s and 1960s.
Aw Boon Haw - the Tiger Balm King
Famed businessman Aw Boon Haw, together with his brother Aw Boon Par, owned the successful Tiger Balm business in Singapore. Aw also operated a newspaper empire that stretched from Singapore to Amoy, which made him very influential.
The CIA compiled a dossier of Aw's affiliated newspapers in reports that you can read here, and here.
Aw's papers in Singapore included the Singapore Tiger Standard and Sin Chew Jit Poh.
According to CIA reports, Aw was detained by local authorities for his alleged involvement with the Communist Democratic Youth League in 1949.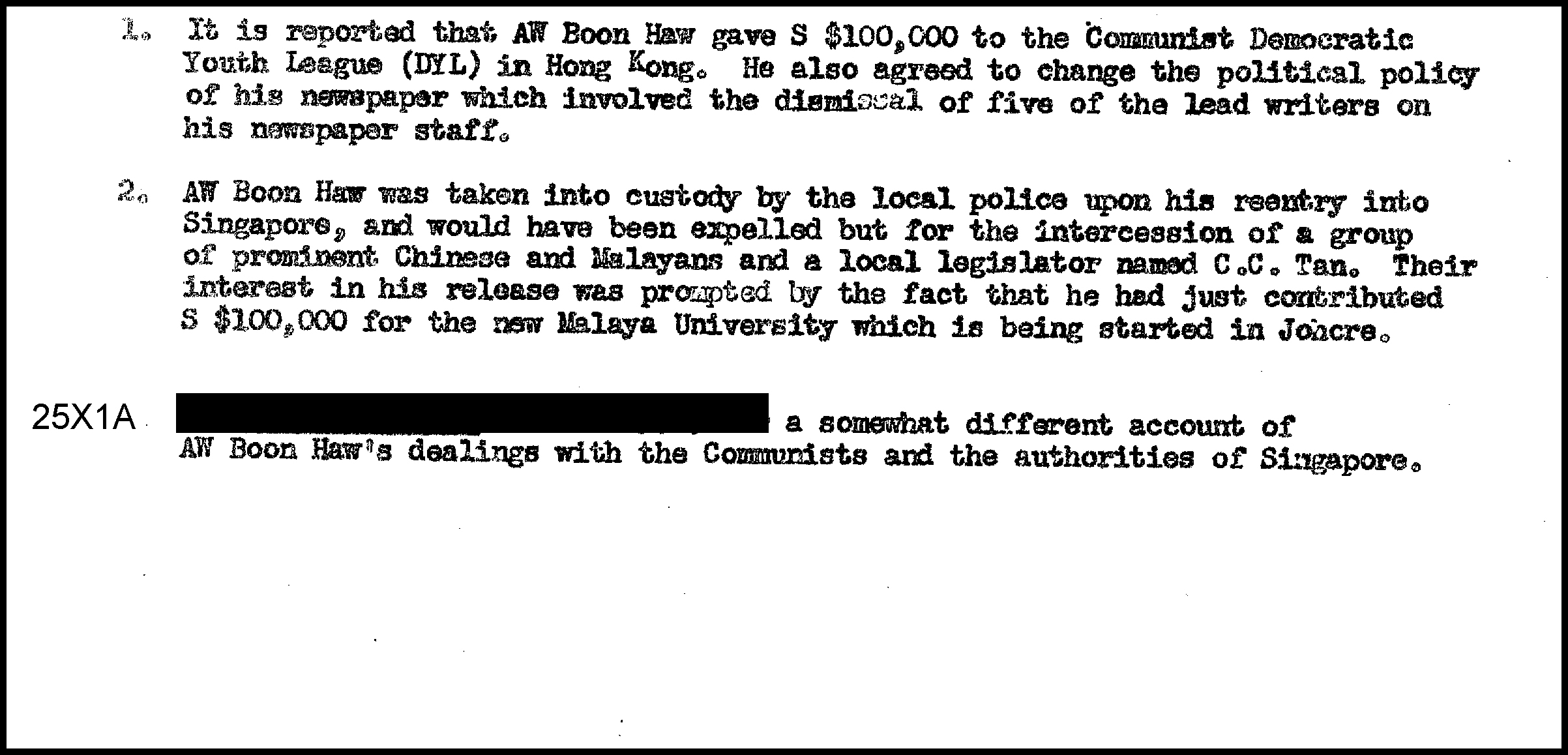 A short while later, another CIA report alleged that Aw tried to get build guan xi (relationships) with the Chinese Communist government.
However, his efforts were futile, which led a spurned Aw to direct his newspapers to adopt a critical editorial stance against the Chinese Communist Party (CCP).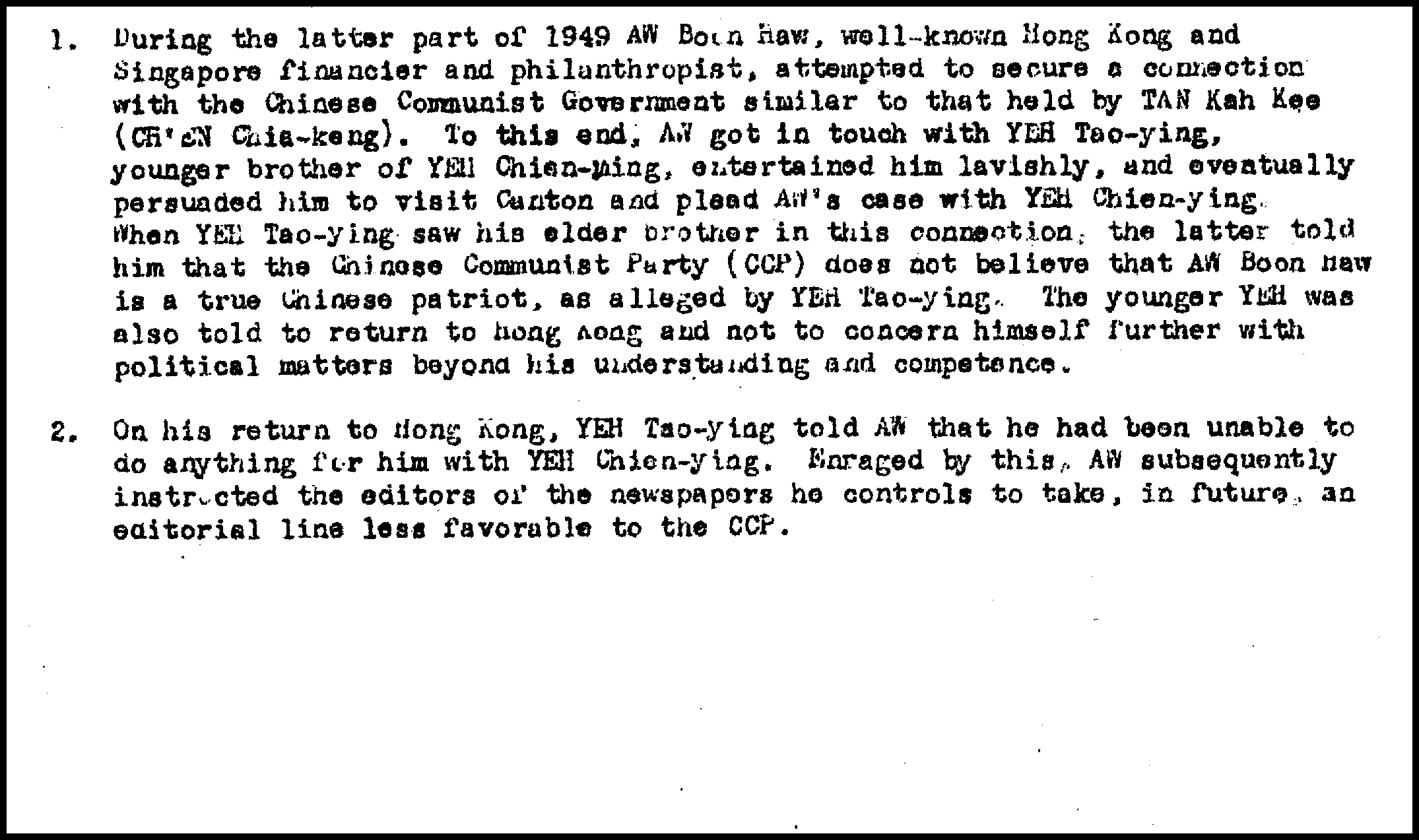 Tan Kah Kee - the social activist 
Tan Kah Kee was a prominent Hokkien businessman in Singapore. His business empire stretched from pineapple canning and rubber milling, to running the newspaper Nanyang Siang Pau (Nanyang Business Daily).
He was also an early social activist who championed the welfare of the Chinese. He contributed a lot of money to build schools, and to the relief funds supporting China's fight against the Japanese during the Second World War.
According to the CIA, Tan Kah Kee was suspected of building rubber mills in Canton (present day Guangzhou) and building rubber plantations on Hainan island to supply rubber to the communist USSR (present day Russia) in 1950.
Unfortunately for Tan, the British also denied him entry back into Singapore in 1950 because of his support for the CCP after World War Two.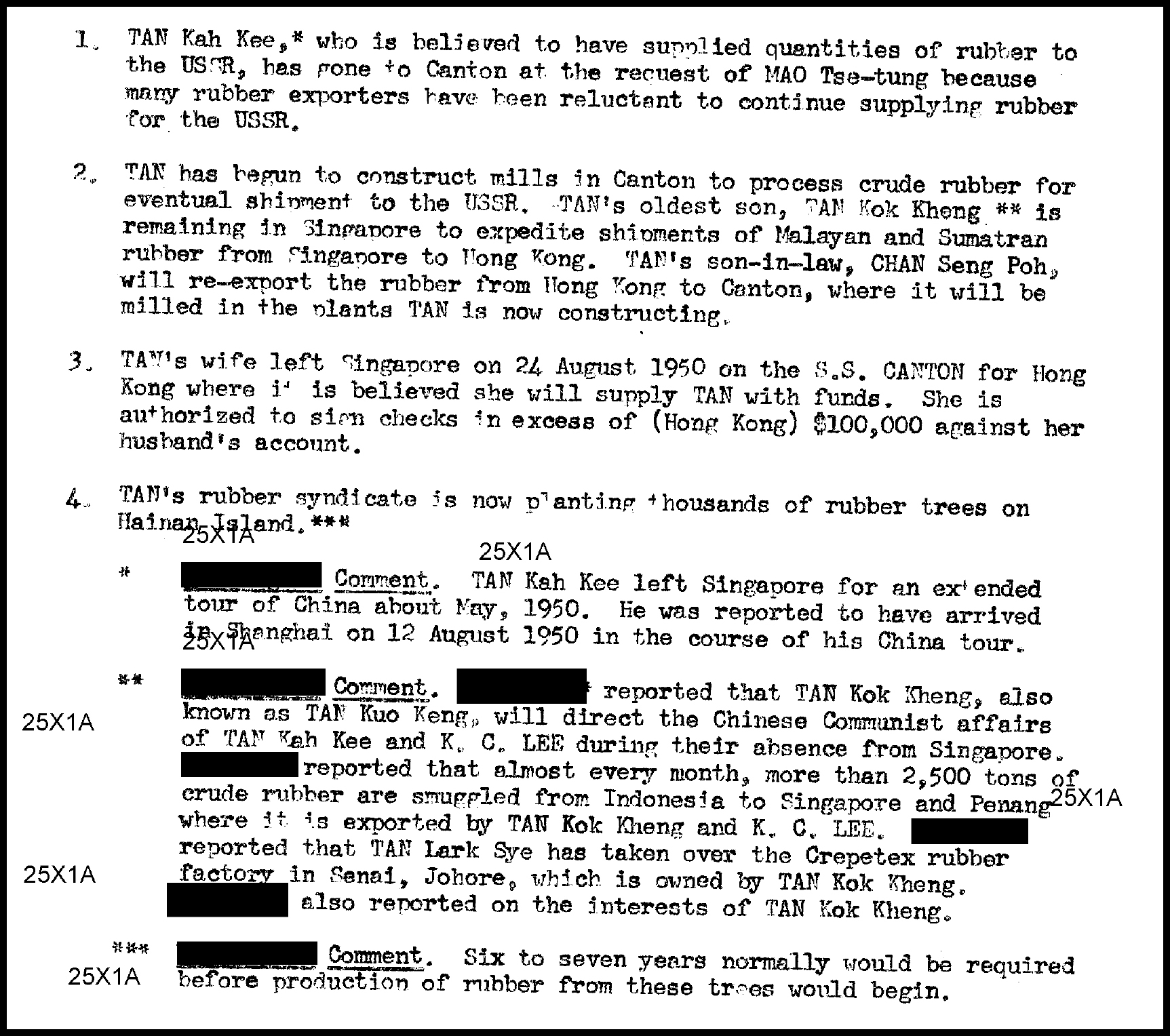 Tan's activism continued, after he settled in Amoy. According to a CIA report, Tan personally interceded with the Chinese Communist government to release a woman from jail.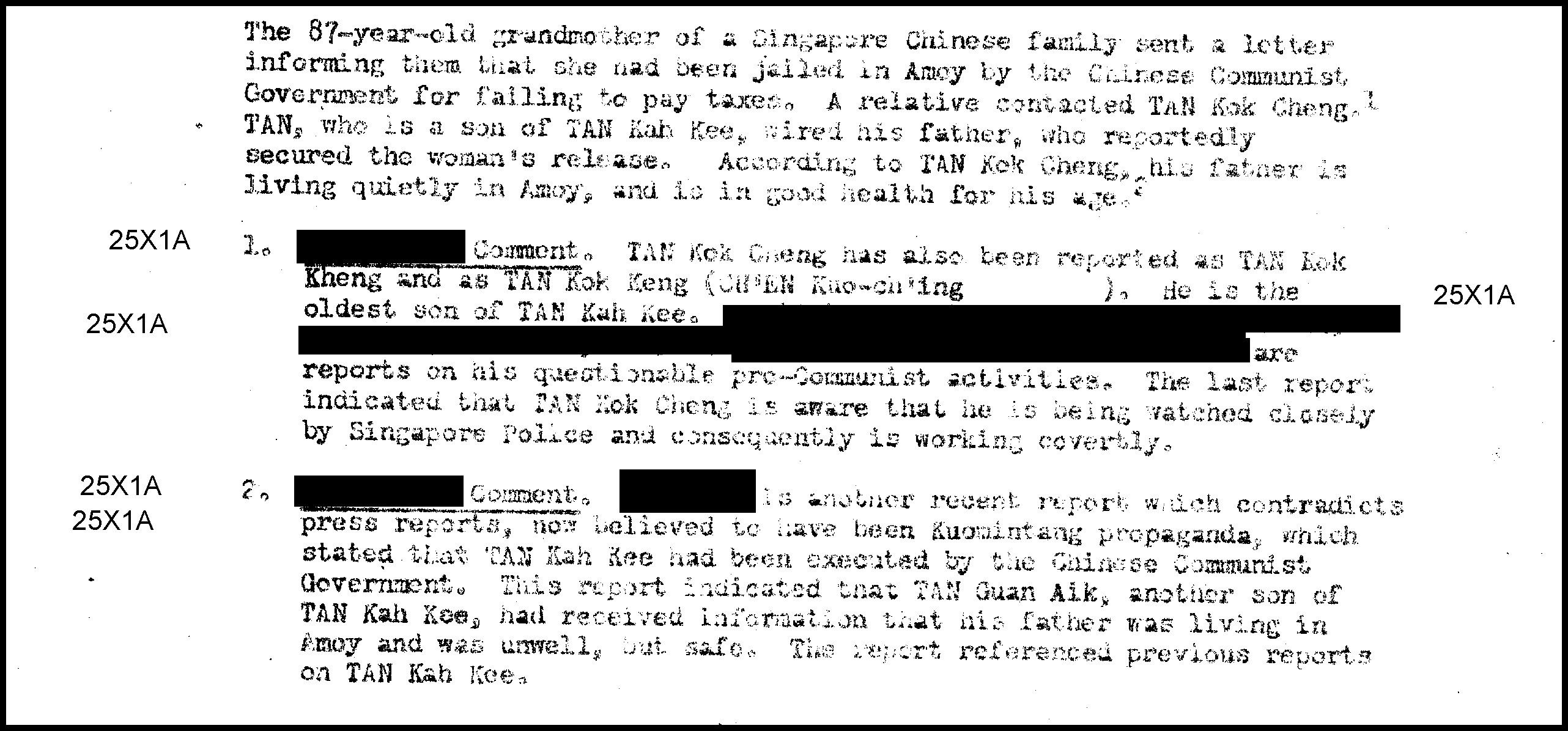 The rest of the Singapore archive and other interesting topics are available for viewing here.
Top photo by from CIA.gov and Wikipedia.
If you like what you read, follow us on Facebook and Twitter to get the latest updates.
If you like what you read, follow us on Facebook, Instagram, Twitter and Telegram to get the latest updates.