You might have seen pictures of Bishan-Ang Mo Kio Park "flooding" due to the continuous torrential rain which is likely to happen for the next few days too.
Freesheet Today compiled the set of photos above of Bishan-Ang Mo Kio Park with this accompanying caption:

Its claim that Bishan-Ang Mo Kio Park is among PUB's identified "high-risk" areas for flooding might have come from this PUB tweet on Monday morning:
Sg Kallang(Bishan Rd):Water level rises above 90%. High Flood Risk..11:30:52 #SGFlood

— PUB (@PUBsingapore) January 23, 2017
Here's where we burst their potentially-misleading bubble, though — we're sorry to disappoint, but no, Bishan-Ang Mo Kio Park was not flooding.
As a matter of fact, it is thanks to Bishan-Ang Mo Kio Park's specially-built catchment system that prevents Bishan Road (which is what the tweet was actually referring to) from flooding.
The naturalised river or streams and its adjacent areas that you see during dry days are specifically intended to become floodplains during extreme wet days.
The 3.2km meandering naturalised river at Bishan-Ang Mo Kio Park used to be a 2.7 km long straight concrete Kallang channel in the past, which would not otherwise have been able to tahan as much rainwater as it now does.
Here's what it was before: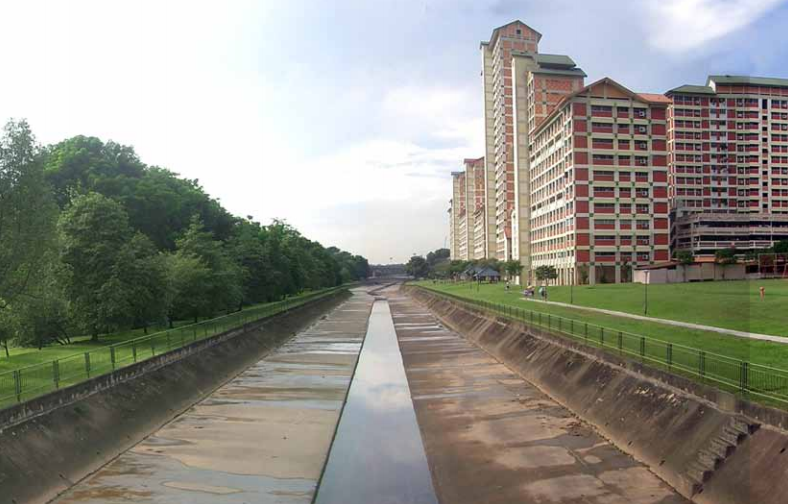 And here's how it looks these days: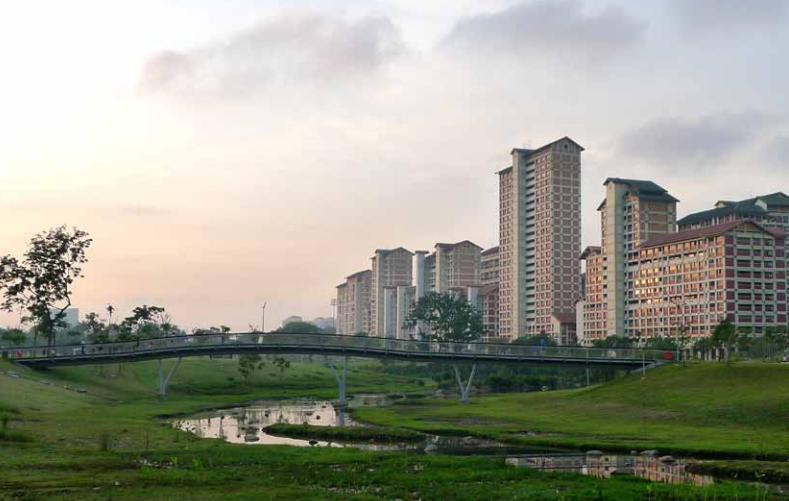 This redevelopment of Bishan-Ang Mo Kio Park was part of the Active, Beautiful, Clean Waters (ABC Waters) Programme, a joint collaboration between PUB and NParks, which fulfilled two purposes:
- to create more recreational spaces for us, as well as more importantly,
- to increase the capacity of the Kallang channel along the edge of the park.
The river channel was redesigned to resemble a floodplain that connects to a network of drains in town. The usual volume of water will form only a narrow stream in the middle of the river while the adjacent area doubles up as a conveyance channel to dissipate large amounts of rainwater downstream in the event of a storm.
After the redevelopment, the naturalised river's carrying capacity increased by 40 per cent, with an increase in length from 2.7km to 3.2km as well as an increase in width by almost five times.
These bio-engineering techniques also created habitats for wildlife to return, contributing to a 30 per cent increase in biodiversity that we enjoy today. This, of course, includes the Bishan-AMK park otter family we occasionally see, as well as many beautiful dragonflies, and more.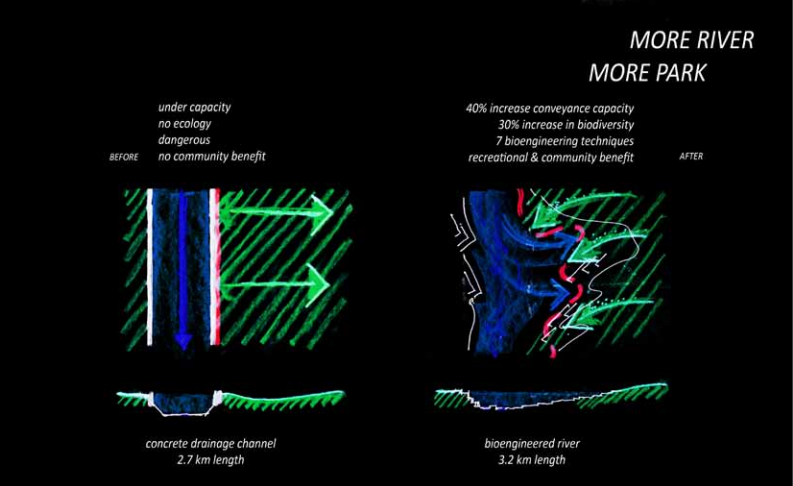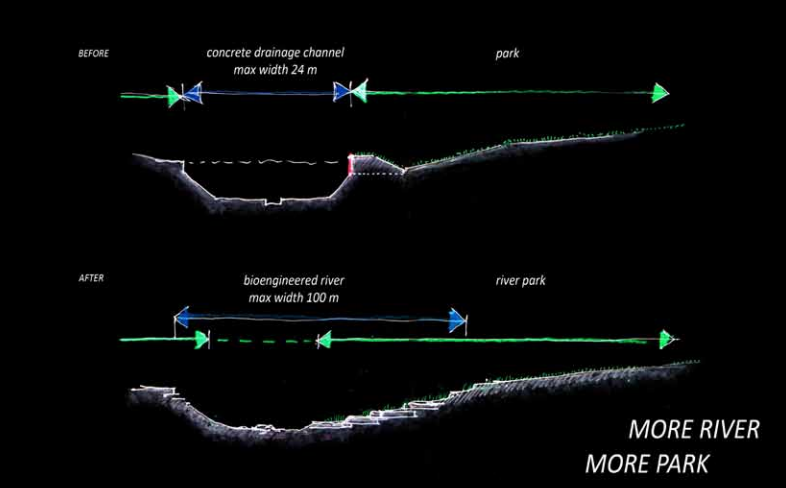 The new park was designed by a german landscape architectural firm Ramboll Studio Dreiseitl (previously known as Atelier Dreiseitl) in 2007, and was built between 2009 and 2012.
Here's a cool time-lapse video of the transformation of Bishan-Ang Mo Kio Park:
So yes, don't panic folks. It's simply doing its job. And we're glad many of you realised that too: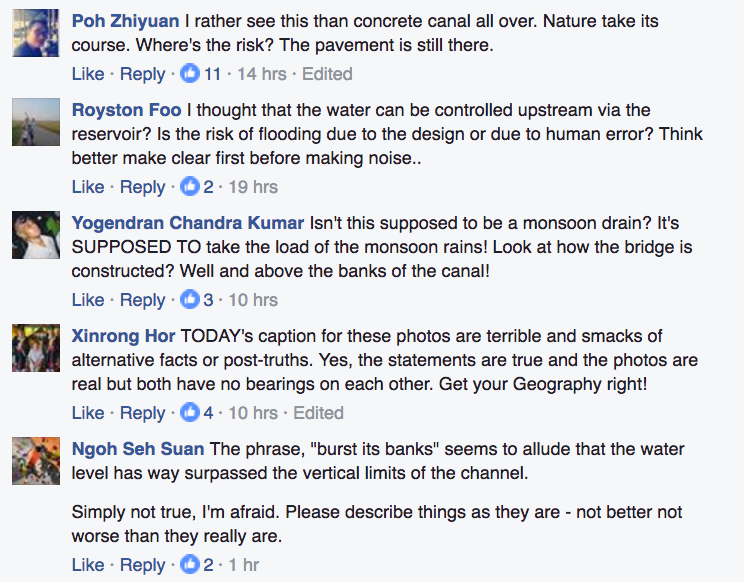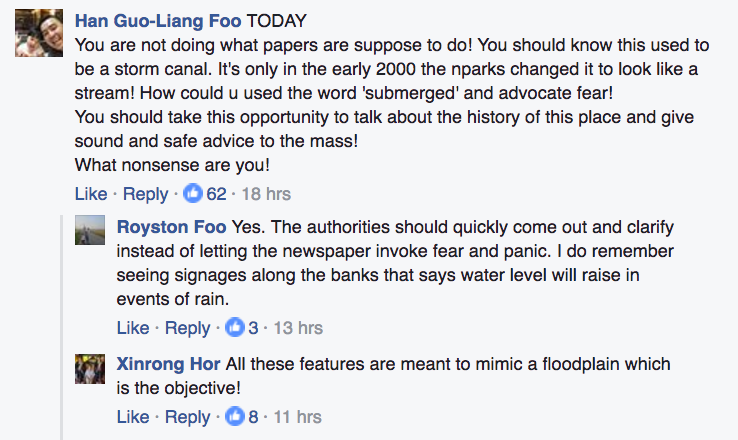 It's also possible PUB realised how misleading the original post seemed, since they also took to Facebook this morning with a post about it:
Good thinking, PUB.
This article helps you do a good deed this holiday season: Here's how you can give $8.88 ang pows to drivers who are driving you to reunion dinner this CNY's eve
Top photo from 2013, from PUB's Facebook page.
Related articles:
S'pore going to be wet & cool in final week of January 2017
If you like what you read, follow us on Facebook and Twitter to get the latest updates.
If you like what you read, follow us on Facebook, Instagram, Twitter and Telegram to get the latest updates.