Freelance cleaner Daniel Thong has mixed feelings whenever he is asked about his background.
Most would deem it a privileged one -- he attended the Catholic High School, was in the humanities programme at Victoria Junior College, and did well enough to enrol in the London School of Economics, later doing his Master's degree at Oxford.
He did these on a "Father-Mother Scholarship", even enjoying the luxury of taking a year off after all that studying to figure out what he wanted to do for work.
"It (where he studied) can be a double-edged sword," he says.
In the four years he spent in London, the soon-to-be 28-year-old ran in the well-placed circles of Singaporeans -— he counts as his friends from school granddaughters of billionaires, and ministers' sons and daughters, whom he still keeps in touch with.
At the same time, he always thought of himself as an oddball, not just because he describes life in LSE and Oxford as feeling "like a mini RI, and RJ".
For one thing, Thong was the only Singaporean student during his time at LSE to be studying philosophy and politics, as opposed to his schoolmates and others in the likes of Oxford and Imperial College, who majored in business, economics, finance, medicine and law.
"I always leaned more towards humanities. Naturally I think, a better flair for writing... for analysing things in a way that I think touches more human emotions and human behaviour. I was always more interested in social science than hard science. I was always more gravitating towards the social aspects of things, like why do people behave the way they behave. Or what is meaning. What gives life meaning."
And while his well-placed friends are now largely in areas like banking and consulting, Thong has spent the past two months and the coming third one as a freelance house cleaner.
The reason he's doing this: as one of the co-founders of a platform that connects cleaners, electricians, handymen and other household service providers to customers in Singapore, Malaysia and Thailand, he feels it's important to understand how to make their jobs as easy as possible.
"Actually, I don't do chores"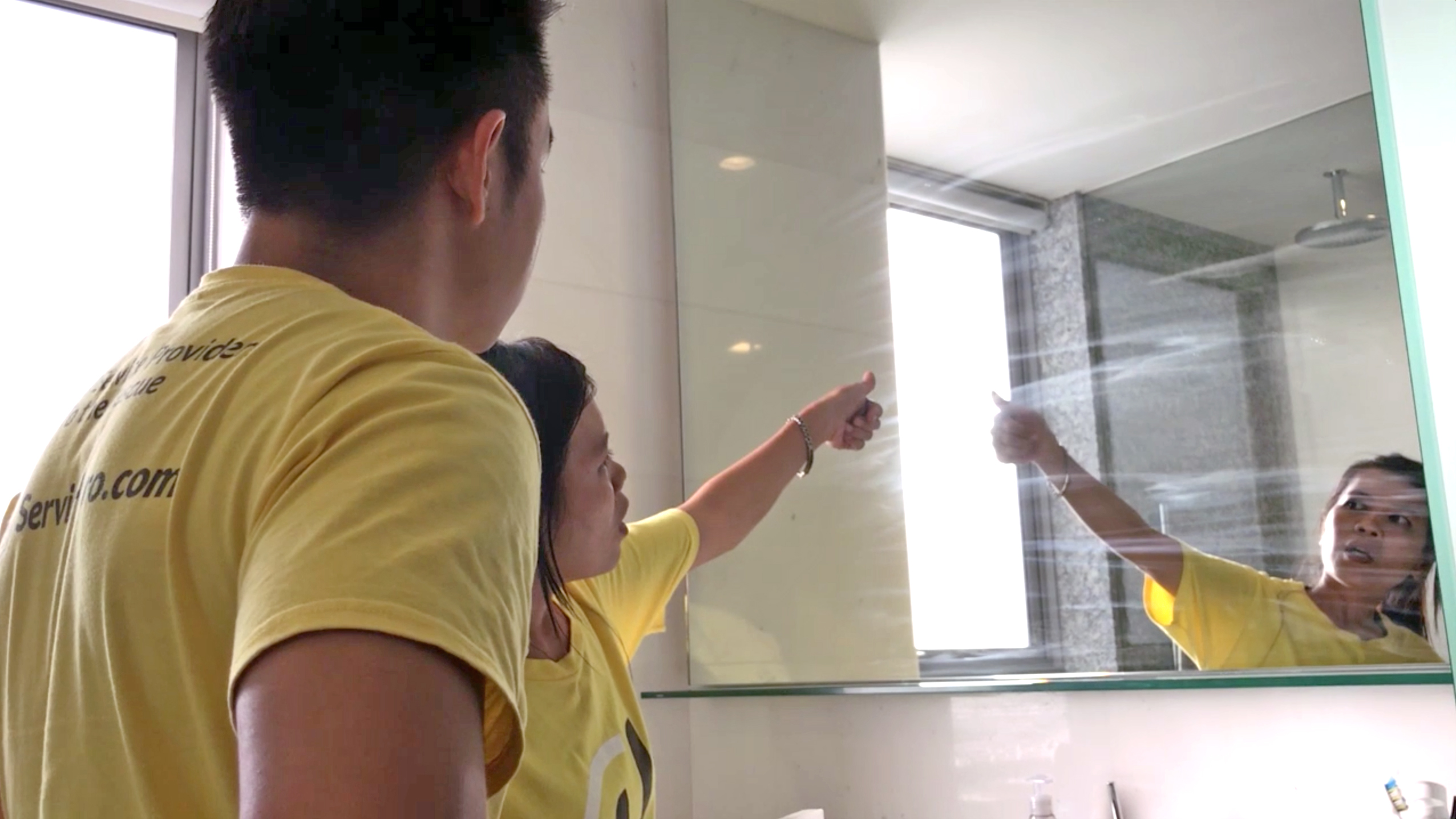 Thong bravely admits this, to explain why he needed four or five sessions of training with one of his registered cleaners before being able to start work proper.
In these lessons, he learned how to clean toilets, dust, vacuum and mop (he admits also to still not knowing how to iron clothes), before starting to bid for his own cleaning jobs.
"I'm actually very ashamed of that fact (that he doesn't do chores) after I started learning cleaning because I realise how hard it is to actually maintain a household. I took a lot of it for granted... Sorry mum."
His sole experience of cleaning prior to this, he says, comes from his days with the naval diving unit, where a particularly strict instructor made them repeatedly clean their bunks for "stand by bed" inspections, not allowing them to sleep until he was satisfied with the standard of their tidiness.
"(He would) stand by-bed till 3 'o clock if he managed to capture a single speck of dust. So we always needed to re-clean 6, 7, 8 times. It would drive us insane," he shared, shaking his head.
"(But) it's a good thing, you know, now I realise, to know how to clean, to know how to do the household chores, cause it's really tough work. And it's just a tremendous job to make sure that every house you go in has a certain standard, it's consistent. Not easy."
He also stresses that he is more mindful now that he cleans people's houses, even though his mom is still the main chore-doer in the house, apart from a helper who works chiefly at his grandmother's house.
"I'm a lot more mindful of the way I use my... use the shower, use my own room, the way I mess things up. I now pay a lot more attention to that."
"Why are you cleaning? You have a Master's degree. What are you doing?"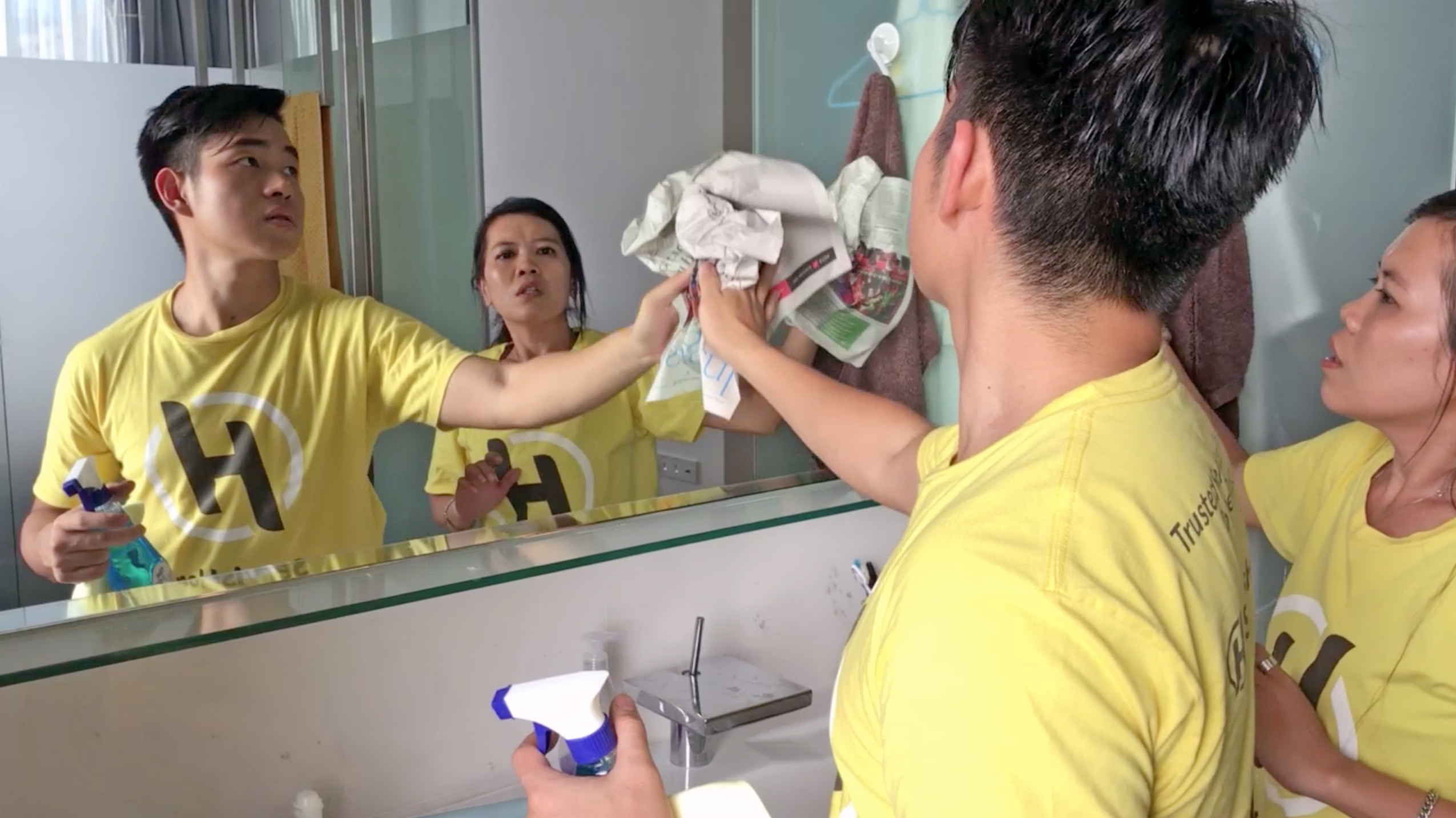 Over the past two months, Thong has cleaned more than eight homes — ranging from a two-bedroom HDB flat to a sprawling bungalow — three by himself and five alongside another cleaning professional.
For many of these, he's had to lug an army duffel bag of cleaning equipment where requested and gets stopped for checks by train station staff.
Why? Surprisingly, his clients do not have vacuum cleaners, mops, pails and rags.
"Cause they think, like, you're carrying some sort of dangerous items... (and when I open the bag for them to check) They ask me lah: 'Why got vacuum cleaner, why got like duster. Where are you going?' And I'm like, I'm going to clean, you know," he says matter-of-factly, as if it's a perfectly regular thing to be doing — carrying a bulky bag with cleaning equipment onto the MRT.
Experiencing that enough times on-the-job prompted Thong to work out a tie-up with private-hire car company Grab, which now offers all of his service providers — be they cleaners, handymen, electricians or any others — discounted rides to and from their work destinations.
His most memorable job so far? His first, in which he faced a particularly challenging pair of toilets:
"There were stains, at the bottom, like hardened. Hair was stuck in the drainage. The glass surfaces were really... there were a lot of water marks. And it was very badly upkept. The shower heads and the faucets were not shiny at all. And you know you'll have a tough job scrubbing the floor, cleaning the toilet... I took about an hour longer for the job but I didn't charge the client for the additional hour. I cleaned both toilets, I think I took like, an hour and a half each. It was really really long. And I still had to vacuum and mop the floor. And I came out of it like sweating, drenched...

But when she came out... she inspected the apartment and saw the before and after photos, I think she was really impressed and she was really just like "wow". And when you see that, wow, you know like, okay, I've done a good job. I've actually done, like, hard labour and actual physical work that I can feel proud of rather than, you know, like two hours creating a model that showed some projections which I don't know whether are true or not. This feels a lot more tangible, right, cause you're actually doing physical labour and there's something very rewarding about sweating it out. To actually be physically with your hands transforming something. I think that was a very good experience."
As most cleaners are typically a little older than Thong, he also finds himself at the receiving end of inquisitive looks and questions from homeowners he meets when he visits them to clean their houses.
"Most homeowners are fairly surprised, I guess, when I show up and I'm a bit young, right. I typically explain away by saying that you know, I'm just a student, someone that's just here to clean... Or sometimes I say that, you know, I'm just a cleaner on this platform. I mix it up.

I try not to make them too uncomfortable... Most times they don't want to talk, so sometimes you just go in and you say hi and then that's about it. They're gonna sit down in a corner and relax cause that's what they've paid you money for right? You're supposed to just do your job."
He was also asked by his mother, a MINDEF defence executive officer, when he first told her he had started cleaning houses, "Why are you cleaning? You have a Master's degree. What are you doing??"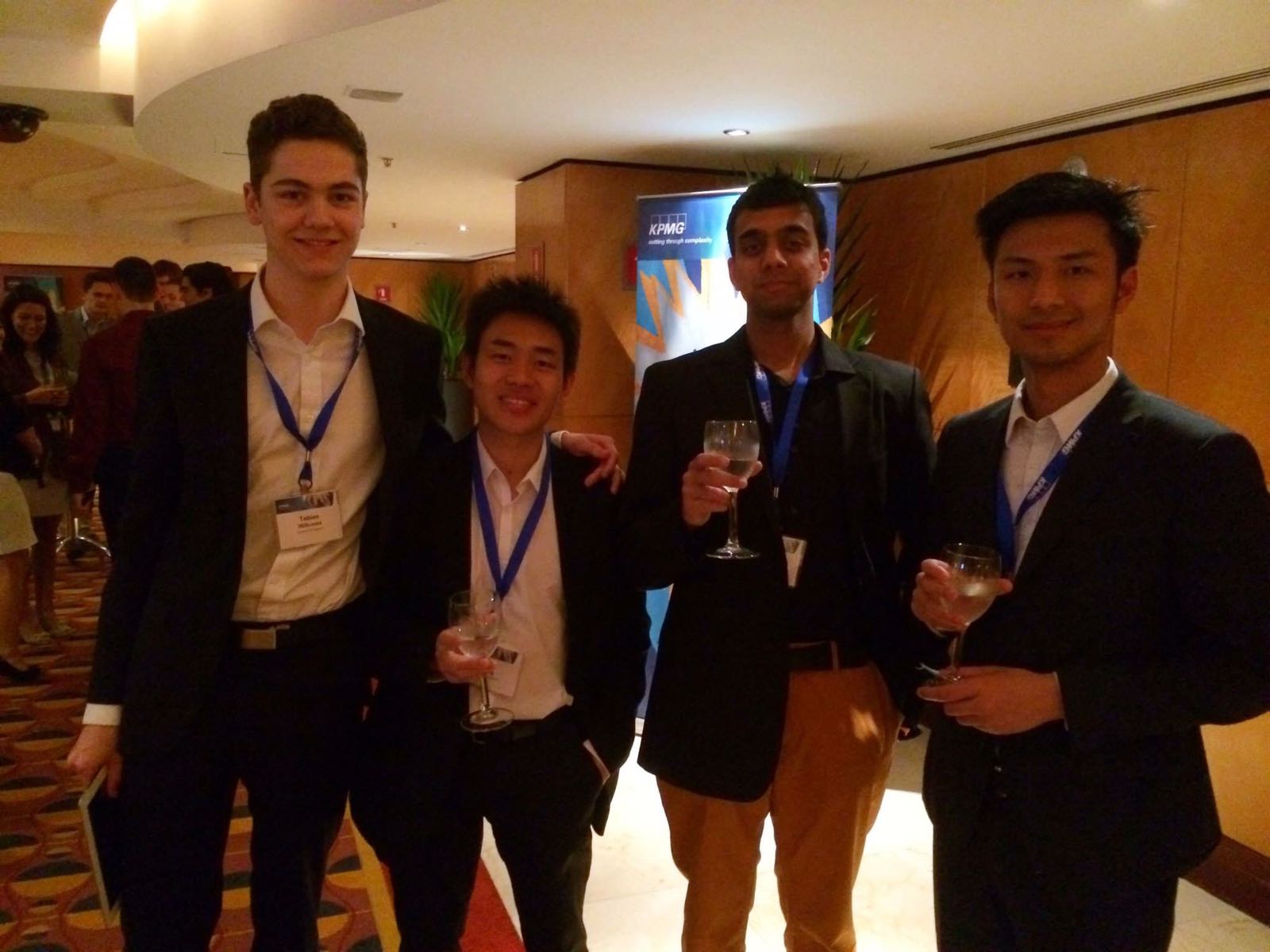 Having given up an offer for a cushy job in the UK at KPMG, after coming in first in an international case competition and graduating top in his academic programmes, Thong also readily admits how difficult it was telling his parents about his efforts to dive headlong into a start-up.
"In general they're quite supportive, but they're mindful of the trade-offs and they tell me of the risks that lie ahead. But I think that if you're always taking the comfortable path, you'll never innovate, right. You'll never ever find things that are interesting if you're always taking the safe route.

So they also understand that, you know, sometimes it takes a bit of risks and a bit of daring to be able to innovate... So regardless, I think I'm very happy with what I'm doing and I don't think that's something I ever regret — helping people."
Young people can be in the cleaning industry and earn a "reasonable wage"
All this might make you think Thong's years in academic development made no sense in the line he is in — not so, he argues, making strong cases for the application of philosophy (which he uses to understand both service provider and consumer behaviour) and economics, the two disciplines he did his Master's degree in.
He speaks passionately about the current salary situation cleaners are in — even under the Progressive Wage Model, they'll only make $1,300 per month — and notes that in comparison, his most established freelance cleaners now earn in excess of $2,000 and $3,000, even, in some cases. Agency cleaners earn $9 or $10 per hour, he says; freelance cleaners with credibility and strong ratings on his app can now command $30 per hour.
You could also call him an economic idealist who believes that market forces will eventually adjust cleaners', electricians', plumbers', handymen and other household freelance service providers' wages upward to a more sustainable level, given the dwindling available and willing labour pool for these jobs.
In that scenario, he believes that in the future, young people will eventually step up to the plate of doing this type of work, once people on the whole are willing to pay a reasonable living wage for it.
"I hope that Singaporeans at least will respect the profession, and recognise that when prices go upwards... they would be able to recognise that what these professionals are doing (are actually perfectly respectable professions), right, and you pay them because their time is also, you know, worthy of respect or worthy of your money right? So that's what I hope Singaporeans will do."
Truly giving back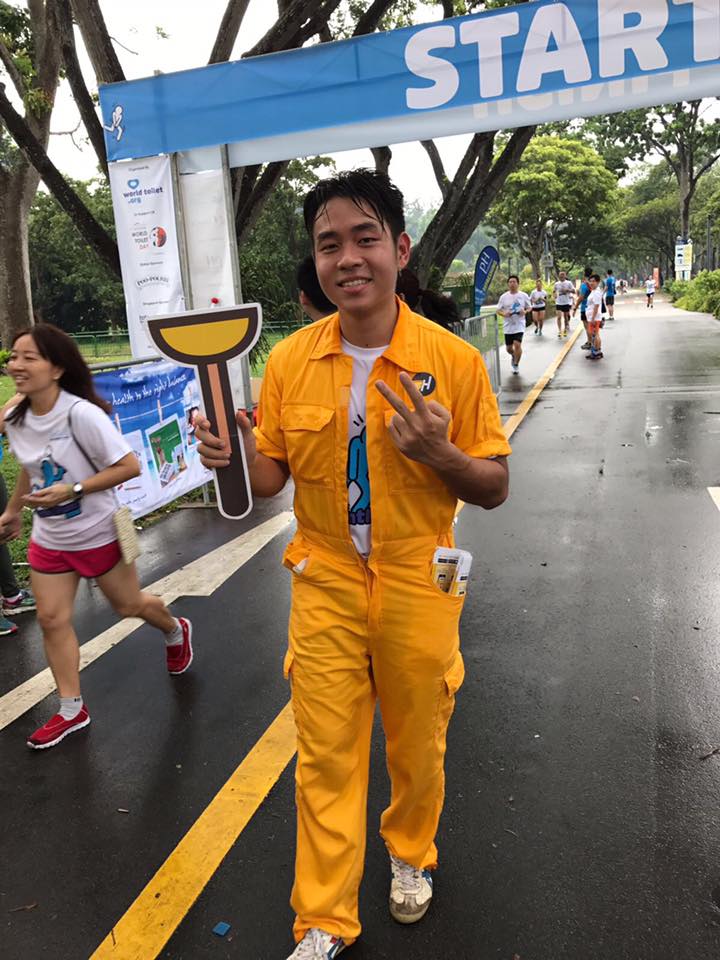 Now, Thong knows very well what he's doing. He doesn't play down his education — it's prominently displayed on LinkedIn, and he *does* want people to know that he and his core teammates, many of whom he met in Oxford, mean serious business with their platform, called ServisHero: after all, their sterling credentials appear below their names on their website too.
There are also additional business ends to taking on cleaning — he's helping his pool of cleaning professionals meet the holiday season and spring-cleaning demand from customers on the app.
Be all that as it may, it would be unfair to dismiss the effort of Thong and his young team of go-getters, especially because of where they came from or the fact that they are part of the "haves" — Thong clearly believes that the best way for him to distinguish himself from, well, other richly-blessed young entrepreneurs, is to put not just money, but particularly concrete action, where his mouth is.
"I think it can be very puzzling to people on the outside why I... like doing all these things for my service providers, but at the end of the day, technology aside, what is most important I think when I do what I do is really to help people from all walks of life. And if you are not connected to them, if you are not able to empathise with them then you are never going to be able to create solutions that can help them, right?

So if I cannot empathise and understand what they do, you know, I'm never going to be able to make a difference. And to me, making a difference is very important. If it means being on the ground, staying grounded, staying humble, it's exactly what I would do; definitely I'd do it all over again if I could."
Top photo courtesy of Daniel Thong.
If you like what you read, follow us on Facebook and Twitter to get the latest updates.
If you like what you read, follow us on Facebook, Instagram, Twitter and Telegram to get the latest updates.