Last week (Nov. 8), Minister-in-charge of Muslim Affairs Yaacob Ibrahim spoke in Parliament on the Malay community's desire to see a President from their community.
He pointed out that there was a need to ensure that all of Singapore's minority races, not just the Malays, can be equally represented for the Elected Presidency.
Yaacob also said that the issue of having a Malay President is an emotive one for the Malay community, particularly for the older generation, who had lived under a Malay President. That President was Yusof Ishak.
It is now certain that Singapore's next Elected President (EP) will come from the Malay community -- the Bill to amend the Constitution was passed in Parliament with 77 Members of Parliament (MPs) voting "Yes".
46 years have gone by, since Yusof Ishak passed away while holding office.
Singapore's first President is fondly remembered by the founding generation of Singaporeans.
He had a difficult task of uniting a multiracial nation that had independence thrust upon it, but rose to the challenge, nonetheless. He was exemplary in his duties and managed to unite all Singaporeans, especially in the early days of Singapore's independence.
Here are 12 things to know more about the first Malay President:
1. He was born in Malaya
Yusof was born on Aug. 12, 1910 in Padang Gajah, Malaya. He spent his early education in Malaya, before his family moved to Singapore in 1923.
2. He was an all-rounder in school
In Singapore, Yusof was educated at Victoria Bridge School (present day Victoria School) and Raffles Institution (RI). He was an all-rounder, who excelled in his studies and extracurricular activities.
At RI, he got a distinction for his Cambridge School Certificate in 1927. He also represented RI in various sports, co-edited the Rafflesian, was a prefect, and was the National Cadet Corps' first ever second lieutenant.
[caption id="" align="aligncenter" width="512"]
Photo from National Archives[/caption]
3. He initially wanted to be a policeman 
After leaving school, he joined the colonial police academy in Kuala Lumpur (KL) for a while, before some disagreement made him give up becoming a policeman altogether.
4. He found his calling in journalism
In 1932, a 22-year-old Yusof joined the Malay newspaper Warta Melayu as a clerk and would rise rapidly to become the paper's acting editor.
In 1938, Yusof went on to spearhead the establishment of the Malay newspaper Utusan Melayu (UM) in 1938, together with some Malay leaders in Singapore.
UM was disrupted during the Japanese Occupation from 1942 to 1945, but Yusof resumed its business and stayed with the paper till 1959.
5. He was a boxing champ
Yusof continued to be active in sports even after he had left school. He was Singapore's light-weight boxing champion in 1933.
6. He ran a provision shop for a few years
When UM was disrupted during the Japanese Occupation, Yusof went to Taiping, Malaya, where he lived out the war by running a provision shop.
7. He held various government appointments from 1946 to 1959
Throughout his post-war years with UM, Yusof also held many appointments under Singapore's colonial government. He was on the Film Appeal Committee, the Nature Reserves Committee, and the Malayanisation Commission.
In 1959, Yusof left UM, which had been based in KL since 1957 to return to Singapore to assume chairmanship of the Public Service Commission.
8. He was appointed head of state by Queen Elizabeth II
On Dec. 3 1959, Yusof was appointed by Britain's Queen Elizabeth II as Yang di Pertuan Negara or head of state for the fully self-governing Singapore.
When Singapore became independent in 1965, Yusof became Singapore's first President.
[caption id="" align="aligncenter" width="208"]
Photo from Wikipedia[/caption]
9. He had the monumental task of uniting Singaporeans in the early days
Throughout his time as Singapore's symbolic head of state, Yusof had the difficult task of uniting a nation that had experienced the Communist Emergency, Maria Hertogh riots, communist threat and the racial riots of 1964. To top things off, Singapore also faced an uncertain future on every front after independence.
But unite Singaporeans he did. Yusof promoted multiracialism to Singaporeans by going out to meet people from the various communities to build trust, confidence, and unity among Singaporeans.
10. He passed away in office
On November 23, 1970, Yusof passed away in his third term as President, but with the population more united than it was in 1965.
11. He is the only President circulating in Singapore's currency
Yusof remains the only Singapore President to date to be commemorated by having his image featured on Singapore's currency.
A new mosque in Woodlands will be named Masjid Yusof Ishak, while a think tank -- the Institute of Southeast Asian Studies (ISEAS) -- was renamed as ISEAS in honour of him.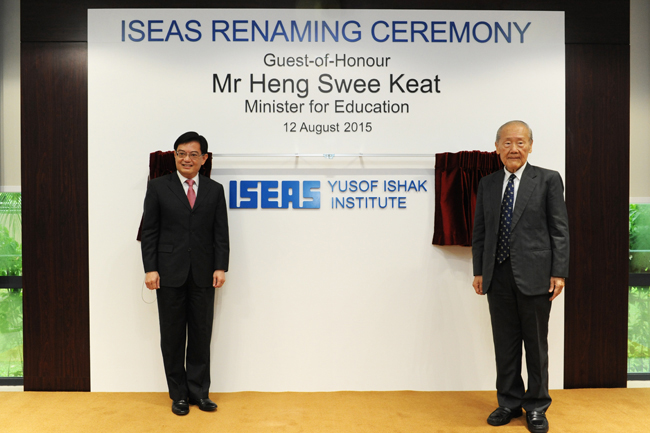 12. His wife has lived to witness Singapore's progress into the present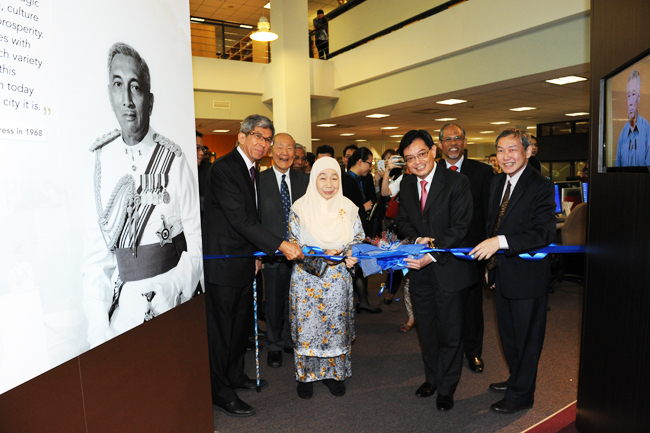 Yusof's wife, Puan Noor Aishah, survives him to this day.
She officially opened the Yusof Ishak Exhibition at ISEAS Library on August 12 last year.
Related articles:
Everything you need to know from PM Lee's 24-page speech on Elected Presidency in 60 seconds
Yaacob Ibrahim had difficult task of balancing national interests & Malay community's for Elected Presidency
Top photo from here 
If you like what you read, follow us on Facebook and Twitter to get the latest updates.
If you like what you read, follow us on Facebook, Instagram, Twitter and Telegram to get the latest updates.