For the first time ever in our history, Singapore has won the overall gold at the Culinary Olympics.
Also for the first time ever in our history, Singapore foodies have discovered that the Culinary Olympics exists.
What's that, you might ask?
It's basically the food-cooking Olympics. It happens every four years, like the Olympic and Paralympic Games, and gourmet chefs from all over the world send in teams of cooks to compete by cooking sets of hot and cold dishes.
The significance? Singapore sent in a team and beat more than 30 countries' representatives from gourmet capitals the world over.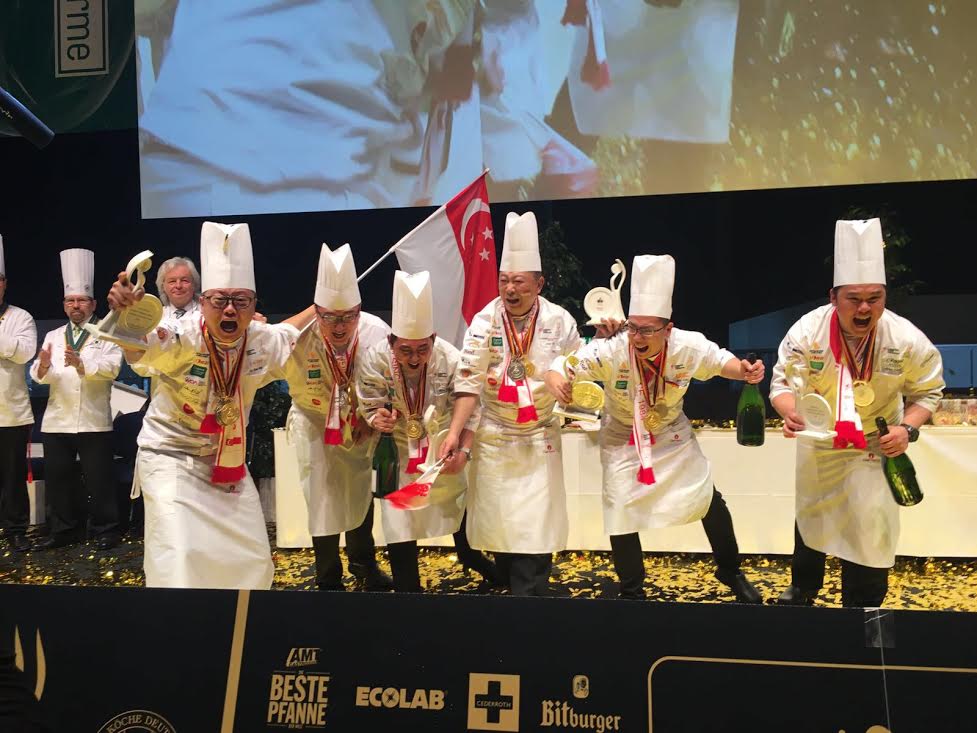 We can feel their exhilaration.
So we thought we'd find out and share a bit more about this super-duper prestigious event —
This year's competition, held in Erfurt in Germany, is divided into two categories, a cold dish display and a hot cooking section. The team has one night each to work on the dishes, where they will be presented and judged by an international panel.
The cold display category called for a very long list of dishes in five different categories including four types of finger food, a platter with salad, three different starters, a lacto-ovo vegetarian three-course lunch menu, and a five-course festive menu, including dessert.
And we haven't talked about pastries yet!
Here are the four finger food dishes they presented:
1. Forest Cherry — Quark curd, green tea cracker and lychee calamansi sorbet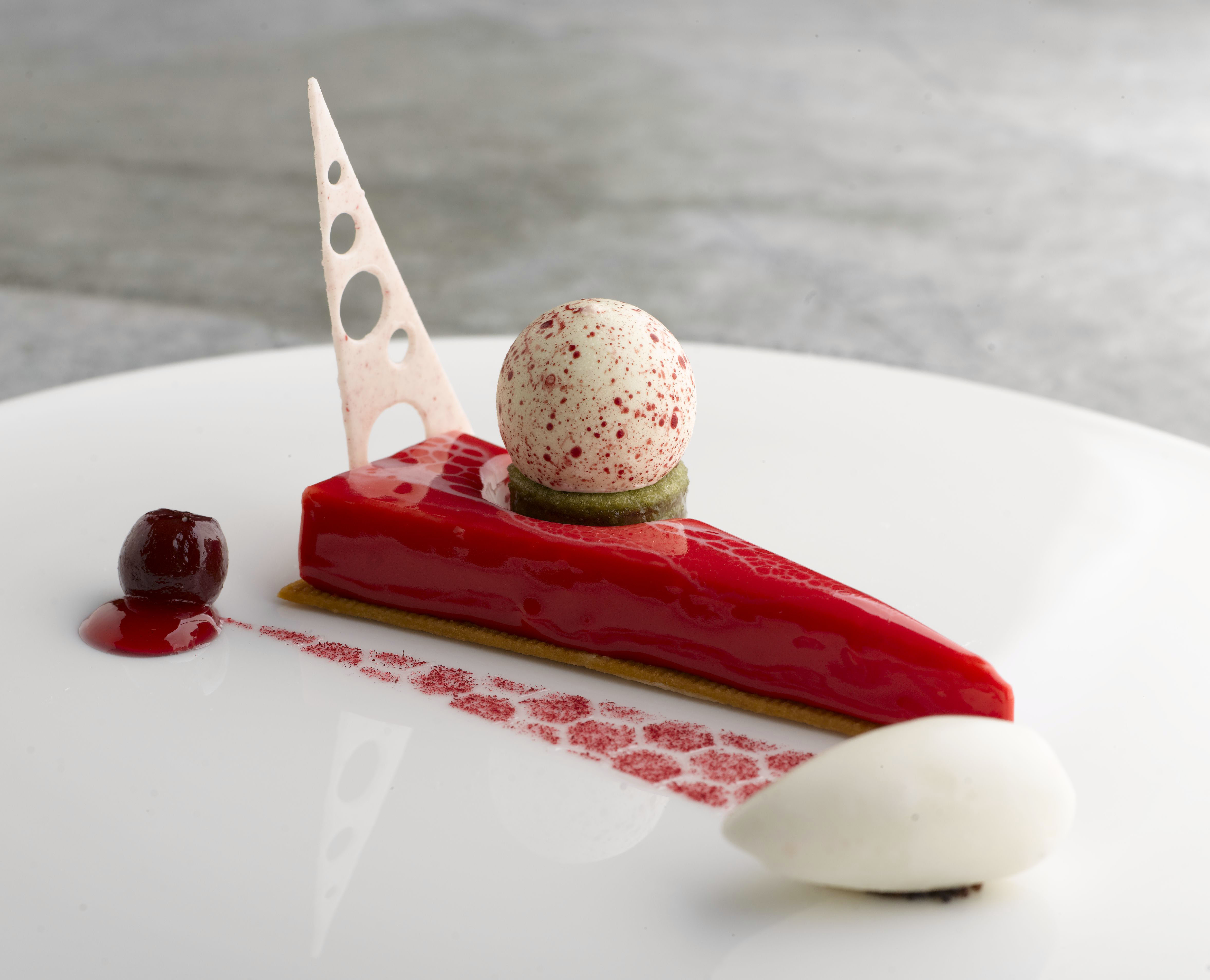 2. Carrot and Citrus — Heirloom baby carrots and grapefruit jelly with terragon-orange reduction, carrot with puffed quinoa and shaved carrot slaw, and yoghurt sorbet.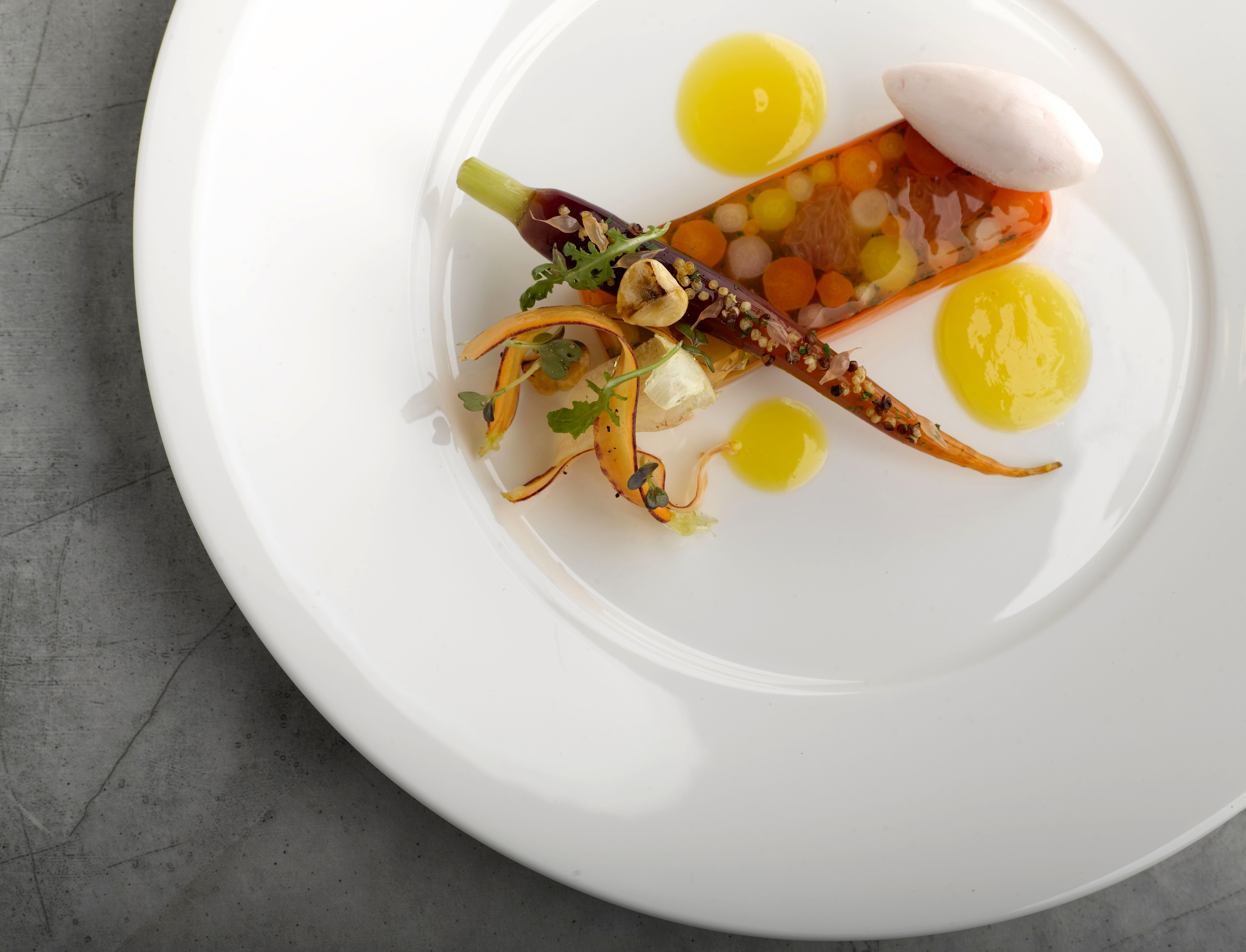 3. Cauliflower — cauliflower custard with onion chip, truffle purée, crispy kale with blanched brassicas, roasted pearl onion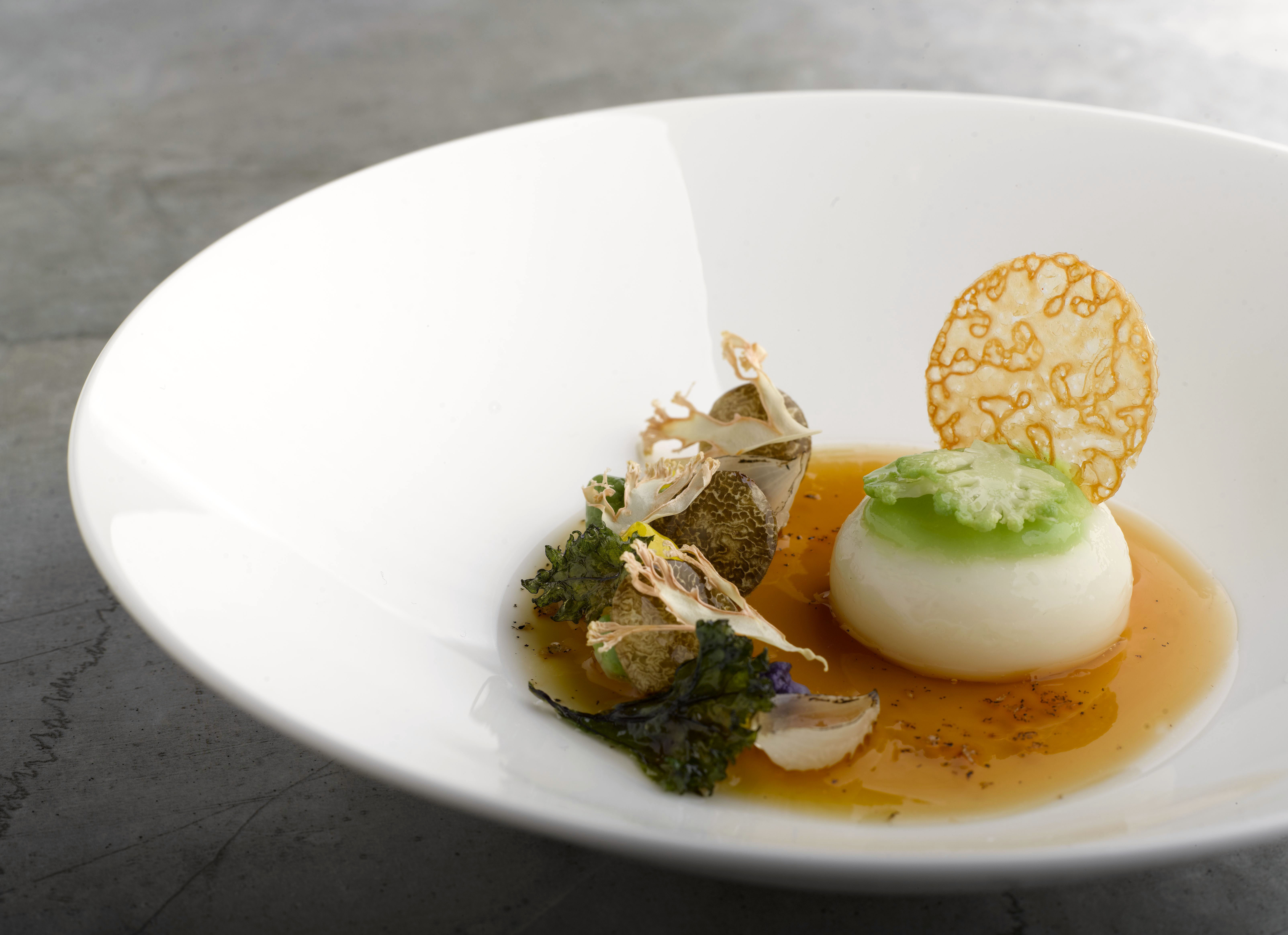 4. Alaskan King Crab and Octopus Roulade — green mangrove crab salad, lime-infused compress watermelon, green apple slaw and squid ink cream.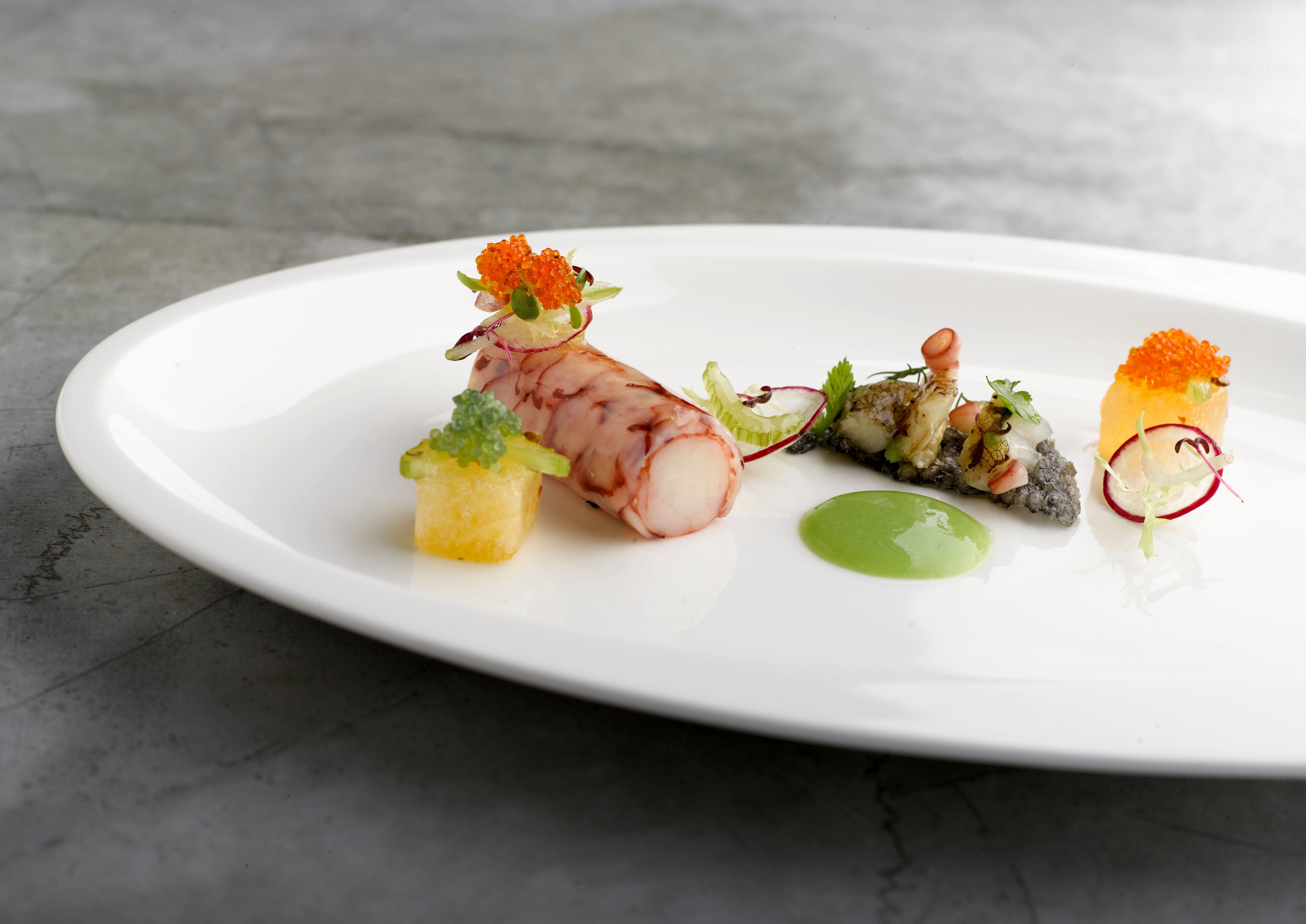 Here's a platter they had to prepare as part of the requirements: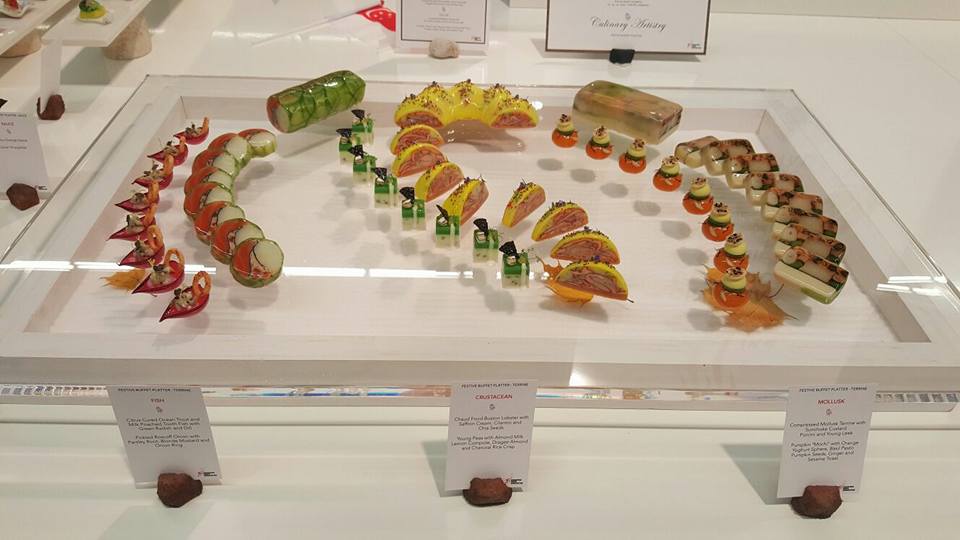 The breakdown:
a) Fish —
- citrus cured ocean trout and milk poached tooth fish with green radish and dill
- pickled roscoff onion with parsley root, blonde mustard and onion ring
b) Crustacean —
- chaud froid Boston lobster with saffron cream, cilantro and chia seeds
- young peas with almond milk lemon compote, dragee almond and charcoal rice crisp
c) Mollusk —
- compressed mollusk terrine with sunchoke custard porcini and young leek
- pumpkin "mochi" with orange yoghurt sphere, basil pesto pumpkin seeds, ginger and sesame toast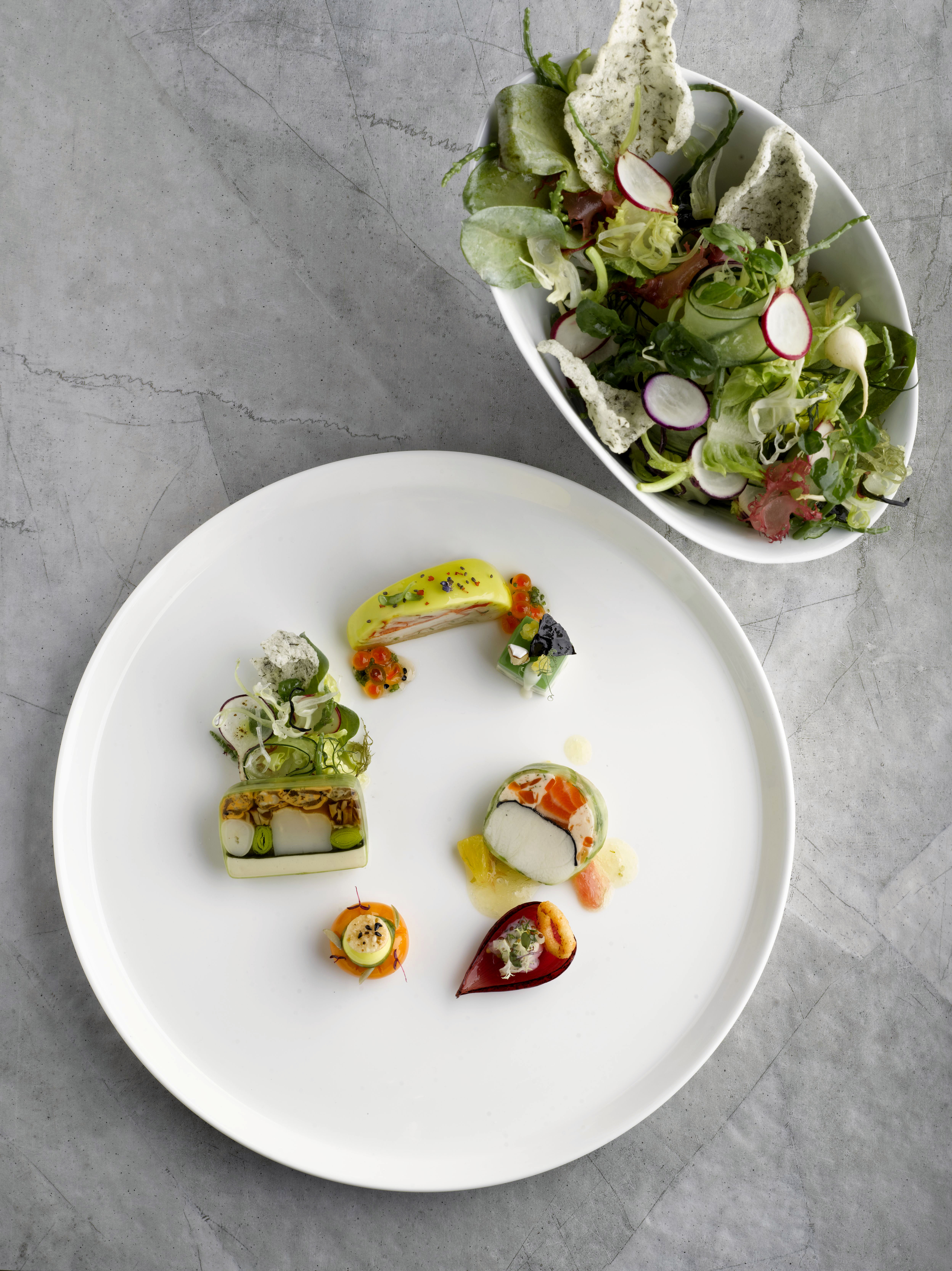 And here's a closeup of the completely-edible show item, as part of the pastry section of this competition, which was made entirely on the spot: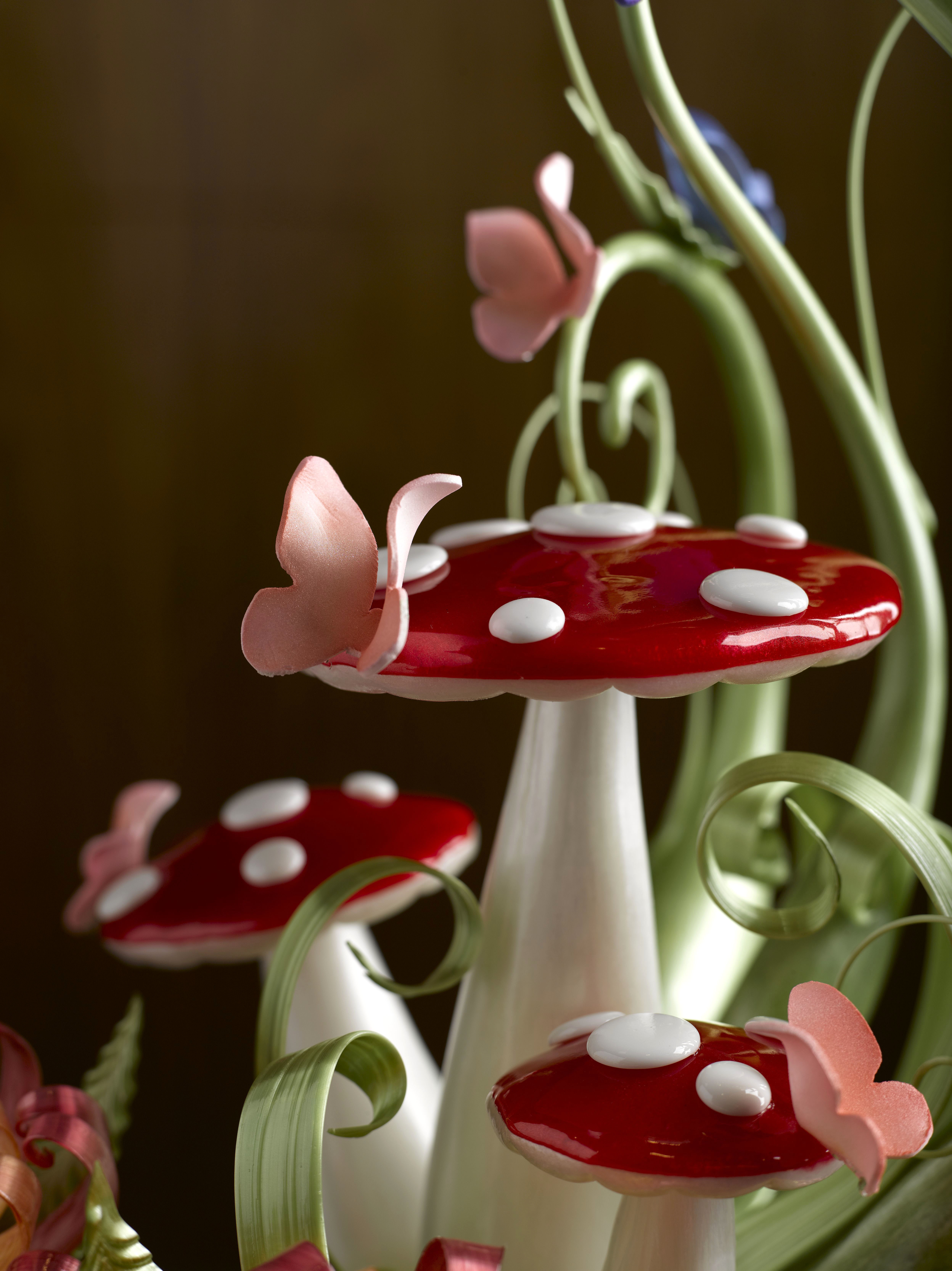 Just for some perspective, here's a pic of the entire set-up (cold dishes, pastries and the show item):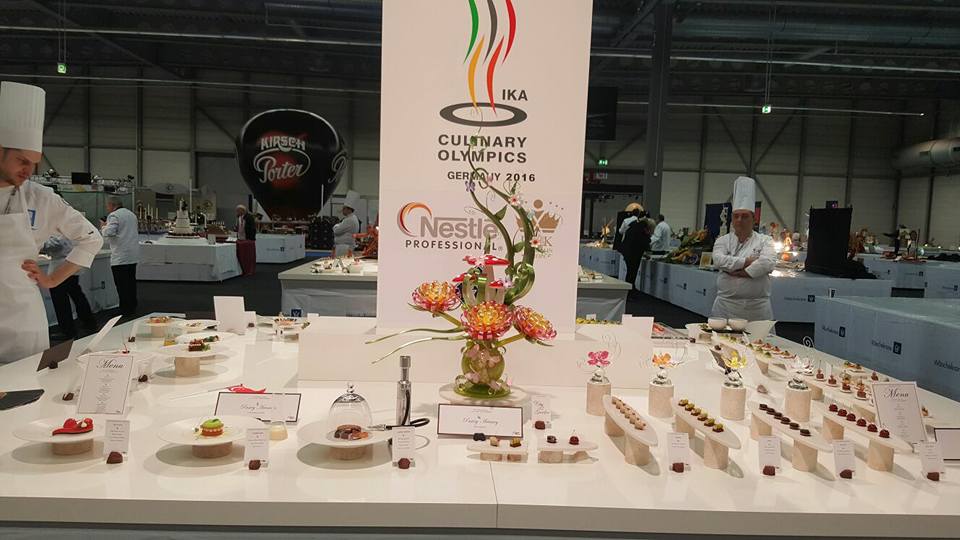 Siao. And the six of them did all this through the night, over about eight hours.
Just when you thought that was it, there's still the hot cooking competition. This one was slightly more straightforward, calling for a three-course menu — starter/appetiser, main course and dessert. The catch: they had to prepare 110 portions of each.
We're tired just thinking about it. But just so you have an idea, here are the dishes they made:
1. Appetizer: Scottish salmon with cauliflower glazed, smoked scallop Maine lobster in squid ink batter, snap pea and radish salad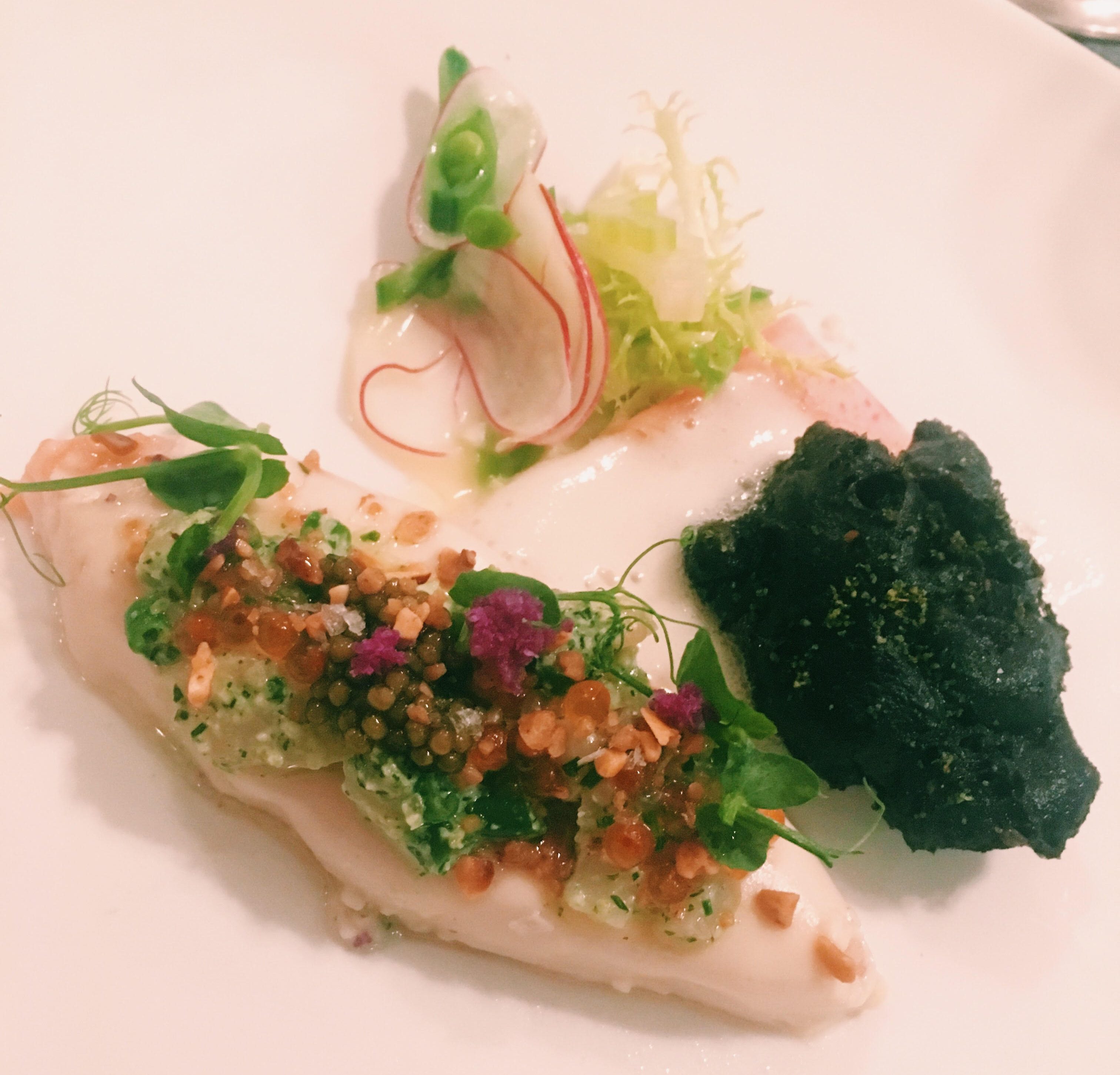 2. Main course: roasted rabbit loin with foie gras and bacon, balsamic-glazed rabbit leg with Dukkah spice braised rabbit with mustard cream in savoury pastry, carrot puree and sour raisin jus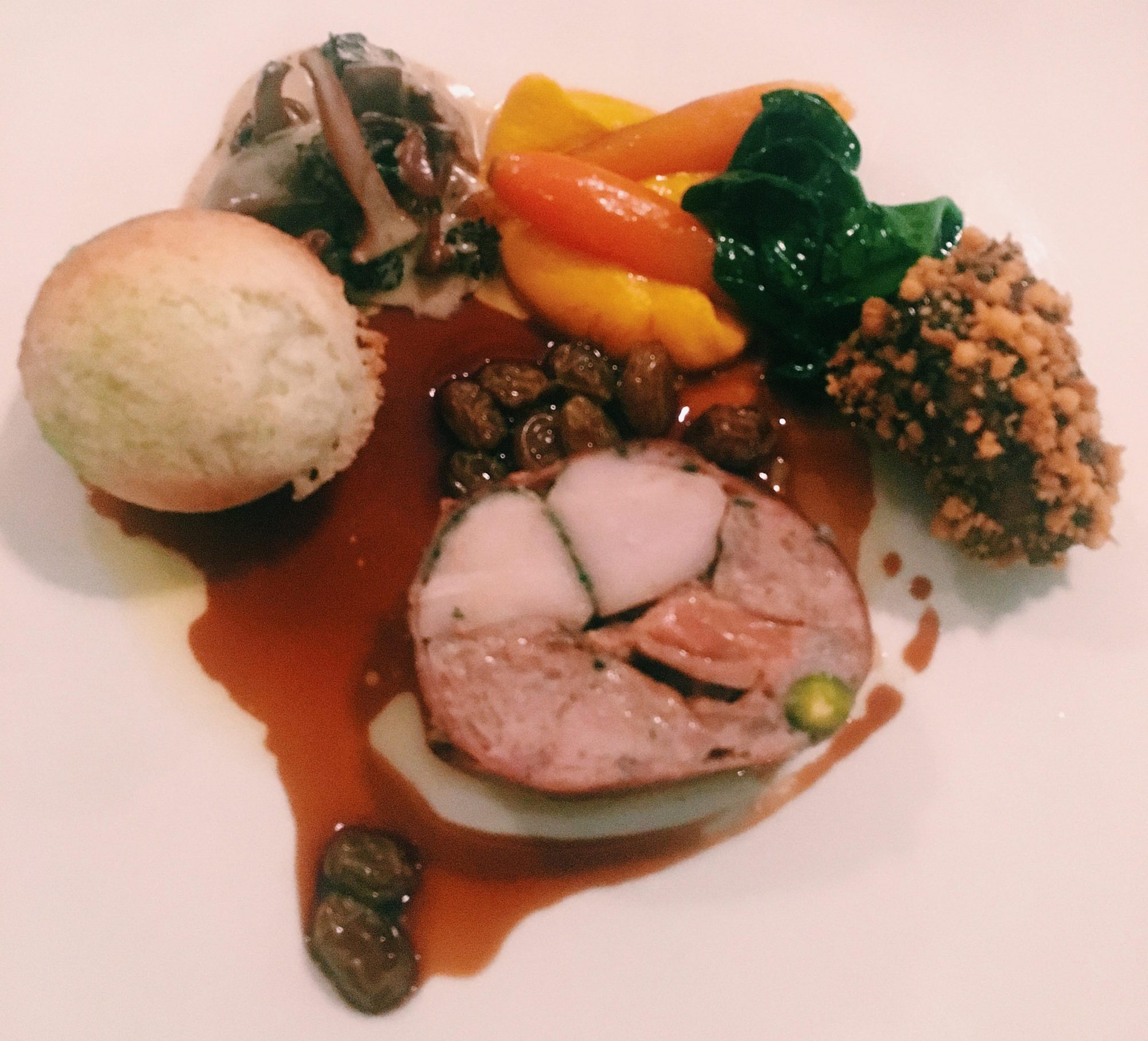 3. Dessert: new constructed caramel apple tart; molasses hazelnut crumble, ice Verbena apple compote Yuzu fromage blanc sorbet (we don't even know what we're typing)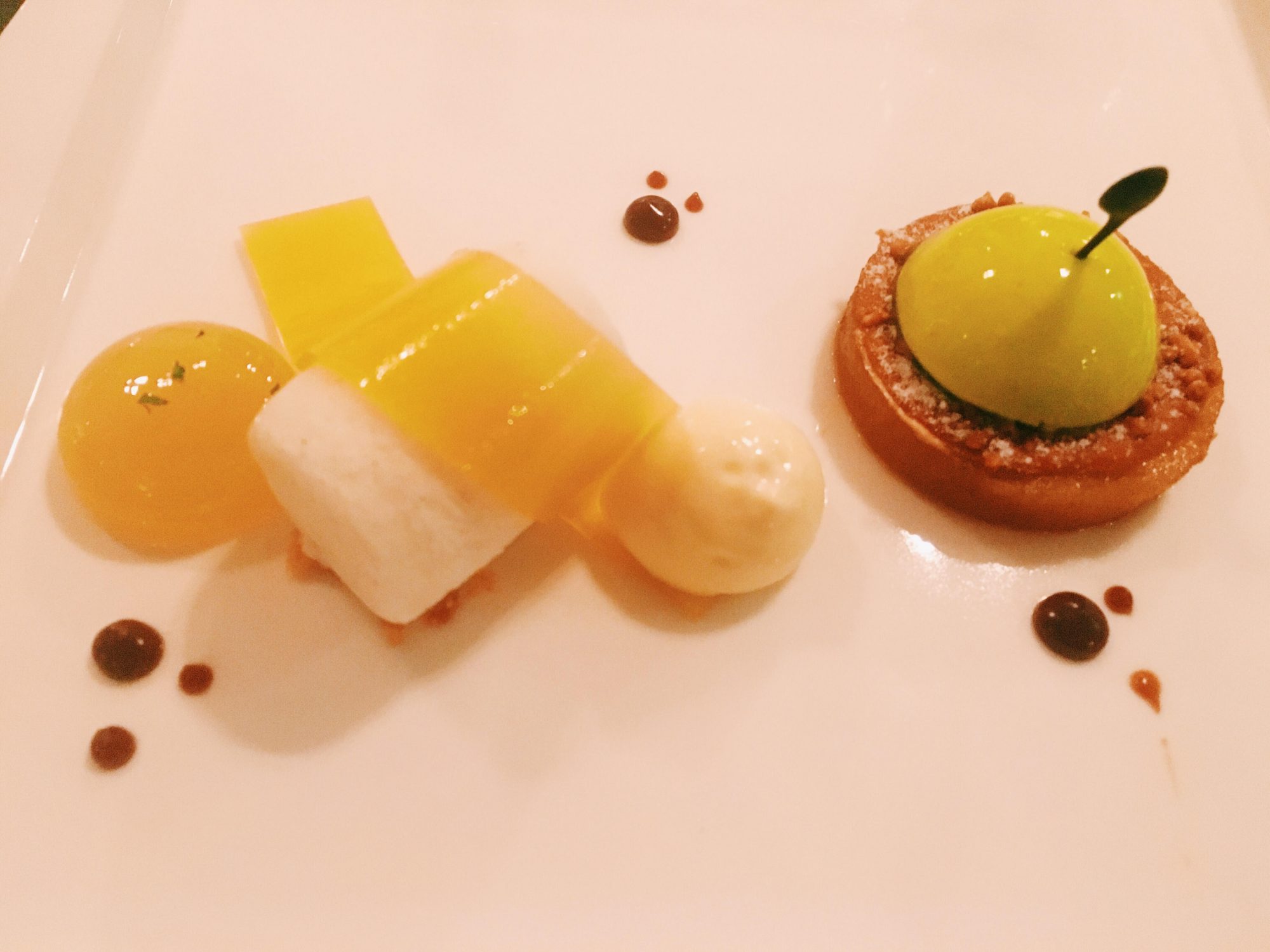 Somehow, these folks survived all of that, and to get to this, the team spent almost a year training.
In countries like Norway, the teams get months off to train full-time, with support from the government, while here, the six chefs still hold full-time jobs at various hotels, restaurants and caterers.
They burnt many weekends for months on end, working with assistants and a team of mentors who gave feedback on matters ranging from ingredients to techniques.
These days, though, we're told they have corporate sponsors and support from e2i and the Workforce Development Agency, for which they are grateful.
Win double gold liao, still not sure if they won?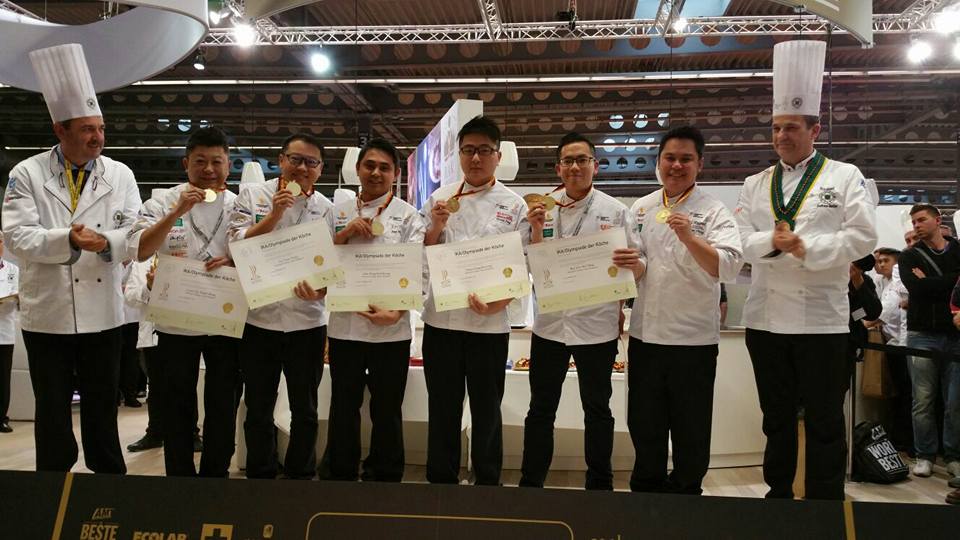 Now, in case you're wondering about why Singapore had to wait to find out whether they won the overall Olympic gold, it's because they weren't the only ones who won gold medals in the two food categories.
See, the medals are awarded based on the scoring system, so any number of teams that receives a score within a certain band wins the medal. In this year's Olympics, in fact, there were seven countries that attained double golds — Singapore, Switzerland, Sweden, Norway, Germany, Finland and the USA.
Our team just scored the highest :)
And there you have it — how Singapore, one of the world's greatest (self-proclaimed) food nation-states, clinched the overall gold medal championship at the 2016 Culinary Olympics.
Amazing work.
Related article:
Video shows Team S'pore's chefs losing it when announced as Culinary Olympics Gold medal winners
Top photo courtesy of Singapore Chefs' Association.
If you like what you read, follow us on Facebook and Twitter to get the latest updates.
If you like what you read, follow us on Facebook, Instagram, Twitter and Telegram to get the latest updates.