A modern day horror story in just two words: No WiFi.
These days, we rely heavily on WiFi when travelling to keep us updated with news, check our emails, plan our itinerary on the go and to keep in contact with our loved ones.
Having no access to WiFi is even more excruciating when you're waiting at the airport, or when your flight's been delayed.
Luckily for us, computer engineer and savvy traveller Anil Polat has compiled an interactive map of handy info about how to access airport WiFi, alongside their network passwords, where required, from all over the world.
Tada:
The map is regularly updated with information crowdsourced from the readers of his travel blog, foXnoMad.
"Finding an open wireless connection in many airports isn't always easy, or possible, without a password (or local phone number which is stupid)."
Anil wrote that his own experience with the difficulty in gaining access to wireless networks spurred him to ask his readers for passwords they have collected from airports around the world.
The map is an improved version of his original list of airport wireless networks and their passwords, which allows makes it easier for readers to "search, add, and keep up with this airport wireless password list".
Whenever Anil receives a new password from his readers, he posts it on the foXnoMad Facebook page.
In addition to creating this map, Anil recently released an app that makes the map even more accessible and user-friendly on smartphones: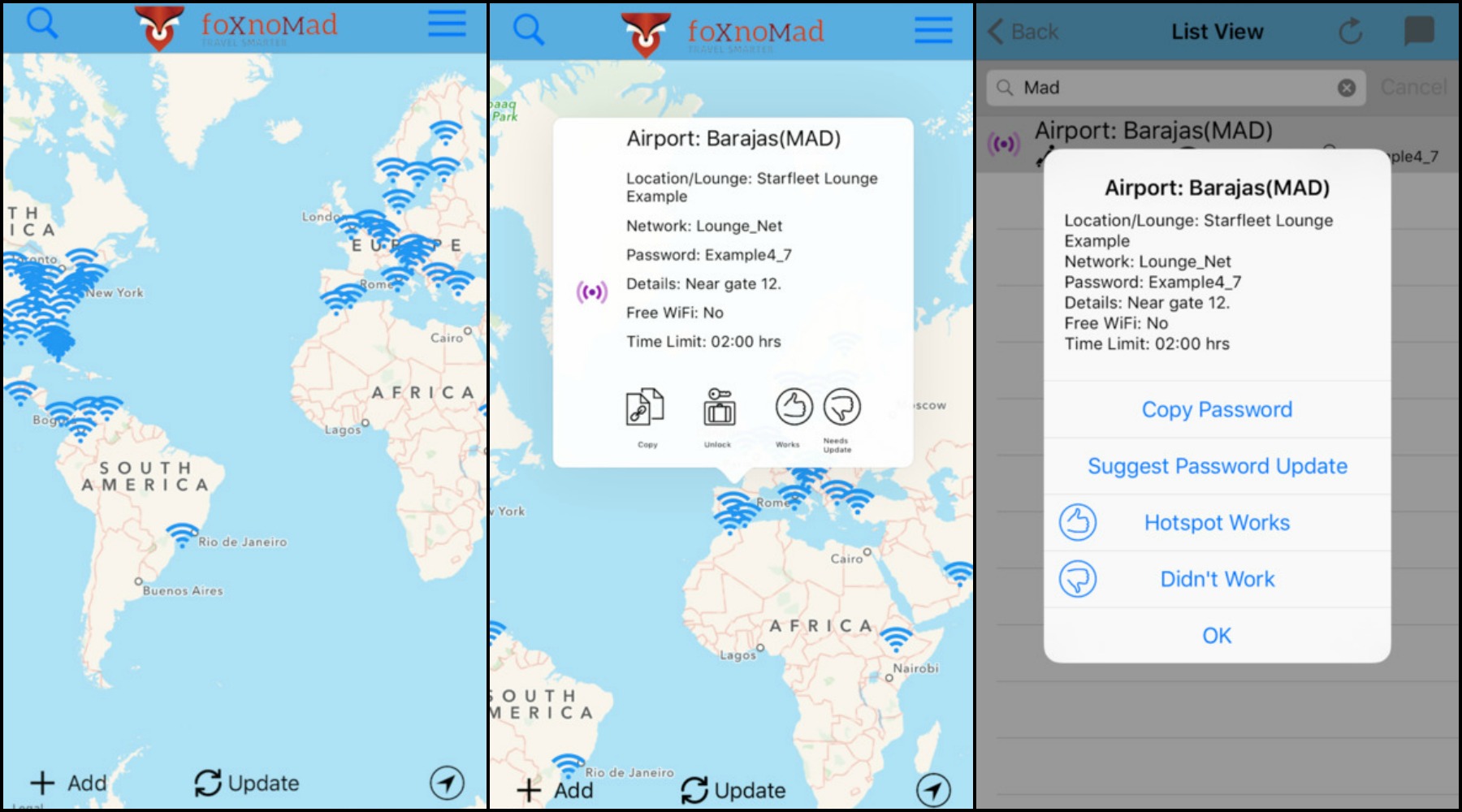 However, it seems that the map lacks comprehensiveness in the Asia region. These are the only airports listed:
Indonesia
Ngurah Rai International Airport -- Restaurant Manda; password: lovebali
Philippines
Mactan-Cebu International Airport -- Bo's Coffee; password: ashmugcup560
Ninoy Aquino International Airport -- Terminal 3; Go upstairs to left, follow all the way to end. At the food court there is wifi. If you buy a coffee they'll give you a password if you ask.
Malaysia
KL International Airport -- Free wifi; 3 hour time limit.
Thailand
Surat Thani International Airport -- Cafe right next to the entrance; password: 12345678
Suvarnabhumi Airport -- Bangkok Thai Lounge; network name: THAINETWORK_SILK (D), Username: tglounge, Password: tglounge
China
Shanghai Pudong International Airport -- SSID: #AirportPVG-WIFI, Username: 576518, Password: 3852
South Korea
Incheon International Airport -- Free wifi; network name: AirportWiFi
An increased number of airports around the world, such as our very own Changi Airport, now require users to pre-register or log in to free wireless networks with a password.
This is done in order to enhance network security and to reduce the risk of wireless networks being used freely for malicious means.
But hey, still a pretty useful list for places like Heathrow in London, the John F Kennedy Airport in New York, Dubai, Frankfurt and Barcelona.
And if you've got more passwords, you can always share them with Anil, and the rest of the WiFi-hungry travelling community!
Top image: Screenshot from map.
If you like what you read, follow us on Facebook and Twitter to get the latest updates.
If you like what you read, follow us on Facebook, Instagram, Twitter and Telegram to get the latest updates.