Sometimes trawling the National Archives can lead to some pretty interesting finds.
Like this 1885 map of Singapore titled Island of Singapore and its Dependencies.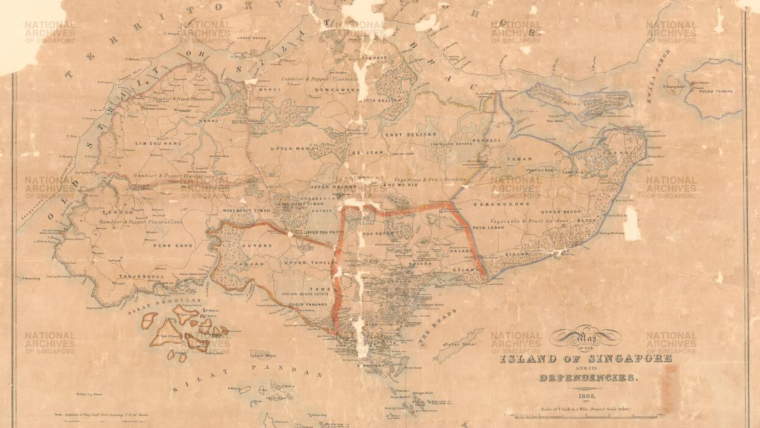 Before HDB flats were a thing, you could name an entire estate after yourself. Imagine that. That was how many of the river settlements got their names such as Choa Chu Kang, Lim Chu Kang, and Yio Chu Kang.
What is a 'Chu Kang'?
By mid 19th century, many Chinese settlers had arrived in Singapore and set up their villages across the island, many along rivers in the north. Chinese immigrants called these places kangkar meaning the land around the riverbank, river mouth or literally river's leg in Teochew.
These villages were named after the Chinese clans which controlled the part of the river they settled on - a practice common in China.
The head of the clan would be called a kangchu (港主) and the river settlement that he heads would be called a chukang (厝港). 
For example, Choa Chu Kang was named after the Choa clan which settled near the Berih River (Sungei Berih).
Some speculate that the area was named 'Choa Chu Kang' because the Choa clan built their house (chu) on the banks of a river (kang). "Chu" being a word for "clan" or "house" -- so Choa Chu Kang may mean Choa clan river.
All speculative, nothing definitive.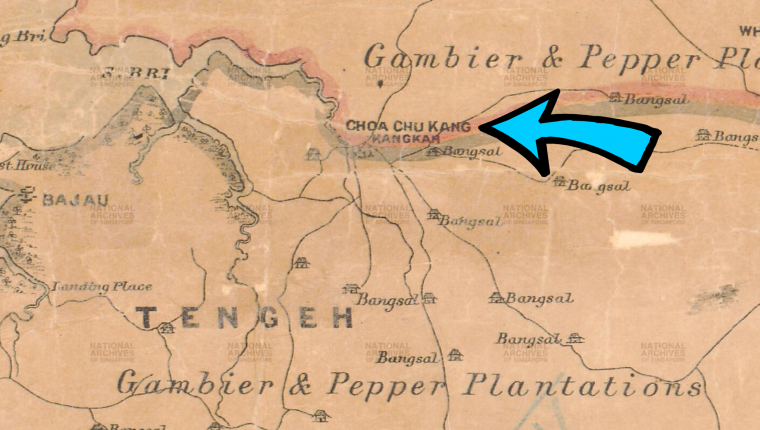 Other Chu Kangs
Lim Chu Kang was founded by Neo Ao Tiew near the Kranji River (Sungei Kranji). This village was controlled by the Lim clan.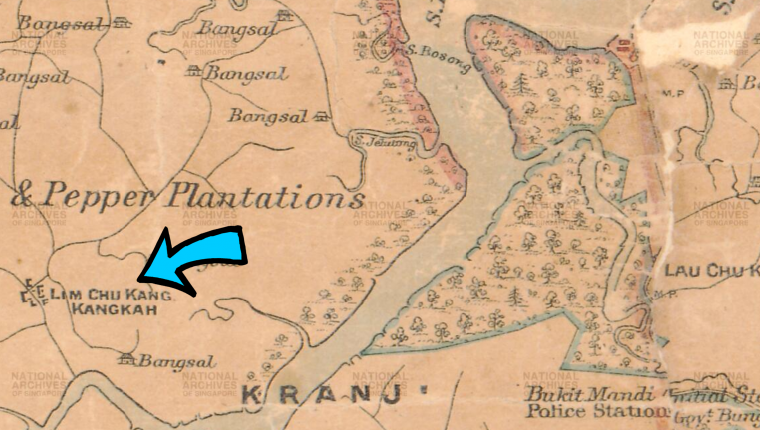 Surprise, surprise. There are other Chu Kangs other than Choa, Lim, and Yio that we know today.
Chan Chu Kang was located on a tributary off the Seletar River (Sungei Seletar). This village later developed into Nee Soon Village.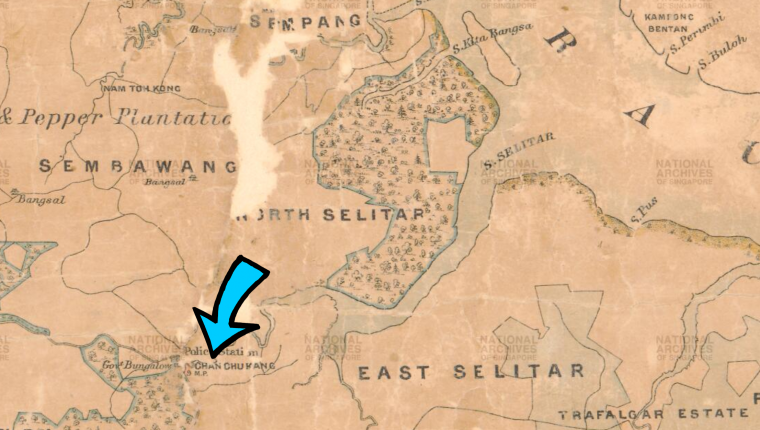 Other interesting river settlements can also be spotted on the map. Places with unfamiliar names such as Nam To Kang (present-day Sembawang), Lau Chu Kang (Sungei Kadut), Bu Kho Kang (Mandai), and Wha Heng Kang (Old Choa Chu Kang Road).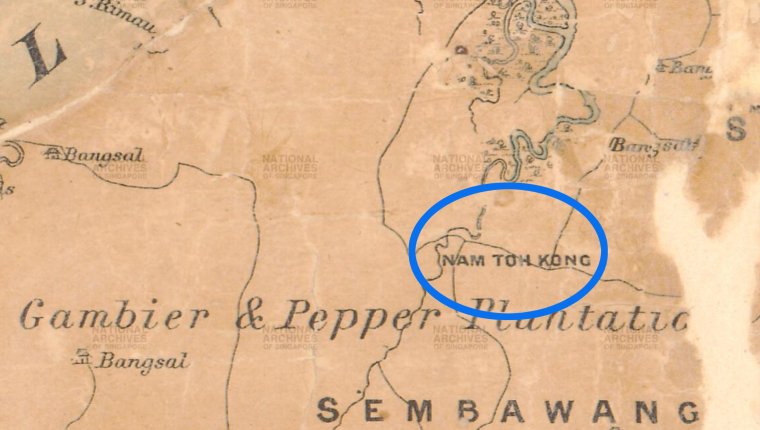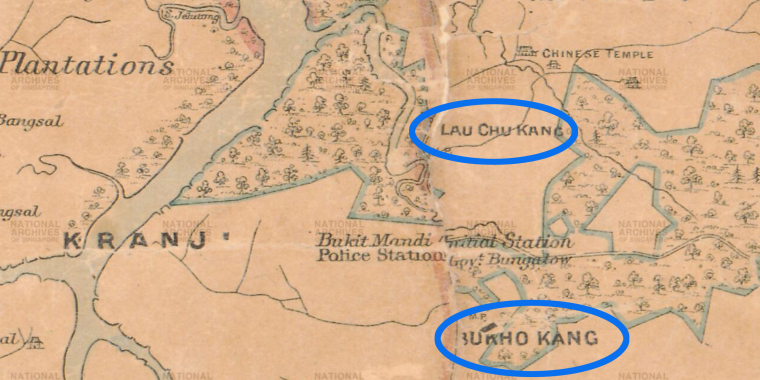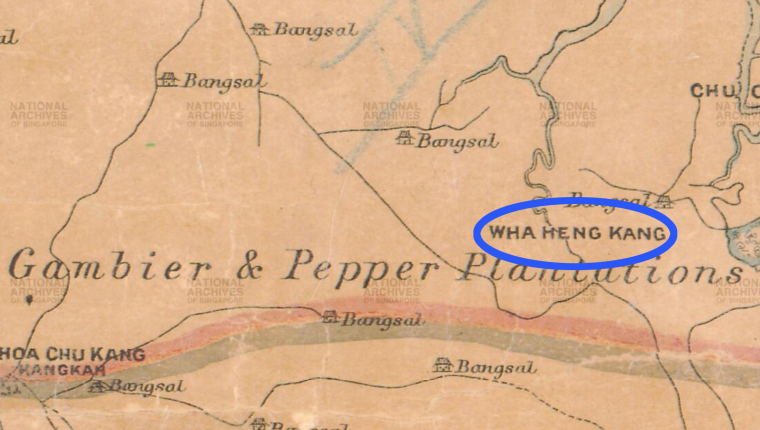 Sadly, there's no indication of a Phua Chu Kang having ever existed in Singapore last time. Perhaps in Batam or JB.
Other interesting finds from this 130-year-old map
The map also offers other interesting details, such as the abundance of gambier and pepper plantations - which was familiar work that the Teochews brought over from China.
When Raffles landed in Singapore in 1819, the British counted 20 gambier plantations on the island. This number likely excluded the plantations in the interior and north of the island which were difficult to find. Gambier is a tropical shrub and it is used in tanning, dyeing, and herbal medicine.
By 1855, the British had a better idea of how much gambier and pepper was being grown on the island, as seen below.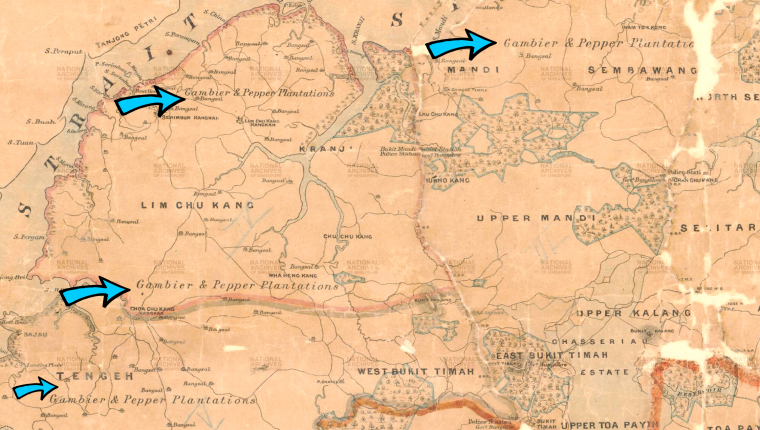 Take your time with the map and check out the rich detail it offers. Look closely and you might spot some gems, such as the group of islands which would soon become Jurong Island some 130 years later
All photos adapted from National Archives Online.
If you like what you read, follow us on Facebook and Twitter to get the latest updates.
If you like what you read, follow us on Facebook, Instagram, Twitter and Telegram to get the latest updates.