Last week, Singapore filmmakers Lynn Lee and James Leong published a documentary about foreign domestic workers from Myanmar.
The film, called "Maid in Singapore", was aired on Al-Jazeera's 101 East programme last week. It's also 25 minutes long — part of the possible reason why not many people have watched it yet.
It definitely is worth your time, though, especially if you happen to be or know an employer of a helper from Myanmar.
If you don't have the 25 minutes to spare, here's what we learned from it:
Employment agencies in Myanmar are illegally sending underage girls to Singapore to work as maids.
There are two things you need to know about this, first off:
- In Singapore, the minimum age a person needs to be before he/she can work as a domestic helper is 23.
- In 2014, the government of Myanmar banned its citizens from travelling overseas to work as domestic helpers, in response to various reports of abuse. It did this again last year.
Naturally, no one would have precise numbers on the number of domestic workers in Singapore who are under 23 years old, but the documentary highlights that these girls do exist.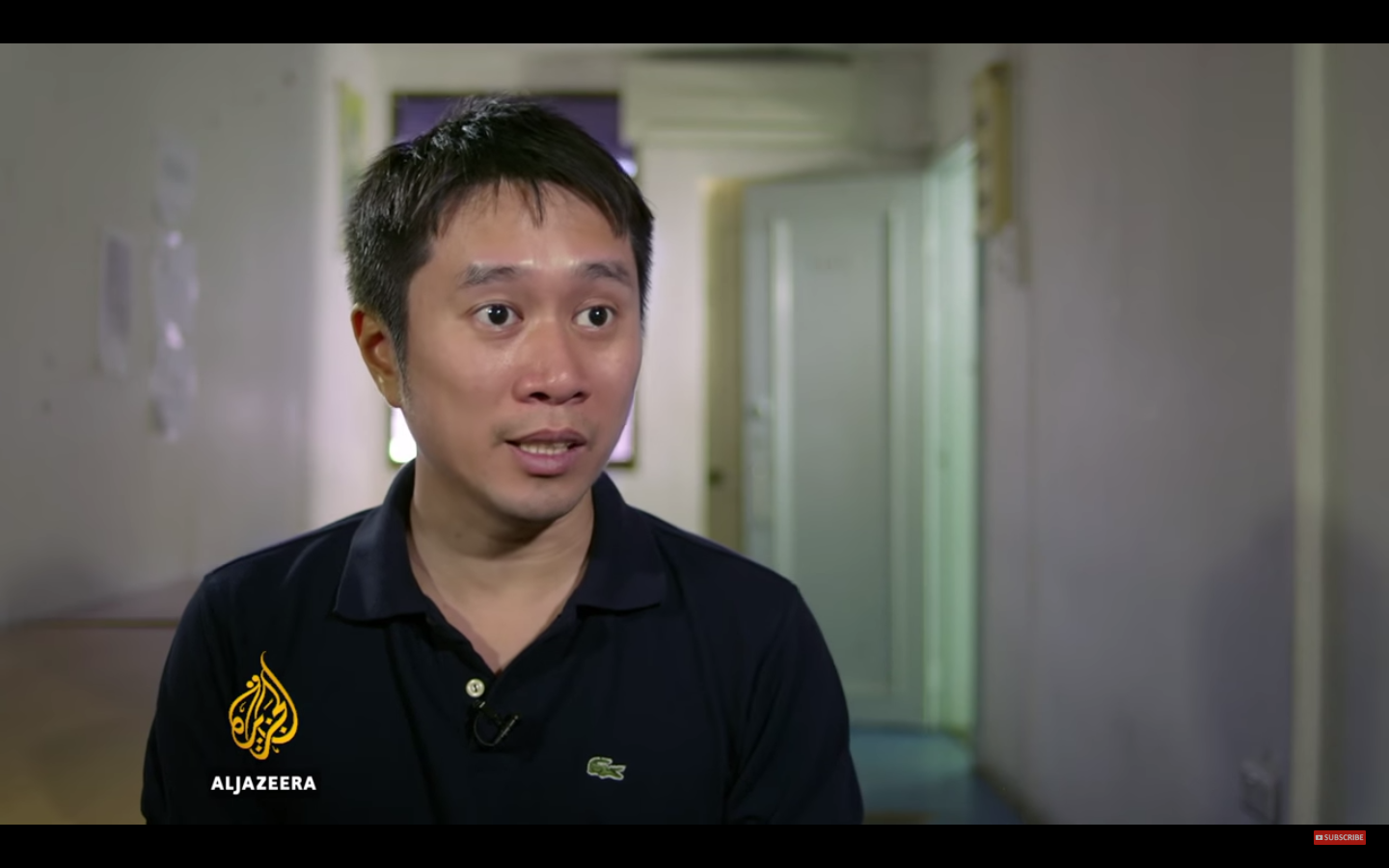 According to Jolovan Wham, who works with local migrant worker support organisation HOME, 10 underage Myanmar domestic workers approached them for assistance last year. In the month he was interviewed for the documentary, they saw six. This year so far? 20.
The girls, most of whom ran away from their employers' homes, stay in a shelter for indefinite periods while waiting to go home — either because their employers are facing criminal trial or the authorities are investigating their cases.
Here's how it works —
- An agent in Myanmar approaches the girls. He or she tells them they can get them jobs in Singapore that will pay as much as US$450 per month (for context, a family whom the filmmakers met in Myanmar made US$1,200 per year as rice farmers).
Age, experience and resources were not an issue, they'd say; they can use their first seven months' salary in Singapore as payment to their agents.
- Attracted by the salary, the girls follow the agent to Yangon from the remote villages they live in, and then get basic training in cooking and cleaning.
For those who are too young, the agent bribes a local government official to alter their birth dates in their passports so they will appear to be 23 years old.
- To circumvent the foreign domestic worker ban, the agent further bribes another government official to issue them "tourist visas" that allow the girls to fly out of the country.
- The official documents with false birthdates are then processed through Singapore's authorities, and the girls go through a physical check-up in Singapore.
According to a 15-year-old girl who was interviewed, she was told by her agent to say she was 23 whenever asked for her age. She also said doctors who were doing her check-up didn't find it curious that she looked as young as she did:
"At the clinic, the doctor said nothing. They didn't say anything, they just performed their duties. They didn't ask any personal questions either."
- They are then hawked by local partner agencies to prospective employers here.
The documentary showed a secretly-filmed scene at a local agency called SLF, where a girl said she was 20 years old and her agents, looking on, didn't bat an eyelid.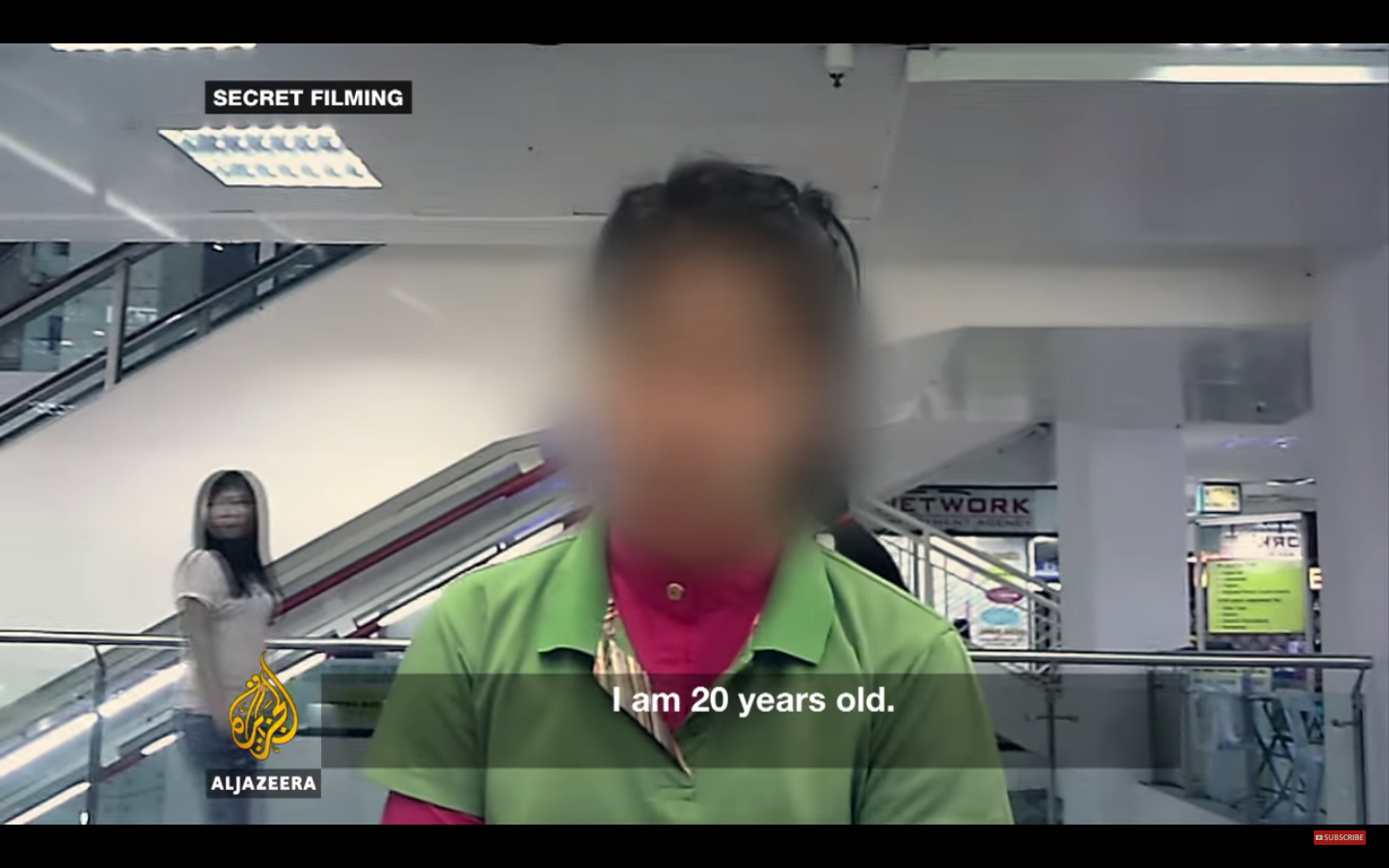 It's under these circumstances that many of the young girls realise they aren't prepared for the work they had to do, and end up running away after experiencing stress, exhaustion (a 15-year-old girl said she fled because she was working till 11pm every day), and in some cases, abuse.
Abuse cases include physical abuse and rape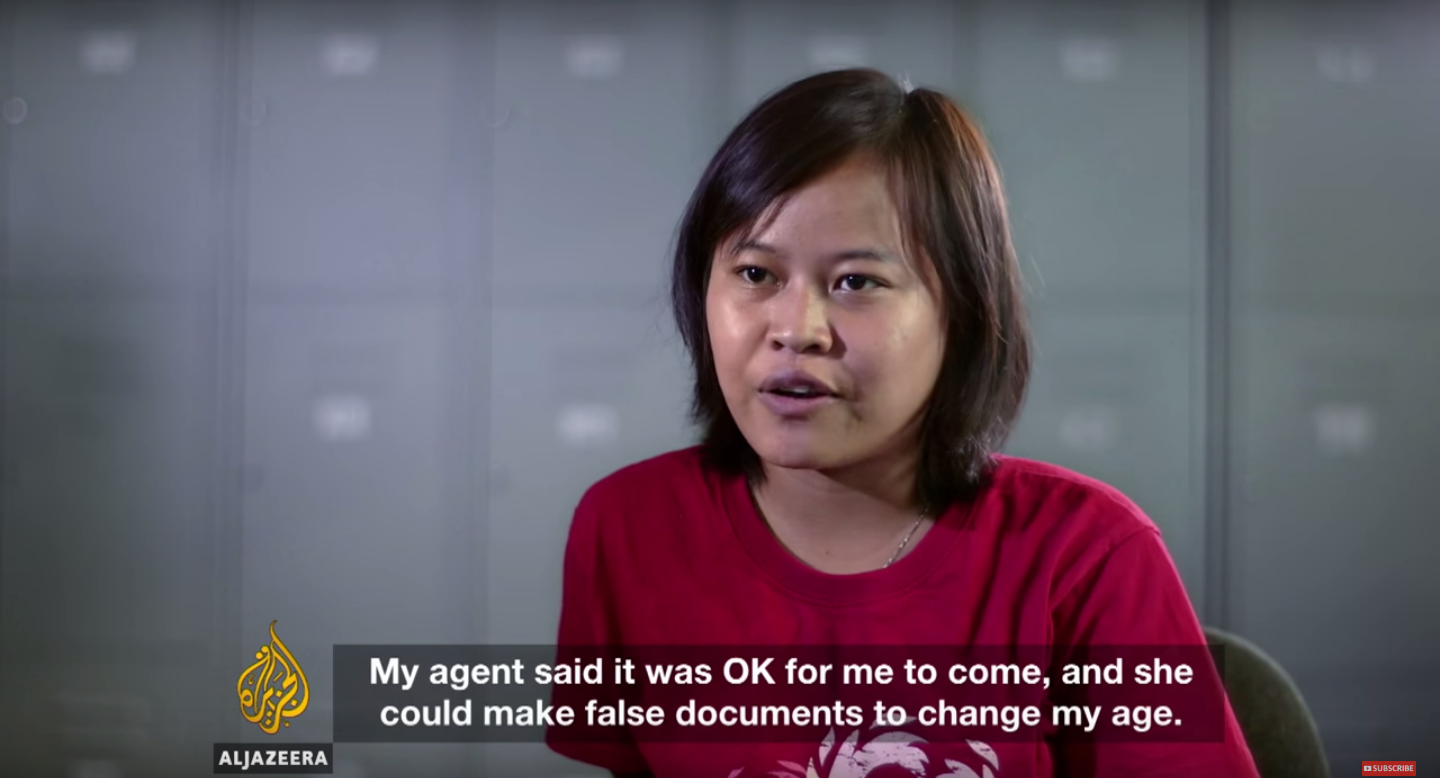 Naw Sar Gay Say, a 19-year-old former domestic worker in Singapore, was brought here when she was 17 — in violation of Singapore's minimum legal age requirement as well as her home country's restriction on going abroad to take on domestic work.
Three months into the job, though, she called a government helpline to report employer abuse.
"She hit me a lot. As time went on, she didn't just hit me with her hands. For instance, if she was near a chair, she would throw the chair at me. If she had an umbrella, she would throw that at me. Sometimes she used her legs to kick me."
She moved to the shelter and stayed there while waiting on the outcome of police investigation and court case, which ended with her employer being sentenced to six weeks' jail for assaulting her. It was only then that she could head home to her family.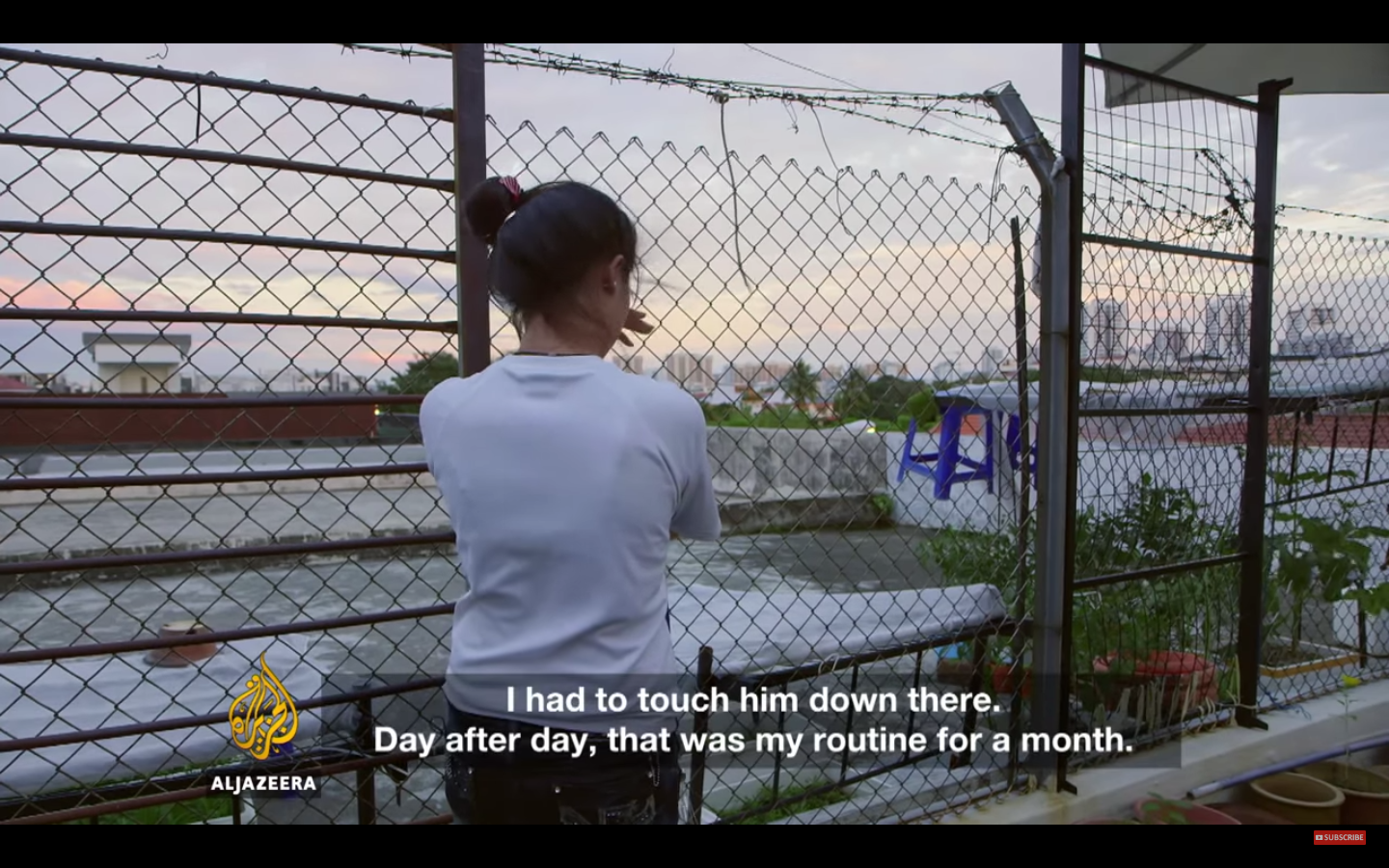 Another girl, who also arrived in Singapore aged 17, ran away after enduring months of what she says was sexual abuse by her employer.
The 19-year-old, who declined to share her identity, has been staying at the shelter for more than two years after climbing out of her employer's seventh-floor window, risking her life to escape, sharing her account of being forced to masturbate him, comply to performing oral sex on him, and eventually being raped once.
Her case was reported to the police soon after she escaped, we learned from Lee. Up till now, she continues to wait while police investigate it, Lee added.
Debt to agents looms over their heads
This isn't unique to foreign domestic workers from Myanmar — hundreds of thousands of foreign workers in Singapore are here on these agency arrangements that involve hefty investments and loans that need to be repaid, mostly in the thousands of dollars.
For them, the agent fees range from six to 10 months' salary. This means that if a domestic worker encounters an abusive employer, she faces the dilemma of whether to run away and report her employer to the authorities or to try to hang on for the duration of her "bond" (read: the months of salary owed to her agent), and then try to earn some money before making a hasty exit.
Even in reporting her case of abuse or mistreatment to the authorities, an underage domestic worker from Myanmar also needs to consider the fact that by working as a maid in Singapore she is also breaking Singapore laws, and herself could face prosecution.
Just last week, Wham said he met a 14-year-old girl who sought help from HOME:
Update: The Ministry of Manpower is investigating the maid agency featured in the film. You can read their full response in our story here.
You can watch the whole film here:
" frameborder="0" allowfullscreen>
Top image: Screenshot from video
If you like what you read, follow us on Facebook and Twitter to get the latest updates.
If you like what you read, follow us on Facebook, Instagram, Twitter and Telegram to get the latest updates.