Other than the occasional kindness shown, Singaporeans and migrant workers don't have that many opportunities to interact and learn from each other.
But bring food into the picture and it could be a whole different story.
That's what a local social enterprise, Geylang Adventures, is doing to bridge the gap between Singaporeans and migrant workers at a worker dormitory in Woodlands next weekend.
Using food to drive a social movement
If there is one thing Singaporeans love, it's food.
And if there is anything that can transcend identity and language, it's definitely food.
So what better way is there to bring locals and migrant workers together than through sharing food?
Enter Majulah Belanjah (Onwards: to treat),  a culinary event next Sunday (Sept. 18) that groups locals and migrant workers together for a cook-off.
That's right.
With Singaporeans chipping in, basic ingredients are provided as groups of Singaporeans and migrant workers work together to whip up dishes for a lunch session.
That's a fresh new way to build relationships.
Not your typical outreach project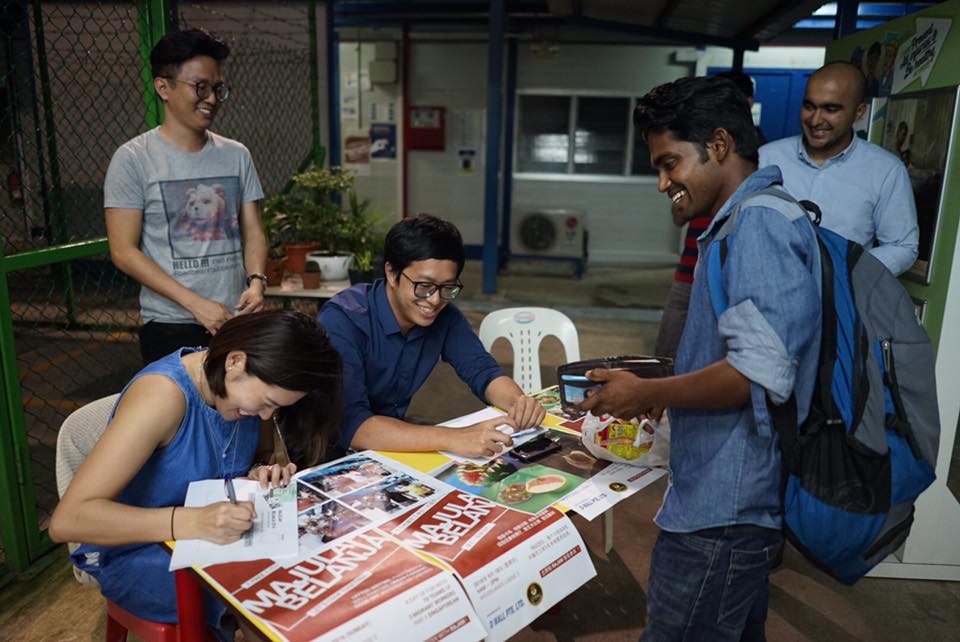 The cook-off is a departure from typical food projects that are more of a "service", where food is prepared beforehand and migrant workers are fed.
This is the second year Geylang Adventures has organised this event.
Here, migrant workers and locals alike play an active role, teaching each other culinary tips and tricks that will give insight to each other's lifestyles.
Just like how we would host our friends at home, Majulah Belanjah gives migrant workers the opportunity to host locals in their dormitories, bringing Singaporeans into their space to experience their lives and food.
This will perhaps help both parties realise how much in common we have with each other, which will then alter our perception of each other.
That's the magic of food in bringing strangers together as friends.
For more information, visit Geylang Adventures on Facebook.
Top image from Geylang Adventures Facebook page
If you like what you read, follow us on Facebook and Twitter to get the latest updates.
If you like what you read, follow us on Facebook, Instagram, Twitter and Telegram to get the latest updates.