Former president S R Nathan has passed away peacefully this evening (Aug 22) at 9.48pm at Singapore General Hospital (SGH), said a statement from the Prime Minister's Office.
According to the PMO, the Prime Minister and his Cabinet colleagues are sad to learn of his passing and "would like to convey his condolences to his family".
He was hospitalised on July 31 after suffering a stroke and had been at the Intensive Care Unit at SGH since then.
Mr Nathan was Singapore's sixth and longest-serving President. His term lasted from 1999 to 2011.
Mr Nathan was the President when PM Lee Hsien Loong took his oath of office on August 12, 2004.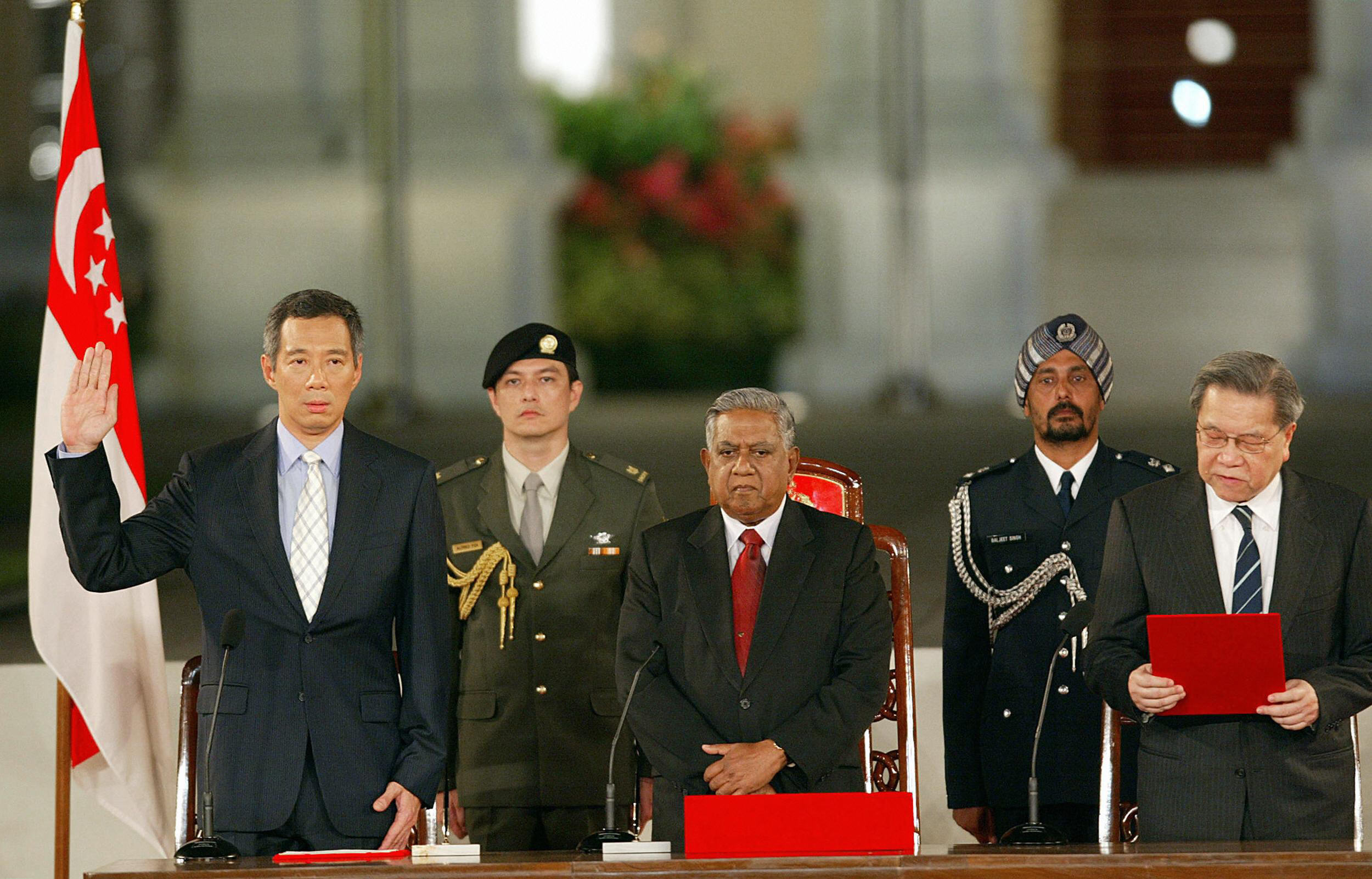 He officially stepped down as President on Aug 31, 2011 after announcing that he would not seek a third term in office.
He cited age as one of the reasons, as he did not believe he could undertake the heavy responsibilities and physical demands at 87 and he left office on 1 September 2011. President Tony Tan Keng Yam succeeded him.
Mr Nathan's bio according to the Istana:
Mr S R Nathan was born in Singapore on 3 July 1924.

Mr Nathan received his early education in several schools – Anglo-Chinese Primary and Middle School, Rangoon Road Afternoon School and Victoria School. He started working before completing his studies. After the war, whilst working, he completed his secondary education through self-study and entered the University of Malaya (then in Singapore) where he graduated in 1954 with a Diploma in Social Studies (Distinction).

Mr Nathan began his career in the Singapore Civil Service as a medical social worker in 1955. He was appointed Seamen's Welfare Officer the following year. In 1962, he was seconded to the Labour Research Unit of the Labour Movement, first as Assistant Director and later as Director, until January 1966. He continued as a Member of its Board of Trustees until April 1988.

In February 1966, Mr Nathan was transferred to the Foreign Ministry. He served as Assistant Secretary and rose to be Deputy Secretary before being appointed Acting Permanent Secretary of the Ministry of Home Affairs in January 1971. In August of the same year, Mr Nathan moved to the Ministry of Defence where he was a Director with the rank of Permanent Secretary.

In February 1979, Mr Nathan returned to the Ministry of Foreign Affairs and became its First Permanent Secretary until February 1982, when he left to become the Executive Chairman of the Straits Times Press (1975) Ltd. At various times from 1982 to 1988, Mr Nathan also held directorship of several other companies including the Singapore Mint Pte Ltd, The Straits Times Press (London) Ltd, Singapore Press Holdings Ltd and Marshall Cavendish Ltd. He was Chairman of Mitsubishi Singapore Heavy Industries – a ship-repairing and engineering joint-venture with the Mitsubishi Group of Japan – from 1973 to 1986.

From 1983 to April 1988, Mr Nathan was Chairman of the Hindu Endowments Board. He was a founding member of the Singapore Indian Development Association (SINDA), and was its Term Trustee until August 1999.

In April 1988, Mr Nathan was appointed Singapore's High Commissioner to Malaysia and in July 1990, he became Ambassador to the United States of America where he served until June 1996.

On his return from the US, Mr Nathan was made Ambassador-at-Large and was concurrently Director of the Institute of Defence and Strategic Studies (IDSS) at the Nanyang Technological University. He held a directorship in the Singapore International Media Pte Ltd between September 1996 and August 1999.

Mr Nathan resigned as Ambassador-at-Large and Director of IDSS on 17 August 1999 and was elected President of the Republic of Singapore on 18 August 1999. He began his six-year term from 1 September 1999. On 17 August 2005, Mr Nathan was re-elected and he was sworn-in for his second term of office on 1 September 2005.

Mr Nathan was conferred the Public Service Star in 1964, the Public Administration Medal (Silver) in 1967, and the Meritorious Service Medal in 1974.
He is survived by his wife Urmila Nandi. They have a daughter, a son, and three grandchildren.
Tributes from the Prime Minister and the President 
PM Lee: "True son of Singapore"
PM Lee said that he was "deeply saddened by the passing of Mr SR Nathan today", whose "life is an inspiration to us all." PM Lee added that he had known Mr Nathan "for 40 years, since I was a young officer in SAF."
President Tony Tan: "An outstanding career in public service"
President Tan said that he "had the privilege of working with Mr Nathan from 1996 to 1999 when I was the Deputy Prime Minister and Minister for Defence", adding that Mr Nathan "helped set up the Institute of Defence and Strategic Studies, which is now ranked among the top think tanks in the region.
You can also learn more about the late President Nathan below:
Related articles:
Members of the public can pay their last respects to the late President Nathan this Thursday
Politicians pay tribute to Mr S R Nathan on Facebook
6 things you didn't know about our early leaders, according to ex-President SR Nathan
If you like what you read, follow us on Facebook and Twitter to get the latest updates.
If you like what you read, follow us on Facebook, Instagram, Twitter and Telegram to get the latest updates.