Mediacorp had to spend several million dollars at the last-minute to acquire the "live" broadcasting rights to the 2016 Rio Olympics just barely a day before the event was scheduled to start.
This was after some people insisted it is a hallmark of a sporting nation to watch sports "live" as it happens.
And as the Olympics opening ceremony took place on Aug. 6 at 7am (Singapore time), a good majority of Singaporeans were in bed patriotically supporting our athletes in slumber.
All of the competing countries made their grand entrance into the Maracanã Stadium for the opening ceremony.
Here are three things sleepyhead Singaporeans missed:
1. Team Singapore's 25-second entrance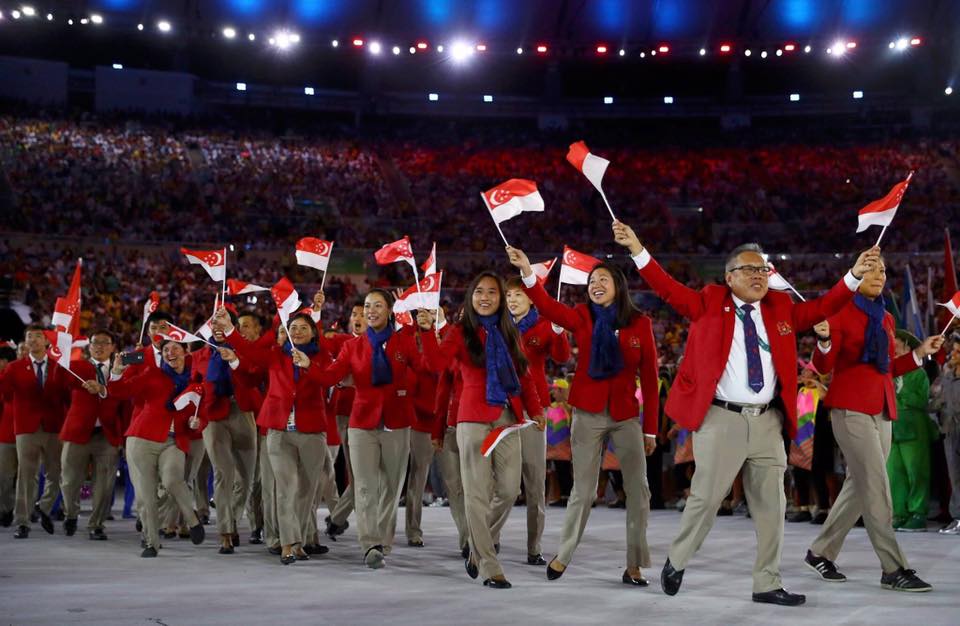 If you actually got up to watch the opening ceremony but had to excuse yourself to go to the bathroom, you would have been forgiven for missing out on Team Singapore's 25-second entrance.
You can watch the video here on Today Facebook because it cannot be embedded in this article. We believe this is due to Mediacorp's broadcasting rights issue, where no one is allowed to show the video except Mediacorp.
2. Tonga's flag holder Pita Nikolas Taufatofua's oiled torso stole the show
This guy showed up and the whole of Twitter exploded.
Tonga's flag bearer has gone a bit heavy on the oil...https://t.co/VU4WHfIkFr #Rio2016 #OpeningCeremony pic.twitter.com/zh4ftv8Oh3

— BBC Sport (@BBCSport) August 6, 2016
Taufatofua is a little-known taekwondo athlete who is also a model and was selected by his countrymen to be the official flag bearer for the South Pacific nation of Tonga.
The 32-year-old, Australian-born athlete, has not advanced past the first round of a taekwondo world championship in three appearances.
Reactions to his torso:
OMG THE TONGA FLAG BEARER!!! pic.twitter.com/nxaR9bUkR1

— bluekd (@bluekd07) August 6, 2016
Tonga wins gold medal in Opening Ceremony. New world record https://t.co/bfcG059WFg

— Kevin Colelli (@kcolelli) August 6, 2016
The OILympics... #Tonga #Rio2016 pic.twitter.com/xrem3OWXOL

— Ben Jacobs (@JacobsBen) August 6, 2016
America might introduce Democracy to Tonga next because they have oil.
3. Refugee Olympic Team
It's really touching, that's so awesome. That really made my day #RefugeeOlympicTeam #ROT #Olympics #OpeningCeremony pic.twitter.com/PUEMXccPWk

— 'Stu (@HEELBash) August 6, 2016
The Refugee Olympic Team is a group made up entirely of refugees without the opportunity to compete for a specific country.
The team is made up of members from Syria, South Sudan, Ethiopia and the Democratic Republic of Congo.
They will compete in 12 different events in three sports: Athletics (running), Swimming and Judo.
They made their entry into Maracanã Stadium for the Opening Ceremony five months after the creation of their team.
"These refugees have no home, no team, no flag, no national anthem," IOC President Thomas Bach said at the team's announcement.
The Refugee Olympic Team was given the honour of being the last second team to make their entrance. The last team being host Team Brazil.
The end. That's a few hundred thousand dollars worth of highlights here.
If you like what you read, follow us on Facebook and Twitter to get the latest updates.
If you like what you read, follow us on Facebook, Instagram, Twitter and Telegram to get the latest updates.