What happens after you walk into a bank in Singapore and commit daylight robbery while armed with a piece of paper?
You walk out, cross the street and get yourself some tasty strawberry cake before washing it down with a bottle of sparkling water.
This surreal succession of events is allegedly what happened after Standard Chartered robbery suspect David James Roach held up a Standard Chartered bank in Holland Village, according to a report by The New Paper on July 14.
Moments after the July 7 hold-up, just as the police were informed of the crime, a man who bears an uncanny lanky resemble to Roach was caught on CCTV footage walking calmly into Baker & Cook at Jalan Merah Saga in Chip Bee Gardens, just 160 metres away from the bank at about 11.25am.
He then cut the queue and ordered a S$5 square spongecake called a strawberry lamington and a 500ml San Pellegrino bottle of water costing S$4.80, spending approximately S$10 and six minutes in the eatery before leaving.
He was also seen holding on to an envelop.
Initial media reports said that the alleged robber was wearing a hoodie and mustard pants.
However, subsequent photos published of Roach naming him as the prime suspect showed the 26-year-old Canadian arriving at Bangkok immigration several hours after the robbery looking like that -- exactly what was captured in the eatery's CCTV footage, with white ear piece and all intact: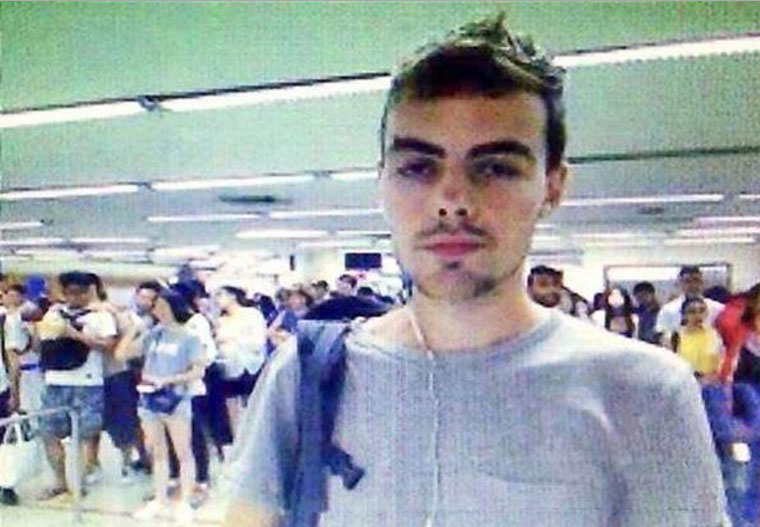 An unnamed Baker & Cook director told TNP he reviewed the security footage on Tuesday night, four days after the robbery, following news reports publicising the picture of Roach that were released by Thai media earlier that day.
The Baker & Cook director said:
"As our cafe is just nearby, we felt we had a responsibility to check our security footage for this guy in the event we could turn up some evidence."
Related article:
This is what the alleged Standard Chartered bank robber looks like
If you like what you read, follow us on Facebook and Twitter to get the latest updates.
If you like what you read, follow us on Facebook, Instagram, Twitter and Telegram to get the latest updates.