Bryan Lim is not the most well liked man on the Internet at the moment.
In case some of you haven't been following the saga, here's a quick rundown.
1. Man posts a comment that seemingly advocated violence against the LGBT community/their sympathisers on a post from conservative Facebook group "We Are Against Pinkdot in Singapore".
2. Outrage.
While Lim emerged to claim that his post was taken out of context...

... many remain sceptical.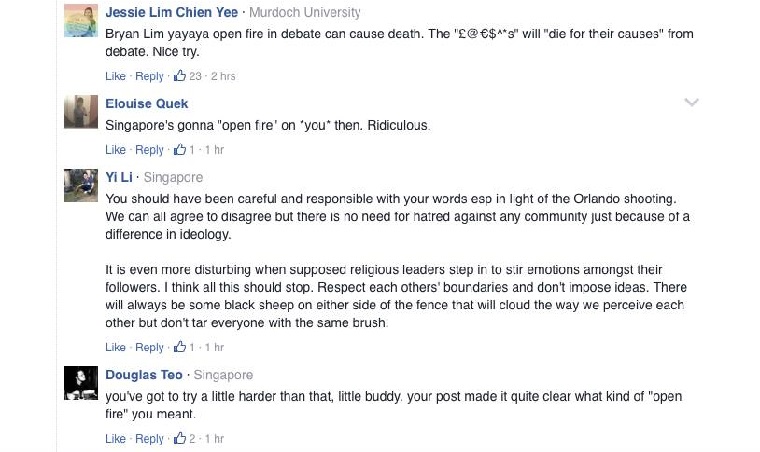 Enter Adrian Lin, who says he is a friend and reservist mate of Lim.
After the deluge of Internet outrage, Lin took to Facebook on Monday evening to vouch for his friend's character in response to an article by socio-political website The Independent Singapore:
Here's his post in full:
"Friends, I need your help. I have a friend, a reservist mate, a guy i've been willing to fight along side if our country went to war. This guys is a medic, a man training to save lives on a battlefield.

I want to tell you that whatever this article says about him is being taken out of context. Bryan Lim is not the kind of guy who wishes violence on strangers for such petty reasons. Hes a man of strong morals and character.

I'd like to ask all my friends to help spread the word that Bryan is not the kind of person this article is trying to paint him to be."
Meanwhile, the police have confirmed that Lim is not a police NSman, contrary to earlier claims:
Some commenters also pointed out that the uniform Lim was wearing in the photo above looks like an NPCC one:

Well, at least we now know he isn't legitimately able to make good of his apparently-metaphorical request.
Related articles:
"We Are Against Pink Dot" group members rally around Bryan Lim, who apologises and deactivates Facebook, LinkedIn accounts
Bryan Lim's employer, Canon, is "looking into" his "open fire" comment on Facebook
Police report filed against S'porean who purportedly advocated violence against LGBT community
Singaporean man advocates violence against LGBT community in Facebook post
Top image from Bryan Lim's Facebook page.
If you like what you read, follow us on Facebook and Twitter to get the latest updates.
If you like what you read, follow us on Facebook, Instagram, Twitter and Telegram to get the latest updates.