Red Hong Yi is an acclaimed Malaysian artist that does paintings and other pieces of artwork without using a paintbrush.
Here are some examples of the kind of art she produces. This is a mural of a bear done entirely with celery sticks dipped in green paint.
This is a silhouette of Darth Vader, created using only strategically placed tin foil in front of some light.
And here's a Teh Tarik man made entirely out of teabags.
It turns out, the 28-year-old recently channelled that creative energy onto the walls of the Facebook office in Singapore.
The Facebook office in Singapore wanted a mural on the 10-metre long wall beside their cafe, and in keeping with the theme of food, had requested the mural to be made entirely from chopsticks.
They turned to Yi to complete the mural, and she decided to take it up a notch. Not only did she exclusively use chopsticks, 15,000 to be exact, she decided to burn the chopsticks as well.
The mural consisted of both images of the past, including kampungs, a man on a sampan, and a few more recent sights.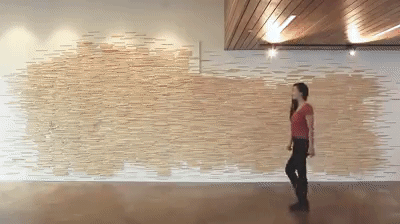 Culminating in this work of art.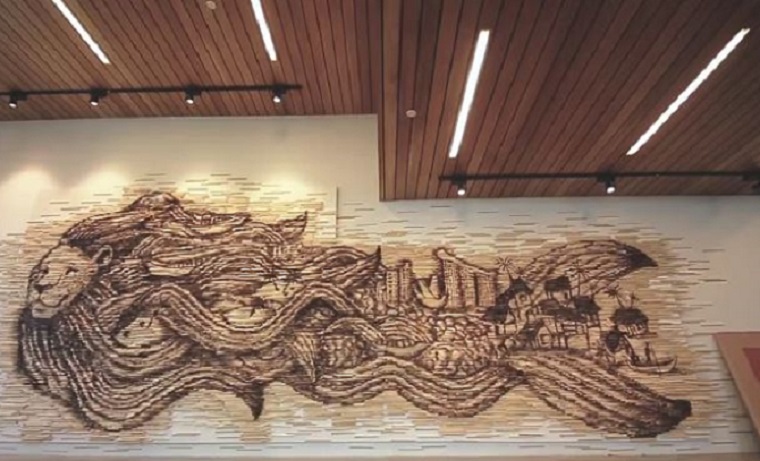 And here is a video depicting the painstaking process of creating the piece.
Yi described the meaning behind her mural as such:
This piece depicts the story of the Merlion - a mythical creature with the head of a lion and body of a fish, and its significance as Singapore's national icon. The Merlion is the guardian of Singapore and has protected the country from waves, storms and enemies, from its early days as a village to where it is now. The Merlion is seen smiling as it is looking forward to the the future with enthusiasm and hope.
Top image from Red Hong Yi's Facebook page
If you like what you read, follow us on Facebook and Twitter to get the latest updates.
If you like what you read, follow us on Facebook, Instagram, Twitter and Telegram to get the latest updates.