A significant moment happened in parliament yesterday (April 12) even though many Singaporeans did not notice it.
A Minister has declared war on...
Diabetes.
Subsequently, Health Minister Gan Kim Yong used the word "war" eight more times in his Committee of Supply speech in parliament:
"I am declaring War on Diabetes. We want to help Singaporeans live lives free from diabetes, and for those with the disease, to help them control their condition to prevent deterioration.....

The War on Diabetes will not be a quick battle, but a long war requiring sustained effort. Results of our efforts can only be seen in the long term, but we must persevere. And if we are successful in shifting mindsets and changing habits, we will be able to curb not just diabetes but other related chronic diseases such as heart disease as well, and we will improve the lives of Singaporeans and reduce the burden on their families.

Health is ultimately a personal responsibility. All Singaporeans need to play an active role in their health journey and in the War on Diabetes. We all need to make sensible lifestyle choices and informed decisions in our health. Government will do its part to provide a supportive environment but we cannot do this alone. If we are able to do this together; we will be able to achieve Better Health, Better Care and a Better Life for all Singaporeans".
Anyway, here are three thoughts we have after hearing this "declaration of war" by a Minister in parliament:
1. It is the first time a Minister has "declared war" in parliament
We checked the Hansard - where every single speech in Parliament is recorded - and noticed that no parliamentarian or Minister has declared war on anything.
This is also because Singapore hasn't declared war on other countries.
A few parliamentarians have used the "declaration of war" phrase, but it was to describe the war in the Middle East (then BG Lee Hsien Loong in 1985) or as a negative metaphor for marriage (Yu-Foo Yee Shoon in a Family Violence Bill in 1995).
2. Help! Did an SAF officer take over MOH with all these war metaphors?
As Minister Gan noted, there are 400,000 diabetics in Singapore, with one in three Singaporeans having a lifetime risk in developing diabetes.
Moreover, one in three Singaporeans have not been diagnosed.
To sum it the speech up, Minister Gan said that winning "the diabetes war" means:
a. Gathering intelligence in warfare: Doing early screening and intervention
b. Getting engaged in the battle and getting the key partners involved: This mean getting all Singaporeans together to create an environment that makes healthy choices easy. In other words, Singaporeans need to play their part by eating healthily, exercising often, and going for the recommended screenings and follow-ups.
c. Coordinating war strategies: Minister Gan will co-chair a Diabetes Prevention and Care Taskforce, together with Acting Education Minister Ng Chee Meng. The Taskforce will: (1) develop and implement a multi-year action plan for the war on diabetes, (2) reach out and mobilise the nation to fight this disease together and (3) monitor and evaluate the outcomes of these efforts.
3. However, the track record for the Wars on non-nation-states had not been very successful.
We google search several War against non countries and this is what we found: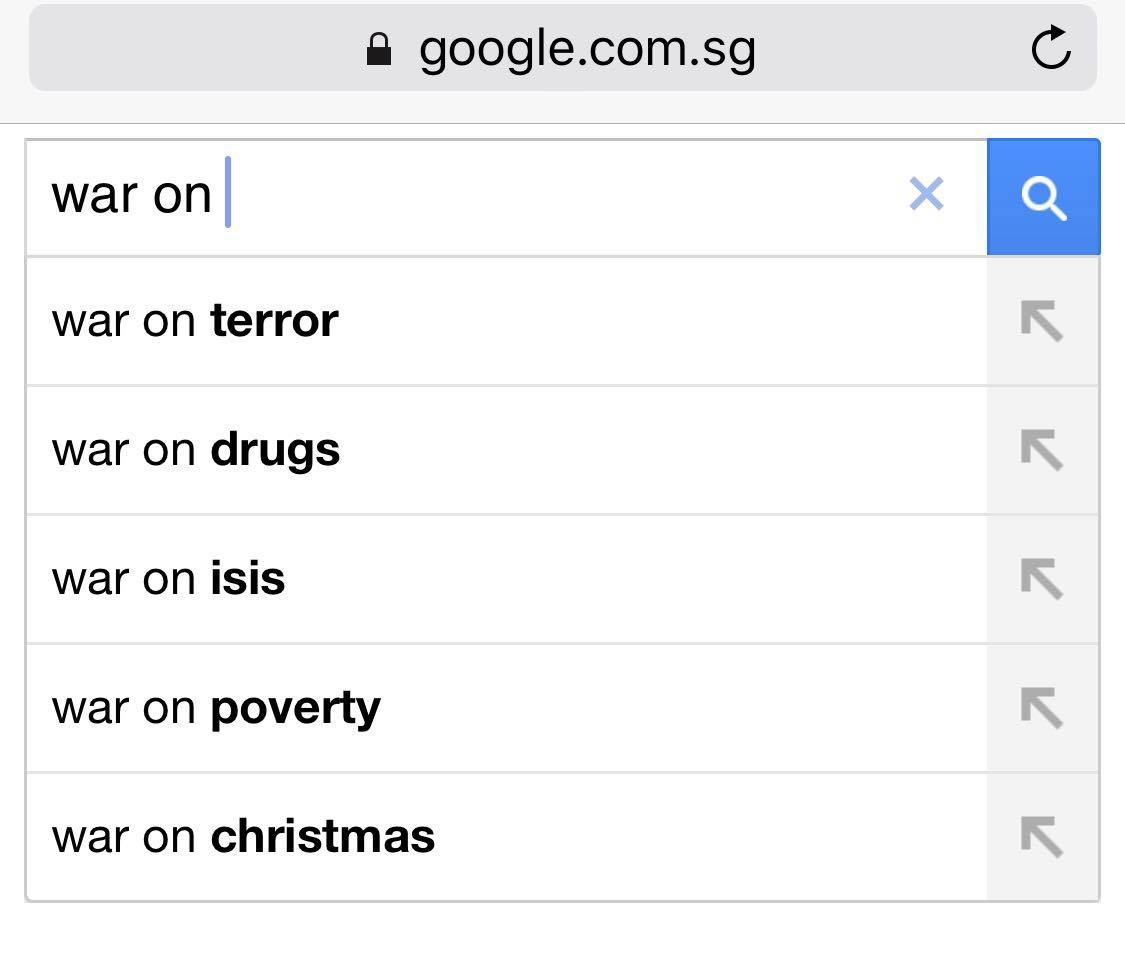 War on Terror?
U.S. President George W. Bush first used the term "War on Terror" on September 20, 2001.
It has been 15 years and terrorism is still thriving even though Osama Bin Laden is dead.
War on Poverty?
The War on Poverty is the unofficial name for legislation first introduced by U.S. President Lyndon B. Johnson during his State of the Union address on January 8, 1964.
Is there still poverty in the United States?
52 years and still counting.
Hence, we are unsure about the effectiveness of these war terms and metaphors in a major policy speech by a Minister.
Anyway, let's keep an open mind and hope that our War on Diabetes will end before SG100.
If you like what you read, follow us on Facebook and Twitter to get the latest updates.
If you like what you read, follow us on Facebook, Instagram, Twitter and Telegram to get the latest updates.