Jermaine Pennant, ex-Liverpool and ex-Arsenal player, is set to go on a week-long trial with five-time league champion Tampines Rovers FC.
Pennant, 32, said:
"I am looking forward to meeting everyone from Tampines Rovers and seeing the beautiful country of Singapore for the first time...The club have invited me over and I am looking forward to this really exciting challenge and prospect of playing for one of the best teams in South-east Asia." The New Paper
According to The New Paper, the former England Under-21 star had two other offers of trials from Malaysian Super League sides, but chose to audition at Tampines instead.
But John Wilkinson, a Singapore international and a four-time S-league winner with SAFFC, is pessimistic about Pennant lighting up the football stage in Singapore permanently.
"I can't see it happening... I can't see him putting pen to paper. Not ability-wise, of course he got the ability. He's still a fit boy. He's still in his early 30s, which is no problem. I just think he will struggle culturally here, not playing in front of big crowds. I think it might be a little bit of a problem for him. Other than that, it's a shame, because I think if he signs, he will do well for the economy. I think some of the night-club owners will be rubbing their hands! But anyway, erm that's the type of pedigree we want to see in the S-League." ESPN FC.
Wilkinson, a self-proclaimed "soccer mom" who married a Singaporean, and became a Singapore citizen, added:
"I think that's the type of pedigree foreigner that will help bump up ticket sales and get bums on seats. But he's no Steven Gerrard, he's not Michael Owen. Jermaine Pennant, very good player, had a really good career, played for some big clubs - Arsenal, Liverpool...He's also under-21 international for England... Good player, I think he has a lot to offer, but I just can't see it happening". ESPN FC.
Here's a look at some of Pennant's career highlights at these big clubs:
Arsenal in May 2003
Goal 1: His first ever goal for Arsenal, on his full debut against Southampton.
Goal 2: A header.
Goal 3: A hat-trick! Pennant scored one of the top flight's fastest hat-tricks, getting three goals in 11 minutes. Arsenal won the game 6-1.
Pennant played 12 games and scored 3 goals for Arsenal.
Liverpool in 2007
His first goal for Liverpool?
This rocket that screamed past the great Petr Cech. Cech is the record-breaking goalkeeper who has now kept 171 clean sheets in 353 Premier League games.
The rocket from two different angles.
Pennant played 55 games and scored three goals for Liverpool.
And how about Pennant's double free-kick special for Wigan Athletic?
He scored two free kick goals to inspire Wigan in a 2-1 victory over Rotherham United.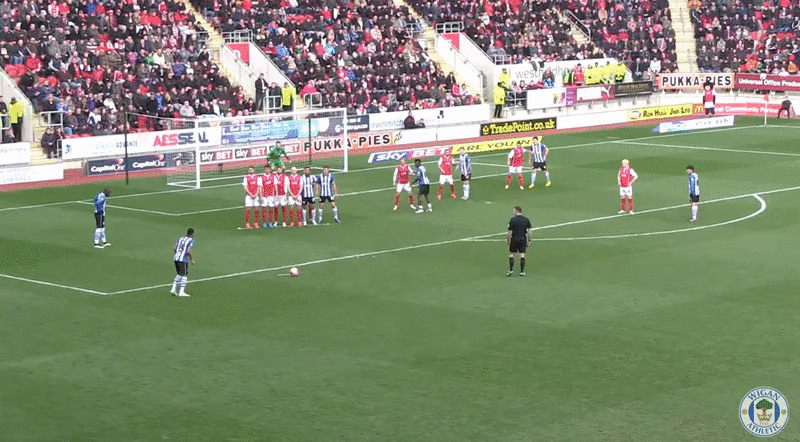 Pennant played 13 games and scored three goals for the English club last year.
If you think Pennant only brings in goals and skills (and perhaps the occasional disciplinary problem), you are sorely mistaken.
That's because you haven't met Mrs Pennant.
Here's a not so va-va-voom shot of Alice Goodwin and Pennant.
  The 30-year-old model playing Santarina.
And... we are not sure where to look for this one.
Even the English tabloid is missing Mrs Pennant.
Perhaps S-League fans can try to spot her in the crowd. It's easy. The league's average attendance two years back was only 1,300.
Top photo screenshot from Alice Goodwin Instagram page.
If you like what you read, follow us on Facebook, Instagram, Twitter and Telegram to get the latest updates.