The day has come — the Electoral Boundaries Review Committee released the Electoral Boundaries Report today (July 24). We now bring you everything you need to know for you to sound smart during your TGIF drinks later.
1. Single Member Constituencies (SMC)
- 13 SMCs, up from 12 in 2011.
- Three new SMCs: Macpherson (carved out from Marine Parade GRC) , Fengshan (from East Coast GRC) and Bukit Batok (from Jurong GRC).
- Joo Chiat and Whampoa SMCs say bye bye. Joo Chiat is absorbed wholly into Marine Parade GRC, while Whampoa will go into a new GRC we'll tell you more about in a bit.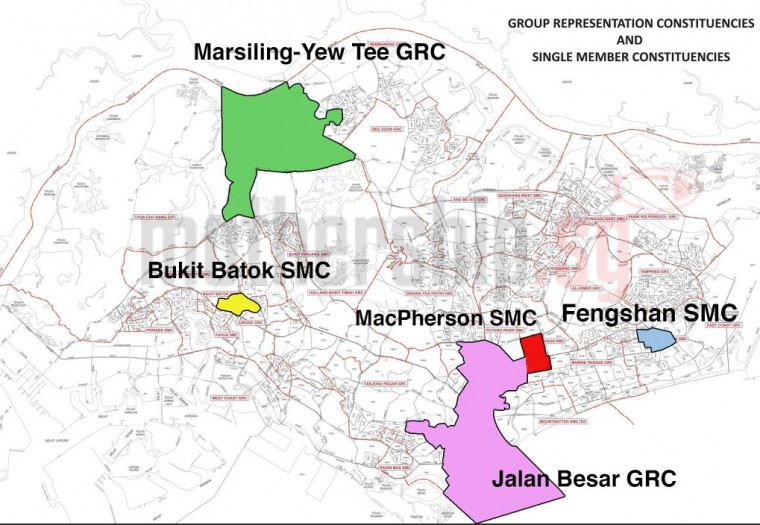 2. Group Representation Constituencies (GRC)
- 16 GRCs, up from 15 in 2011.
- Two new 4-member GRCs: Marsiling-Yew Tee (carved out from Chua Chu Kang and Sembawang GRCs), and Jalan Besar (which consists of 60.6 per cent of Moulmein-Kallang GRC, Tanjong Pagar GRC and the whole of Whampoa SMC)
- Moulmein-Kallang is now gone, divided among four other GRCs (Holland-Bukit Timah, Bishan-Toa Payoh, Tanjong Pagar and Jalan Besar).
- East Coast, Chua Chu Kang and West Coast (all formerly 5-member) are now 4-member GRCs. The rest remain with the same number of MPs as in 2011.
3. Opposition wards
- Opposition strongholds (Aljunied GRC, Hougang SMC, Punggol East SMC) remain intact.
4. Key numbers to know
- Parliamentary seats up for grabs have now increased from 87 to 89.
- Estimated number of electors as on Aug 1, 2015 is 2,460,977, an increase of 110,720 electors from 2,350,257 electors recorded in the 2011 Registers of Electors.
- This works out to an average ratio of one Member of Parliament (MP) to about 28,300 electors based on 87 elected MPs today.
- The Straits Times very helpfully analysed that one in six voters, or 16.7 per cent of voters, will find themselves in a new constituency.
In previous elections, it has taken as short as one day and as long as one month and 26 days for the parliament to be dissolved and writ of election to be issued.
Winter is really coming.
Related articles:
The changes in the newly-drawn electoral boundaries, summarised in one GIF
5 implications of the new Singapore electoral boundaries to ponder this weekend
MacPherson SMC is now a thing: It looks like PAP's Tin Pei Ling has no choice but contest on her own
Bye Bye, Yaacob Ibrahim and Lui Tuck Yew's Moulmein-Kallang GRC
5 questions you'll have after seeing the Electoral Boundaries Report
Based on the number of estimated voters, Lee Li Lian is the most hardworking SMC MP
If you like what you read, follow us on Facebook, Instagram, Twitter and Telegram to get the latest updates.