A woman in Singapore said she has been scammed of S$700 after she tried to buy two Taylor Swift concert tickets from a seller on Carousell.
The woman, Vee, in her late 20s, transferred the money to the seller but did not get her tickets -- or even a reply after that.
Swift is slated to play six shows in Singapore in 2024.
What happened
Vee responded to a July 5 listing that supposedly offered a pair of Category 3 tickets.
Tickets went on sale officially earlier that day and sold out in three hours.
The scalper listed the tickets on Carousell for sale at S$500 per piece.
The listing's description read: "managed to get 3 tix, selling 2!!"
The listing, together with at least two other listings touting Category 1 and Category 2 tickets for sale by the same seller, was taken down at about 1:30pm on July 6.
This was after Mothership approached Carousell for comment about the woman's plight.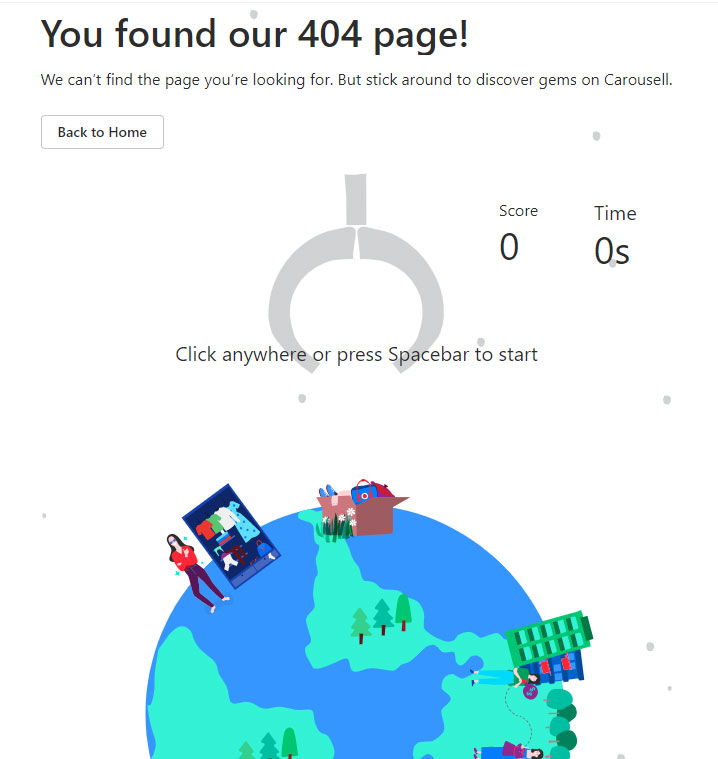 The Category 1 ticket was going for S$700, while the Category 2 ticket was being advertised for S$600.
Negotiated down from S$500 to S$350
Vee told Mothership: "I negotiated until S$350 per ticket. The scammer agreed to it."
The original price for the Category 3 ticket is S$288.
An additional S$6 booking fee applied for those who bought the ticket through the authorised seller on July 5.
According to screenshots of the exchange, Vee first expressed interest in buying the tickets and the scammer asked her how much she was willing to pay.
Vee offered to immediately pay S$350 per ticket, explaining that she is still a student.
She also expressed her doubts to the seller before committing to the transaction: "I understand that Ticketmaster will only provide the ticket two weeks before the concert. So I have to pay in full to you or just a deposit will do?"
The scammer then sent her a screenshot of what appeared to be proof of the tickets' purchase, but with some details masked, and asked: "How do you deal?"
The scammer added: "This one is legit."
Vee replied: "After I PayNow you, can you send me the proof of purchase. Like without mosaic cos I'm buying for my younger sister too."
This was after she confirmed with the seller that the ticket was an e-ticket and not a physical copy.
The woman then made the fund transfer and provided a screenshot of the payment's success.
No tickets provided after transfer made
After making the transfer, Vee asked to communicate with the seller via WhatsApp and to send proof of having received the fund.
However, the scammer replied that he was not active on that platform, and told her to chat over Carousell instead.
Vee subsequently messaged the number she made the PayNow transfer to via WhatsApp, but was told she got the wrong person.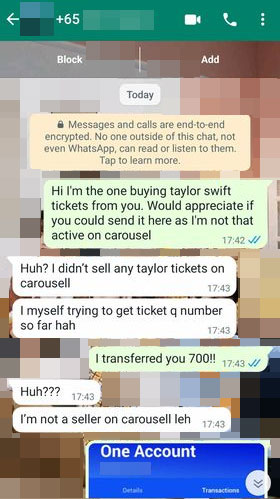 Vee told Mothership: "I made a PayNow transfer to the number, but when I WhatsApp-ed him, he said he is not the seller I communicated with on Carousell."
"How is that possible?" she added.
"He also blocked me on WhatsApp and ghosted me on Carousell."
The woman said she has since made a police report.
She added: "Hopefully with the power of social media, he will return me my money. I'm using my family temporary emergency funds. I'll be dead if my parents know about this."
Carousell response
In response to Mothership's queries, Carousell said it has banned the user @barthiboii, and is assisting the authorities with their investigations.
Carousell added that users are encouraged to report any suspicious listings and users via the "Report Listing" and "Report User" feature that's available on both the web and the app.
The team will review these reports within 24 hours of being reported.
Carousell added: "While we do not stop genuine consumers transacting on our platform, we urge buyers to do their background checks on any deal."
"If, at any point, they feel uncomfortable with transacting, they should decline to deal."
"Buyers who purchase tickets from third-party vendors will generally increase the risk of dealing with scammers, who may be selling counterfeit or stolen tickets."
"Ticket buyers on our platform are encouraged to arrange for physical meet-ups to verify the authenticity of the tickets before making any payment."
Those looking to sell their tickets with genuine intent are strongly urged to check and adhere to the reselling terms and conditions by the official channels, Carousell noted.
Top photo via Carousell & Taylor Swift Instagram
If you like what you read, follow us on Facebook, Instagram, Twitter and Telegram to get the latest updates.