Follow us on Telegram for the latest updates: https://t.me/mothershipsg
You probably would have heard of — and felt — the recent rise in mercury here in Singapore.
K-pop group Blackpink performed the first of their two Singapore concerts on May 12, aka a very hot day.
The shows are part of their ongoing "Born Pink" world tour.
Hot
The show started at 8pm — 30 minutes late — but it was still extra warm in the National Stadium.
It was so hot and humid that you'd start sweating even if you were sitting down, drinking cold water and doing absolutely nothing else.
The heat was so palpable that one of the members, Jennie, remarked during the show: "It is very, very hot today. Right? My face is melting."
JENNIE: « it is very very hot… my face is MELTING »😭 pic.twitter.com/7wOJ4Astap

— ❦ (@egirIjnk) May 13, 2023
Another member, Lisa, quipped that she feels like she was back in her home country, Thailand, because of how warm it was.
230513 The weather was so hot that Lisa say she feels like she is back to her hometown (Thailand). And they asking Blinks that are in standing pen if they are okay/hot ~ 🥰#BORNPINKinSG #BLACKPINKinSG#BLACKPINK_WORLDTOUR #BLACKPINK #블랙핑크 @BLACKPINK pic.twitter.com/ZAn1g9hHOu

— Michelle (@Michellensm) May 13, 2023
The 50,000-strong crowd kept their cheers going throughout their 22-song setlist despite the heat, waving their black and pink hammer-looking light sticks around when they were taking short breaks from using their phones to film just about everything that was happening on stage.
With the heat, it was therefore understandable that some of the dance moves from the group weren't as sharp as they were four years ago, when they were here for their "In Your Area" world tour.
Also worth noting is their previous gig was held in the air-conditioned Singapore Indoor Stadium (SIS).
Growth
In the past four years, Blackpink has seen their popularity skyrocket. These days, they're headlining huge music festivals such as Coachella.
Therefore, it came as no surprise that they were able to sell out most of the 100,000 tickets for their Singapore shows.
That being said, it was evident that their stage setup was designed to fit into arenas — also known as smaller venues —  as both the actual stage and screens were smaller than what it should look like if the entire tour was designed with only stadiums in mind.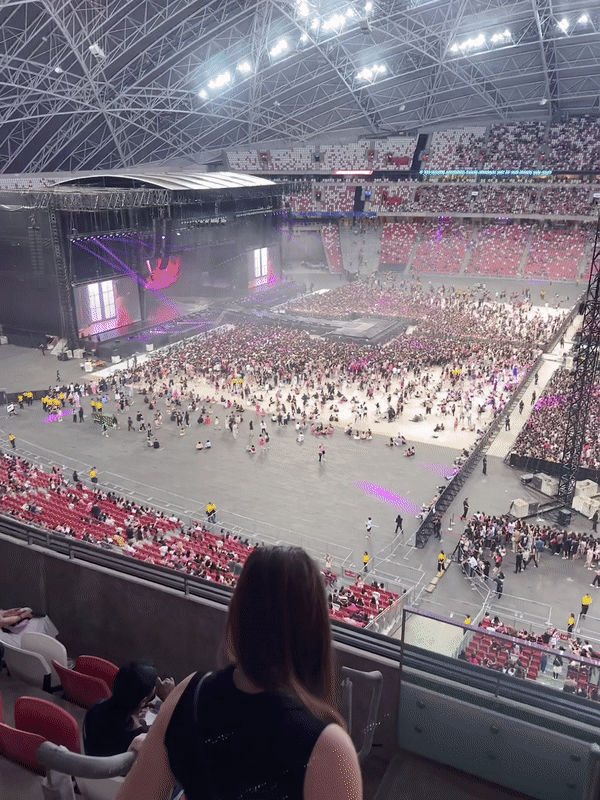 Their opening show for the "Born Pink" tour was held in Seoul's KSPO dome, which has a maximum capacity of 15,000.
#BLACKPINK WORLD TOUR [BORN PINK] SEOUL POSTER

2022.10.15 SAT 6PM (KST)
2022.10.16 SUN 5PM (KST)
KSPO DOME

More info
▶ https://t.co/uYjzvLQ5CH#블랙핑크 #WORLDTOUR #BORNPINK #SEOUL #20221015_6PM #20221016_5PM #KSPO_DOME #올림픽체조경기장 #POSTER #YG pic.twitter.com/56pwXnNl6D

— YG FAMILY (@ygent_official) August 16, 2022
But that didn't — and won't — stop their fans from enjoying themselves.
Blackpink in our area
Congratulations! You have made it to the end of the article (whether by speed-scrolling or otherwise). This alone qualifies you to apply for the role of an Editorial Intern (Nova) at Mothership. Click here to find out more.
Top photos from YG Entertainment & @egirIjnk on Twitter
If you like what you read, follow us on Facebook, Instagram, Twitter and Telegram to get the latest updates.