Follow us on Telegram for the latest updates: https://t.me/mothershipsg
A Singapore-registered yellow Mini Cooper crashed into a black Toyota in Kluang, Johor on Apr. 1, leaving both vehicles severely damaged and on their sides.
A picture of the aftermath of the incident was posted on Twitter on Apr. 1 by Ain, the daughter of the Toyota driver.
Her caption stated: "Just entered the new month and received news that dad got into an accident. So scary to see his car in this state (the black car). God!"
Masuk bulan baru dapat berita yang ayah accident. Seram sejuk jadinya bila tengok kereta ayah sampai macam tu (kereta hitam).

Allah! pic.twitter.com/CDnP9RZren

— ❤️努艾妮❤️ 🇲🇾 (@ainzaabar) April 1, 2023
On Apr. 4, she shared dashcam footage of the incident.
In her caption, she stated that her father "felt like [he] died" when the car collided with him.
"Ayah rasa macam dah mati"

Taktahu nak react apa bila ayah cakap macam ni. Lepas tengok gambar dan video dashcam, memang mostly akan ingat something really bad happened to Ayah.

But Allah Maha Besar! pic.twitter.com/gVegotkL4L

— ❤️努艾妮❤️ 🇲🇾 (@ainzaabar) April 3, 2023
Mini Cooper lost control while making a left turn
In the footage, the Toyota was stationary as it was waiting for the traffic light to turn green.
Suddenly, the Mini Cooper emerged from the opposite side while making a left turn, lost control and crashed straight into the Toyota.
A few seconds later, a conscious man with a visible cut on his face crawls into view and escaped the vehicle.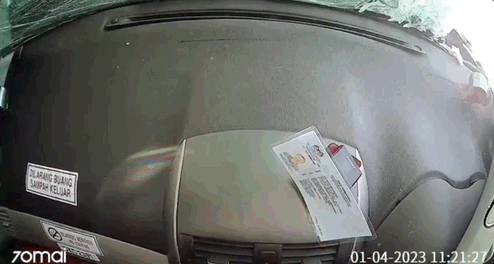 The timestamp on the dashcam footage indicated that the incident happened at around 11:21am on Apr. 1, 2023.
A separate video was posted onto SG Road Vigilante's social media pages, showing passers-by flipping the two cars back upright.
Claimed he was looking at Waze when he lost control
Based on Ain's Twitter thread, both her father and the driver of the Mini Cooper did not appear to have suffered major injuries.
Ain shared that her father went to the hospital and made a police report following the incident.
According to her, the police officer asked her father if he was directly facing the other car due to the extent of the damages.
"The police officer nearly didn't believe when dad said no," Ain wrote.
In the meantime, memang Ain gesa adik suruh inform ayah untuk pergi hospital and buat report polis. And he did. Alhamdulillah.

Masa kat balai sebelum tengok video dashcam, polis kata korang berdepan ke sampai bertembung macam tu? Polis hampir tak percaya bila ayah kata tak.

— ❤️努艾妮❤️ 🇲🇾 (@ainzaabar) April 3, 2023
Ain also said the driver of the Mini Cooper had admitted he was in the wrong.
In his report, he apparently said he was looking at navigation app Waze when he lost control of the car.
Now nak buat 3rd party claim. Benda penting kena ada:

1. Police report
2. Keputusan kes dari polis
3. Polisi insurans
4. Medical Report/MC
5. Salinan IC, Lesen & Geran kereta

Nak tahu how long will it takes sebab libatkan Singaporean? Almost a year!

— ❤️努艾妮❤️ 🇲🇾 (@ainzaabar) April 3, 2023
Ain and her family is helping her father settle the insurance claims.
She wrote: "As this case involves a Singaporean, do you know how long it will take? Almost a year!"
Sebab Ain balik baru ayah nak buat benda-benda ni. Kalau tak dia rasa renyah and macam malas dah nak fikir.

Kat sini, dia cakap, "untung ayah sebab ajar kau belajar tinggi. Kalau ada spm je macam ayah, macam mana?"

— ❤️努艾妮❤️ 🇲🇾 (@ainzaabar) April 3, 2023
At the end of her Twitter thread, Ain claimed that the Singaporean driver has yet to meet with her father, although he has met up with another affected driver.
"I don't know why," said Ain.
Till this day kan, the Singaporean takde langsung jumpa ayah Ain. Tapi dia dah jumpa another affected driver. I don't know why.

— ❤️努艾妮❤️ 🇲🇾 (@ainzaabar) April 4, 2023
Top images via ainzaabar on Twitter.
If you like what you read, follow us on Facebook, Instagram, Twitter and Telegram to get the latest updates.