Follow us on Telegram for the latest updates: https://t.me/mothershipsg
A rare elapid snake was spotted by a cyclist at Pasir Ris Park recently.
The sighting goes to show that there are many wild animals living in this urban city even though we hardly encounter some of them.
The sighting
The person who sighted it, Jimmy Hoon, posted the video of the banded krait in the Facebook group Singapore Wildlife Sightings on Apr. 17.
The video shows the snake slithering out from a tree to the general direction of the person taking the video.
The Straits Times (ST) reported that it was spotted in between the adventure playground and the beach.
According to ST, Hoon was cycling when he saw "something distinct" and that it resembled a "rope but it was moving".
He shared that the snake went onto the cycling and jogging paths, and he waved to other cyclists to alert them about the snake's presence.
Online reactions
Some eagle-eyed commenters, including experienced nature guide Ivan Kwan, identified the snake as a banded krait and cautioned others to not attempt to handle it.
Kwan suggested that the snake could have swum over to Pasir Ris from Pulau Ubin.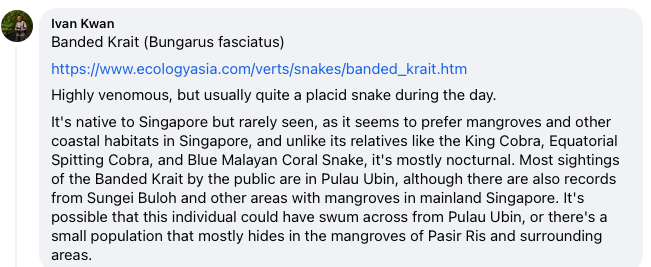 Several commenters also suggested informing the relevant authorities about this sighting, since the snake is venomous.


Most people who came across this post were captivated by the beauty of the snake.


What is a banded krait?
According to Wild Singapore, it is a coastal snake widely found across Southeast Asia that is usually 1.5m to 2m long.
It is identifiable by the regular black and white bands of equal size on its body.
The snake's head is mostly black, and is somewhat distinct from the body, appearing to have a neck.
The first black band on its body and the black patch on its head form a V-shape together, and its tail is not flattened into a paddle shape, although it is rather triangular like the rest of its body.
The banded krait is highly venomous, but will not bite if unprovoked.
It will hide its head under the coils of its body when it feels threatened.
It mainly consumes lizards and other snakes, as well as other small vertebrates.
According to Ecology Asia, the snake occurs in a variety of habitats including forests, agricultural and coastal areas.
The snake is listed as "Endangered" on the Red Data Book List of threatened species in Singapore.
What to do if you encounter a snake?
According to the National Parks Board (NParks)'s website, here are some steps you should take:
If you encounter the snake in a public area
Observe from a safe distance, as snakes will not attack unless disturbed or provoked.

Stay calm and back away slowly, giving it space to retreat.

Do not approach or attempt to handle the snake.

Leave it alone, especially if it is in its natural habitat. If you require assistance, call NParks at 1800-476-1600.

Keep pets on a tight leash as they might chase the snake and frighten it.
If you encounter the snake at home:
Keep your distance and call for professional help – the snake might be looking for a dark and secure area to hide.

Keep all family members and pets away from where the snake is.

If snake is found inside a room, keep all doors and windows that lead outside open for the snake to exit.

Find out why the snake came to your area – a potential cause can be improper waste disposal which attracts pests that snakes prey on.
Images via Jimmy Fbk/ FB.
If you like what you read, follow us on Facebook, Instagram, Twitter and Telegram to get the latest updates.