Follow us on Telegram for the latest updates: https://t.me/mothershipsg
A TikTok video of a woman tossing out various items, including several pairs of shoes, from the third floor of an HDB block in Singapore has piqued the interest of Singaporeans online.
According to the TikTok posted by @mauricenadarajan on Mar. 27, the incident supposedly took place at a Yishun estate. The block number, according to a sign glimpsed in the video, is 320. However, it was hard to verify for certain if it was Block 320 Yishun Central based on Google Maps Street View.
In response to the video, several users wondered what might have inspired the woman to do such a thing.
Some speculated that it might have happened post-breakup, or that her partner must have cheated. Some others also opined that perhaps she was just "moving out".
What the video shows
In the 50-second video, the woman was seen throwing several pairs of shoes from the third floor to the first.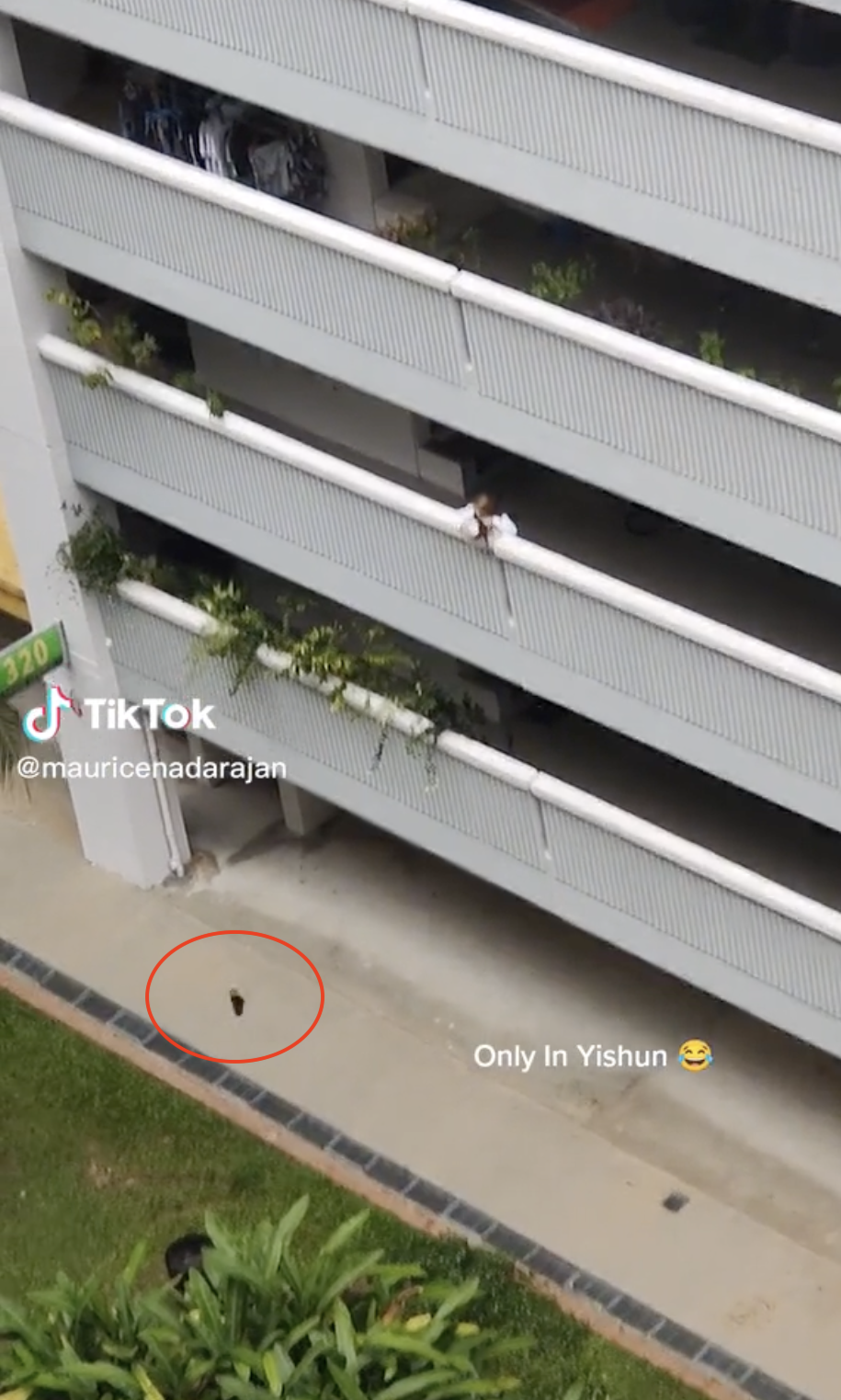 One of the shoes was filmed to have landed neatly into a joss paper-burning bin located on the ground floor.
The woman was then seen flinging several more pairs of shoes from her vantage point, before retrieving a plastic bag that appeared to contain some slippers, and tossing them out too.
In response, some users also joked that they hoped those were not her neighbours' shoes.
Here's the video in full:
Comments
While most comments tried to surmise why the woman was chucking out the shoes via her HDB corridor instead of throwing them into a proper rubbish bin, some also pointed out that her actions would be considered as high-rise littering.
According to the National Environment Agency (NEA), those found guilty of committing a littering offence can be fined up to S$2,000 for a first conviction, S$4,000 for a second conviction and S$10,000 for the third and subsequent convictions under the Environmental Public Health Act 1987.
A Corrective Work Order (CWO) may also be meted out, requiring offenders to clean public areas for up to 12 hours.
At the time of writing, the video has already garnered over 120k views, and 1,708 reacts.
Top images via @mauricenadarajan TikTok
If you like what you read, follow us on Facebook, Instagram, Twitter and Telegram to get the latest updates.