Follow us on Telegram for the latest updates: https://t.me/mothershipsg
Yeo Cheng Huat, the second-generation owner of Hoover Fish Porridge stall at Whampoa Makan Place, passed away at the age of 76 on Mar. 5, his grandson, Xavier Yeo, shared in a Facebook post.
After inheriting the stall from his father, Yeo Cheng Huat had been running the family business with his wife at Whampoa since 1975 until she passed away in 2021, according to
Shin Min Daily News
.
The stall is currently closed and will reopen on Friday, Mar. 17.
Previously diagnosed with lymphoma
Speaking to Shin Min, Yeo's grandson shared that Yeo was conveyed to the hospital after experiencing difficulties in breathing.
After spending a day in the hospital, Yeo passed away as a result of heart disease.
"The last time I saw my grandfather was on Mar. 1. Before I flew to Japan for work, we were enjoying a meal together at his favourite chicken rice stall. Initially, I also planned to help out at the stall after returning on Sunday (Mar. 5)," Yeo's grandson added.
Previously, Yeo was diagnosed with lymphoma in November 2022 and had been battling with the disease until January 2023, when he was discharged from the hospital, reported Shin Min.
Continued helping at stall after handover to son
After Yeo's wife passed away, the stall was closed until December 2021 and handed to Yeo's son, Yeo Kim Yeow, reported Shin Min.
However, Yeo senior continued helping out with the business and would only leave late at night.
"Since [the handover], my grandfather took a backseat in preparing the dishes. Nonetheless, he would still come in the morning and help us with taking orders. He would also help with handling more than 50kg of fish meat and would only leave at 8pm," shared Yeo's grandson.
"The hawker stall is my grandfather's life's work, so he really hoped my father could make sure the family business could remain open moving forward."
Passionate about cooking & a foodie
Besides being a self-made hawker who managed to raise his family plying the trade, Yeo also possessed much passion for cooking and had never stopped finding ways to improve his skills, Yeo's grandson told Shin Min.
In July 2022, Yeo even introduced a new item to the menu — handmade meatballs — which was well-received by patrons, reported The Straits Times.
Outside of work, Yeo was also a foodie whose favourite food included Teochew braised duck rice, fishball noodles, and ngoh hiang, according to Shin Min.
"We often go out and enjoy delicious meals together. [My grandfather] had a good appetite and could eat two breakfasts when he was in a good mood," recounted Yeo's grandson.
Legacy will be carried on
Yeo's legacy will live on as his grandson also plans to join the family business full-time in the future, reported ST.
In fact, Yeo's grandson has already been learning how to prepare fish soup and porridge and has been helping out at the stall on his days off.
"[My grandfather] was very happy when I told him I was willing to carry on our family business. He had never once pressured anyone of us to do so, but I know [this decision] would please him," Yeo's grandson told ST.
Stall with a 40-year history
The history of the family business can be traced all the way back to the 1960s when Yeo's father was selling fish porridge outside Hoover Cinema at 360 Balestier Road, according to Shin Min.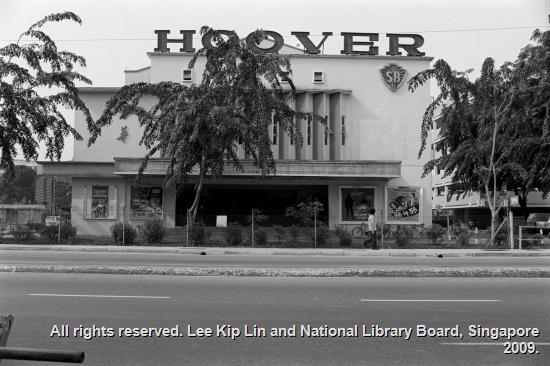 After learning about the trade and inheriting the stall from his father, Yeo named it "Hoover fish porridge" and had been running it with his wife at Mandalay Road before moving the business to Whompa in 1975.
While many have offered to buy over Yeo's business previously, he had never entertained them because he wanted to keep the business and recipes within the family, Yeo's grandson told ST.
Related stories
Top images via Hoover Fish porridge/Facebook
If you like what you read, follow us on Facebook, Instagram, Twitter and Telegram to get the latest updates.