Follow us on Telegram for the latest updates: https://t.me/mothershipsg
A recent National Environment Agency (NEA) campaign to raise awareness about waste has "generally been well received", said Senior Minister of State for Sustainability and the Environment Amy Khor in an oral answer given in Parliament on Wednesday (Mar. 1).
Khor was responding to questions submitted by Member of Parliament (MP) for Yio Chu Kang SMC Yip Hon Weng.
The campaign stirred up controversy as it involved a social experiment where passers-by were offered free coffee, and their used disposable cups were then collected to be displayed.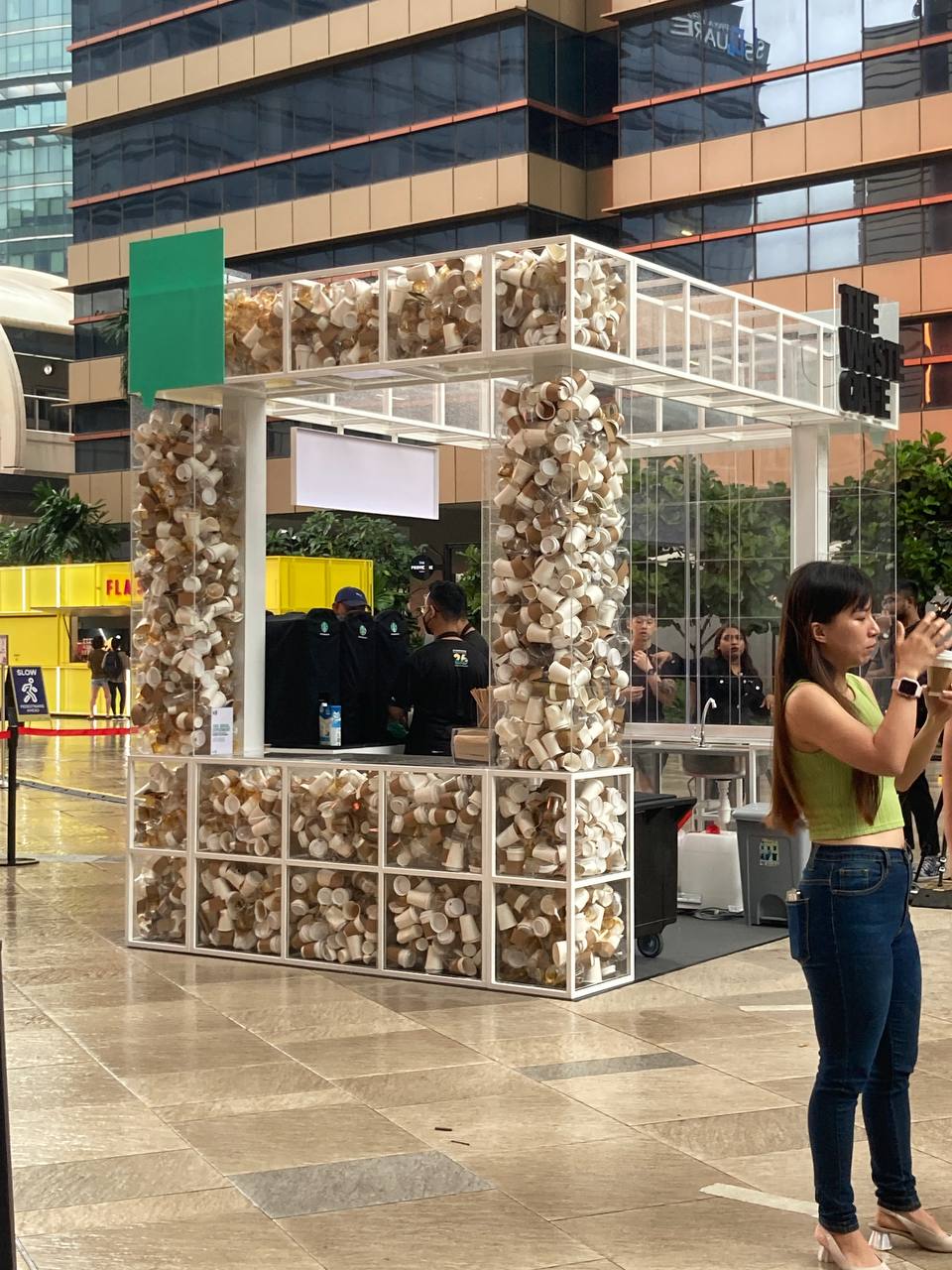 Used cups repurposed, feedback noted by Ministry
Yip's question contained three parts. The MP asked the Minister of Sustainability and the Environment (MSE):
Whether the use of existing waste materials will be prioritised over creating new ones for future campaigns,

Whether there are plans to seek input and involvement from local environmental organisations and advocates in planning future campaigns, and

Whether MSE will consider sharing lessons from public reactions in shaping future sustainability awareness and as part of its public education efforts.
In her answer, Khor noted that NEA has sought to "illustrate the cumulative environmental impact" of simple acts like using disposable cups.
Apart from sharing that the social experiment was "generally well-received", Khor also noted that the collected used cups were "repurposed into impactful education exhibits".
These exhibits are now "roving across Singapore" to raise public awareness about the importance of reducing, reusing and recycling, Khor added.
Khor then pointed out that MSE has taken note of  "those who felt that the experiment could have been done differently" and made suggestions for improvement.
"We welcome feedback from all parties, and we'll take them into consideration to improve our future campaigns", Khor said.
Reiterated that cups were repurposed
In a follow-up question on future campaigns, Yip asked if MSE will consider using "technology and digital displays instead of physical waste" to showcase excessive consumption, rather than providing free items which generates additional waste.
"As I noted, the collected used cups were actually repurposed and used as part of the roving exhibition. In fact, some of it is used as the facade of now what we call the 'Waste(less) Cafe', where members of the public can get free coffee if they bring their reusable mugs", Khor replied.
Koh highlighted that some of the used cups were also repurposed as craft materials for children.
"But, as I've also noted, we hear and note the differing views of some, and the suggestions that have been given. We certainly will take their feedback, including the member's views and suggestions, into consideration in our future campaigns", Khor reiterated.
Background
A pop-up booth called "The Waste Cafe" appeared at Paya Lebar Quarter on Jan. 28.
The store offered passers-by free coffee contained in disposable cups.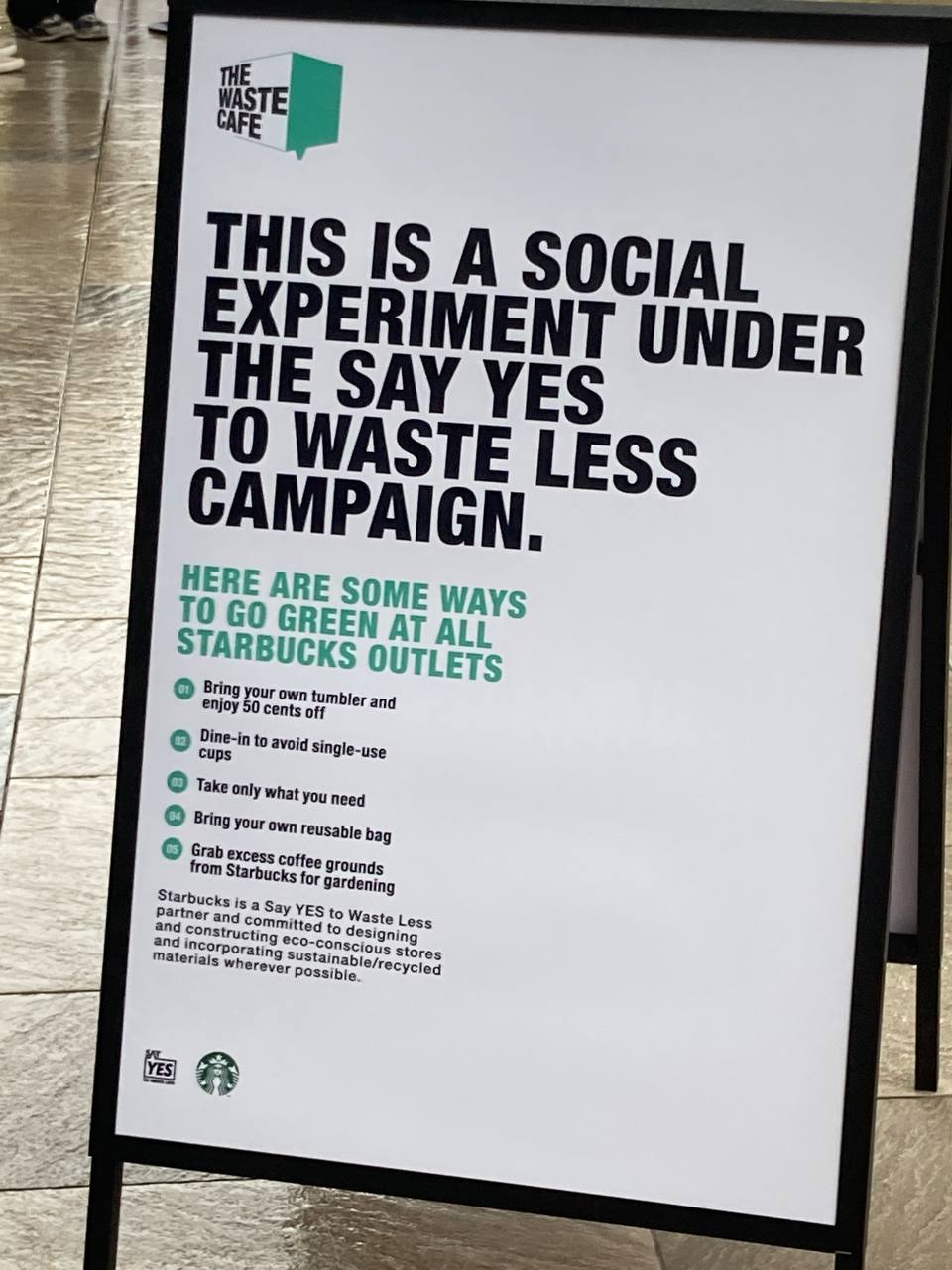 The used cups were then subsequently collected and placed inside transparent pillars that formed the facade of the booth.
The event is a collaboration between NEA, Starbucks Singapore and Paya Lebar Quarter.
However, the concept of the pop-up received pushback from some members of the public, who found it puzzling that a campaign against waste had generated waste in the process, The Straits Times (ST) reported.
NEA noted that the aims of the installation were met, and that most feedback on the social experiment were positive, ST wrote.
According to NEA, the event was meant to be an intentional illustration of the amount of waste that can be generated when disposables are used, ST reported.
The pop-up is part of NEA's annual "Say Yes to Waste Less" campaign.
The advertising agency behind the concept had also come forth to defend the idea, stating that they wanted to "shock people" into talking about waste and in the process, "compel them to change".
"The Waste Cafe" has since been turned into the "The Waste(less) Cafe".
Top image via MCI/YouTube, Ashley Tan
If you like what you read, follow us on Facebook, Instagram, Twitter and Telegram to get the latest updates.