Follow us on Telegram for the latest updates: https://t.me/mothershipsg
Paralympic swimmer Sophie Soon apologised in a Facebook Reel after posting a video of a stand-off between her and staff when she was not allowed indoors with her guide dog.
In the previous video, which appears to have been removed, Soon filmed an employee at a Halal-certified cafe in Hougang 1 mall called Rocky Master.
Filmed incident at Hougang cade
The staff member was on the phone with a superior for advice on if the guide dog is allowed in the cafe. Soon's mother could be heard in the video questioning: "Why are you discriminating against a guide dog?"
The pair can also be heard telling the staff that guide dogs are approved by Muis (Islamic Religious Council of Singapore) and the Ministry of Sustainability and the Environment.
The cafe eventually allowed them to stay on the condition that "(her) dog is leashed, not fed, and if a customer does not complain about (her) dog", Soon shared.
Subway incident
Soon is visually impaired, and has a progressive condition known as cone rod dystrophy, which leads to vision loss over time.
This is not the first time she's been denied entry to a food establishment because of her guide dog, and filmed the incident.
Apologised in new video
In her new video apparently posted today (Mar. 12), Soon expressed her "greatest apologies" to all those who responded to the video, the staff member and the manager.
"It was a poor move and poor judgement on my part for thinking that this is the way to resolve discrimination issues."
She said that the way she approached the situation was not raising awareness for people with guide dogs in a "more positive manner".
"This was not in a way that would garner better responses and to not cause so much chaos and hatred among the community," Soon reflected.
This was after her previous video drew mixed reactions.
You can see the apology video below:
Received mixed responses
Regarding the previous video, some commenters accused Soon of shaming the staff online.

While others urged the relevant authorities to look into ways to raise awareness about guide dogs in Singapore.
In the cafe's statement on Instagram, they highlighted that they "do not discriminate any diner who chooses to patronise (them)".
They added that the staff "maintain their composure" despite not being "very experienced".
However, Soon responded in comments, saying that she did not accept the apology and that the restaurant should "read up and educate" staff on guide dog laws in Singapore.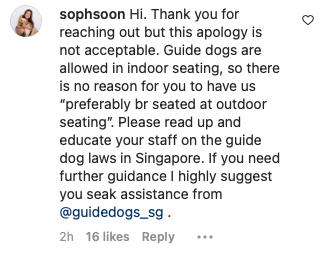 The post drew mixed reactions, with some commenters taking Soon's side, and others on the side of the staff member.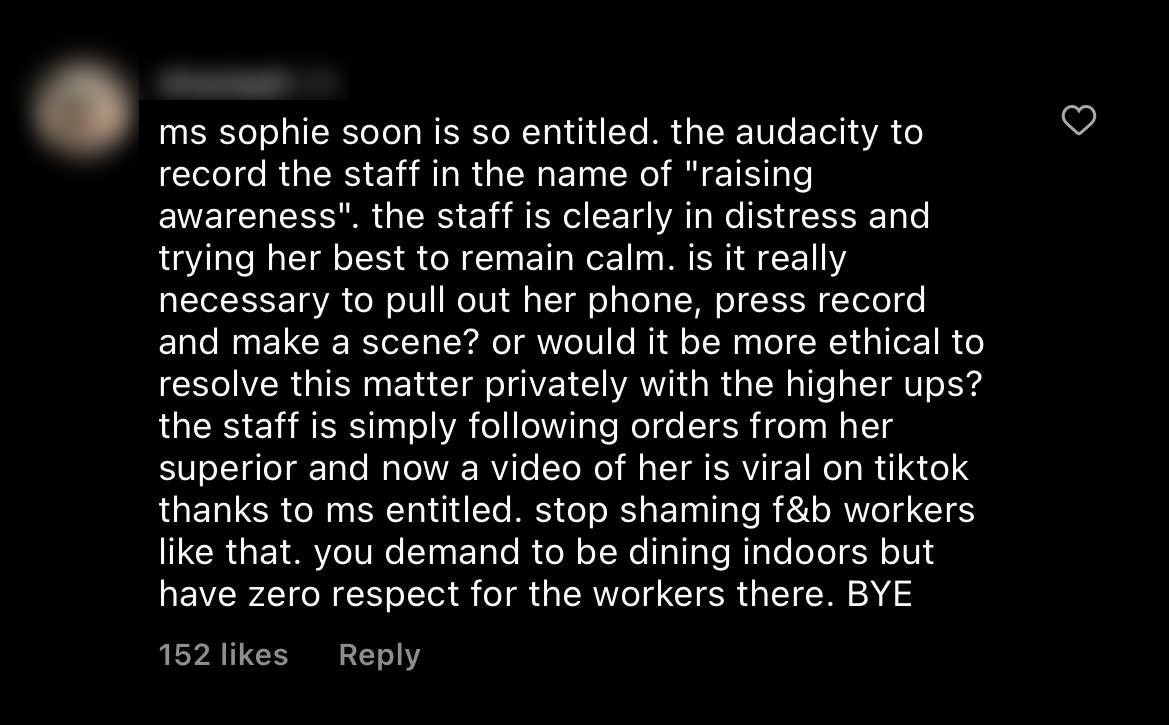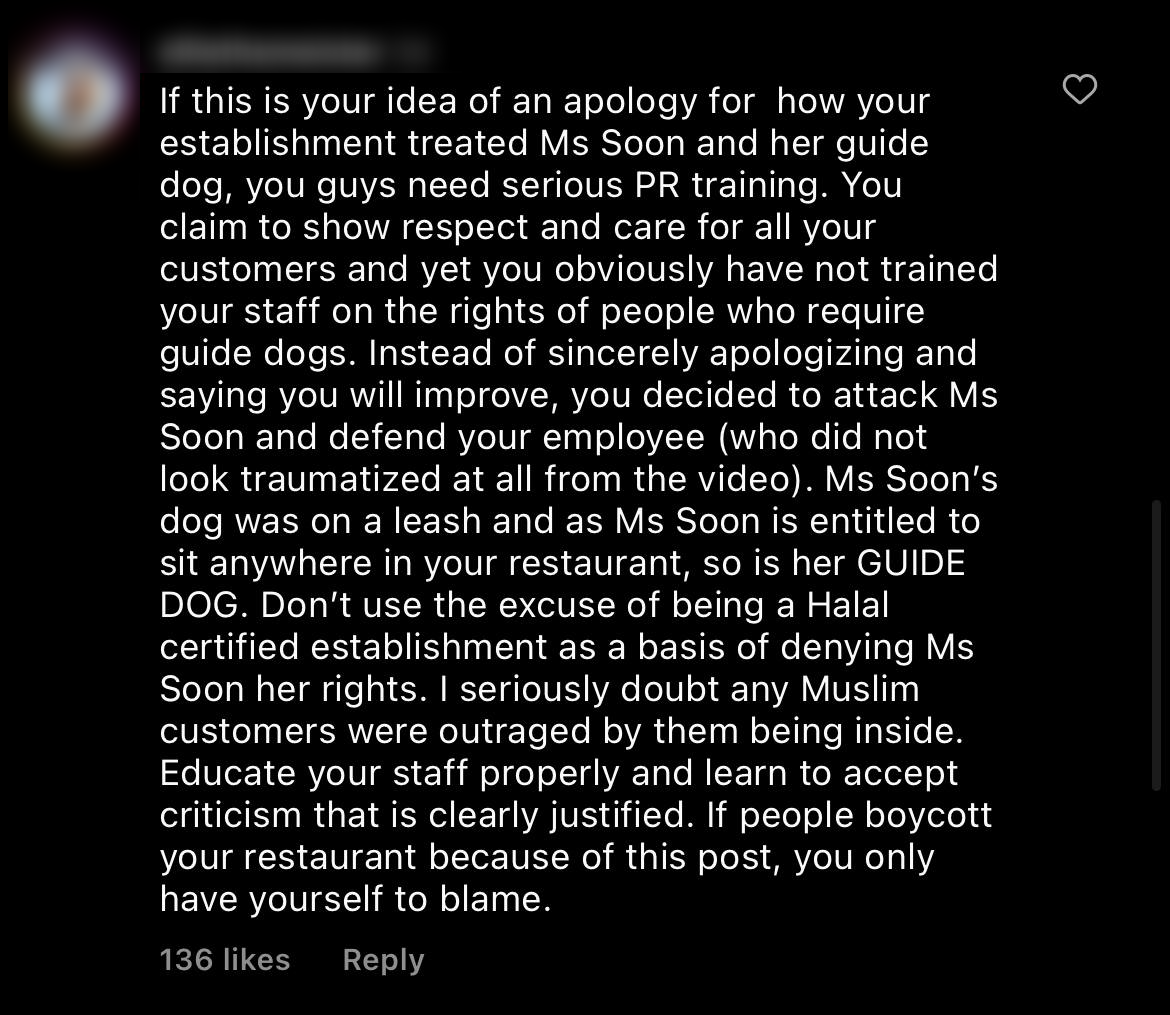 More positive content moving forward
However, the negative responses to the incident were something Soon supposedly "did not intend".
In her latest video, she recognised that she started the incident and wants to be the one who "puts it to an end".
"Everybody should take whatever time they need to recover and move on from this incident."
According to Rocky Master's statement, the staff member was "traumatised" from the incident with Soon.
Moving forward, Soon hopes to post "more positive content that sheds light on this matter".
She added that she would take down her previous videos of confrontations.
Soon also said that some companies have reached out to her to collaborate on raising awareness on how to handle someone with guide dogs, presumably in food establishments.
Images via sophsoon/ IG and FB. 
If you like what you read, follow us on Facebook, Instagram, Twitter and Telegram to get the latest updates.