Follow us on Telegram for the latest updates: https://t.me/mothershipsg
Singaporeans are notorious for having some of the worst tolerance for any queue-related nonsense, be it cutting or not moving up fast enough.
We police our unspoken queue rules very seriously.
At Bishan bus interchange, however, there exists a space where—take it from the locals—you can get away with not queueing.
A Facebook user in Singapore, apparently a non-Bishan dweller, got the culture shock of their life.
No queue interchange
On Mar. 7, the user documented their experience at Bishan bus interchange with a post on the Facebook group Complaint Singapore.
They were outraged that people were completely disregarding the railings.
You know—these things used to herd people into neat lines.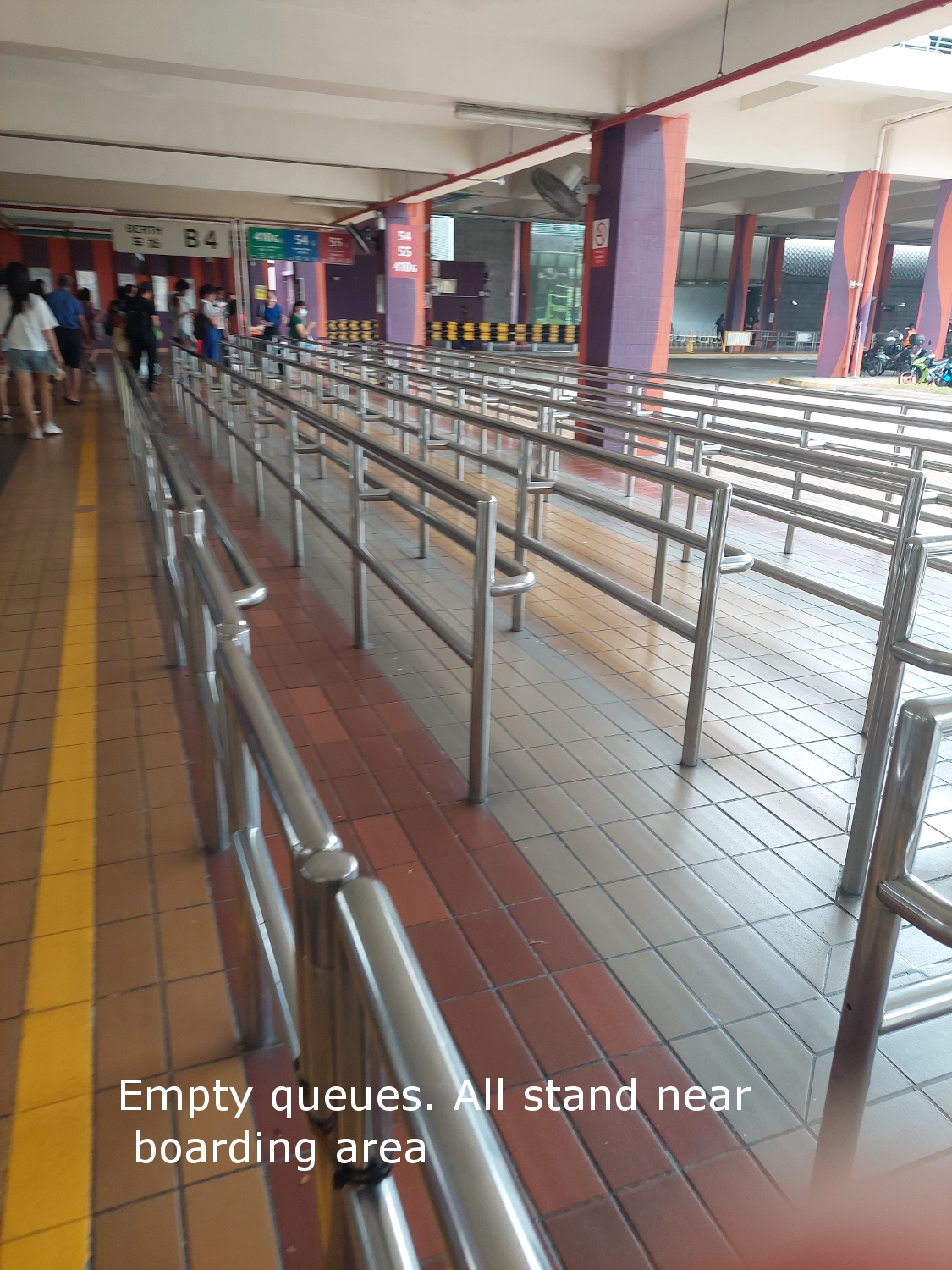 Shame on you, Bishan
"Been to a lot of bus interchanges. Bishan is the worst. Railings installed for people to queue but nobody queue. Instead all stand around the boarding area. When bus come, all chiong ah!" the user wrote.
They described how they were initially fooled into queueing obediently.
"First time there I thought was only one off incident. I gong gong go and queue up, thinking how come this bus service got no business."
The user said they were met with similar situations during their subsequent visits to Bishan interchange.
They soon realised the fault lay with them.
"Then I saw what happened. These people even ignore me who was in the queue. Subsequent visit, same thing happens. Only the non-Bishaners will gong gong go and queue (like my 1st time)."
As all Singaporean complaints tend to do, this rant became political.
"Bishan people, shame on you! So uncultured and boorish! People from Clementi, Boon Lay, Woodlands, Bedok, Pasir Ris...are more civilised than you people living on former dead corpse land."
Bishan explains
For Bishan people squirming in your seats at this point, don't worry, the user was enlightened by other Facebook users.

This explanation seems to hold water.
According to the user's photo, the people seem to be waiting at the berth of buses 410G and 54, both of which hit some of the same stops along their route, such as those along Bishan St 13.
This is the first part of 54's route.

This is the first part of 410G's route.

Buses 52 and 410W, whose interchange queues are in the same berth, have even more stops in common.
Commuters can take either of the two buses to get to any of 11 stops along Bishan Street 22, Sin Ming Avenue and Upper Thomson Road.
Unfortunately, this was not enough to appease them. 

They feel very strongly about bus queue etiquette.
Top images via Kei El Douberyu on Facebook
If you like what you read, follow us on Facebook, Instagram, Twitter and Telegram to get the latest updates.