Follow us on Telegram for the latest updates: https://t.me/mothershipsg
A woman took to the Complaint Singapore Facebook page on Mar. 7, 2023 to share about her experience at Ohana VetCare Clinic at Loyang Point.
Juliet Isabella shared that she went to Ohana VetCare on Mar. 3, 2023, as her ginger cat, Hachi, suffered from inflammation at his "private area" and had vomited a few times.
Called the clinic numerous times, but no one picked up
According to Isabella, she tried to call Ohana VetCare Clinic before heading down.
She stated that she tried calling from 6:24pm to 7:25pm, but to no avail, as no one picked up her call despite her waiting on the line.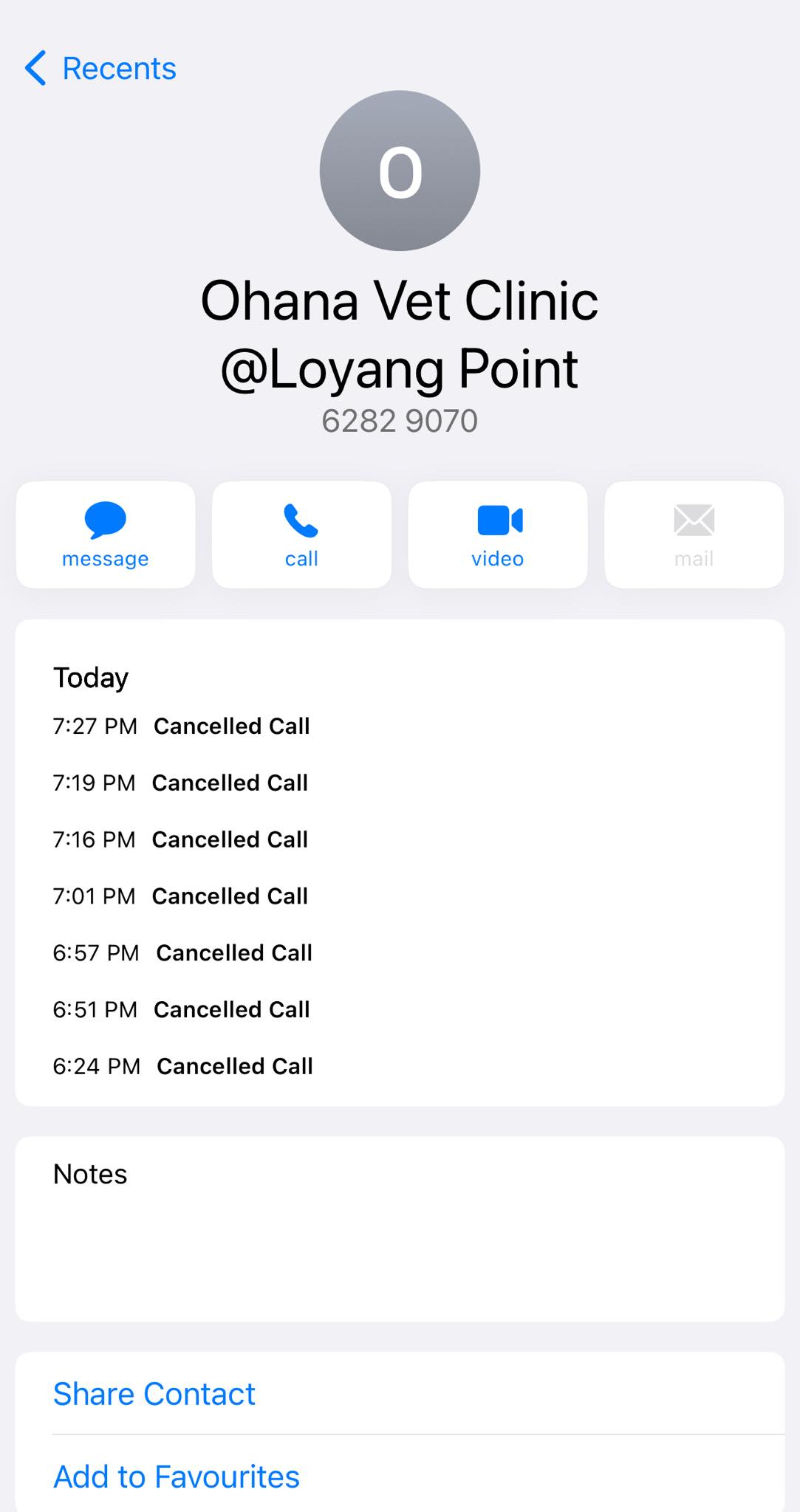 Ohana VetCare's website states that it is open from 10am to 12pm, 2pm to 6pm and 7pm to 9pm.
Isabella decided to head down to the clinic regardless, which she said was a 15-minute drive.
She arrived at 8pm with her father and her cat.
S$72.11 extra for the walk-in fee
When she arrived at the clinic, Isabella noted that there was not much of a crowd, and three staff were at the counter.
One of the staff requested that she pay an additional S$72.11 walk-in fee despite her explaining that she had called numerous times for an hour to try and make an appointment.
Isabella questioned: "This is a vet clinic dealing with animal lives, how can they be so 'uncontactable'?"
The cat owner was then referred to the director and veterinarian of Ohana VetCare, Francis Tay, who allegedly insisted that he would not see or treat Hachi if she did not pay the extra walk-in fee.
She noted that he did not ask what happened to her cat or even look at the animal.
Isabella apparently asked Tay how could she have made an appointment when no one picked up her calls, to which he supposedly "just shrugged and smirked and didn't reply [her]".
Isabella also showed proof that she had called.
Tay told her that they were all having dinner from 6pm to 7pm.
Chased her out of the clinic
When Isabella pointed out that she had called from 7pm to 7.25pm as well and no one picked up, Tay allegedly "sarcastically mocked" her.
He apparently said: "If you are not happy with our service, you can go and see another vet clinic. I don't think you'll pay the add-on walk-in fee".
Tay then allegedly opened the clinic room door and chased her, her father and Hachi out.
Isabella also accused Tay of spending time insisting she paid the extra fee instead of checking on her cat to see if it was an emergency case.
The cat owner apparently then told Tay that he has no professionalism and "no love [or] compassion for animals".
She supposedly also told him that he was unfit to be a vet.
Tay allegedly replied "nonchalantly" that he agreed he was not fit to be a vet.
Isabella wrote:
"The crux of the whole incident is [Tay's] unprofessional handling and rude attitude, especially when he is the boss of the clinic. He never told me the clinic was full. He never mentioned he would be treating Hachi [outside] of operating hours that justified the walk-in fee... There were still [three] staff around the counter when I just left the clinic. How busy is it that no one picked up my calls?"
Mothership has reached out to Ohana VetCare for comment and will update this article with their reply.
A call to the clinic on Thursday afternoon at about 3:30pm was answered promptly.
Not Ohana VetCare's first bad review
Numerous reviews on Google reviews and Ohana VetCare's Facebook page highlight the contrasting service some customers received.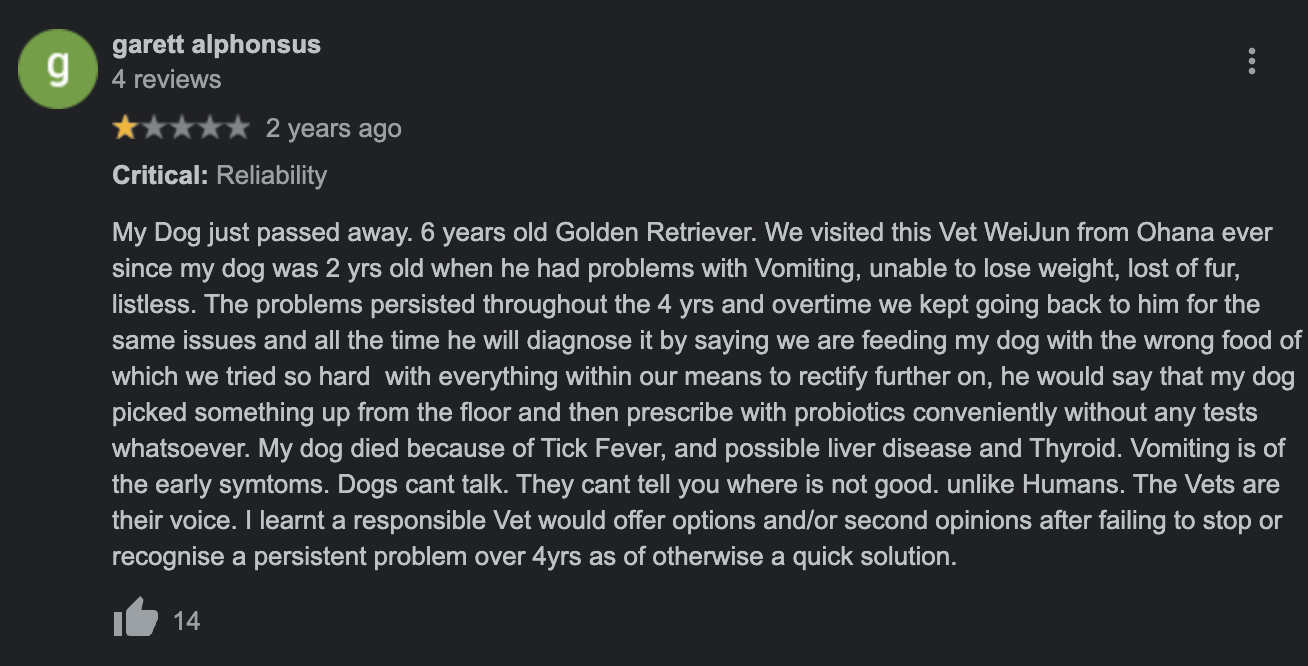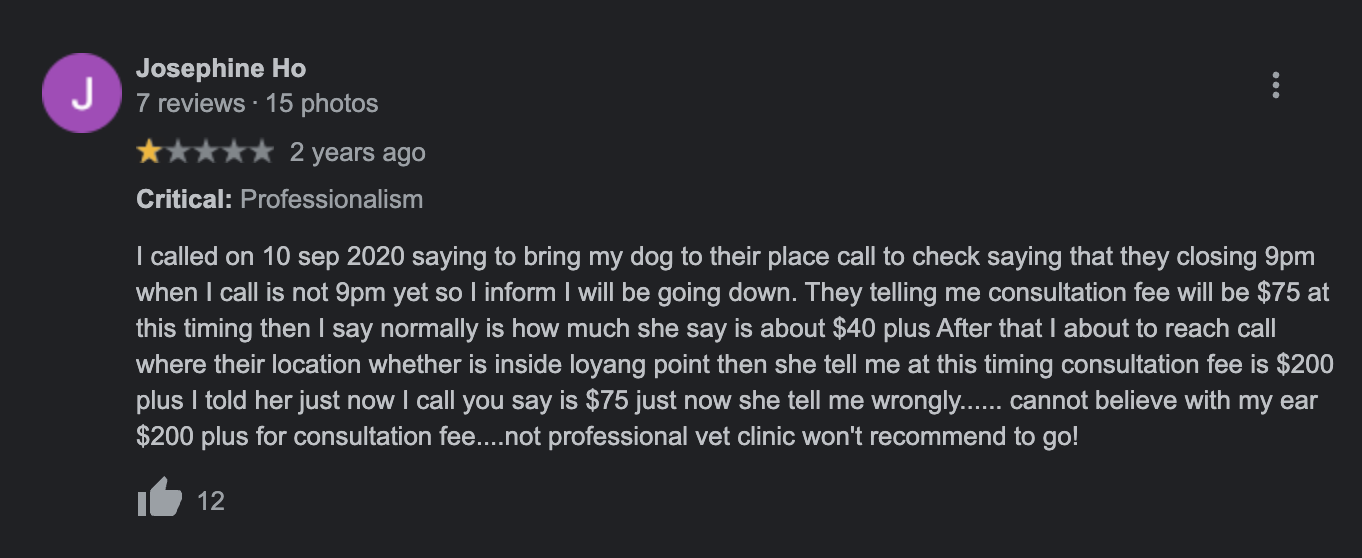 In 2019, nurses from Ohana VetCare were suspended after they uploaded videos to their Instagram Stories of them mocking a deaf cat and playing with castrated dog testicles.
Top photos via Juliet Isabella's Facebook and Google Maps
If you like what you read, follow us on Facebook, Instagram, Twitter and Telegram to get the latest updates.