Follow us on Telegram for the latest updates: https://t.me/mothershipsg
It's easy to take our Singapore Police Force officers for granted.
Contrary to epic depictions of crime fighters in international media, the bulk of work undertaken by Singapore's heroes in blue remains very much on the down-low.
That doesn't mean they are any less deserving of praise.
A TikTok video uploaded on Mar. 18 proved just that.
Guardian in the rain
The video captures a police officer shielding a body from the rain.
At the foot of what appears to be a HDB flat sits a blue police tent.
As the tent is battered by the heavy rain, an officer hurries to adjust it, protecting what is likely to be a body inside.
Without any shelter from the elements themselves, the officer braves the downpour for the sake of helping the deceased remain respectfully covered.
He looks inside the tent, presumably to check on the body, and calls for help from colleagues off-camera.
Three more officers arrive and they secure the tent using weights.
In response to Mothership's queries, the SPF said that the deceased was a 57-year-old man. The police were alerted to the case on Feb. 28, and investigations into the death are still ongoing.
The SPF added that after being alerted to a case of death, the police are required by law to secure and preserve the scene to facilitate investigations.
They will then bring the deceased to a mortuary for the State Coroner to determine if a post-mortem examination is required.
Respect from public
The officer's actions garnered many praises.
Commenters saluted his "dedication" and "awesome display of empathy and care", remarking that the job of the police is far from easy.


There was an overwhelming number of comments echoing such sentiments, saying this was "one last decent humane thing" the officer could do for the deceased.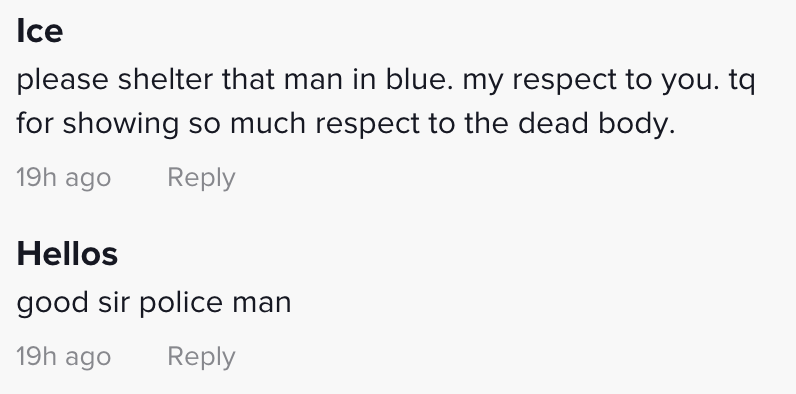 People also expressed grief over what appeared to be a case of suicide, calling for more support for those struggling with their mental health.

---
Helplines
If you or someone you know are in mental distress, here are some hotlines you can call to seek help, advice, or just a listening ear.
SOS 24-hour Hotline:

1-767

Singapore Association for Mental Health:

1800-283-7019

Institute of Mental Health:

6389-2222 (24 hours)

Tinkle Friend:

1800-274-4788 (for primary school-aged children)
Top images via TikTok callmelits96
If you like what you read, follow us on Facebook, Instagram, Twitter and Telegram to get the latest updates.