Follow us on Telegram for the latest updates: https://t.me/mothershipsg
Local photographer Jayaprakash Bojan stumbled upon a dead turtle at Pasir Ris Park on Mar. 7.
The turtle, roughly 45cm long, was washed up on the coast.
When Jayaprakash came across it, the turtle's shell was sun bleached, its eyes were bulging from decomposition and the carcass was attracting flies.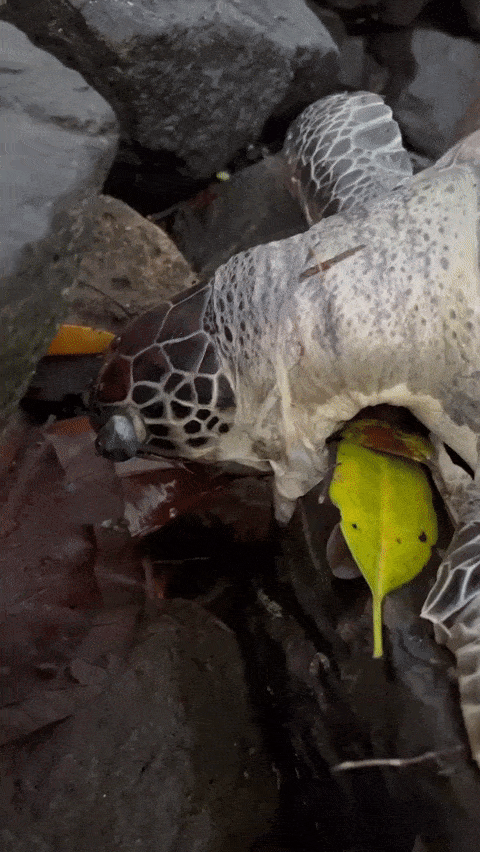 "Never seen a turtle here in the six years I have been visiting the park," Jayaprakash told Mothership.
He notified the Lee Kong Chian Natural History Museum (LKCNHM) about the sighting.
Jayaprakash shared that the carcass would likely attract monitor lizards in the area, adding that "nature will take its own course now".
Carcass not retrieved
In response to Mothership's enquiries, LKCNHM stated that it did not retrieve the turtle.
The museum has several specimens of the turtle species and is unable to accommodate more specimens due to limited space, said LKCNHM.
The National Parks Board (NParks), when reached for a comment, said they were alerted to a sighting of a Green turtle on Mar. 7.
"However, the carcass was not found at the location when NParks staff went to retrieve it for a post-mortem examination," said Ryan Lee, the group director at the National Biodiversity Centre.
"Since 2020, NParks has been alerted to six cases of dead sea turtles along our shores. The cause of death could not be identified for most cases where the carcasses were retrieved, as they were found to be in an extreme state of decomposition."
Members of the public should refrain from touching or moving a turtle carcass if they come across one.
They can report the sighting to NParks via their helpline 1800 471 7300.
Turtles in Singapore
Green turtles are found near coastlines worldwide, especially in areas with seagrass beds, Lee shared.
There are two native turtle species in Singapore: Hawksbill turtle and Green turtle.
Both are listed as critically endangered species locally.
They live in the sea and only return to land to lay their eggs on sandy beaches.
According to NParks, turtles face multiple threats.
They are at risk of boat strikes, entanglement or ingestion of marine trash, plastics and fishing equipment, as well as the loss of nesting beaches to reclamation and other land uses.
Light pollution can also disorient turtle hatchlings and hinder their ability to head into the ocean.
To support turtle conservation, NParks has a Turtle Hatchery on Small Sister's Island, which is a protected area.
Related stories
Top images via Jayaprakash Bojan.
If you like what you read, follow us on Facebook, Instagram, Twitter and Telegram to get the latest updates.