Follow us on Telegram for the latest updates: https://t.me/mothershipsg
Earlier this year in February, pay-as-you-wish food enterprise MoNo Foods announced a hiatus after moving out of their previous location at Smith Street.
However, a month later, they shared about their reopening at a new space via an Instagram post on Mar. 14.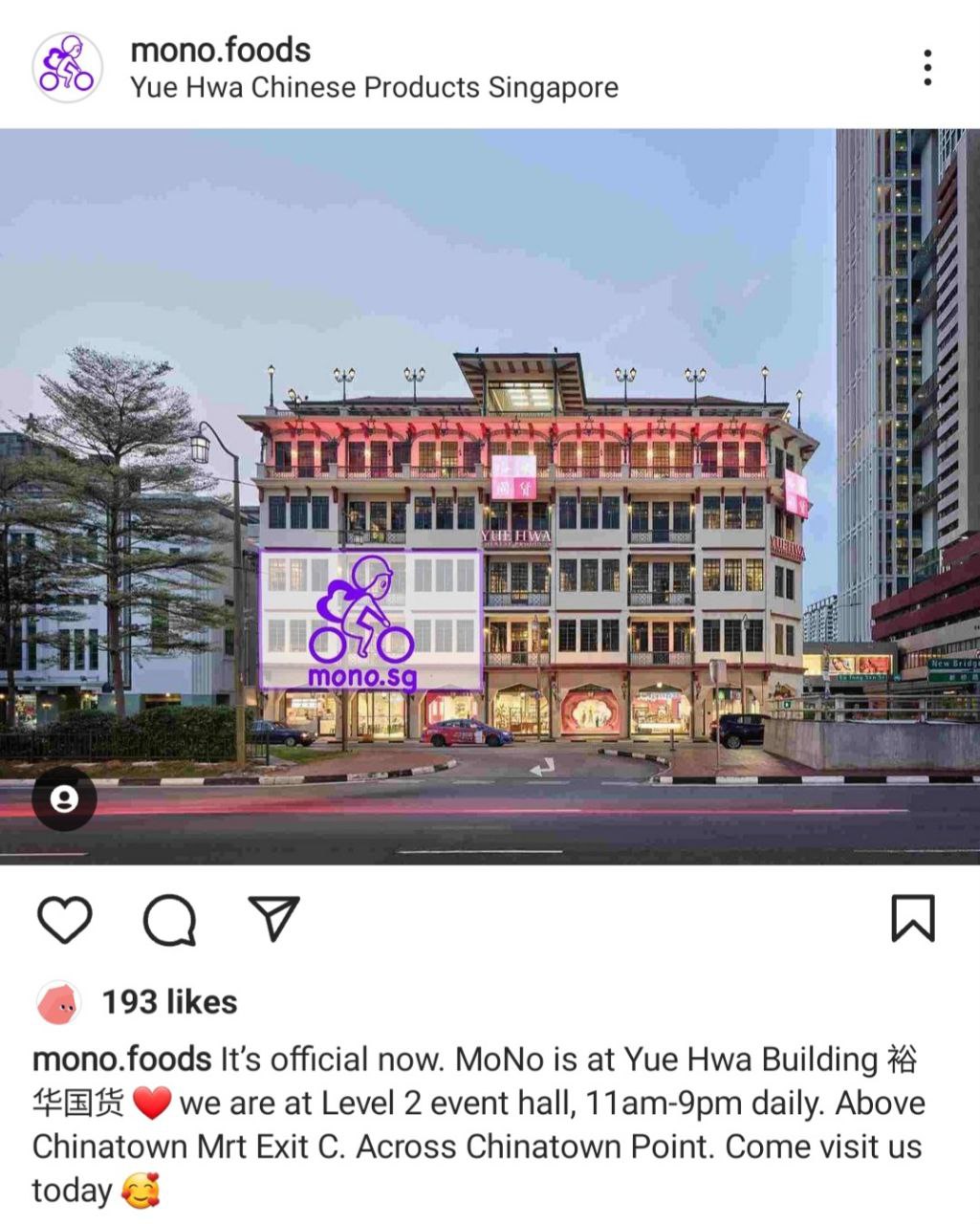 The social enterprise, which aims to reduce food waste by selling surplus food at low prices, is reopening at the Event Hall on Level 2 of Yue Hwa Chinese Products' Chinatown building from Mar. 15.
New start
The founders of MoNo Foods, Lorraine Koh and Leonard Shee, spoke to Mothership about their fresh start.
They were initially thinking of "taking a break", as they "haven't rested for the longest time".
Previously, they shared that they had to move out of their space Smith street due to "building renovation and maintenance and other reasons".
However, after news coverage on their social enterprise, several places reached out to them to offer them possible locations to start again.
Koh and Shee were initially hesitant, but what spurred them on was strong customer support.
Shee shared that customers kept asking about where their new location would be, as they had "run out of (MoNo's) items in the pantry or kitchen".
One of those who reached out to MoNo Foods was Yue Hwa Building's management, as they were supportive of MoNo's cause.
One thing led to another, and MoNo Foods now has a new place to call home.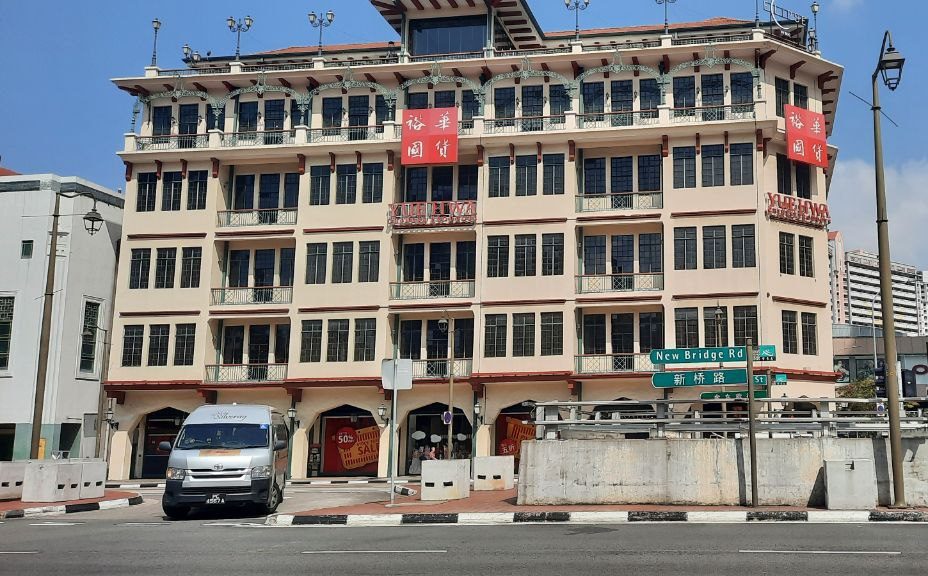 They shared that they picked this space as it was convenient and "directly above the MRT".
Shee also cited the fact that it was a big and historical building, just like their former location at Smith Street.
According to Koh, the tenancy started on Mar. 1, and the past two weeks were "tough" as they tried to "fill (the big space) up as soon as possible" with volunteer help.
New space with bigger possibilities
Mothership visited the space in the morning on Mar. 15, which was much larger and more vibrant than the previous location at Smith Street.
Educational posters about MoNo's mission and food waste are displayed at the entrance and around the store.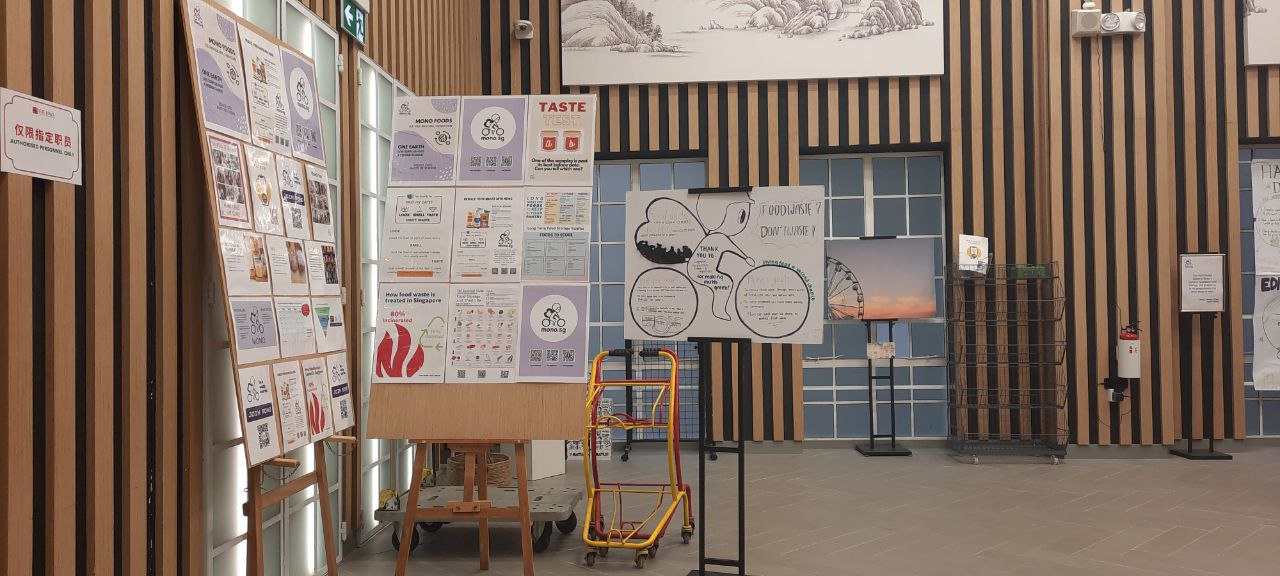 The enterprise is now focused on educating customers about reducing food waste.
Shee shared that "education is (their) top priority" and the volunteers make an effort to talk to customers who walk in and inform them about what they do.
To help consumers learn more about food waste, MoNo partnered with Secondary 3 students from CHIJ Toa Payoh Secondary to make informative posters.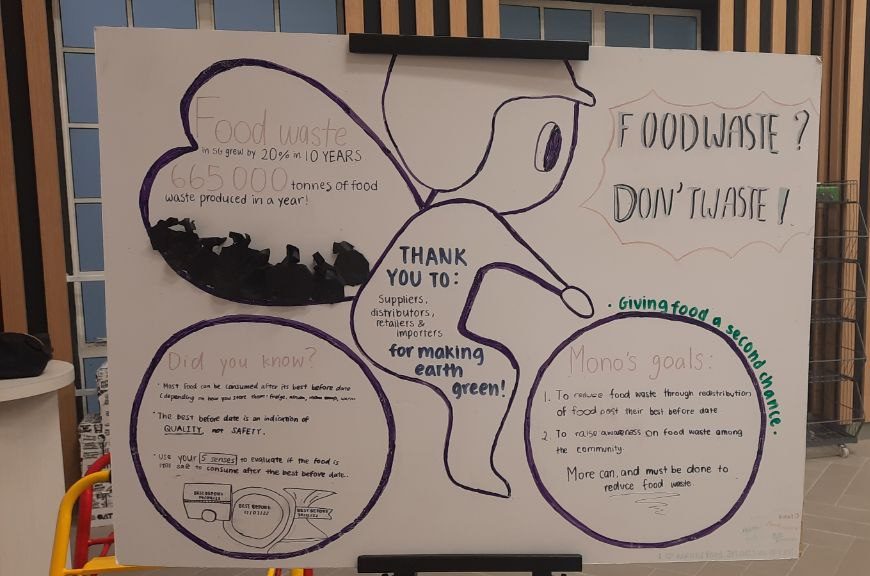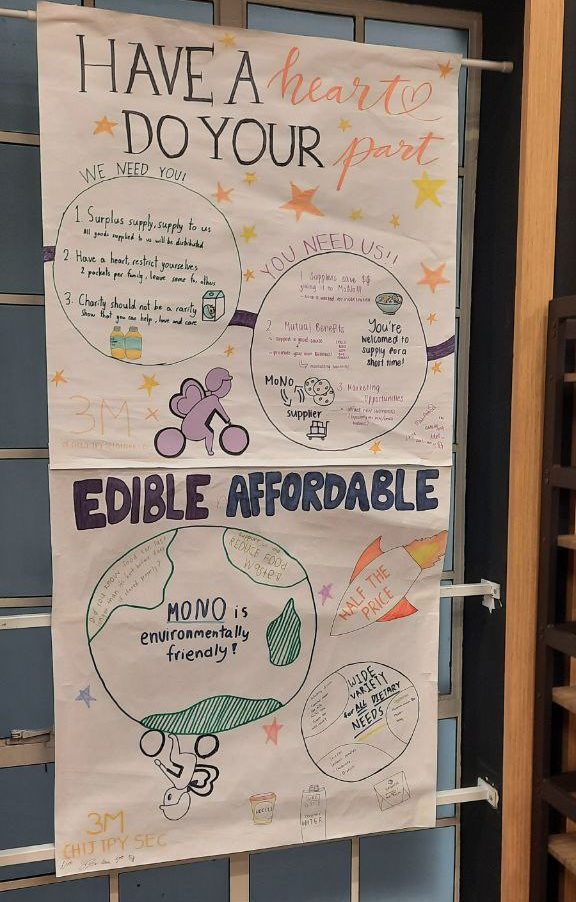 Some posters educate consumers about how to store food items and different terms used to indicate the freshness of food items such as "Best before", "Use by" and "Sell by".
Visitors are also reminded to determine whether the food is still edible by looking, smelling and/or tasting it, and not just rely on the labels.
The volunteers have also put up a noticeboard within the store to highlight and thank all their contributors and suppliers for their efforts.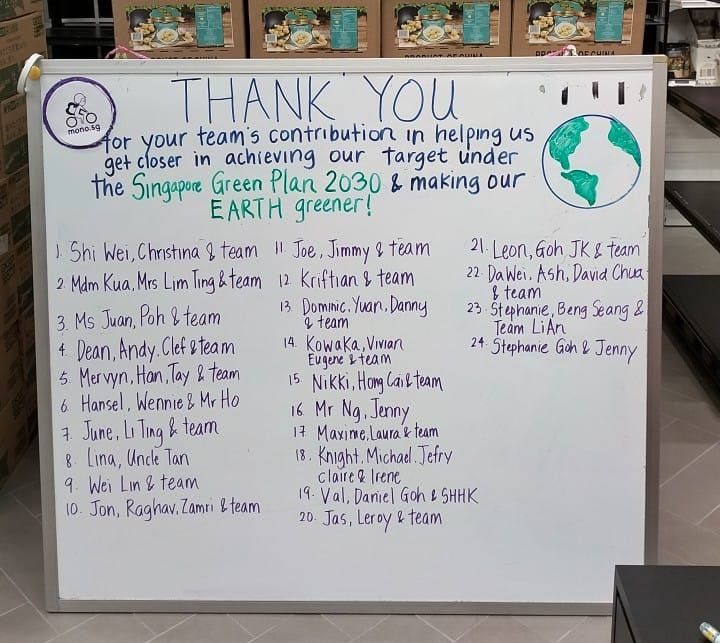 Within Yue Hwa Building are electronic noticeboards advertising about MoNo Foods and the battle against food waste.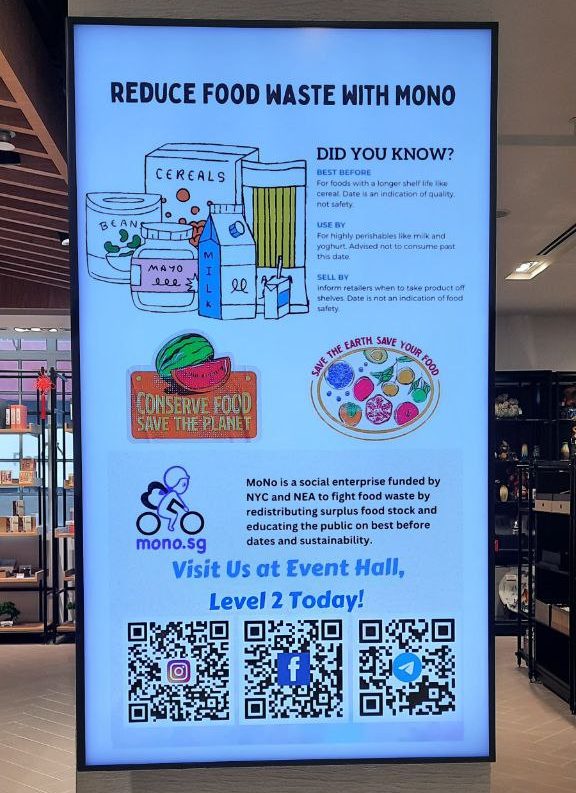 Items offered in-store
Shee shared that because they were on hiatus for a month and initially did not plan to reopen that soon, they had connected their suppliers directly with Community Clubs.
They thus stopped receiving items after completely clearing out their previous location at Smith Street.
Currently, they are working with new suppliers and are waiting for new items to be brought in. As such, their shelves are not filled up completely yet.
The fixtures in the enterprise are all repurposed from different sources.
For example, the item racks are donations from a retail shop that closed.
Upon entering the Event Hall, one is greeted by a large stack of cartons of UFC Coconut Water.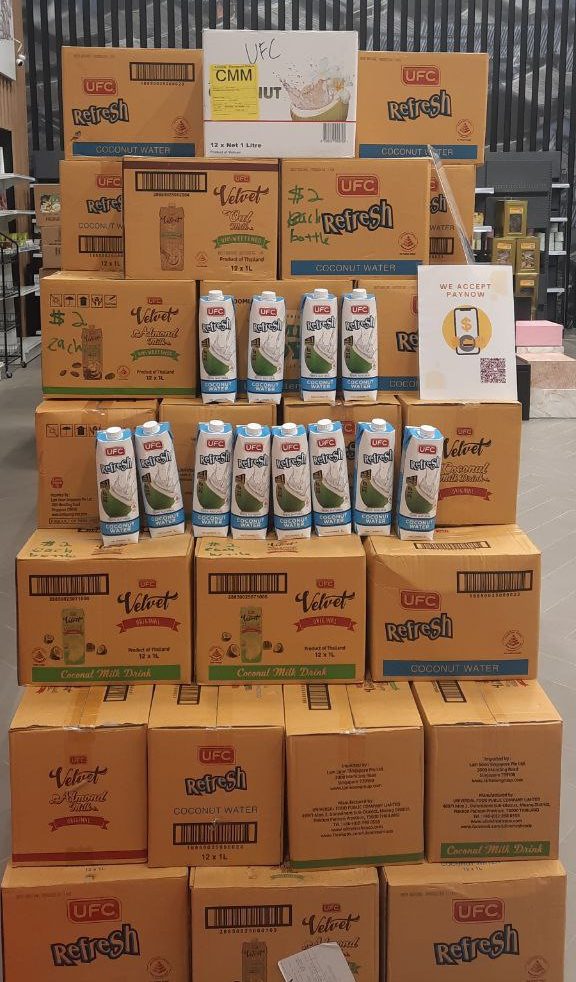 According to Koh, UFC is one of their biggest supporters, and the company has even gone the extra mile by sending a guide on how to tell if the coconut water can still be consumed.
MoNo also has unique products like pregnancy snacks amidst the sauces, drinks, canned food and cup noodles they offer.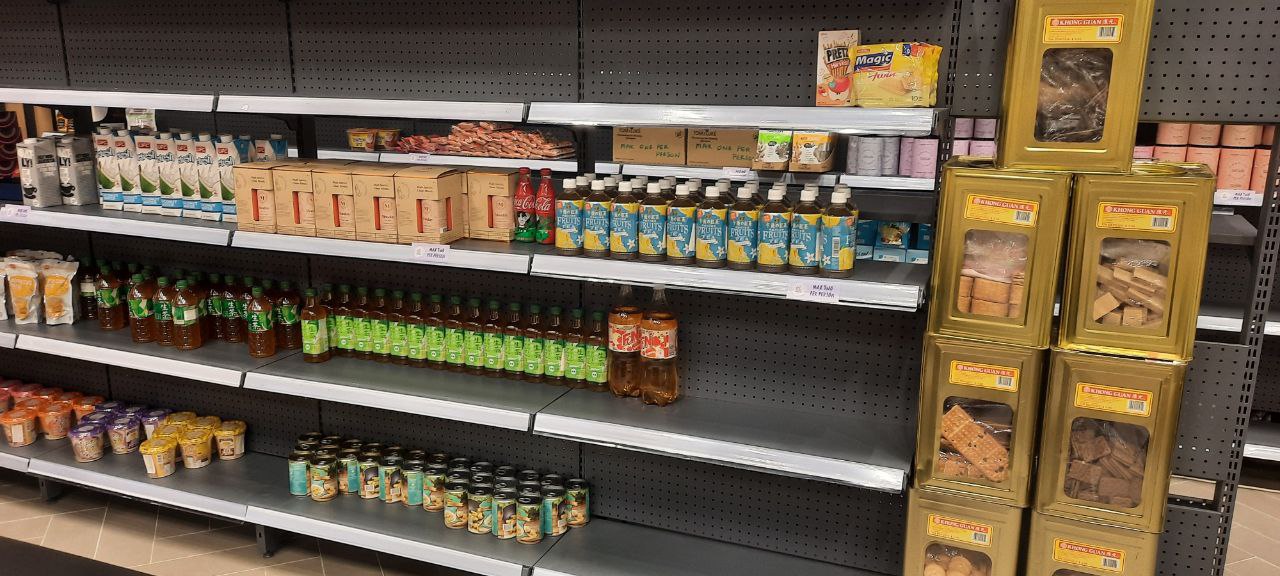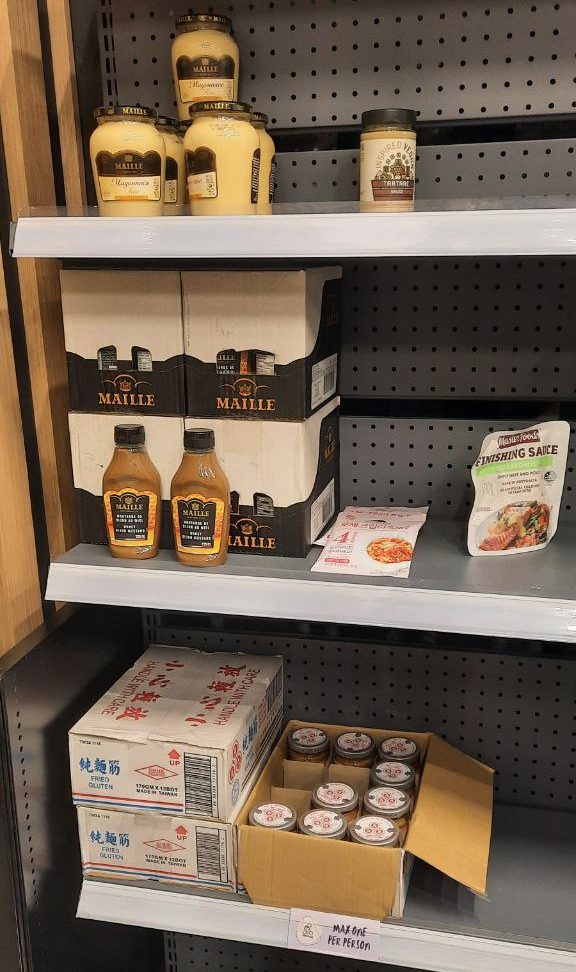 Additionally, they have started a new initiative called the Sharing Corner.
As the name suggests, people can donate and drop off any food products or items they feel still have use, such as plastic bags, tote bags, and plastic containers for others to take.
The items in the Sharing Corner are free of charge.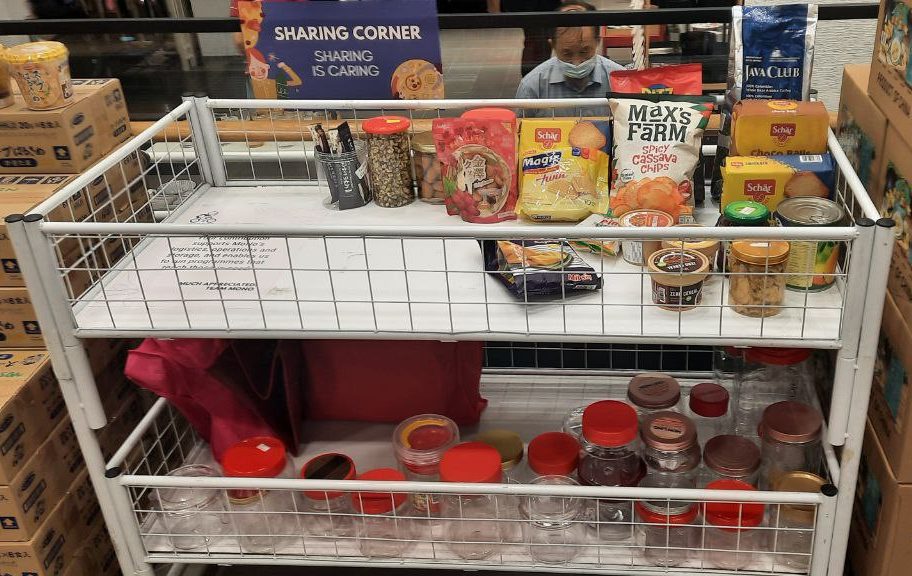 How to pay
At MoNo, people can contribute any amount that they wish to for the items that are past their best before date.
Certain items that have not gone past their best before date are sold slightly cheaper than retail prices.
For example, the UFC Coconut Water is sold for S$2, but retails at S$3.90 in supermarkets.
Recently, they have limited the quantities customers can buy for certain items, to a maximum one or two of each item per person.
According to Shee, it is to "control and be fair to the suppliers", as they want people to patronise retailers instead of waiting for prices to decrease at MoNo.
Additionally, it prevents hoarding.
They have communicated with the suppliers on how to set the quantity limits.
Payment for the items can be made through scanning the PayNow QR code or cash.
What's next?
MoNo Foods' tenancy at Yue Hwa Chinese Products' Chinatown Building will last till end-2023.
Koh and Shee are also hoping to include chilled and frozen foods in the space, like they did previously at Smith Street. However, they are trying to "factor in the cost for utilities", as they are "not sure if (they) can afford it right now".
Volunteer recruitment efforts
One challenge MoNo is currently facing is the lack of consistent and reliable volunteers that come in "on a regular basis" to help out.
Koh shared that although there is a team of 11, including the founders, there is only one regular volunteer so far.
Student groups have been coming on the weekends to help out with their relocation and designing of the space.
Over two sessions on Feb. 25 and Mar. 4, students from Class 3M of CHIJ Toa Payoh Secondary had come down to help shift items from Smith Street as well as design the aforementioned posters.
In fact, the students had reached out to them first via email and expressed interest in learning more about fighting food waste and helping out.
The students will be volunteering again in late April.
Students from National University of Singapore (NUS)'s NUS SAVE (Students' Association for Visions of the Earth) environmental group have also been involved in the moving of items on many weekends.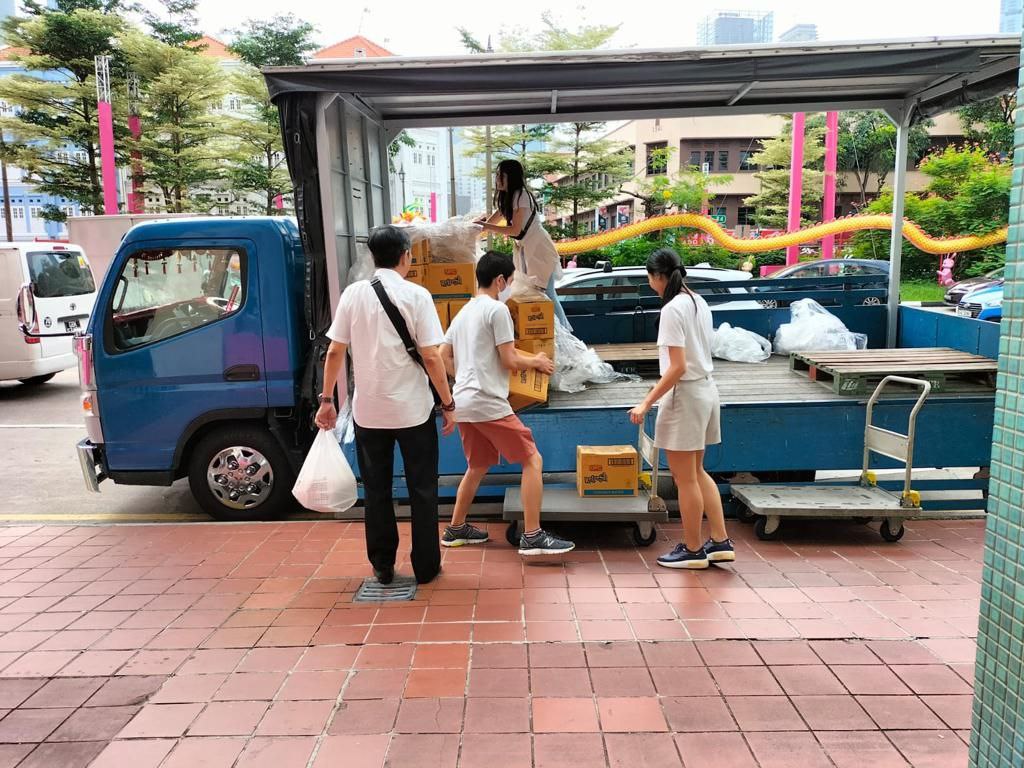 MoNo Foods is currently liaising with volunteers from SG Cares Volunteer Centre in Kreta Ayer to arrange more regular volunteering stints.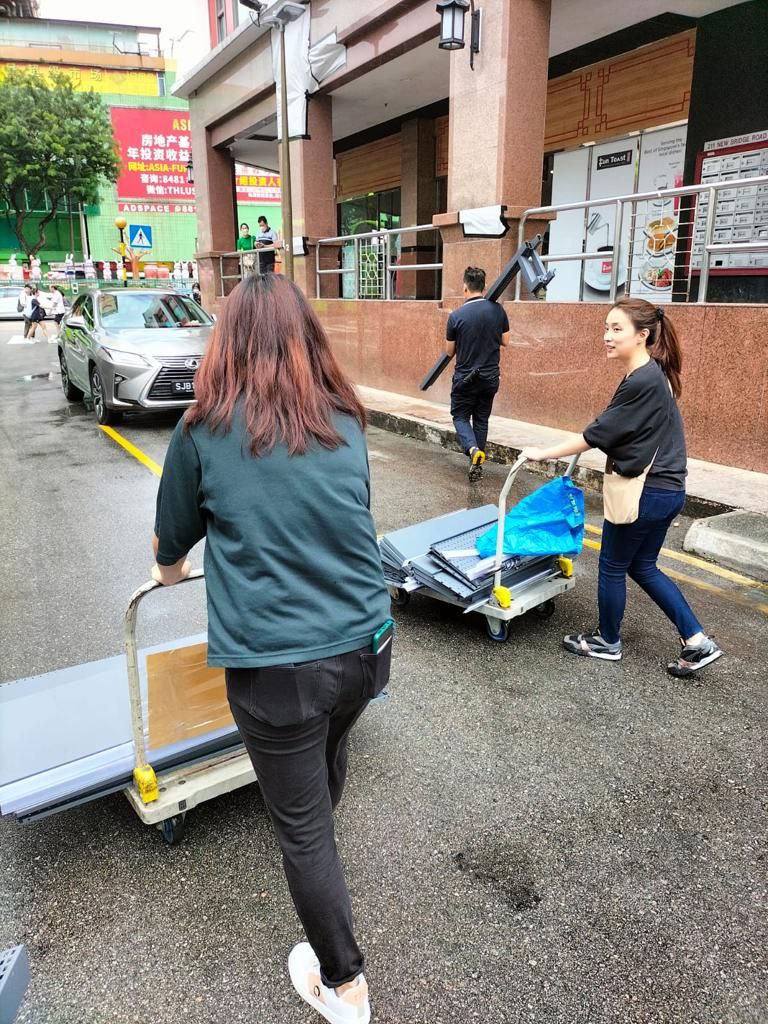 Koh and Shee hope for more regular volunteers to come down and help them out.
They have been sourcing for them via Facebook groups and their own network of former volunteers.
Volunteer recruitment posters have been put up at the entrance of the Event Hall.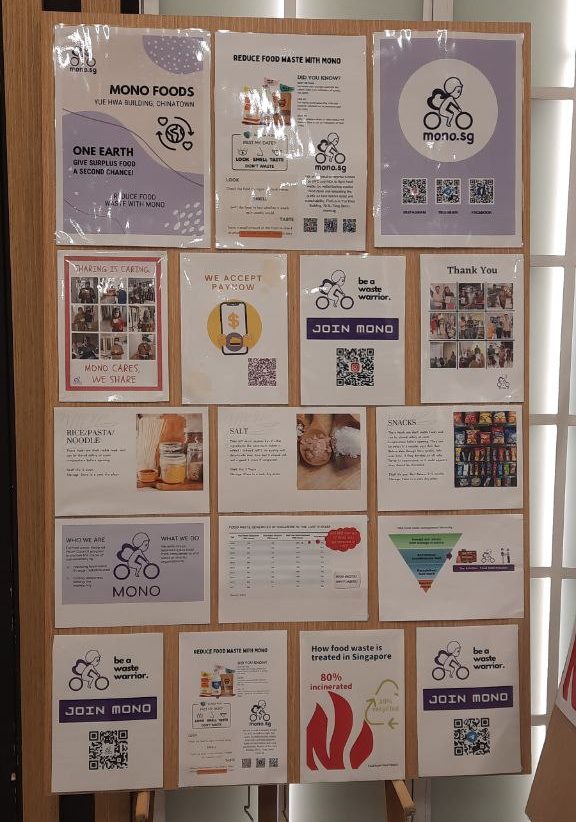 Additionally, the founders welcome the public to contribute things beyond food items as long as it is in good condition to benefit others, such as tables and chairs.
You can find MoNo on Facebook and Instagram.
MoNo's opening hours
In the past, MoNo Foods opened 24 hours at their Smith Street location.
However, as they are located within the Yue Hwa Building now, the operating times have changed.
Address: Event Hall, Level 2, Eu Tong Sen St, #70 Yue Hwa Building, Singapore 059805
Opening hours: 11am to 9pm from Sundays to Fridays, 11am to 10pm on Saturdays
Related articles
Images via Zoe Ern Yap.
If you like what you read, follow us on Facebook, Instagram, Twitter and Telegram to get the latest updates.