Follow us on Telegram for the latest updates: https://t.me/mothershipsg
A man allegedly attacked a woman on Mar. 23, dragging her by the hair and choking her.
She called the police, then sat on his Porsche to stop him from leaving before the police arrived, but he allegedly accelerated away at a speed that caused her to fly off the bonnet.
Partied at Zouk
The Singaporean woman wrote to Mothership to share what happened.
Michelle (not her real name), 31, said the 27-year-old man invited her to Zouk on Mar. 22.
She agreed and he picked her up in a Porsche.
At Zouk, Michelle said the man told her he had no money and even showed her that he only had S$130 in his bank account.
She then offered to "open bottles" (that is, to order and pay for bottles of alcohol) for the group, to be "polite to the main host [of the table]".
"I see him as a bro so I say its OK," she explained.
Suddenly flew into a "drunken rage"
By the end of the night, both of them had gotten quite drunk, Michelle said.
The pair were in the man's car at the multi-storey carpark outside Zouk.
Michelle said she was "resting" in the passenger seat while the man sat in the driver's seat.
Michelle asked the man to drop her off at a location where she could conveniently book a Grab ride home.
However, he suddenly flew into a drunken rage.
"He suddenly came out [of the] driver seat, pulled my hair, and dragged me out [of the car and for some] distance. I got up but he hit me back down," Michelle said.
"I got up again but he choke slammed me, before choking me with no intention to let go and whacked my face."
Accelerated forward "full throttle"
She said he was holding her down with "full force" and she almost suffocated.
Out of "self defence", Michelle scratched the man's hands to get him to release his chokehold on her.
She then picked herself up from the ground to sit on the Porsche's bonnet to stop him from leaving while she called the police.
The man allegedly stepped on the accelerator, moving the Porsche forward at "full throttle", and sent Michelle flying off the vehicle.
Michelle said she hit her head and rolled on the ground a few times.
The incident has caused Michelle to have difficulties getting out of bed, due to injuries on her ribcage.
She said she has 10 bruises on her head, is unable to move her neck.
Scarred physically and mentally
According to the Mount Elizabeth Hospital Accident and Emergency medical report seen by Mothership, Michelle suffered a deep laceration on her left forehead and temple, and sustained a cut on the temporalis muscle on one side of her face.
She required stitches, and also sustained abrasions on her hand.
She added that the incident has left her disfigured.
She highlighted that the man appeared to be posting on social media to discredit her account.
In his Instagram stories seen by Mothership, he wrote, without further details: "There seems to be a rumour going on (sic), most likely cos of what she said, well that is not true."
He also uploaded a picture of his arm, showing scratch marks.
Man offers to "meet up and solve things"
According to her screenshot of the chat between the two parties, the man texted her in the afternoon after the incident, and tried calling her.
He said both of them were injured and bleeding, and offered to "meet up and solve things", as an alternative to making it a "police case".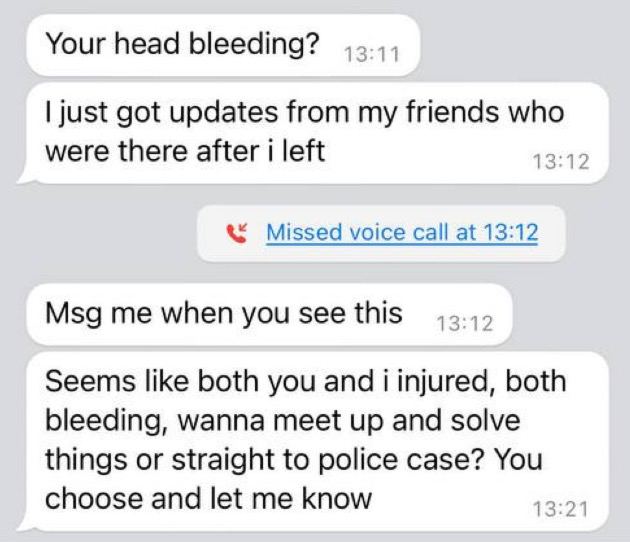 However, she had lodged a police report by then. She also shared about the incident through a series of Instagram stories.
The Singapore Police Force confirmed a report was lodged, adding that the man was arrested for rash act causing hurt, and that investigations are ongoing.
The man has since been released on bail, according to Michelle.
Traumatised
Since the incident, Michelle said she does not dare to step out of her house, not even to take out the trash.
She has requested for the security at her residence to step up their measures.
Update
The woman subsequently posted an update on the incident.
Related story
Top image courtesy of Michelle
If you like what you read, follow us on Facebook, Instagram, Twitter and Telegram to get the latest updates.