Follow us on Telegram for the latest updates: https://t.me/mothershipsg
The winning moment when Michelle Yeoh took home the Best Actress award at the 95th Academy Awards has been celebrated in Malaysia, Hong Kong, United States, and effectively, anywhere in the world with an Asian diaspora.
In Malaysia, her win was written about and reported on -- but the spotlight has shifted to the coverage of the moment.
Censorship of female bodies
This was after Buletin TV3, which is part of the Malaysian free-to-air television channel, showed the rest of the world via its Facebook page how the news of Yeoh's historic Oscar moment was reported.
TV3
is the third-oldest television station in Malaysia.
In a snippet posted on the Buletin TV3 official Facebook page, Jessica Chastain and Halle Berry, who were the Oscar presenters for the Best Actress category, were shown with their entire bodies blurred out leaving only their faces visible.
For closed-up shots of the duo, only their cleavage was blurred out.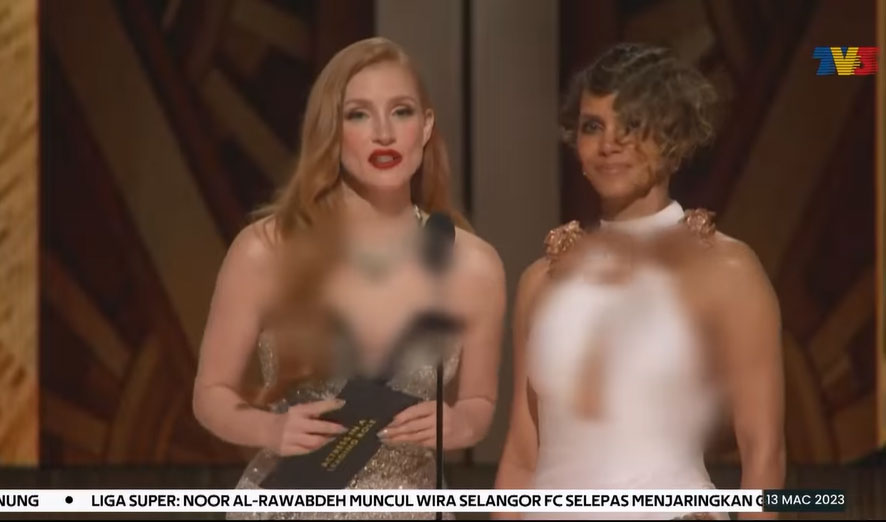 Reactions
Reactions to the bulletin were predictable, as many, Malaysians and non-Malaysians, reacted with confusion and dismay.
The policing of what people can see and how women appear in public in Malaysia were topics picked up on by commenters.
Some said the censorship was unnecessary as it made the women appear more indecent when they were properly clothed.
Others pointed out that Malaysia has outstanding problems that are far worse than partially exposed chests.
But the practice of censoring bodies appears to be a longstanding one.
One person on Twitter commented that men's bare chests were not spared from censorship either, suggesting that there is at least some equity.
I mean, the men won't be spared either 😂

This is a show we caught when we went to JB over the weekend pic.twitter.com/LfXSMsZBqJ

— popculturebf (@heyzahir) March 15, 2023
Background
Malaysians have reacted strongly in the pop cultural realm to women not covering up their bodies and the attempts to police those displays.
There have also been multiple reports in recent times of women being denied services at or entry to public places, due to the enforcement of dress codes, which can be arbitrary, and where women are expected to cover up in the name of maintaining modesty even when they were already properly clothed.
All media via Buletin TV3
If you like what you read, follow us on Facebook, Instagram, Twitter and Telegram to get the latest updates.