Follow us on Telegram for the latest updates: https://t.me/mothershipsg
In today's episode of SG vs MY, we take a look at a thesis from redditor Ipleasewomeninbed titled, "As a Singaporean, i [sic] really don't think Malaysia is all that bad."
From floating rocks in the ocean to who has the better nasi lemak, Singapore and Malaysia have always clashed horns when it comes to claiming something over the other.
Rarely, though, do we see a Singapore citizen advocating for the other side instead.
Here's a breakdown of the redditor's pro-Malaysia stance.
M'sians are nicer
The half-Malaysian redditor said that while he made good friends in Singapore, he found Malaysians to be "suprisingly warmer and friendlier".
He indicated that he wasn't fooled by Singapore's consistently high ranking as one of the most liveable cities in the world.
"How can we quantify culture on statistics? Hard to do. But ask most travelers [sic] about what they think of Singapore and they'll hardly ever mention culture. It's just a harsh reality of materialistic cities. But I find Singapore in comparison to Malaysia to be far colder, even when compared to KL."
S'pore no culture
"Singapore just feels like a hollow city compared to Malaysia," the reluctant Sinkie declared.
"Other than public transport and cleanliness and 'less corruption' (really its [sic] debateable [sic] when we don't know what really goes on behind...) there's really nothing more to Singapore than just another westernised city."
He added that Singapore life is dull compared to Malaysia's.
"Malaysia is a proper sized country with things to do...the country actually has a culture. Singapore is so small and claustraphobic [sic]. Does it surprise me that everytime [sic] they want to go Johor?"
S'pore stress
Ipleasewomeninbed's next major point was that the never-ending rat race in Singapore is detrimental to one's mental health.
"Recent survey show half of youngsters here having anxiety and depression. Good infrastructure and efficiency doesn't solve everything guys. Focusing so much on such can create new problems."
He pointed out that many locals end up seeking greener pastures overseas.
"Some try something new like New Zealand, some go back to their home country with their hard earned money. Many Singaporeans just retire overseas."
And here's the kicker:
"If living in Singapore has the same wage and cost of living as Malaysia," said the redditor, "Singaporeans would be desperate to leave."
Ipleasewomeninbed didn't please Singaporeans
Proud Singaporeans were understandably — as the user put it — "salty" about his judgement.
A popcorn-worthy debate was thus sparked in the thread.
"You basically stated Singapore has nothing attractive except for wages then proceed to gaslight and smoke your way through contrary evidence to how Singapore has more than just wages," an incensed local wrote.
Another pointed out that Malaysia reported similar if not higher levels of stress compared to Singapore.
"If Malaysia is so good why would so many of them choose to forgo a relax and stress free life to come to what you claim to be a comparative nightmare. Inexperienced and insular."
Trying for a rebuttal, Ipleasewomeninbed implied that stress was singularly dependent on one's hygiene and security.
"...shouldn't it make you question why Singapore, an efficient, clean and modern country, has all the same levels of anxiety as that of Malaysia which has obviously less of the efficiency, cleanliness or safety of Singapore?"
Many, however, were of a more balanced view.
They said it is up to individuals to weigh the pros and cons of each country and decide which better suits their priorities.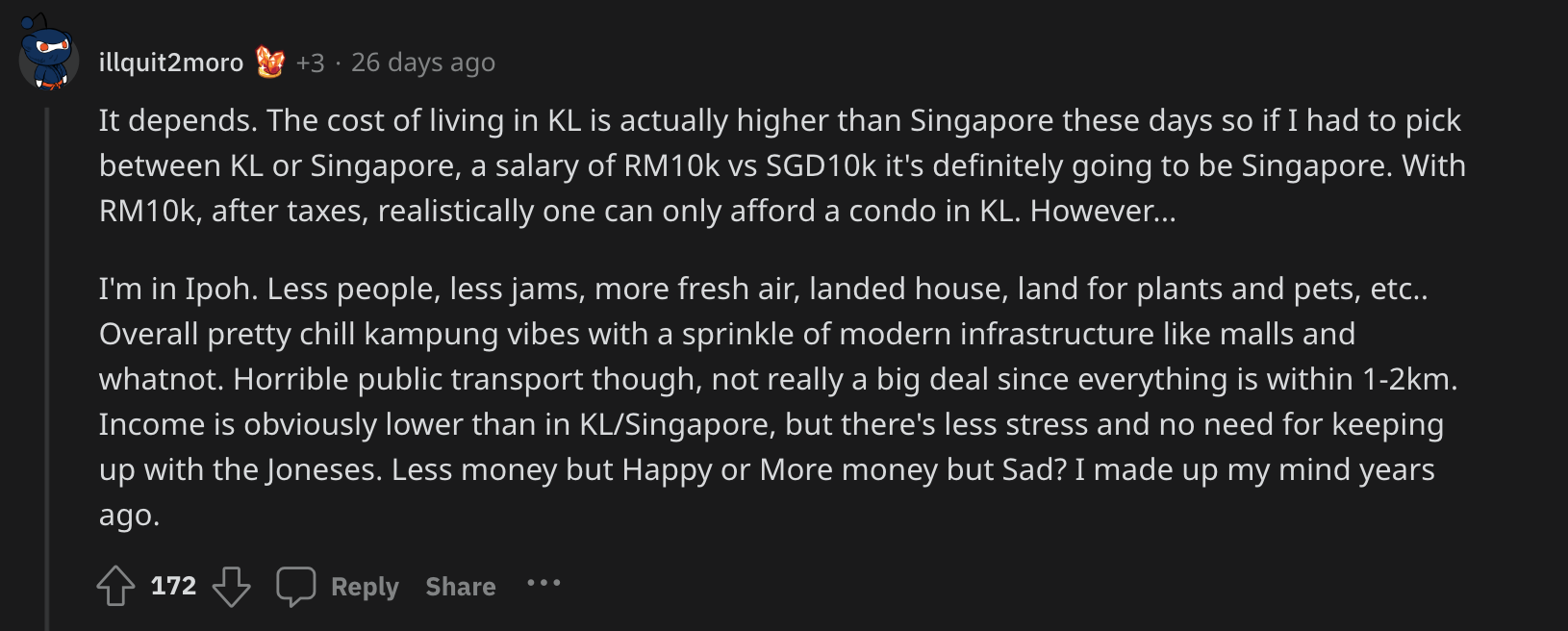 After battling with individual backlash, the user updated his post.
The edited text clarified that he was not going for a "I want to move to Malaysia" or "I hate Singapore" post.
"It's more of looking at the countries' strengths and weaknesses, and for me a realisation that this whole idea of 'Singapore is just better all the time' idea kind of needs to stop, which is the whole point of my post.

I get the sense that many Malaysians understand Singapore fundamentally. I don't get the same level of conversation with other southeast asians. So yeah, we are really brothers as countries, like it or not."
Still, he urged people to look at Singapore more critically.
"Stop the Singapore worship! It's toxic."
Top images via Swapnil Bapat and Esmonde Yong
If you like what you read, follow us on Facebook, Instagram, Twitter and Telegram to get the latest updates.