Follow us on Telegram for the latest updates: https://t.me/mothershipsg
On Mar. 21, 16 "beggars" in Kuala Lumpur were rounded up by Malaysia's Department of Social Welfare (JKM)
The operation was part of the JKM's efforts to curb the rampant spread of begging activities in Malaysia's capital city.
Deputy Minister of Women, Family and Community Development, Aiman ​​Athirah Sabu, who was present at the operation, said that because of the reputation of the city, many choose to beg there and generate income. 
Operation Anti-Begging
Officers apprehended a total of 16 cases involving six Malaysians and 10 foreigners under the Destitute Persons Act 1977.
According to New Straits Times, the Malaysian government's review of the Destitute Persons Act 1977 is expected to be completed in September 2023.
"There is a need for the act to be reviewed to set the direction on the issue of beggars and the homeless as currently, there is no specific source of authority and legislation for the operation and handling of the group in the country," stated Deputy Director-General (Strategy) Rosmahwati Ishak.
It was said that the existing act focused on providing "protection and rehabilitation" without curbing the number of beggars in the first place.
JKM Director-General Norazman Othman reported that the total amount of money collected by all beggars during the raid amounted to RM9,668 (S$2,896).
Beggars who don't need to beg?
Kosmo! wrote that of the people arrested, there was a 24-year-old Indonesian woman carrying a 17-day-old baby boy born on Mar. 14.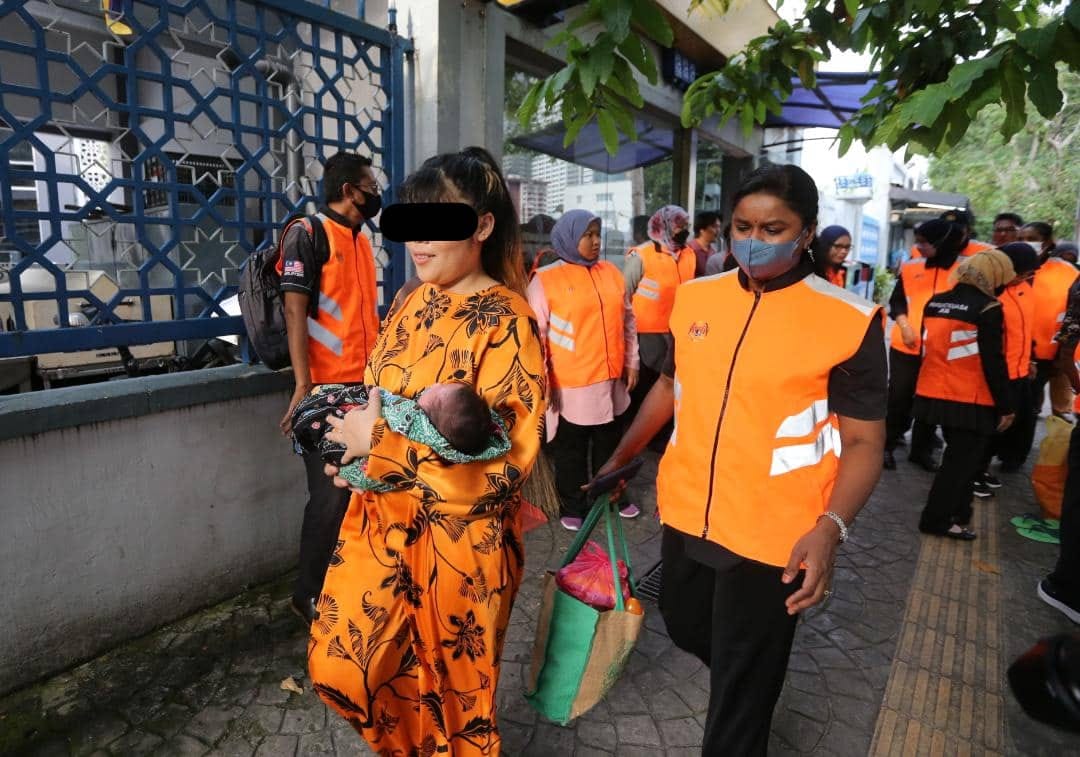 Nabbed while collecting alms at Jamek Kampung Melayu Mosque, the woman said that even though her husband disapproved, she continued to beg to pass time.
She revealed that she earned RM100 (S$30) each day but spent RM40 (S$12) of it on Grab rides to and from Jamek Mosque, reported Kosmo!
"I get almost RM100 a day but the cost of transportation to get here and back home is RM40 for the Grab. I don't like sitting at home, my husband doesn't let me beg but I do it to earn more money on a whim."
Another elderly beggar was believed to have been disguising himself as a visually impaired person.
According to Sinar Harian, JKM spotted him wandering around Indian Mosque with a cane in a "suspicious state" and tailed him.
Upon noticing the JKM officers, the man began to walk away briskly.
One witness commented on the video saying that the "uncle" who frequented the area and was always "healthy", and that "people with disabled legs can walk fast".
A Sri Lankan man in his 50s was dubbed the "champion" of receiving the most money in a month, reporting collecting a sum of RM8,500 (S$2,554), according to Kosmo!
Donating to the right people
JKM stated that the "rescued beggars" will be rehabilitated and let back out into society once they are independent.
Norazman added that such raids will take place more often.
"We will intensify this operation on a regular and integrated basis, but need more careful preparation. This effort will continue from time to time and target the month of Ramadan for the next operation."
JKM advised the public to check that individuals of organisations asking for money are authorised by the authorities before donating to them. It also encouraged members of the public to report any other begging activities.
Top images via JKM
If you like what you read, follow us on Facebook, Instagram, Twitter and Telegram to get the latest updates.