Follow us on Telegram for the latest updates: https://t.me/mothershipsg
A 35-year-old woman was arrested along Kallang River on Feb. 28 morning — for repeatedly trying to enter the river.
Rescued from the river
An eyewitness, Lin, who works near Kallang River, told Shin Min Daily News that his colleague saw the woman floating in the river at around 6am and immediately called the police for help.
After Singapore Civil Defence Force (SCDF) and Singapore Police Force officers arrived, they managed to pull her up to shore.

In the photos Lin provided, the woman looked distraught.
She was wearing a black t-shirt and pants but was not wearing shoes.
Refused to be put on stretcher
There were at least nine police officers at the scene and at least five SCDF personnel.
While they were trying to put her on a stretcher, Lin said he saw her struggling, and it looked as if she was trying to jump off the bridge.
"She refused to be put on the stretcher and kept on struggling. Finally, the police officers decided to handcuff her and bring her away," Lin said.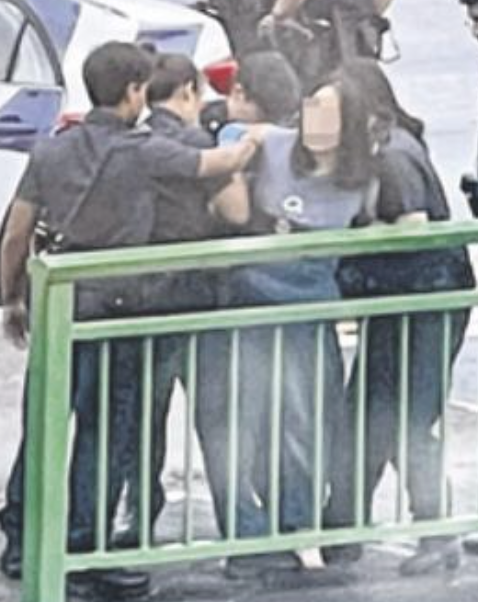 A police spokesperson explained that they had received a call for assistance along Kallang River and subsequently apprehended the woman under Section 7 of the Mental Health (Care and Treatment) Act 2008.
Helplines
If you or someone you know are in mental distress, here are some hotlines you can call to seek help, advice, or just have a listening ear:
Hear4U: 6978 2728 (WhatsApp)
Institute of Mental Health's Mental Health Hotline: 6389 2222 (24-hour)
SAGE Counselling Centre - The Seniors Helpline: 1800 555 5555
Samaritans of Singapore: 1 767 (Hotline), 9151 1767 (WhatsApp)
Singapore Association for Mental Health Helpline: 1800 283 7019
Silver Ribbon Singapore: 6386 1928
Tinkle Friend: 1800 2744 788 (for children aged 7 to 12)
Viriya Counselling Helpline: 6256 1311
Top image via Shin Min Daily News
If you like what you read, follow us on Facebook, Instagram, Twitter and Telegram to get the latest updates.