Follow us on Telegram for the latest updates: https://t.me/mothershipsg
On Feb. 25, Facebook user Kenny Tay posted in the Facebook group Singapore Wildlife Sightings about a Hawksbill turtle that washed up on the shores of Changi beach.
The discovery
Tay came across the turtle at around 8am while on a morning walk at Changi Bay Point with his family.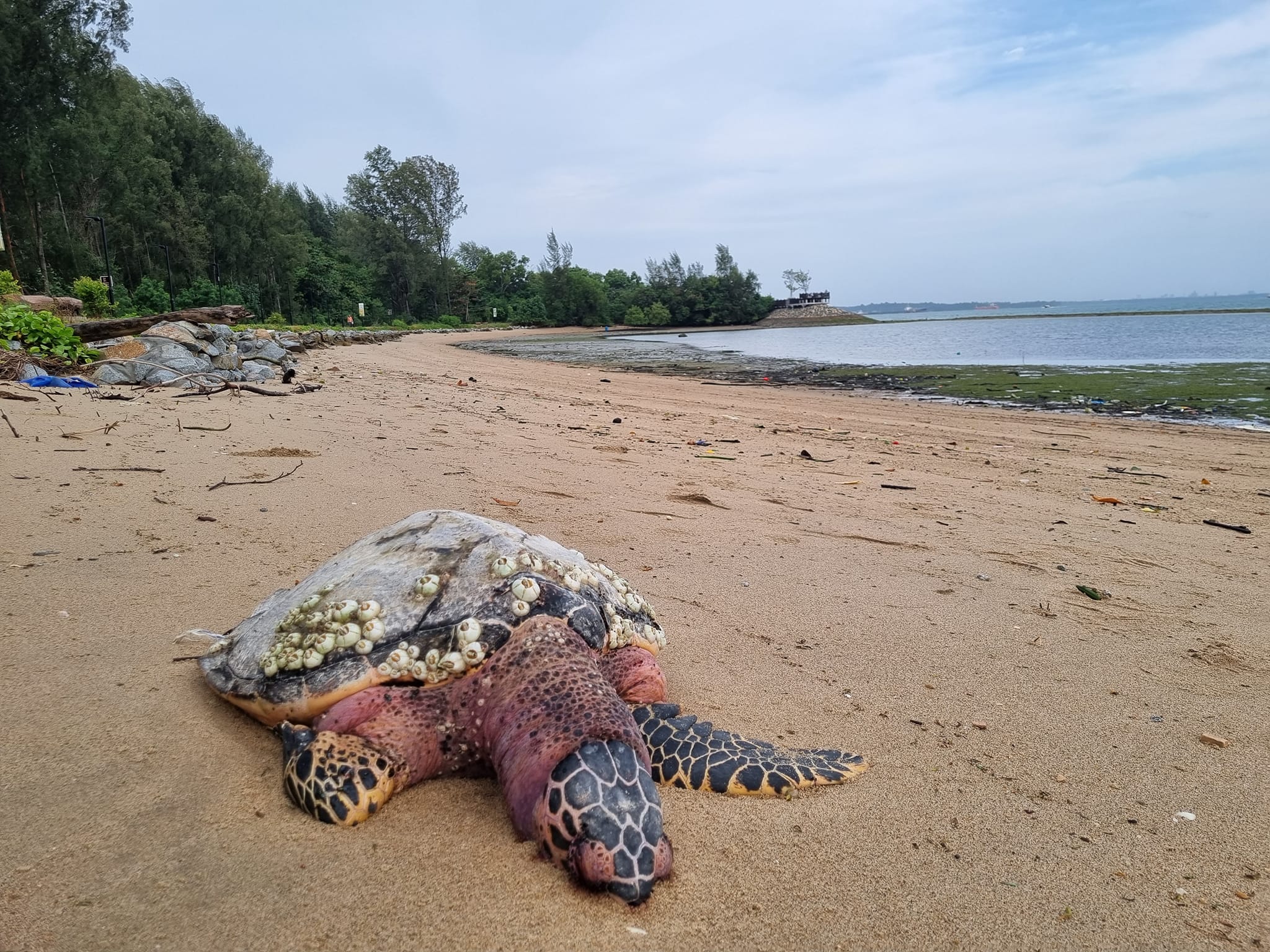 The carcass is seen to be covered in barnacles, with discolouration around its neck and front flippers.
Tay spoke to Mothership, estimating that the turtle's carapace, its hard upper shell, is about one metre long.
He noted that the turtle was found high up on the beach, "presumably swept up by the recent high tides".
Additionally, he observed that there were "no obvious injuries", so he surmised that the turtle might have passed on due to illness or old age.
According to a comment he left, Tay made a report to National Parks Board (NParks) via its e-service app, as he could not get through to them due to "high call volume".
Netizens' reactions
Several netizens speculated about the cause of the turtle's death, attributing it to bloating or disease.


Others expressed sympathy for the turtle's condition, as excessive barnacle cover may be a sign of bad health for the turtle, according to the Olive Ridley Project.

NParks' response
In response to Mothership's queries, Ryan Lee, Group Director of the National Biodiversity Centre at NParks, stated that they were alerted to the dead hawksbill turtle on Feb. 25.
NParks retrieved the carcass for a post-mortem examination.
However, according to Lee, they were unable to determine the cause of death as the adult turtle carcass was in an extreme state of decomposition.
What are Hawksbill turtles?
According to NParks, Hawksbill turtles are a critically endangered species.
They are sea turtles with brown shells that have irregular yellow and orange coloured spots. Their upper jaw protrudes beyond the lower one, giving its mouth the distinct beak shape.
A unique feature which differentiates it from other sea turtles is that it has claws on its front flippers.
The species can be found in the Atlantic, Pacific and Indian Oceans, and their main diet consist of sponges on coral reefs.
According to NParks, they have been regularly sighted along the Singapore Strait, with females spotted coming ashore at East Coast Park to lay eggs.
Lee added that if one spots a nesting turtle on the beach, to please keep a distance from the turtle and the eggs.
Touching the turtle may scare or provoke it, and handling the eggs may damage them or introduce bacteria into the nest.
One should talk softly and stay out of sight, refraining from shining lights at the turtle or using flash photography.
Light and noise may scare the turtle and cause it to leave without laying any eggs.
Take note to keep clear of tracks left by the turtle, as researchers use the tracks to identify the species of the turtle and to locate the nest.
Turtle sightings can be reported via the NParks helpline at 1800 471 7300.
Hawksbill turtles are affected by sea pollution and loss of nesting beaches to reclamation and other land uses.
Many have died after being accidentally caught in fishing nets.
It is also threatened by poachers, as some hunt them for its attractive shell and others cook and eat their eggs.
What to do if you see a dead wild animal
If one sees any dead wildlife, they can contact:
NParks Animal Response Centre: 1800 476 1600

Acres 24h Wildlife Rescue Hotline: 9783 7782

Lee Kong Chian Natural History Museum: fill in their Dead Animal Records form here and email photos to [email protected]
Related articles
Image via Kenny Tay/ FB
If you like what you read, follow us on Facebook, Instagram, Twitter and Telegram to get the latest updates.