Follow us on Telegram for the latest updates: https://t.me/mothershipsg
If you've been following President Halimah Yacob's political visits, you may or may not have noticed that she tends to have a regular entourage.
Those people clad in crisp No. 5 uniforms, ushering or paving the way for the President?
They're not just there for show.
Commonly mistaken for the President's bodyguards, these dignified figures are actually called Honorary Aides-de-Camp (HADC).
What's HADC?
Simply put, HADCs are the cream of the crop.
They are made up of officers from the Singapore Police Force (SPF), Singapore Civil Defence Force (SCDF) and the Singapore Armed Forces (SAF).
They serve as ambassadors of the President's office.
In charge of planning and executing high-security Istana events — while keeping a professional look and a gracious smile — HADCs' job is not as easy as it appears to be.
Unlike their regular counterparts, Aides-de-Camp (ADC), this isn't a full-time gig. HADCs serve a minimum of 60 hours a year for the first two years, on top of their professional work in their various agencies.
To find out more about these unsung heroes, Mothership sat down with Deputy Superintendent of Police (DSP) Ravinder Singh and Superintendent (Supt) Ong Ruo Cheng to chat about life inside and outside the Istana.
DSP Ravinder Singh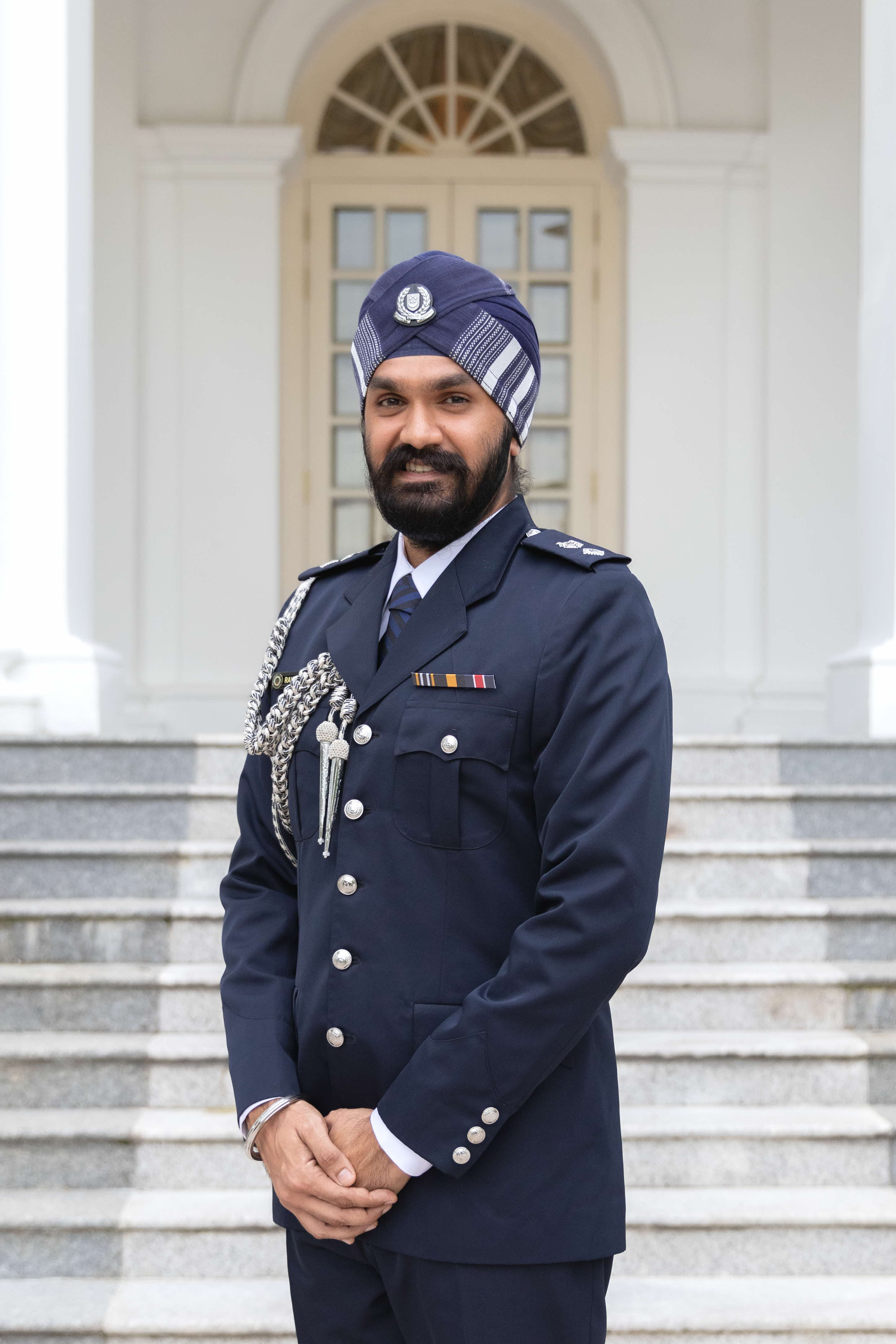 What he does
For 37-year-old Ravinder Singh, assuming a uniform role has always been a calling.
His father, a hockey player and a man of much "police officer strength", inspired Singh to apply for a role in the SPF after graduation.
He started as an Investigation Officer (IO) in 2014 at Ang Mo Kio Division before becoming a Patrol Team Leader at Bedok Division in 2016.
From 2018 to 2022, he served as the Officer-in-charge of the Crime Strike Force in Clementi Division.
Singh now holds the title of Senior Investigation Officer with the Special Investigation Section, Criminal Investigation Department (CID).
He was appointed HADC in 2017 after applying and passing multiple rounds of interviews.
Not all glitz and glam
Right off the bat, Singh was quick to dismiss Hollywood depictions of his job.
"What's in the movies is totally hyped up. Maybe movies have pump and show, but the real world is very different from what we see. Policing work is something that comes from the heart. It's something that demands a strong team of officers coming together to work for a sole objective and purpose, that is, serving the community at large."
More than just standing still and looking scary, he said that the role required high levels of adaptability and the ability to work under pressure.
"You got to be able to think on the spot and execute plans last minute. Anything that comes up, you should be able to handle the added pressure. You need to be able to plan contingencies, deal with emergencies, and do it with a smile."
Offering up some amusing anecdotes, Singh admitted that the demanding role as an HADC inevitably spills over into his everyday life.
"As police officers, we tend to question everything in life. So even if you tell me today that you're doing this or you're meeting someone at this time, I believe nothing. I tend to question things 100 times. And because police officers are meticulous and have an eye for detail, I go overboard with planning."
Friendships on the job
After nine years of serving in the force, the jovial officer's love for his duty is still evident in his eyes which light up as he talks about what keeps him going through the ups and downs of the job.
What makes or breaks a job environment is the people you work with.
Unfortunately, that's a hand of cards we can't always control, but for Singh, he wouldn't trade his for the world.
Apart from being a "down-to-earth" boss who cares for his people, Singh values his interactions with people from all walks of life.
"When you go for a particular event, you don't just mix around with police officers. You mix with other uniform personnel, and you get to talk to them like, 'Hey, how's it going? How's work? How's this and that?' Police work is one aspect of what you do daily, but when you interact with other uniform officers, you tend to see things as a whole."
Superdad
Work isn't all that makes a man.
Singh's personal life is dedicated to his family of four, including his wife, four-year-old son and two-year-old daughter.
As an avid sportsman, Singh cherishes the weekends with his family when they go out to play soccer and swim.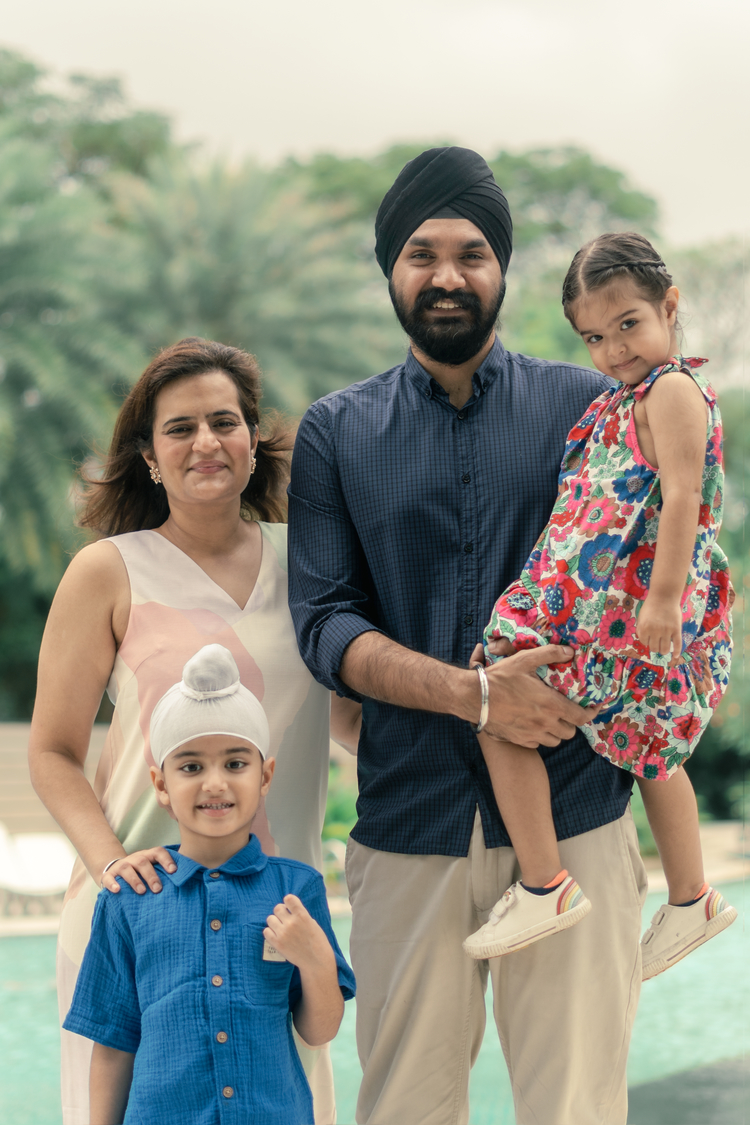 Singh first met his wife at university.
Working in one of the departments of the Ministry of Home Affairs (MHA), Singh's wife is well-versed with what policing work entails and has always been supportive of his job.
To his innocent son, whose moral worldview still exists in black and white, Singh is basically his Superman.
"I asked my son, 'What do you think of dad's job?' He said, 'I think dad is cool and very brave.' I guess he watches TV and policemen are always portrayed as the hero, so he always asks, 'Did you save a good guy today? Did you catch a bad guy?' He looks up to me as someone who is helping the rest of society."
As for his daughter, Singh reckons she just fancies him as a guy in a uniform.
Supt Ong Ruo Cheng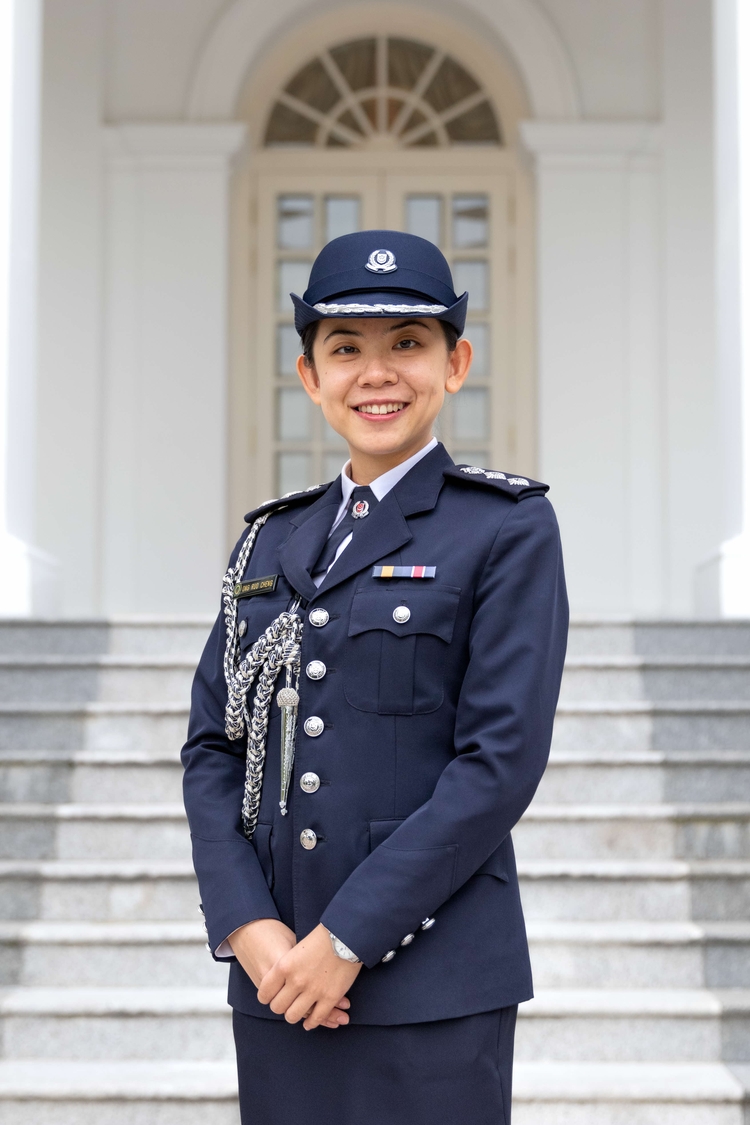 What she does
Ong Ruo Cheng joined the SPF in 2012 as an IO at Tanglin Division.
The 33-year-old was first a Patrol Team Leader at Central Division, after which she became a part of the Major Security Events Division (MSED) of the Operations Department.
During her time at MSED, she was recommended for the role of ADC, which she took on in 2019.
She became an HADC in 2021.
On top of her Istana duties, Ong is also a full-time Operations Officer at Yishun South Neighbourhood Police Centre (NPC).
Growing on the job
Before she was recommended for the role, the thought of becoming an HADC had never crossed Ong's mind.
She was thankful, however, for the unexpected doors that the position opened up for her career and personal growth.
"The job skill is definitely different [compared to work in SPF], but it was still somewhat related to my previous posting. I used to be doing security and contingency planning for major events. When I went over to the Istana, I was still dealing with events planning but with the additional factor of having to wear many other hats.

Instead of just looking at security, I now have to look into the guest experience, and what is in line with the decorum of the President's office to ensure that the President remains dignified and things happen according to her preferences. That all came down to building good PR skills and good relationships with people."
Ong said her most memorable experience was assisting the President during her visit to Germany in 2019.
"I really got to experience the apex of hospitality there. It also opened my eyes to how important the role of an ADC is in maintaining bilateral ties between Singapore and other countries," the superintendent said.
It was the first time a female ADC assisted the President on an overseas state visit.
"I think mindsets change when we have a female president. We also have male ADCs accompanying the President now, and I think people realise that the inconvenience of having an opposite gender work closely in this sense can be overcome. "
The gender thing
In the past, the police force was traditionally viewed as more male-dominated.
Women like Ong, however, are proof that things are changing.
"Maybe in the past, police officers were expected to use brute force to chase after criminals, but that has shifted as we advance to use more technology and behavioural sciences. Along with that shift, I think people are starting to see the importance of the roles that females can play. We come in, for example, when there are female victims who prefer to speak to female officers.

As HADC or ADC, the thinking or perspectives that we bring to the table is very different, so I would say males and females play different but equal roles."
Of course, when walking into a room filled with mostly men and being expected to brief them on a project, one can't help but sense the elephant in the room.
"The awareness is always there. It's just not a negative thing. I would say I have never, for once, felt discriminated against," Ong stated.
If there's anything to be uneasy about, she quipped, it's her height.
"When the President goes for like community events where the people just walk around, I think height matters. So that was the one thing, if you ask me, with which I felt a bit disadvantaged. But at the end of the day, I think it's also the way we carry ourselves in the uniform. It really helps if we are wearing it and asking people to make way — people are more likely to listen than if someone with my size were to ask them to move whilst in my civilian attire."
Work-life balance
Juggling both her full-time role and her Istana one is no doubt consuming, but Ong manages to stay grounded.
"I always tell the people I manage that work should never be our entire life. It is fortunate that we have a very meaningful job, and I see the value and the purpose of the work I do, but I make it a point to make sure that I have my social life outside of work."
Ong remarked that having two new family members has also shifted her priorities.
"Family is a big thing to me. So my sister-in-law recently gave birth to a pair of twins, and I think that has really changed my priorities and brought my family even closer together. Now, after work, I go to my brother's place quite often to play and spend time with them. I think it's also helpful to have a life outside of work because that teaches us how to balance our different circles."
Dear aspiring HADCs
Before the interview came to a close, we asked Singh and Ong if they had any words of wisdom to impart to future juniors looking to join HADC.
Singh said just go for it.
"You get to work with a lot of experienced officers from the army, air force and SCDF, so it's not something that you see in your day-to-day work. You also get to work with other government agencies as well as foreign delegates. These experiences don't come every day. So if someone would want to experience all these in their time in the force, I think this is one of the appointments you should really try for."
Ong added that it was important to understand what the job really entails.
"Take the time to find out more from people already in it. I think there are many misconceptions surrounding being in the police force in general, like maybe people assume you have to be physically very strong, and that might put certain people off. For HADC, people might think it's just impossible to become one because of how strict the selection process is. Don't let supposed criteria or stereotypes deter you from joining."
All images via SPF
If you like what you read, follow us on Facebook, Instagram, Twitter and Telegram to get the latest updates.