An 11-year-old boy in China reportedly begged his father for forgiveness, after he was forced to play mobile games for 17 hours straight without rest as punishment for his addiction, Taiwanese media ET Today reported.
Discovered his son playing mobile games at 1.30am
According to local Chinese media, the incident took place in Shenzhen.
The father, surnamed Huang (according to Hanyu Pinyin) had discovered his son playing mobile games in secret at 1:30am on Mar. 8, according to a video which he uploaded to the video sharing platform Douyin.
Huang then sent his son a message telling him that he would let his son play his fill until the next day on the condition that he cannot sleep.
He wrote further in his Douyin video that as of 7:30am, his son was still very alert.
Huang then decided to write in to his son's teacher to ask for the day off.
Made his son play until 6.30pm
Huang added that his son fell asleep at around 1.30pm after playing for about 12 hours.
Huang could then be seen waking his son up and telling him to continue.
A video caption showed that the goal of Huang at this point was to make his son play for 24 hours.
Eventually, at 6.30pm, after 17 hours, his son asked for forgiveness, ET Today further reported.
His son also wrote a letter in English promising to never play mobile games before going to bed.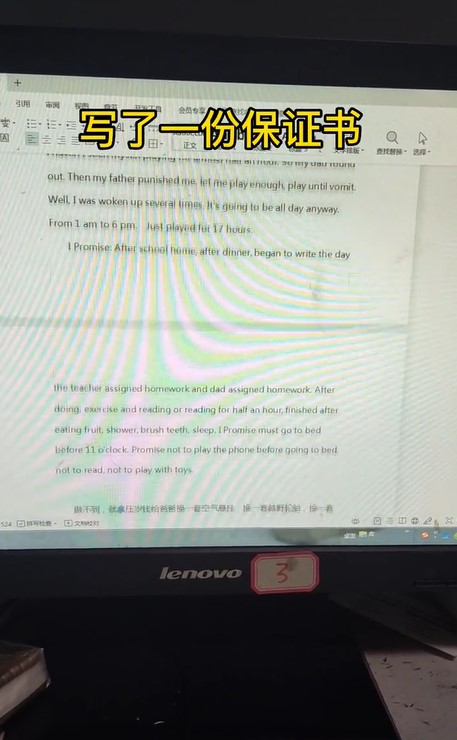 Father explained his son has a high level of fitness, hence the punishment method
Huang said that his son had since recognised the error of his ways.
As for why he had decided to punish his son in such a manner, Huang explained in another Douyin video that his son does many outdoor activities with him and has a good level of fitness.
In addition, his son usually has good grades and is obedient.
Huang added that he did not recommend such a method to other parents lightly in educating their child.
Top screenshots via @Jacky and Daddy Douyin
If you like what you read, follow us on Facebook, Instagram, Twitter and Telegram to get the latest updates.