Follow us on Telegram for the latest updates: https://t.me/mothershipsg
Muhammad Irfan Danyal Bin Mohamad Nor, who was self-radicalised through online propaganda by the terrorist group Islamic State in Iraq and Syria (ISIS), was detained in December 2022.
He had made plans and preparations to undertake armed violence in Singapore and overseas, in support of ISIS, said the Internal Security Department (ISD).
YouTube videos started his self-radicalisation
According to a press release by ISD, Irfan came across YouTube videos by foreign extremist Zakir Naik, an Islamic preacher from India, who has been barred from entering Singapore since 2014 due to his extremist and segregationist teachings.
After watching many videos of Naik, Irfan then came across videos of other extremist preachers, such as Ahmed Deedat.
Ahmed Deedat was a South African preacher of Indian descent, who had previously been banned from entering Singapore in 1982 after making inflammatory speeches here. He was also Naik's mentor.
Irfan soon developed an interest in ISIS and admiration for the mujahideen (fighters) featured in the jihadist videos.
In late 2021, he started taking photos of himself in a ski mask, doing the tawhid sign — which involves raising a single index finger in reference to the Islamic theological concept of the oneness of God. This was his way of mimicking the ISIS fighters he had seen online.
Terrorist groups like ISIS have appropriated this hand sign as a symbol of support for their group.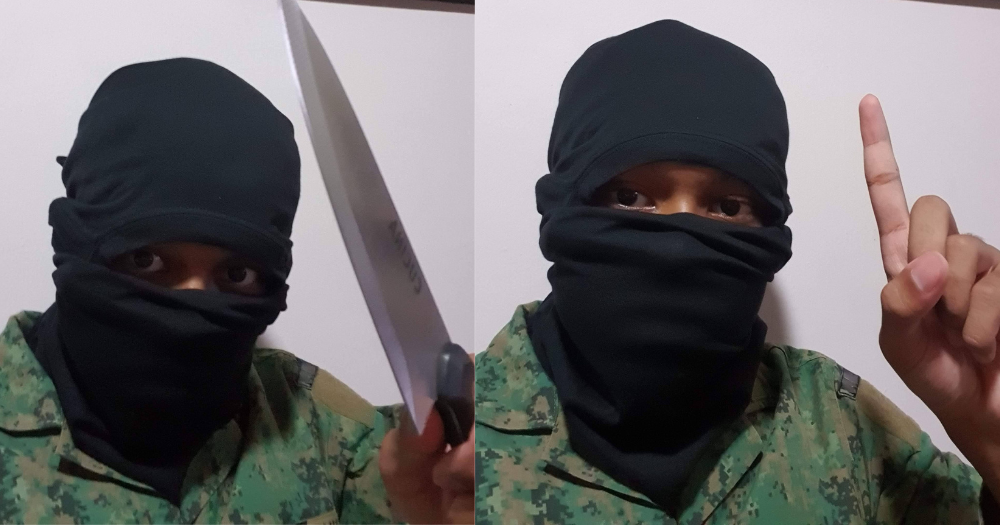 Attempts to establish an Islamic caliphate
From late 2021, Irfan also developed a desire to live in an Islamic caliphate governed by sharia (Islamic law).
On Aug. 9, 2022, he planted a self-made flag in Coney Island; Irfan believed the act to be symbolic of the start of his own caliphate.
He was familiar with Coney Island having cycled there previously and felt that its accessible location made it viable for his caliphate.
The flag was designed by him based on the flag of the Al-Qaeda-linked terrorist organisation in Syria, Hayat Tahrir al-Sham, which is an Islamist militant group involved in the Syrian civil war.
He uploaded pictures of the flag to his social media account the same day, encouraging like-minded individuals to join his caliphate which he named the "Islamic State of Singhafura."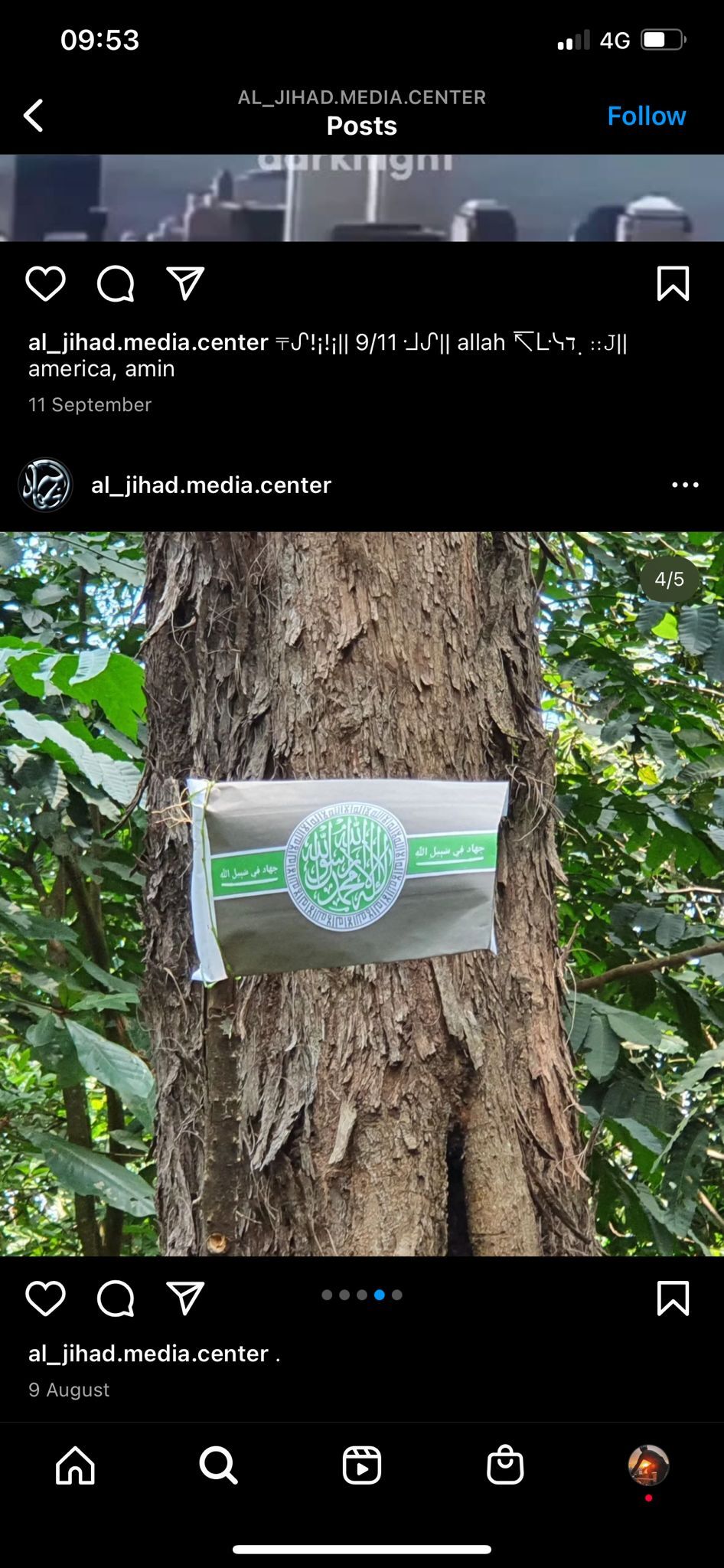 Pledging allegiance and intentions for armed violence
According to ISD, by October 2022, Irfan had consumed extensive ISIS propaganda online and he decided to travel to Nigeria to partake in armed violence with the Islamic State in West Africa Province (ISWAP).
ISWAP is a splinter faction of the Nigeria-based terrorist group Boko Haram established in March 2015. Currently the dominant group in Nigeria, it is one of the most active ISIS affiliates globally, with reportedly 4,000-5,000 fighters.
Irfan also considered Iraq, Syria and Marawi in the southern Philippines as alternative destinations for armed violence.
He had searched for flights from Singapore to these locations and planned to travel to these conflict zones after he had saved up enough money.
In the meantime, Irfan wanted to show his support for ISIS by filming a video of himself taking the bai'ah (pledge of allegiance) to then-ISIS leader, Abu al-Hasan al-Hashimi al-Quraishi.
He believed that undertaking the pledge would mean he would have to follow any instructions from ISIS, including attacks in Singapore that might result in his death.
He had planned to film his bai'ah at Coney Island between Nov. 12 and 13, 2022, while wearing his National Cadet Corps (NCC) uniform, a self-made ISIS flag and headband, and carrying a toy rifle.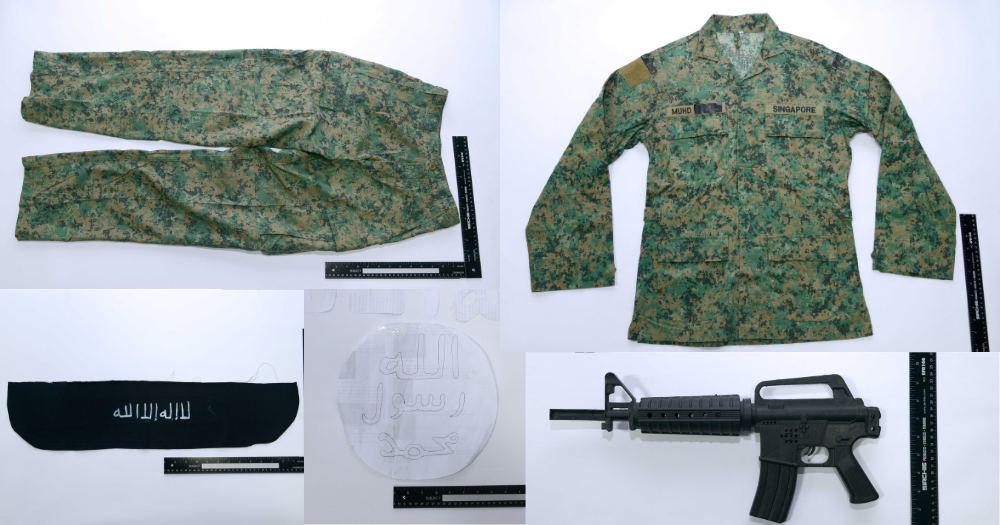 He also believed that it was his religious obligation to spread ISIS's radical ideology, and had planned to upload his videos to various social media platforms, in hopes of recruiting people into his cause.
Irfan wanted to build an army of ISIS radicals between 100 and 500 fighters to help him with conducting attacks in Singapore.
Three separate attacks in Singapore
The press release from ISD read that Irfan had come up with at least three attack plans against different targets in Singapore.
While there was no timeline planned for these attacks, he had intended to execute them with the support of his ISIS army.
Eliminating "disbelievers"
His first plan was to stab and kill those he dubbed "disbelievers", which included non-Muslims, Shia Muslims and Sufi Muslims.
He planned to ambush them in dark alleys, and take their personal belongings as war spoils for his ISIS army.
He had purchased a knife from a convenience store in August 2022, but there was no planned location to conduct the attack at the point of his arrest.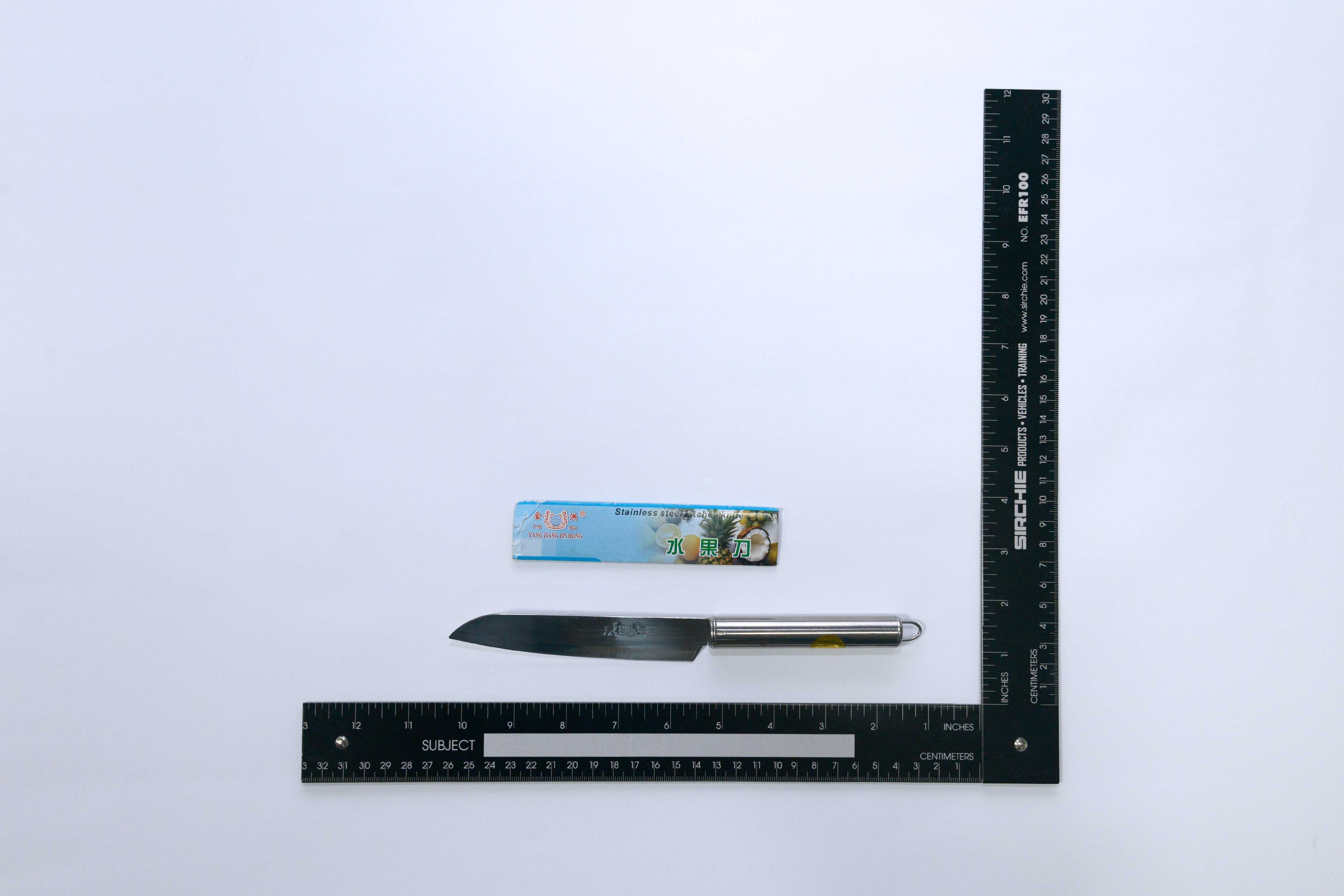 Suicide bombing Amoy Quee Camp
His second plan was recruiting a suicide bomber who would mount a car bombing at the gate of Amoy Quee Camp, inspired by videos he had watched online.
He had become familiar with the camp from his time as an NCC cadet in secondary school.
Irfan planned to then lead his ISIS army to attack the remaining guards at the gate with axes and knives, stealing the firearms from the guardhouse.
The Singapore Armed Forces (SAF) has highlighted that they have systems in place and measures to deter, detect and respond to different security threats at the various camps, in an reply to media queries regarding security of Ministry of Defence (MINDEF) and SAF camps.
Service personnel are also briefed on potential threats, and taught the correct way to identify and respond to suspicious activities, including those related to radicalism and extremism.
The SAF reviews camp security systems and measures regularly and would like to use this incident as an example to remind security and service personnel on the need to maintain their vigilance.
Bomb attack on Keramat Habib Noh
His third plan included a bomb attack on Keramat Habib Noh at Haji Muhammad Salleh Mosque.
He saw the gravesite as "un-Islamic", as it was decorated and not at ground level.
Irfan had downloaded a C4 bomb-making manual online, which he intended to use to craft a handmade explosive to flatten the grave.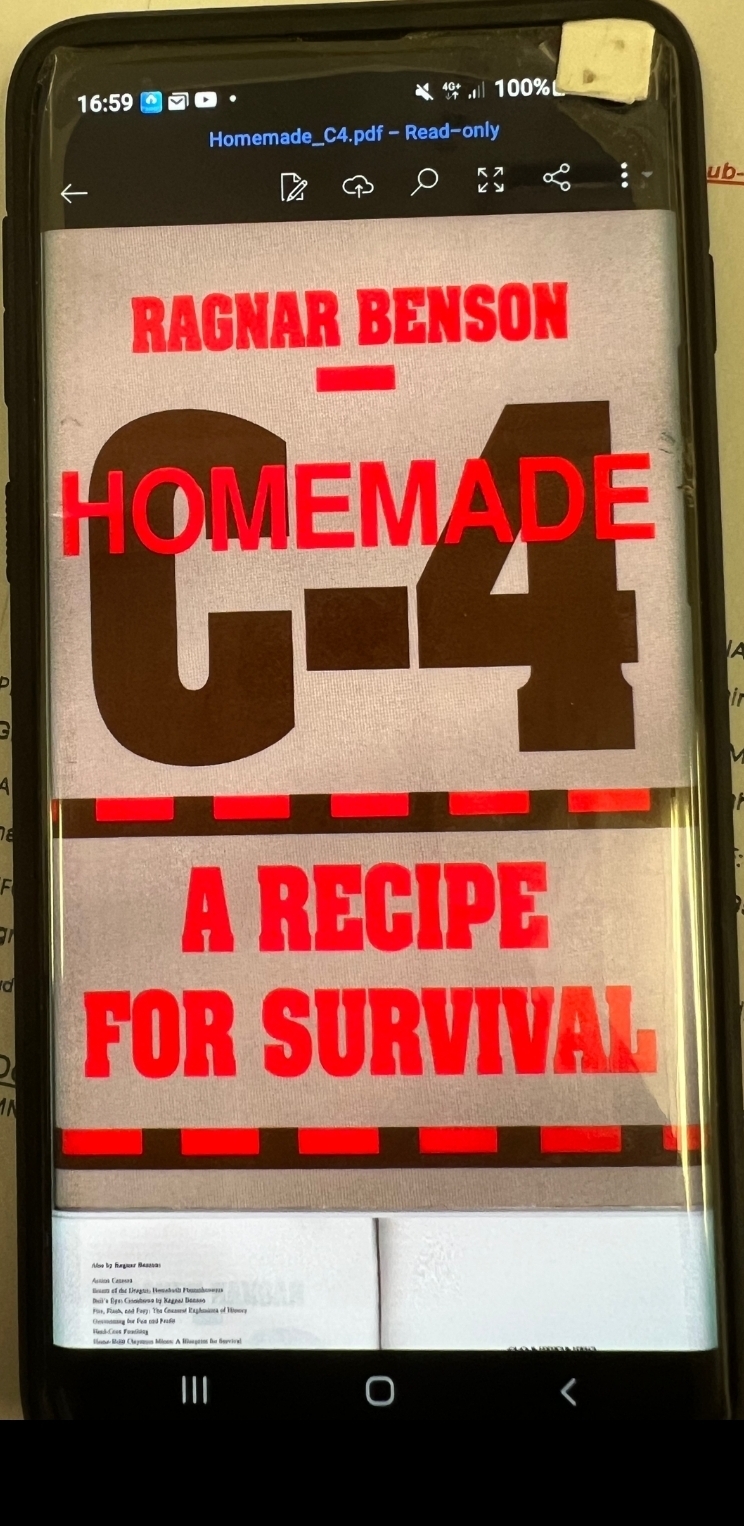 At the time of his arrest by ISD, Irfan's plans against Amoy Quee Camp and Keramat Habib Noh had not progressed beyond the ideation stage.
He was arrested a few days before he'd intended to film his bai'ah to ISIS and declare Coney Island an ISIS wilayat (province).
ISD's investigations revealed that Irfan acted alone and that there was no evidence that he was successful in recruiting or radicalising others. His family members were unaware of his attack plans or intention to undertake armed violence overseas.
"He was on the radar": Shanmugam
Responding to a question from the media on why ISD had arrested Irfan in December 2022 given his actions in August 2022, Minister for Home Affairs K Shanmugam said that while Irfan had plans to travel overseas, he did not have the money.
"Before you detain someone, you make careful assessments of the security threat that the person possesses," Shanmugam said.
"He was on the radar," the minister added.
"Our society does very well, compared to other societies," Shanmugan said, referring to the number of youths that have been radicalised.
"We don't like the numbers — nine since 2015 — but compared with other countries it is very small. What is the reason? Because the Malay-Muslim community in Singapore takes a very strong stance against violence and is very clear about what Islam stands for."
Top photo by ISD
If you like what you read, follow us on Facebook, Instagram, Twitter and Telegram to get the latest updates.