Follow us on Telegram for the latest updates: https://t.me/mothershipsg
A wild tapir was spotted running around in Dungun, Malaysia on Feb. 15.
Making his way downtown
The presence of the tapir was well circulated online — many citizens posted various photos and videos of the animal around town.
In one clip, the tapir can be seen trying to enter a bakery by bumping its head against the glass door before making its way to other shophouses.
It also made its way past a local middle school.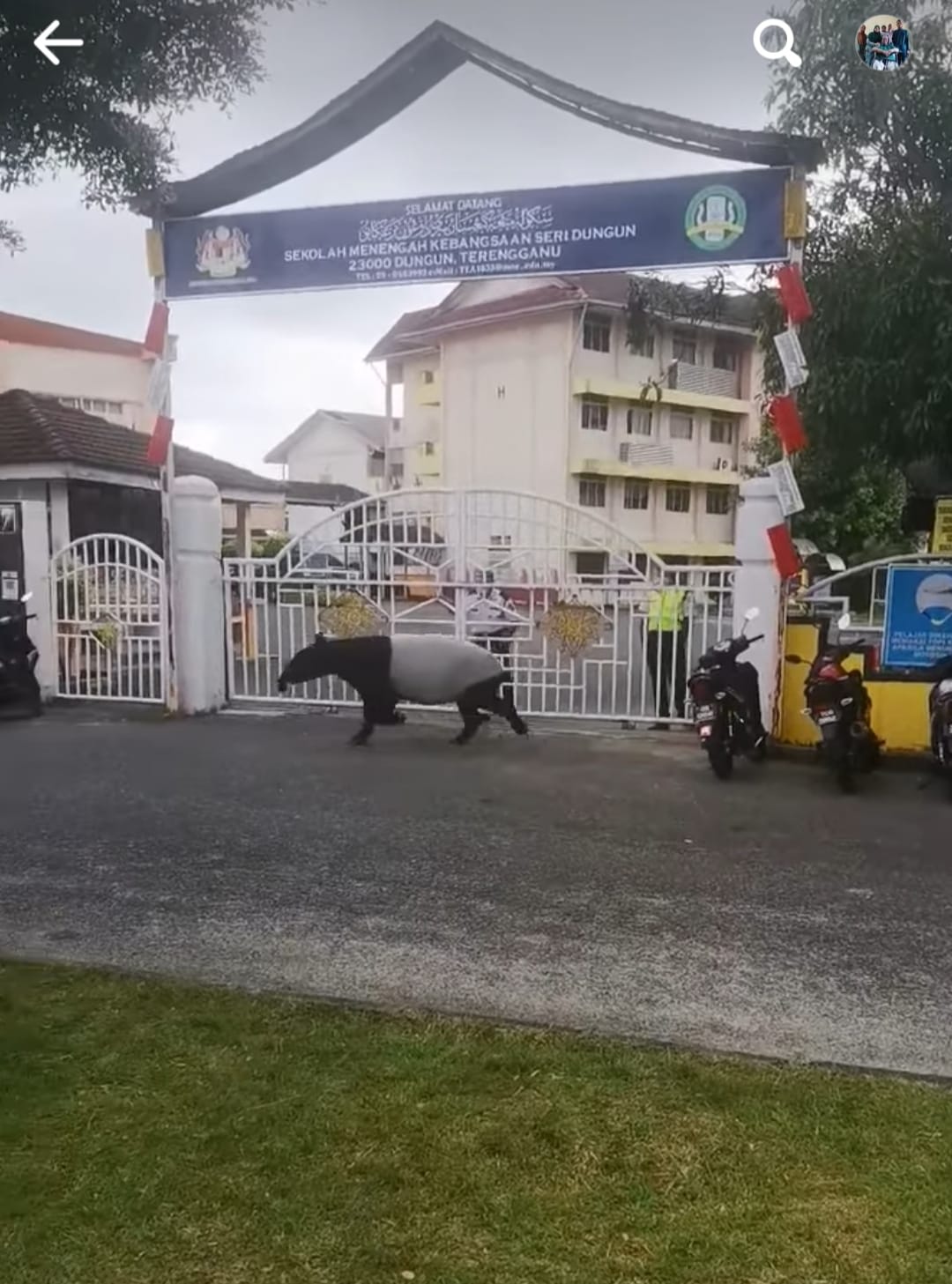 The tapir eventually made its way to a residential area, and could be seen near several houses.
And in another video, the tapir managed to make its way inside a private property.
It ended up falling into a drain before it was rescued.
The great rescue
Attempts to rescue the tapir did not go without a hitch. In a video, the tapir can be seen running for its dear life in the drain while a man chases it with a rope in his hand.
Despite the hiccups, the state assembly representative of Terengganu announced in a Facebook post that the tapir was successfully rescued.
"It's a noisy day for Dungun with the presence of Sir Tapir," he said, further revealing that the tapir started roaming around town from early morning before being captured in the drain.
He added that the tapir is an endangered animal, and that the authorities will take further action to bring him to a safe place.
Terengganu Department of Wildlife and National Parks (Perhilitan) director Loo Keon Seong said the tapir suffered from some minor injuries, reported Astro Awani.
The tapir will be treated before being released to a nearby forest reserve.
Here's a video of rescuers bidding it goodbye.
Tapirs are native to Malaysia, and are listed as "Endangered" by the International Union for Conservation of Nature (IUCN).
Its distinctive colour-blocking pattern serves to break up the outline of its body and provide camouflage in the forest.
Due to its large size, it has few natural predators, and the species is mainly threatened by the destruction of habitats.
Related story
Top image via Anizawati Azza/Facebook and YB Cikgu Haji Wan Hapandi Wan Nik/Facebook
If you like what you read, follow us on Facebook, Instagram, Twitter and Telegram to get the latest updates.