Follow us on Telegram for the latest updates: https://t.me/mothershipsg
Taiwanese actress, Ruby Lin, recently triggered widespread controversy on Weibo for demanding her family's privacy be respected in a Weibo post.
Lin's anger was caused by the leaking and circulation of her six-year-old daughter's picture, which was taken at a celebratory occasion that appeared to be a birthday party.
In case you forgot, the 47-year-old actress starred in multiple well-known TV series, including "My Fair Princess (还珠格格)" and, more recently, "Light the Night."
She married fellow Taiwanese actor, Wallace Huo, in 2016.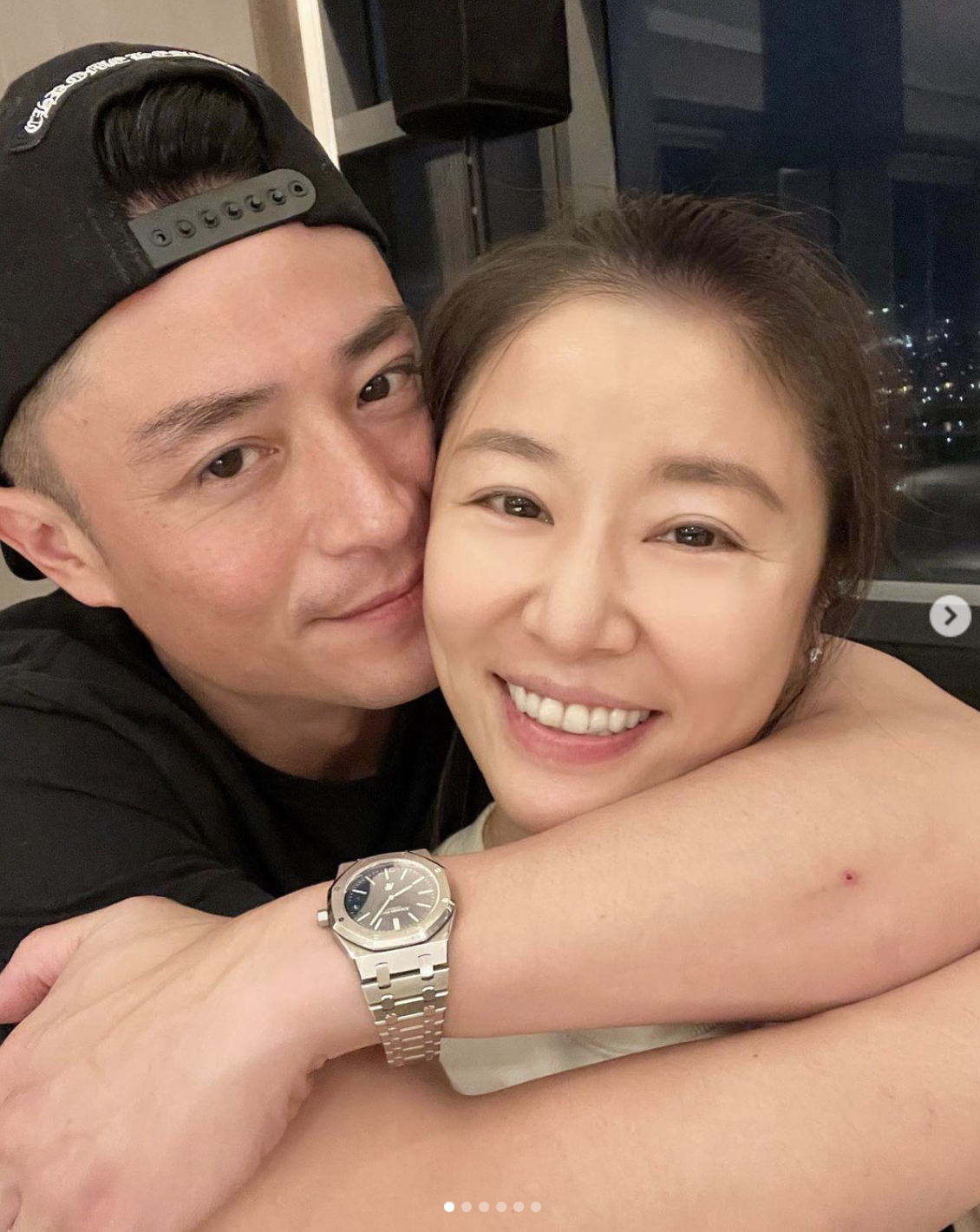 The couple has one daughter together, but they have never posted any images of her face on social media since her birth in 2017.
What happened
According to Yahoo News Taiwan, someone who attended the party took a picture of Lin and her daughter before posting it on Chinese social media, Little Red Book.
The image was subsequently cross-shared on Weibo and led to the creation of a hashtag, "Wallace Huo and Ruby Lin's daughter's full-face photo," which was read more than 1.2 million times as of Feb. 6.
Voiced anger on Weibo and Instagram
After the image of her daughter went viral, Lin took to Weibo to express her unhappiness:
"Everyone has someone and something that they would like to protect.

Is it that difficult to respect privacy?"
On Instagram, the actress also posted three angry emojis via an Instagram story to vent her frustration, according to Lianhe Zaobao.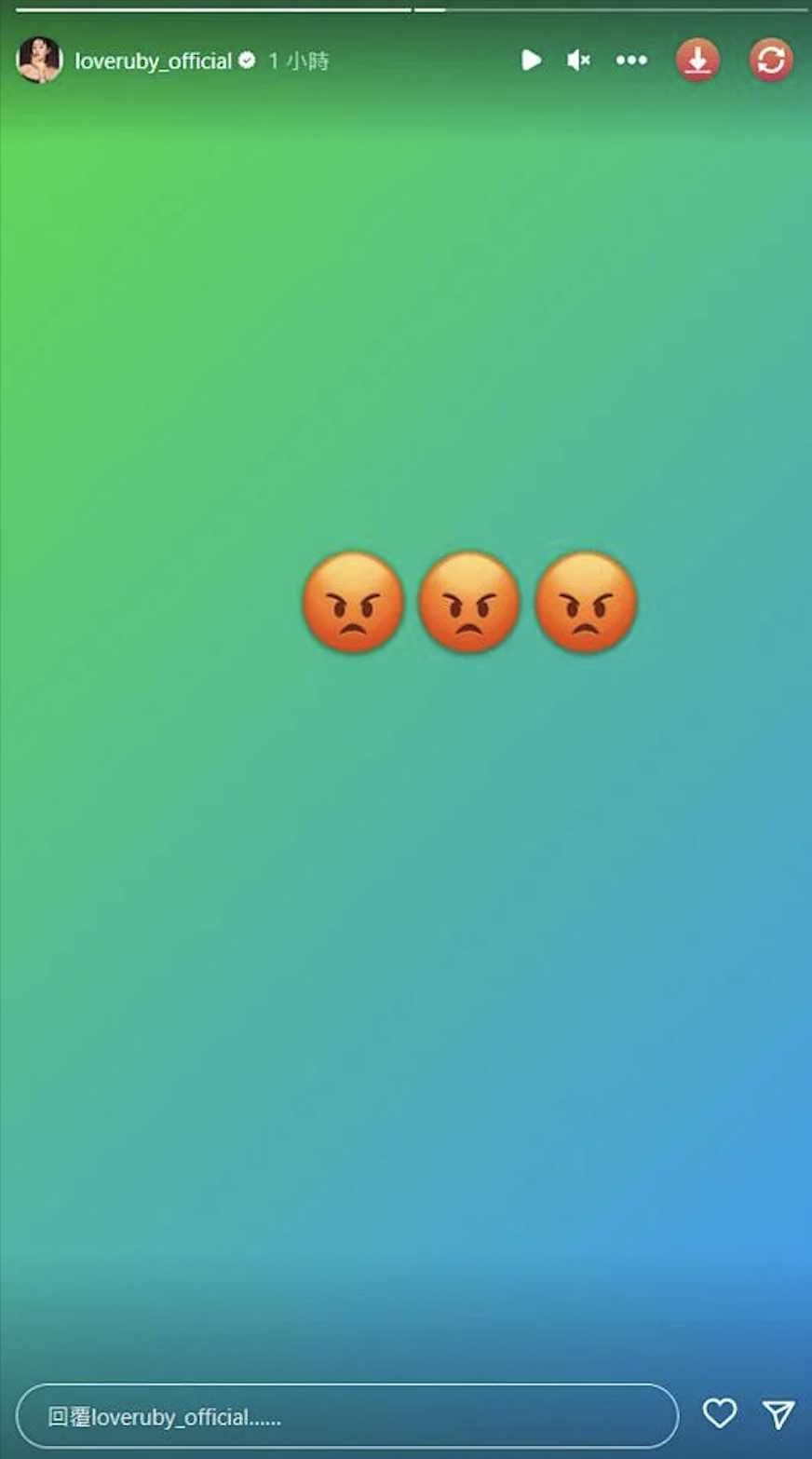 Mixed reactions from Weibo users
However, some Weibo users took issue with the different messages Lin posted on the two platforms.
Many users re-posted Lin's Weibo post and said they didn't understand why Lin unleash her anger on Weibo when the incident happened in Taiwan.
Some even accused her of bullying mainland Chinese and asked her to get off Weibo and take her issue to Instagram instead.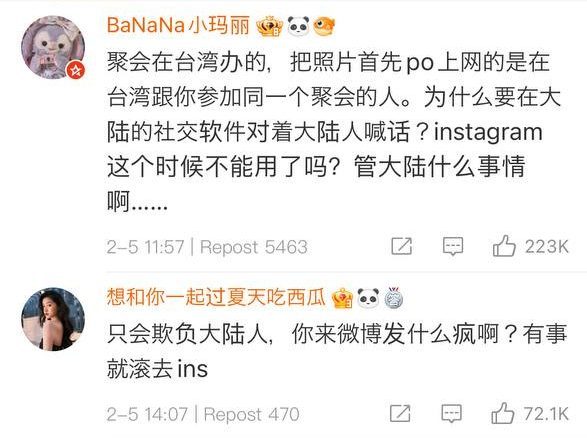 Translation:
User @BaNaNaxiaomali:

The party was held in Taiwan, and the person who posted [your daughter's face] is someone who attended the same party with you in Taiwan. Why are you yelling at mainland Chinese on mainland's social media? Is it that you cannot use Instagram? What does [this incident] have to do with us?"

User @Xiangheniyiqiguoxiatianchixigua:

You only know how to bully mainland Chinese. Why are you acting crazy on Weibo? If you have an issue, get off Weibo and bring it to Instagram.
However, there are also some netizens who understood where Lin was coming from and voiced their support for the actress:
Translation:
User @Yujiangzifantuan:

Lin did nothing wrong. As a mother, it is completely normal to want to protect her child's privacy. Yes, Lin is a public figure, but her daughter isn't.

Lin doesn't want her daughter to be gossiped and criticised by others, and what is wrong about that? Why do some netizens have so much hate against her?

While it is true that she posted photos [of the party] on Instagram, her daughter's photo was leaked on Little Red Book. Furthermore, she has also posted three angry emojis on Instagram.

Nowadays, many people like to escalate trivial matters to the level of mainland-Taiwan relations and try to sow discord in between. Such people truly have malicious intentions!
Restricted comments on social media
While Lin never responds to netizens, she has restricted the comments sections under her Weibo and Instagram after her posts blew up.
Top images via Weibo
If you like what you read, follow us on Facebook, Instagram, Twitter and Telegram to get the latest updates.