Follow us on Telegram for the latest updates: https://t.me/mothershipsg
A rat was spotted hanging around under tables at People's Park Centre on Thursday (Feb. 9), as diners were having their meals.
At 2pm, a Shin Min Daily News (Shin Min) reader was having a meal at People's Park Food Centre, when he spotted a small rat crawling around on the floor. Immediately, he whipped out his phone to snap a picture.
Mind you, this is an impressive skill that requires quick reflexes, so hats off to him.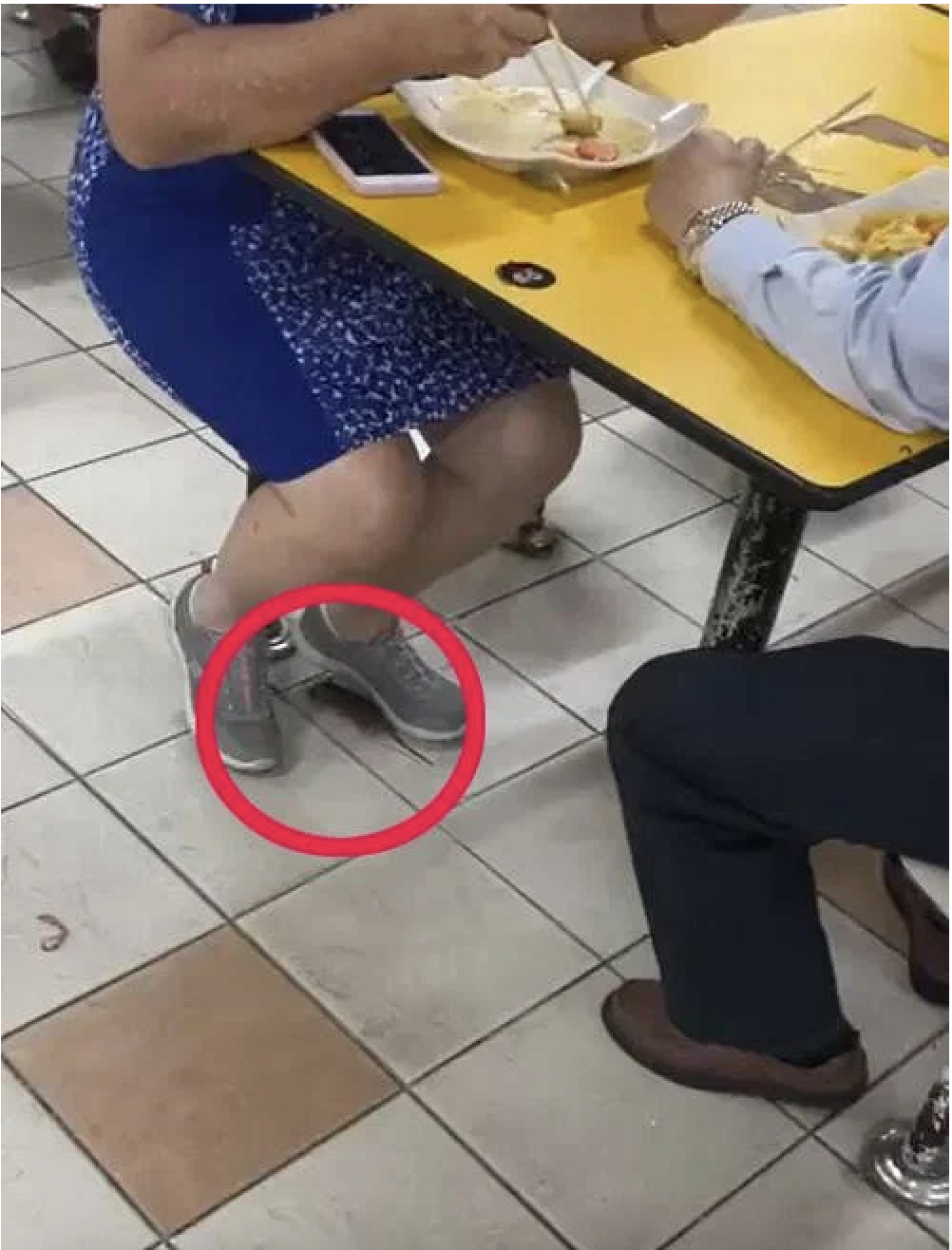 Initially, the rat was loitering beside a male diner's feet.
Then, it darted across towards another table and paced back and forth at the feet of another female diner for about five seconds.
The small rat later crawled up the woman's shoelaces, prompting her to shake it off. It then escaped speedily.
Rats a "common occurrence"
In an interview with Shin Min, a 60-year-old stall assistant, surnamed Xiao (hanyu Pinyin), said rats are a common occurrence.
Every morning, when she opens her stall at 5am, she would see two or three small rats loitering in front of her stall. She also spotted several larger rats in the distance.
"I would grab onto a steel grille and shake it." she added, " Usually, the sound would scare them off. But as for those larger rats, they don't get frightened off no matter what you do. They'll just go on their way leisurely."
Hu, an assistant at another stall, said that he has spotted some rats crawling around in the ceiling above the smoking point at the food centre. He suspects that there is a rat nest there.
"Once in a while, I see a few giant rats crawling along the ceiling beams. I'm quite wary that the rat droppings will land on me." he told Shin Min.
A frequent patron of the food centre, Zhang, 70, told Shin Min that she has once seen a rat when she was dining there previously.
Another patron, Lu, 60, said that apart from the rats, the centre also faces a bird infestation. She added that the management should deal with these issues so the place will not be viewed as "unhygienic".
According to Shin Min, the authorities visited People's Park Food Centre on Friday (Feb. 10) to inspect the situation.
Management aware of the situation, carries out regular cleaning and pest control
In response to the rat problem, People's Park Food Centre Association president Chia Sai Im told Shin Min that they are performing stringent checks, and carrying out regular cleaning work.
Every month, a pest control company would be engaged to do checks and carry out pest eradication services.
In addition, workers will perform a deep cleaning of the centre every two to three months, which includes the floor and ceiling of the centre. Vendors are also required to clean their own stall premises.
Given that People's Park Centre is a fairly old building, Chia said that rat problems are an ongoing concern.
She shared that the authorities have planned to carry out renovation works this year, but they are still awaiting confirmation on the details.
Watch this video:
We hit the street to find out what people think about the cleanliness at Chinatown.
&feature=youtu.be
Related articles
Top photo via Shin Min Daily News.
If you like what you read, follow us on Facebook, Instagram, Twitter and Telegram to get the latest updates.