Follow us on Telegram for the latest updates: https://t.me/mothershipsg
A hungry man is an angry man?
What about a hungry man who paid S$20.10 for mala xiang guo at Yishun's Northpoint City food court?
That would make him a very angry man as he then took to Facebook to complain about what he considered to be a price gouging exercise.
Expensive mala xiang guo
According to a Facebook post on Feb. 28, Luqmanul Hakim wrote that he was charged S$20.10 for a bowl of mala xiang guo, and he expressed his disgust at the high price.
The food was purchased from the Bagus food court at 7pm on Monday night, Feb. 27.
According to Shin Min Daily News, the diner was with his wife at the food court.
They ordered instant noodles, fish, cabbage, beancurd, mushroom, vegetables, fried beancurd skin, and quail eggs.
Receipt prices not clear
Based on the receipt issued, there were three different prices for an assortment of meat and seafood items.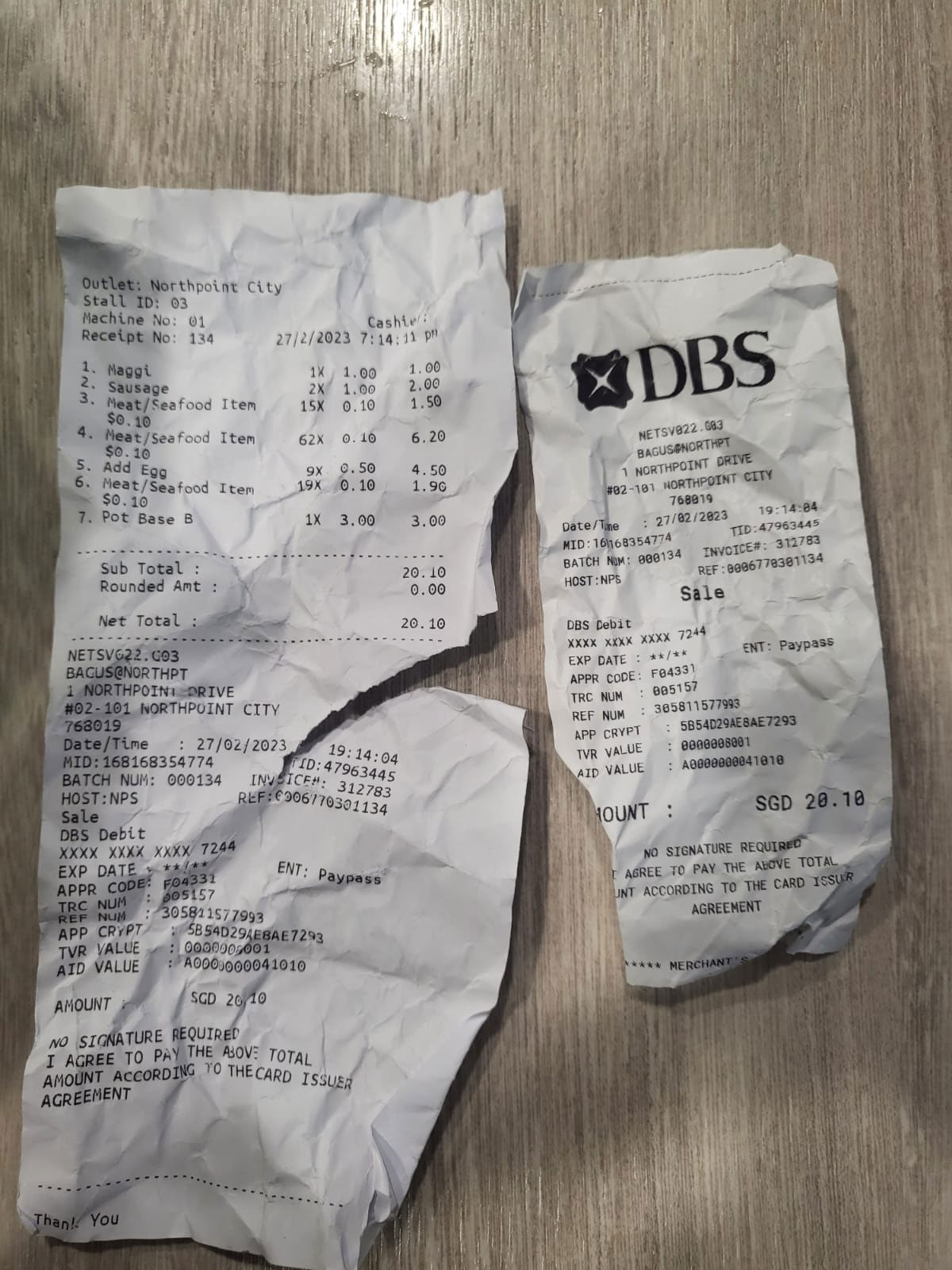 The diner took issue with the opaque pricing method.
For example, it was stated in the receipt that the diner made a purchase of 62 pieces of a S$0.10 item, to give a S$6.20 subtotal price.
What was clear though was that he was charged S$4.50 for nine quail eggs -- or 50 cents each.
This left him fuming.
He told Shin Min: "A pack of quail eggs outside cost only S$2.50 for 15 pieces. I understand that the merchant cares about profits, but the price is too high."
Stall manager explains
In response to the complaints, the stall manager, 41, explained to the Shin Min reporter that the store's rent, manpower, electricity, ingredients, goods and services tax, are all operating costs, and the price of food charged will inevitably be higher than that of coffee shops and hawker centres.
"Therefore, no comparison can be made," he said.
In response to the complaint that the receipt stated that the diner had ordered sausages when he did not, the manager explained that the naming convention might have referred to sausages, but the S$1 price also applies to other ingredients.
The item listed on the receipt might not correspond with the exact items bought, but the quantity reflects the correct amount purchased, it was explained.
For example, sausages, fried beancurd, and bean curd are all S$1 each.
The manager also demonstrated that the S$1.90 subtotal price reflected in the receipt was for vegetables, which cost S$1.90 per serving.
Even though the quantity was inaccurate, the price was correct, it was also explained.
Customers can ask if in doubt
When asked about the lack of exact price listings for the ingredients displayed at the stall, the manager said customers can always ask the stall assistant if in doubt.
If customers feel that prices are too expensive, they can remove some items chosen, which the stall will accede to.
Responses
In response to the diner's complaint, many commenters on the post said the man could patronise other stalls elsewhere that sell similar fare at lower prices.
Some who commiserated about the high costs said eating out these days was getting more expensive, and S$20.10 for mala xiang guo was actually reasonable.
Commenters also pointed out that the man's photos of supermarket-bought quail eggs cannot be compared with the quail eggs at the stall, as there is a need to factor in rent and labour costs.
This was the man's post in full:
HALAL BUSINESS, HARAM PRICING.

Charging 0.50 for quail eggs is a horrendous cash grab/scam and the pricing by weight is very very questionable.

If you order the quail eggs, be prepared to set yourself paying for a jacked up 340% SCAM.

If BAGUS MALA HOTPOT is trying to pull a fast one due to a low foot traffic and also low purchasing power consensus, they have messed with the wrong person.

If you look at the pricing, the only seafood I had ordered was a piece of panguasis fish which was definitely not 147.6 grams.

I assume the other two 'seafood' is mushrooms and Bok Choy I had ordered, and am completely perplexed by phantom/invisible sausages.

Notice how even the Bok Choy is not billed as vegetables.

If I had known that I will be charged 50% on just quail eggs and 'POT BASE B', I would have humbly f*cked off.

Such predatory pricing, and asymmetrical information is even worst than working in finance.

Disgraceful, I pity those people who fell for this scam, and did not seek justice for such unscrupulous business tactics.
All photos via
If you like what you read, follow us on Facebook, Instagram, Twitter and Telegram to get the latest updates.