Follow us on Telegram for the latest updates: https://t.me/mothershipsg
Love is in the air as couples in Singapore will be welcoming the first mask-free Valentine's Day (in most places) since the pandemic.
One elderly couple celebrated their Valentine's Day a day early today by enjoying a special luncheon their nursing home prepared for them, reported Shin Min Daily News.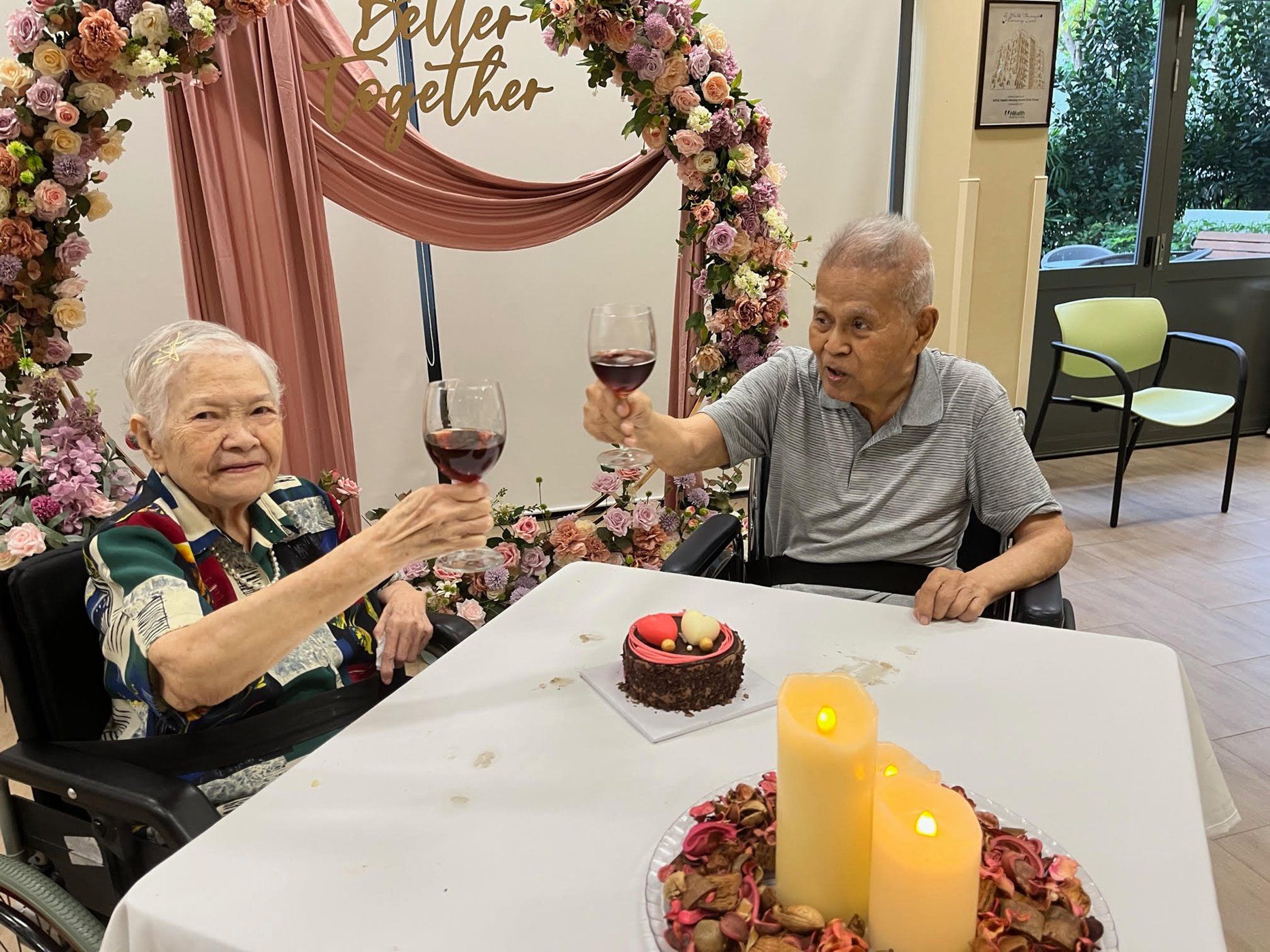 In the photo, Lachica, 90, could be seen toasting with his wife, Lim Annie Bernadette, 86, in front of an arch decorated with flowers and a sign "Better together".
Married 62 years, lived apart for a year due to pandemic
According to Shin Min, the couple met through friends and had shared interests.
Lachica played the saxophone as well as string instruments when he was younger whereas Lim was a skilful dancer.
Although Lim has three children from her previous marriage, it has never been an issue in her new family, and all members have a good relationship with one another, reported Shin Min.
The couple now lives at the NTUC Health nursing home in Chai Chee.
Their youngest son told Shin Min that his father was previously hospitalised for about a year, and his mother was unable to visit his father due to Covid-19 restrictions.
Following advice from the doctor, his father was transferred to the nursing home, which was not far away from their house.
His mother also moved into the nursing home in November 2022.
The 60-year-old explained that as both of his parents have dementia to different extents, the family felt more assured knowing that they would be able to take medicine on time under the care of the nurses.
Lachica didn't recognise his wife when she first moved in
The couple's youngest son also shared that when his mother first moved into the nursing home, his father couldn't even recognise her because they have been separated for so long, reported Shin Min.
However, after the couple spent some time together at the nursing home, Lachica was able to recognise her and introduce her as his wife during an outing one day, which touched the hearts of his family.
Cherlyn Lim, a staff member at the nursing home who was responsible for planning the luncheon, told Shin Min that the couple would typically meet each other at the activity room on the first floor after they moved in.
"I notice when they come downstairs, they would look for each other first and would hold each other's hand while chatting," recounted Lim.
She shared that she was deeply moved by the scene and realised that every day could be Valentine's Day if the companionship one receives every day is already brimming with love.
Luncheon planned by nursing home
Lim also explained to Shin Min that her team planned the luncheon for the couple because they are the first pair to move in together at the nursing home.
In addition to the luncheon, staff members also gifted the couple with bouquets, bringing a smile to their faces, reported Shin Min.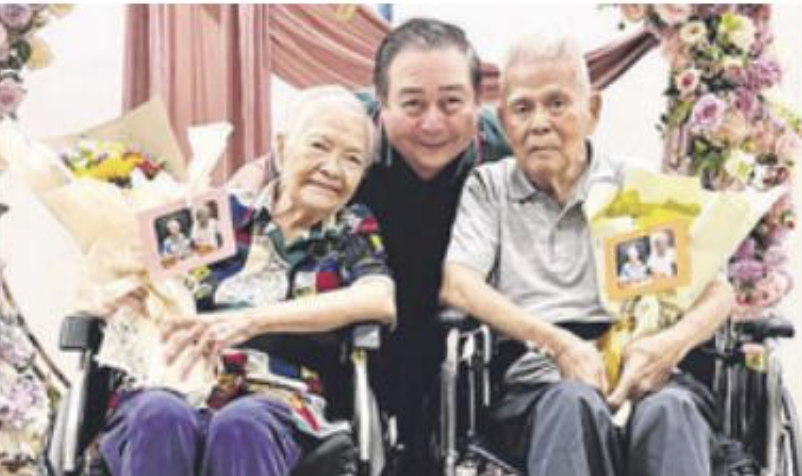 At the luncheon, the husband and wife pair shared food with each other, according to Shin Min.
Lim told her husband "I love you" multiple times during the meal, while her husband patted her head, pronouncing that she is a good girl.
She was also brought to tears when she saw her family, including her son and niece, joining the celebration.
Secret to marriage
Speaking to Shin Min, Lim shared that the secret to her six-decade-long marriage was that she and her husband listen to each other and that neither of them likes to argue.
The couple would celebrate each other's birthday every year and would also invite friends to their home on Christmas and Chinese New Year to enjoy a feast the couple prepared together.
Both Lim and Lachica are skilful cooks — the former's forte lies in preparing Nyonya dishes while the latter was good at making dishes from the Philippines, which is his hometown.
Top images via Shin Min Daily News
If you like what you read, follow us on Facebook, Instagram, Twitter and Telegram to get the latest updates.