Follow us on Telegram for the latest updates: https://t.me/mothershipsg
Kunyah Cafe, a cafe kitchen specialising in Singapore-style sando, opened on Jan. 9 in the Singapore Management University (SMU).
Its owner, Aaron Yeoh, 44, has a unique vision to support people with disabilities who have a passion for cooking.
The eatery was previously featured by CNA insider.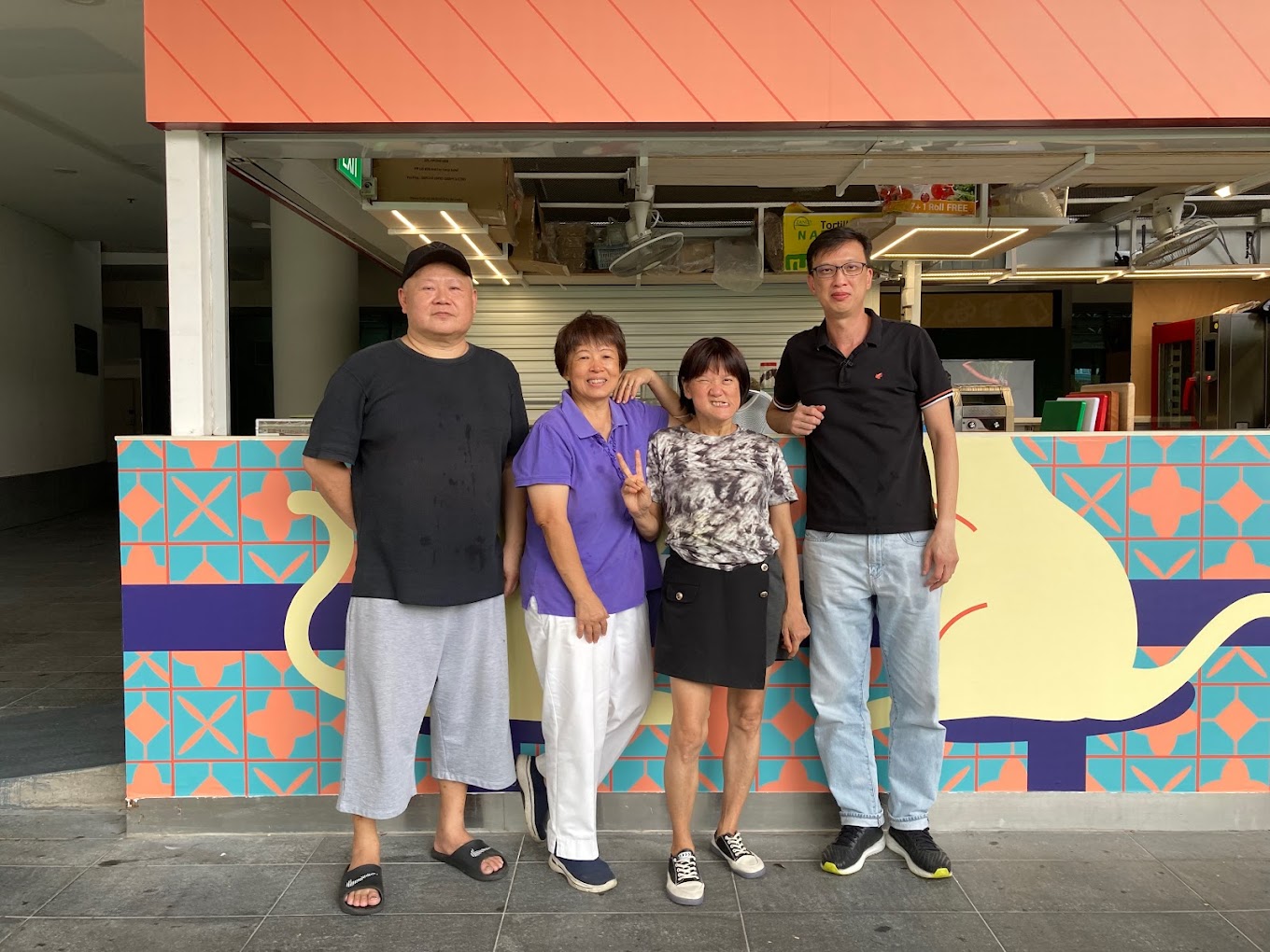 Staff with passion for cooking
Its designated head chef, Alex Seow, 55, has been a chef for more than a decade, but lost 70 per cent of his vision at age 50 due to complications from cataract surgery.
Another chef, Oh Siew May, 50, was born with cerebral palsy.
She previously worked for one and a half years at a cafe where she helped to cook and serve customers.
Completing the team is Chan Lay Hoon, 61, who is sighted, and volunteers as a kitchen assistant for the cafe. She used to work in a flavouring company.
Kitchen set-up
I was curious about how differently the kitchen would be set up.
Initially, Yeoh had consulted an occupational therapist to help to tailor the space to the chefs' visual impairments.
He also sought to make use of assistive devices, like weighing scales that read out the amount of ingredients, to help the chefs.
Oddly, there is no shop sign asking customers to be patient as the chefs have disabilities.
This is intentional, as Yeoh wanted customers to experience the food first, before finding out about the team, according to CNA.
He seemed confident that the food would do the talking.
Armed with an inquisitive mind and a healthy appetite, I decided to pay them a visit incognito, posing as a university student.
Going down to the stall
I went down to SMU on Feb. 8 just after 12pm, to blend in with the lunch crowd.
When I arrived, there were a handful of customers in the queue.
At that point, its menu indicated four different types of sandos, their specialty.
These are Japanese-style sandwiches that Kunyah Cafe has adapted with a local twist.
Kunyah Cafe also has a no pork, no lard policy.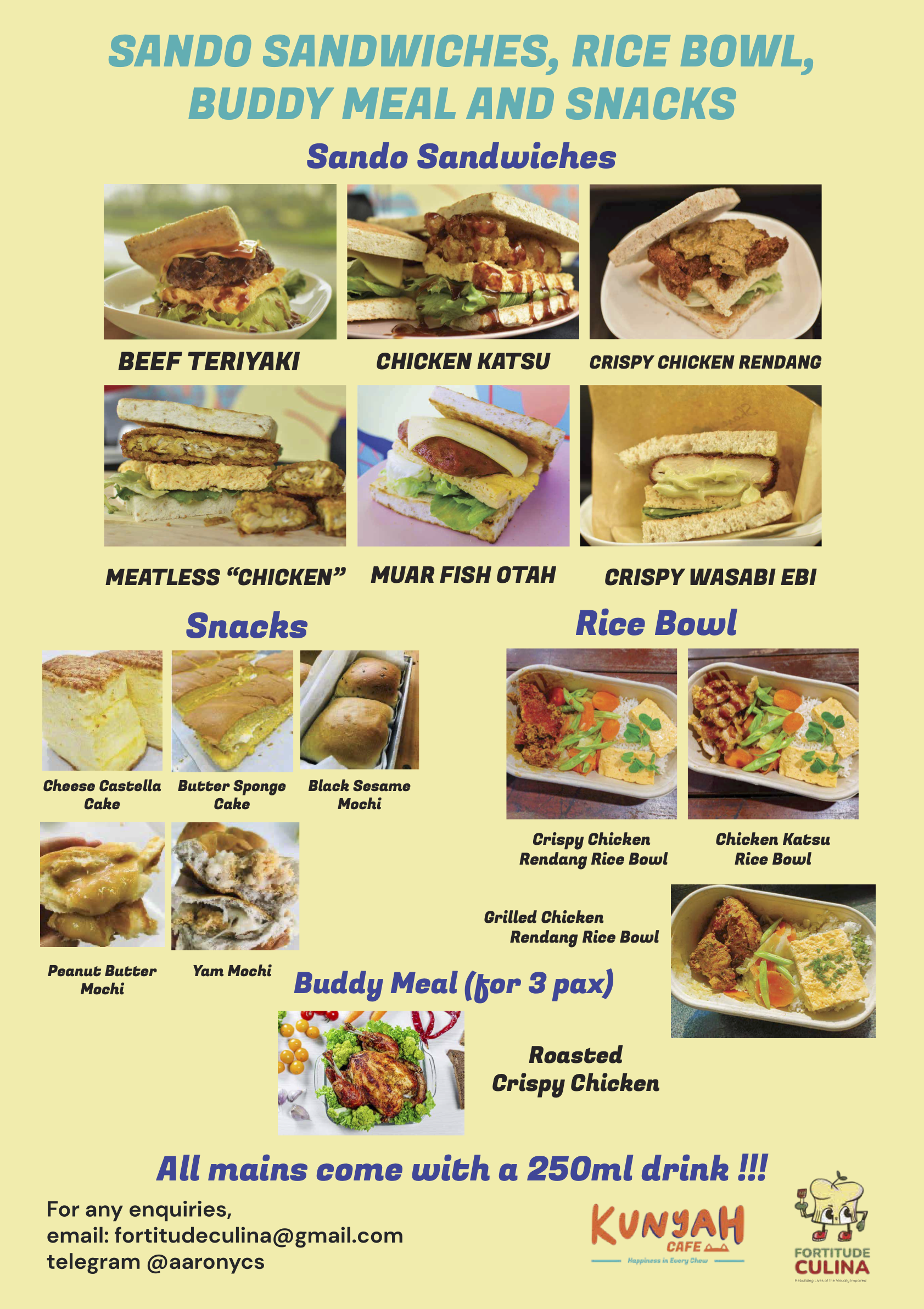 I asked Yeoh, who was manning the counter, what his recommendations were. He suggested the Wasabi Ebi Sando (S$5.90) or the Chicken Rendang Sando (S$5.90) since I was fine with spicy food.
When I told him I wanted to order both, he was surprised.
"Usually people only order one, because it's really quite filling," he smiled.
He shared that there was only once that someone had ordered two sandos, and it was some guys who had just gone to the gym.
When I suggested that I could tapao the other one, he told me that I should try and finish it within an hour, if not the bread would get soggy.
Yeoh also told me that I could get a drink included free with each sando. They were in the midst of updating the menu.
In the kitchen, Chan seemed to be the one in charge, relaying the orders to the different stations, doing some quality control, and communicating with customers for finished or pending orders.
I tried to peek and see if the team was using any of the "cool" assistive devices I had envisioned, but all I saw was some good old-fashioned teamwork.
I received my order relatively quickly, within five minutes or so.
The meal
As a good Peranakan boy, I started with the Chicken Rendang Sando.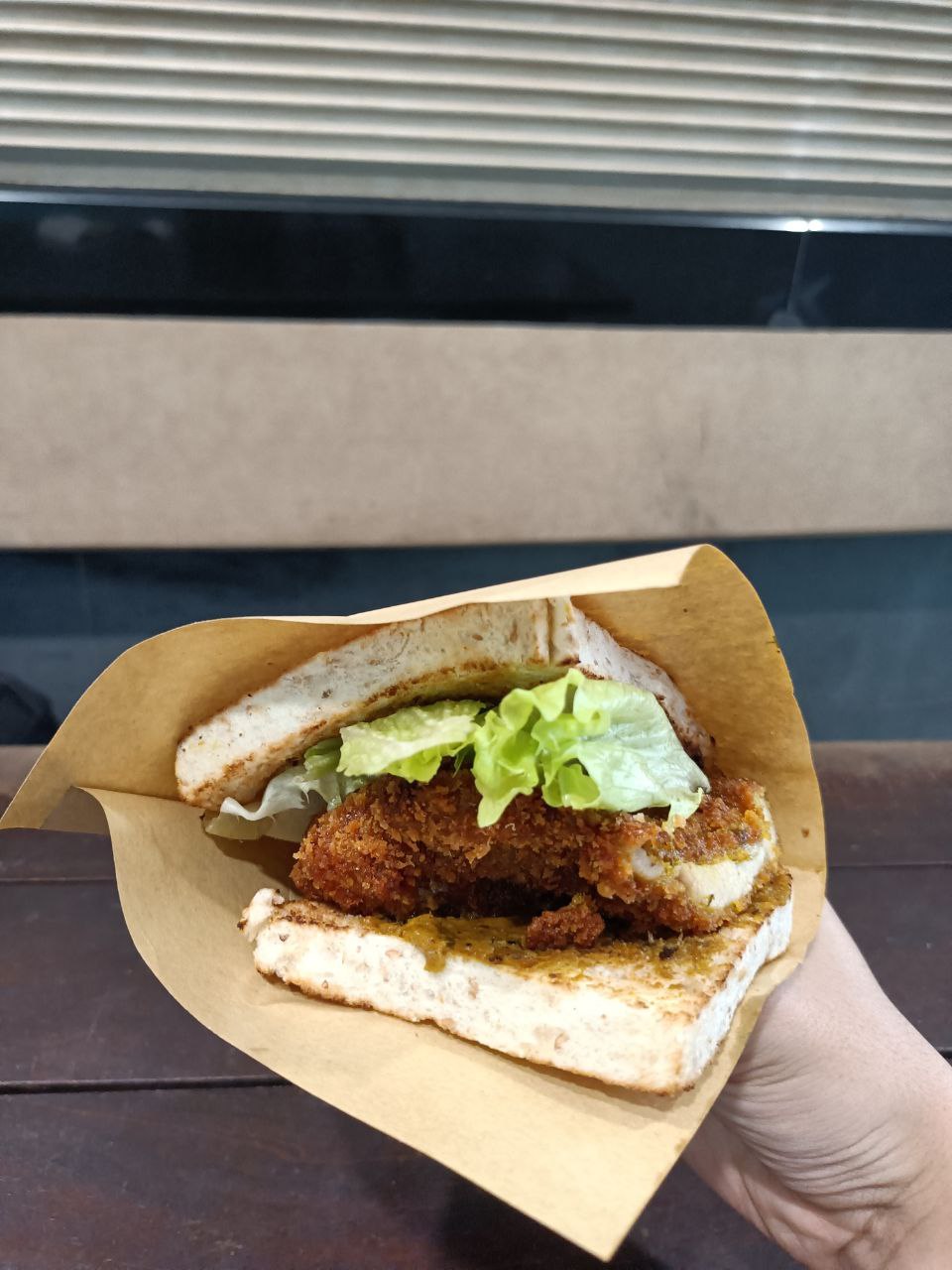 On my way to the table, the aromatic smell of spices had already hit me. This was the culprit.
It's not often that you find crispy rendang chicken, and the combination tasted quite authentic. I liked the crispy texture of the chicken, and the lettuce and toasted bread complemented it well.
After some time though, it started to get a bit jelak, and I wished the sando had some pickle (achar, perhaps?) or something to cut through the spices.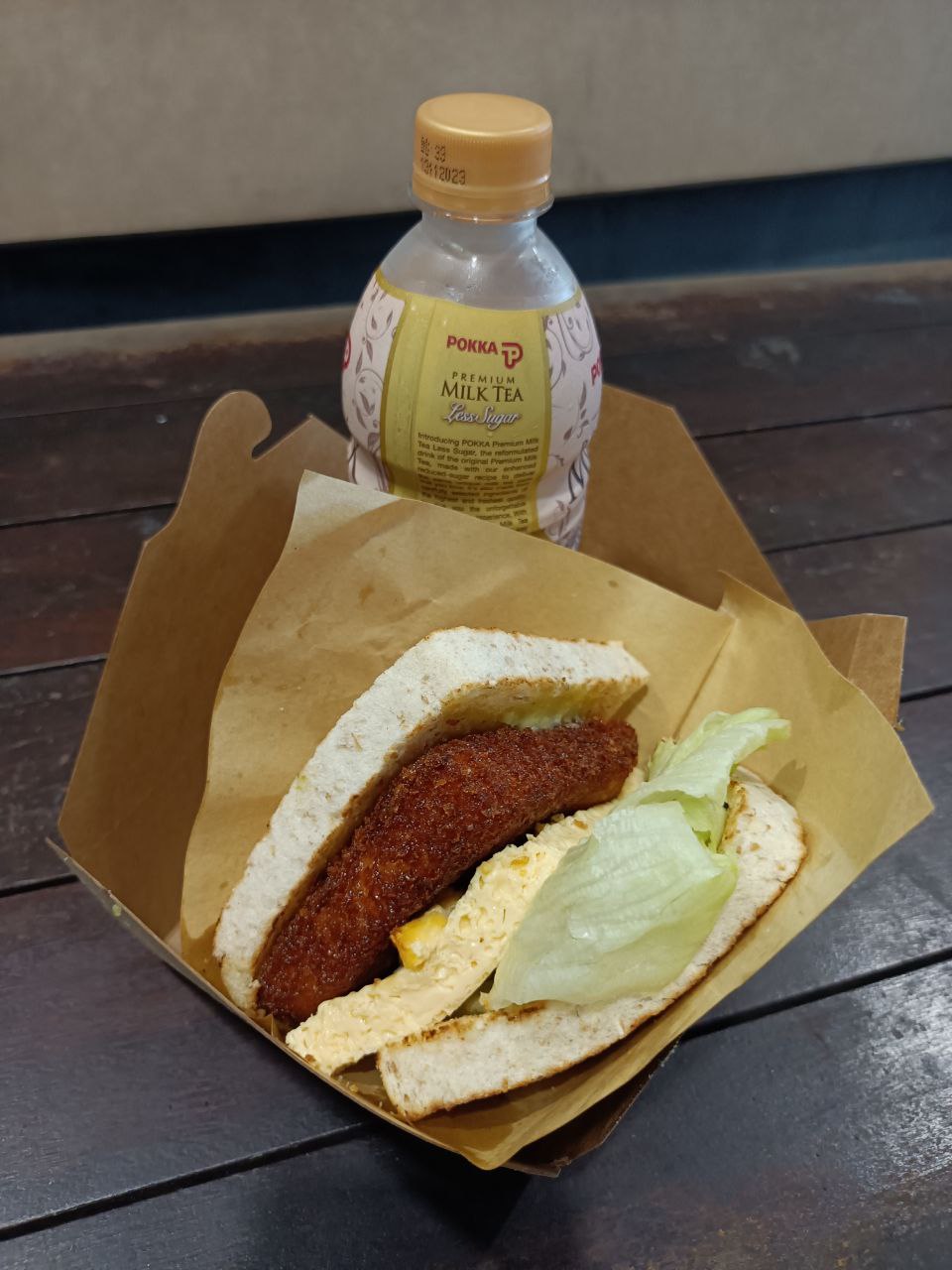 However, the Wasabi Ebi Sando was probably my favourite of the two.
The panko shrimp patty is apparently hand-made each day, and is really tasty. No complaints about the fluffy scrambled egg either.
What made it stand out though, was the wasabi sauce. It was creamy and gave the sandwich a bit of a kick, without being too overpowering.
On its menu, Kunyah Cafe states that its sandos are as filling as a burger, and I have to agree. They were substantial, and I was already quite full halfway through my upsized meal, even without the drink.
As for the quality, I thought the sandwiches were comparable to what you might get in a cafe, but at a cheaper price.
Stiff competition
On the pretext of needing a napkin, I returned to the kitchen to talk to the staff a bit more.
By this time, Seow seemed to have gone for a break, as there were no customers in the queue.
Yeoh was quite surprised to hear that I actually finished both sandos, and Chan genially asked me how the food was. When I said I liked it, there were smiles all around, and Oh gave me a thumbs-up as well.
Chan shared with me that they have only been open for a month. Yeoh added with a wry smile, "Not easy. The stall beside us (The Tea Party) has been here for 10 years, and the other one (Khoon Coffeehouse Express), for the past six months."
The steady stream of customers outside the other stalls seemed to confirm his worries.
A good cause, with good food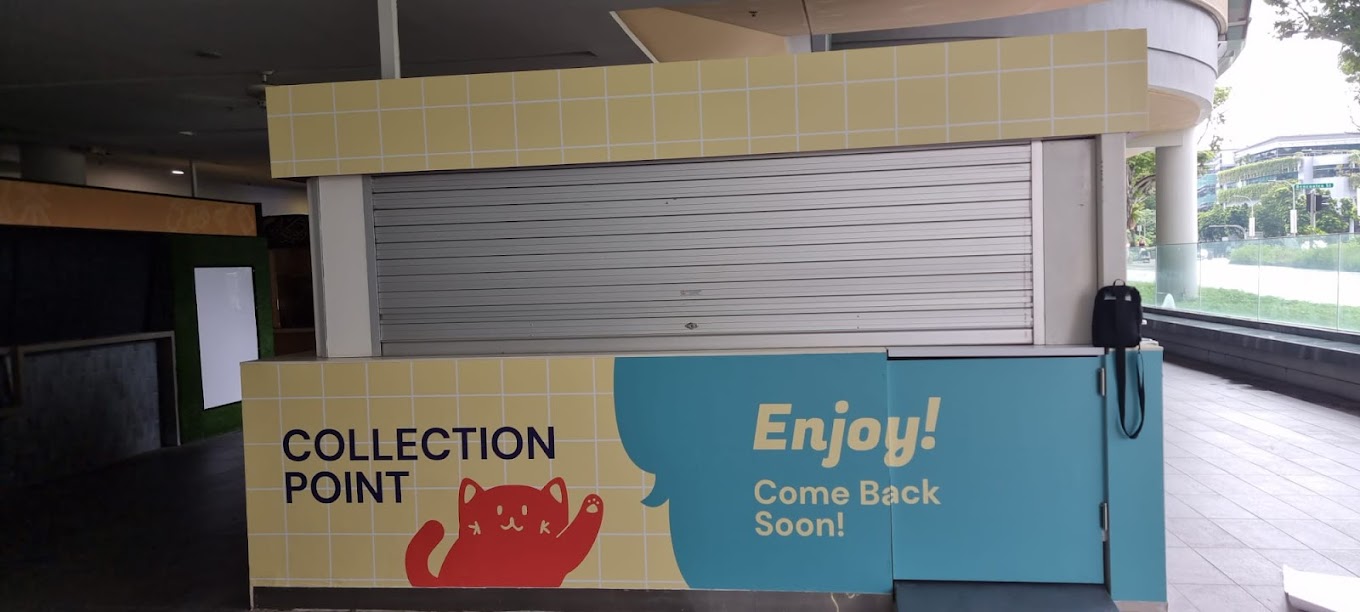 I guess what surprised me was that it was just like going to a typical food kiosk. I'm glad that Yeoh chose to promote this social cause in a more subtle and understated way, focusing on the food first.
If you didn't tell me the chefs had disabilities, I wouldn't be able to tell from the food or the service.
I would consider buying from them again if I pass by and I'm in the mood for a sando.
Top image via Kunyah Cafe.
If you like what you read, follow us on Facebook, Instagram, Twitter and Telegram to get the latest updates.