Follow us on Telegram for the latest updates: https://t.me/mothershipsg
Although the past week saw a high amount of rainfall, high water levels observed at coastal parks on Jan. 25 may not be caused solely by the large amounts of rain.
Instead, high tides may have a part to play too.
Water levels breached banks of canal, shoreline
In a clip posted to TikTok on Jan. 25 by user @tsuribi, one drainage canal located near a beachside appeared to be overwhelmed by large volumes of water, which can be seen spilling over the banks.
The canal appears to be located near carpark B2 at East Coast Park, based on comparisons with images from Google Maps street view.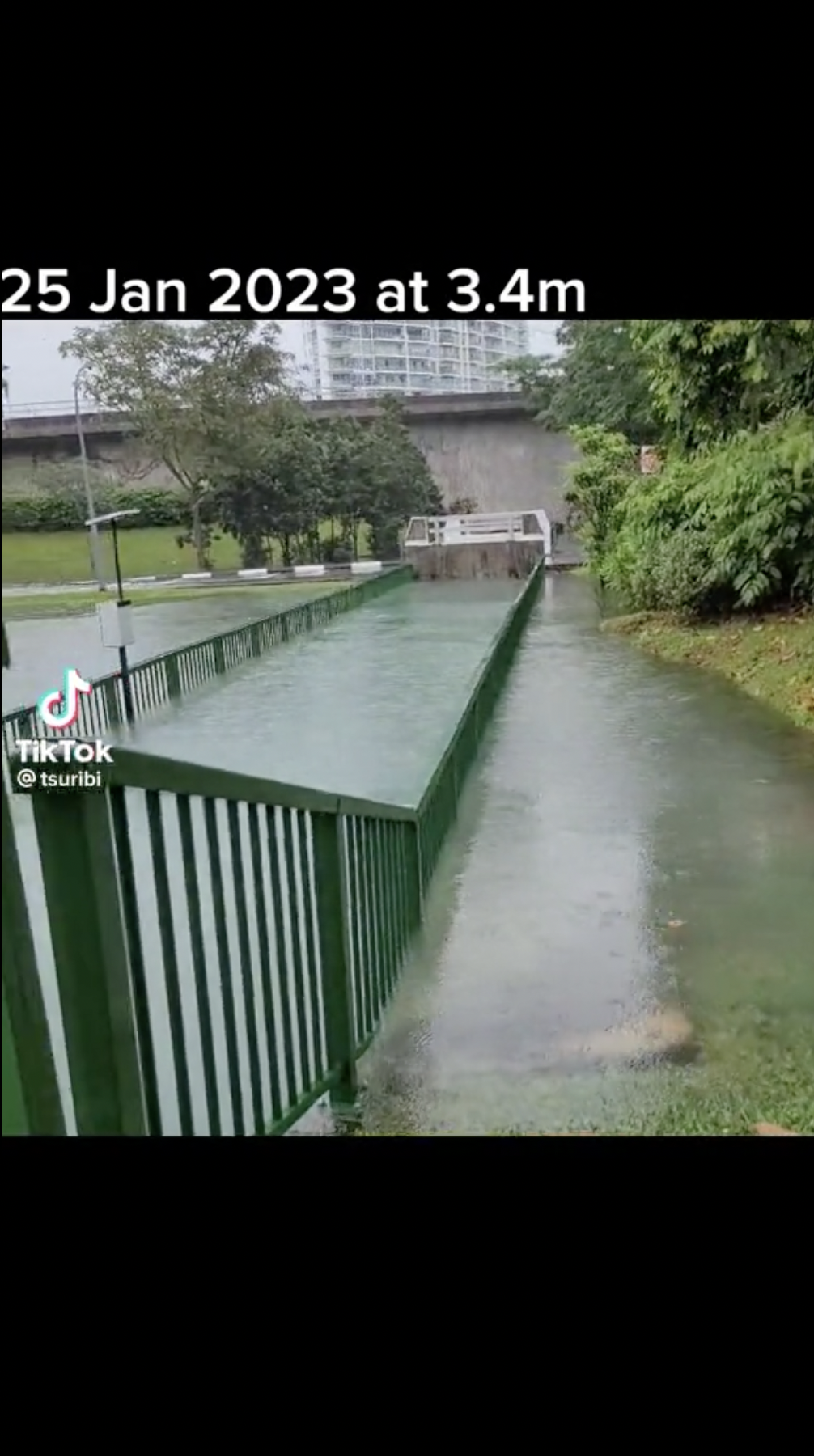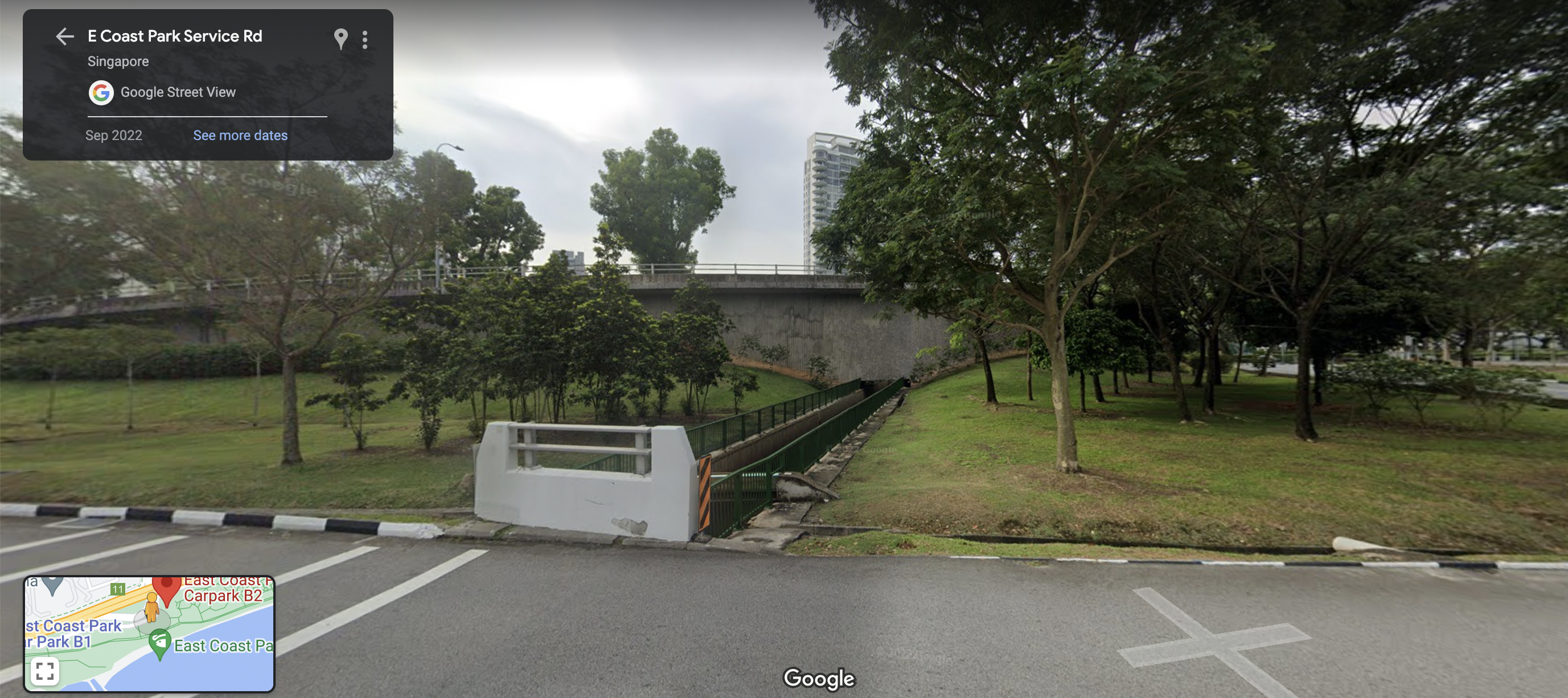 According to the onscreen captions, the wet weather scene occurred on Jan. 25.
From the video, water levels in the canal appear to have risen beyond the capacity of the waterway, causing the water to spill over its banks.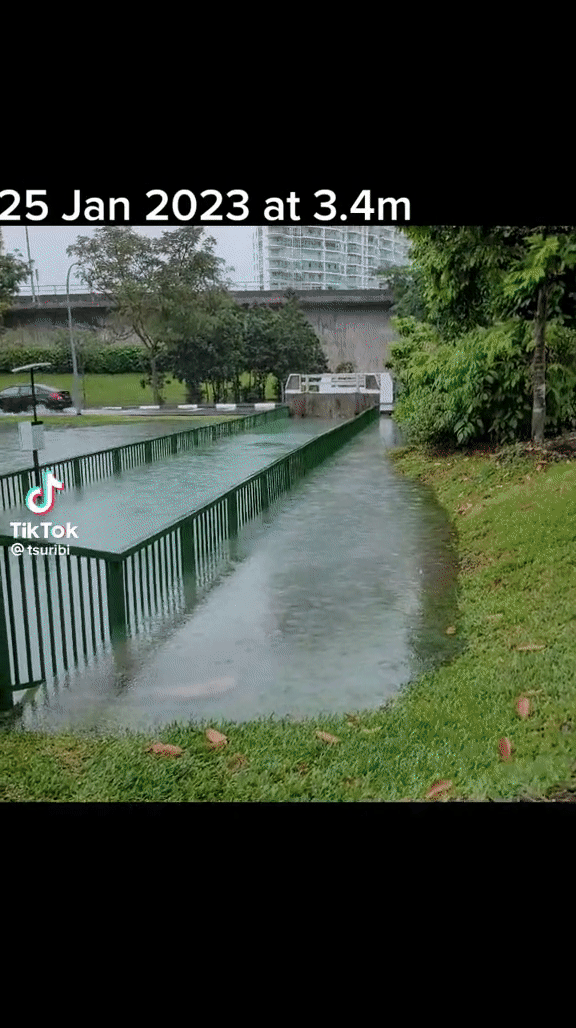 A considerable volume of water pooled in the field nearby as raindrops continue to pelt to the ground.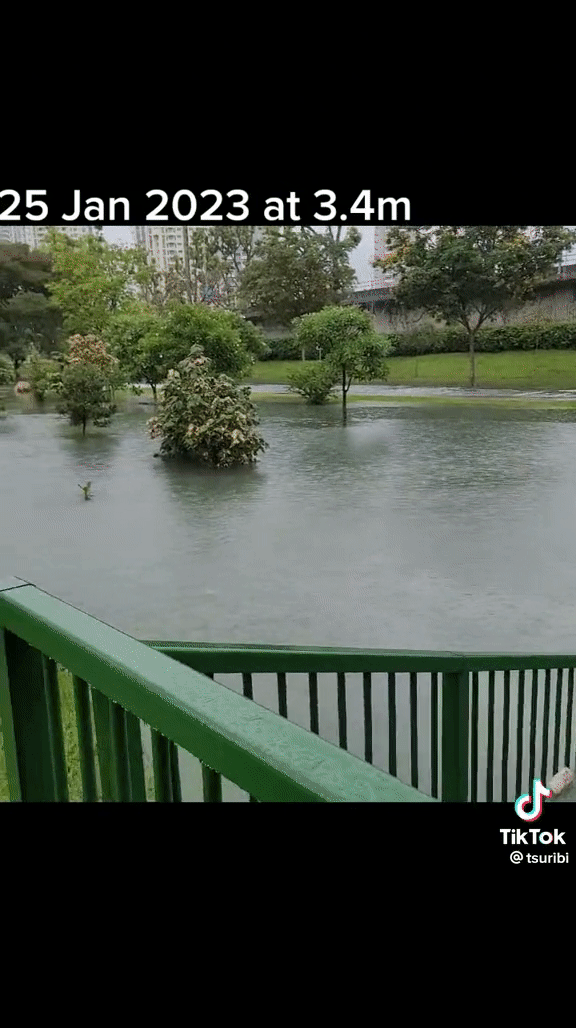 As the camera pans away from the canal and towards the coast, separate bodies of water can be seen to have formed in different parts of the park.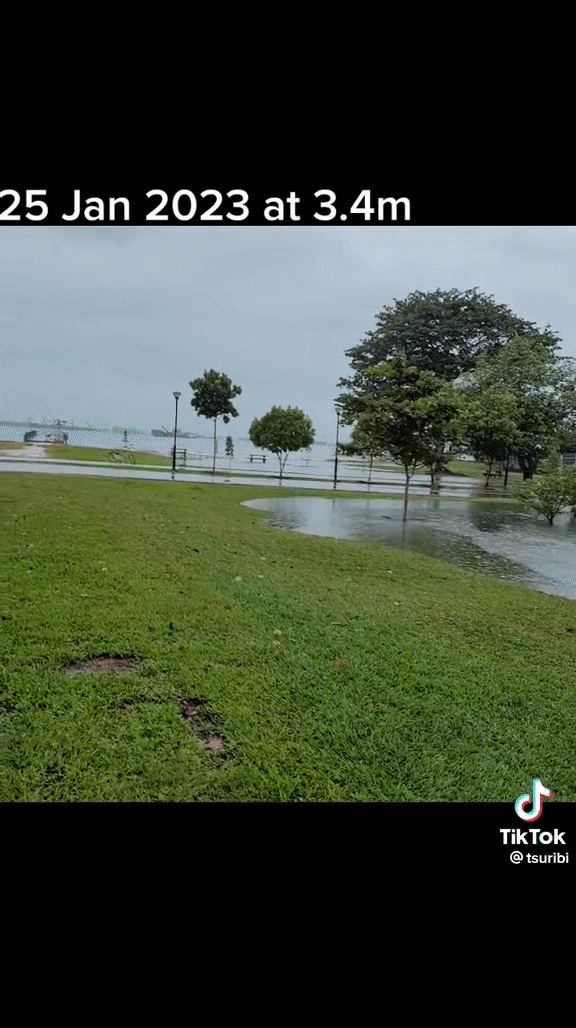 Lots of water
According to data from the Meteorological Service Singapore (MSS) website, rainfall levels measured at the East Coast parkway station fluctuated throughout the day on Jan. 25.
It peaked at 11am with more than 20mm of rainfall. At 2pm, there was more than 10mm of rainfall.
In the 48 hours between 3pm on Jan. 24 to 2pm on Jan. 26, a total of 70mm of rainfall was measured at the East Coast Parkway measuring station.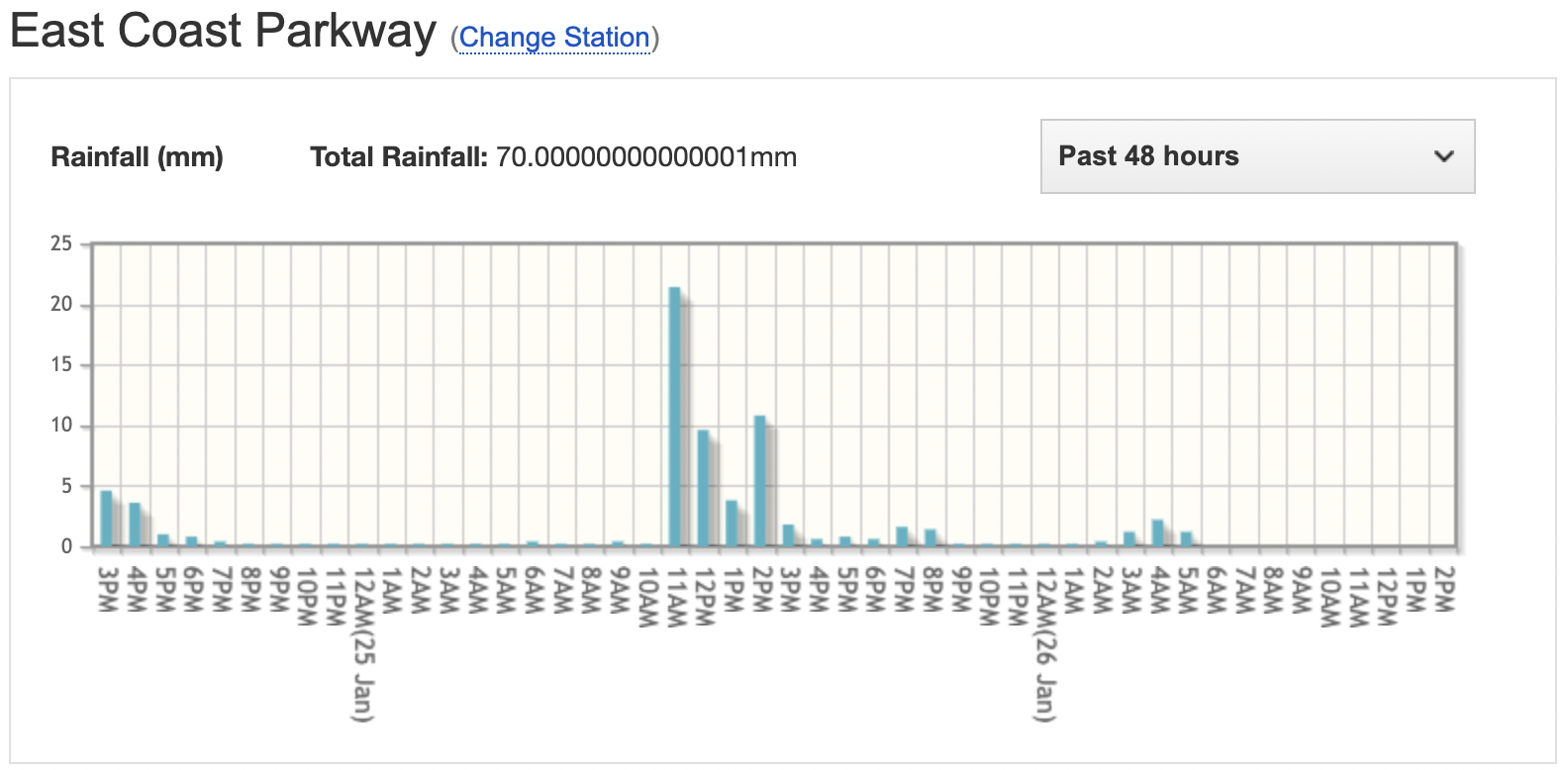 Despite the surge in rainfall in the past days, it might not be the sole cause of the high water levels observed at East Coast Park on Jan. 25.
In the clips, the TikToker indicated that it was "high tide" at the time, with tides at "3.4m".
According to tide tables, tide heights from 12pm to 3pm that day were more than three metres, with a peak of 3.5m at 2pm.
It is also not the first time the canal seen in the TikTok video overflowed with water after high tides and rainfall.
In 2018, similar scenes were sighted at the canal, according to a report by The Straits Times.
For comparison, here's how other canals at the park look like during high tide on a fair weather day: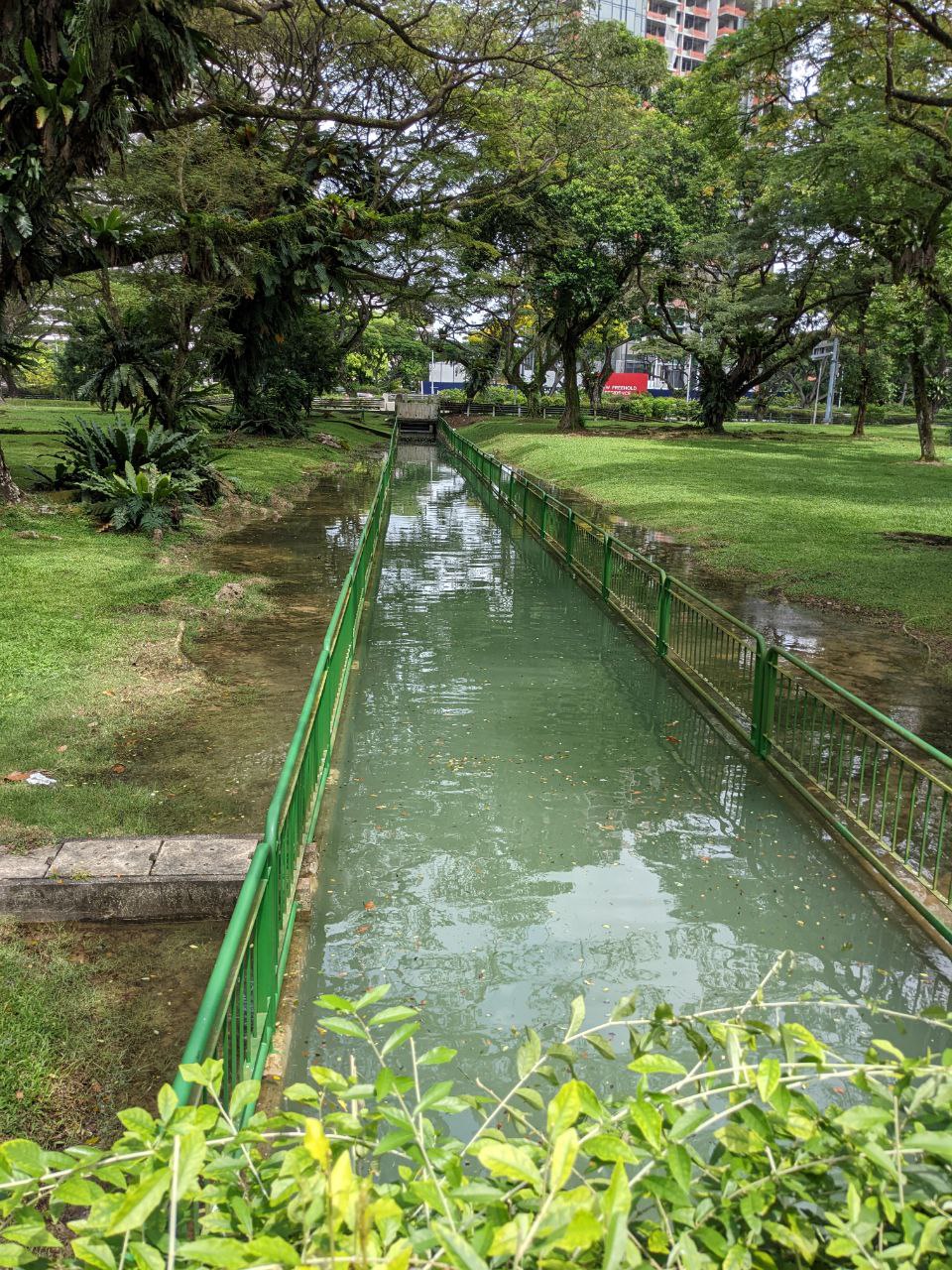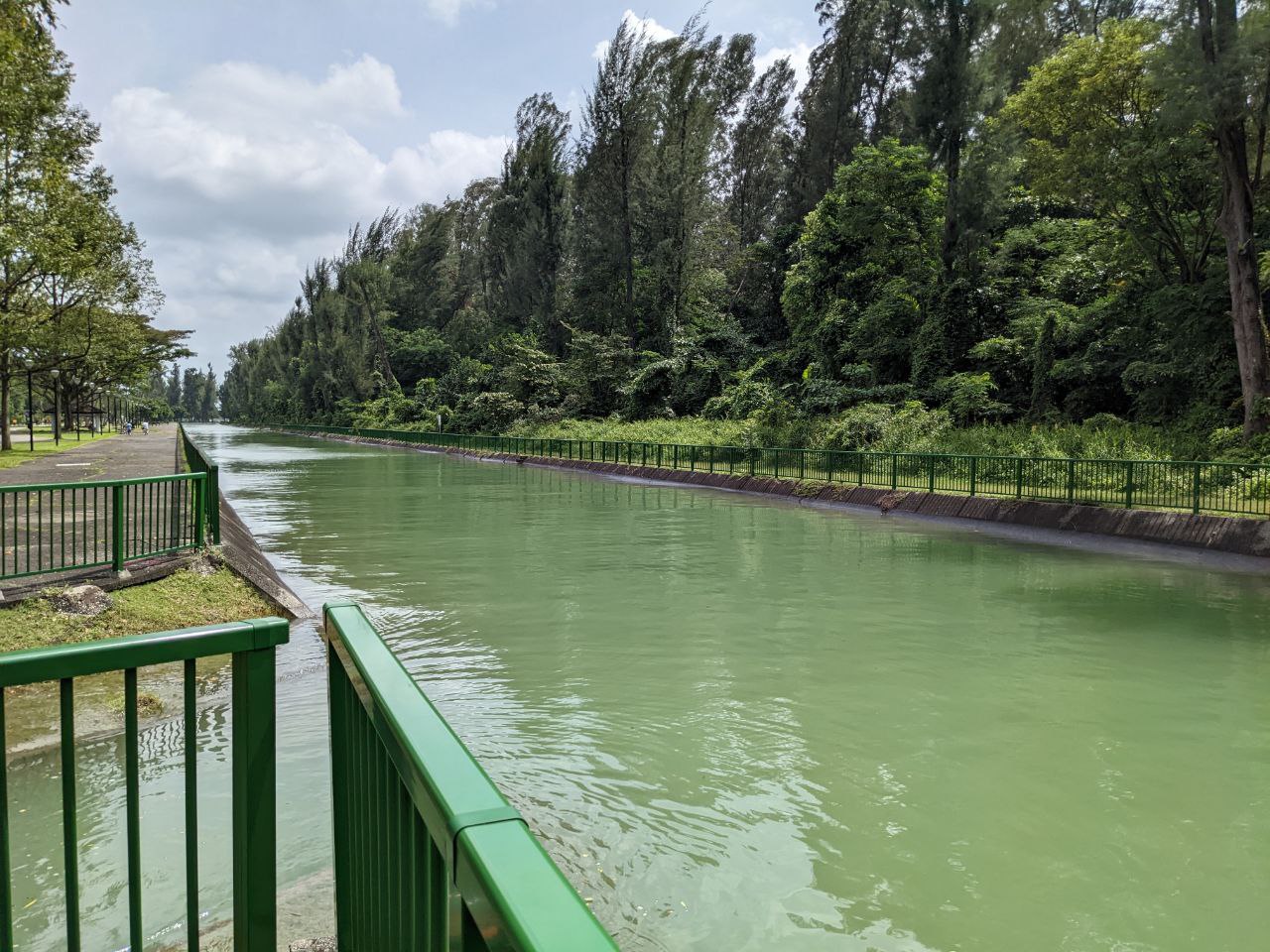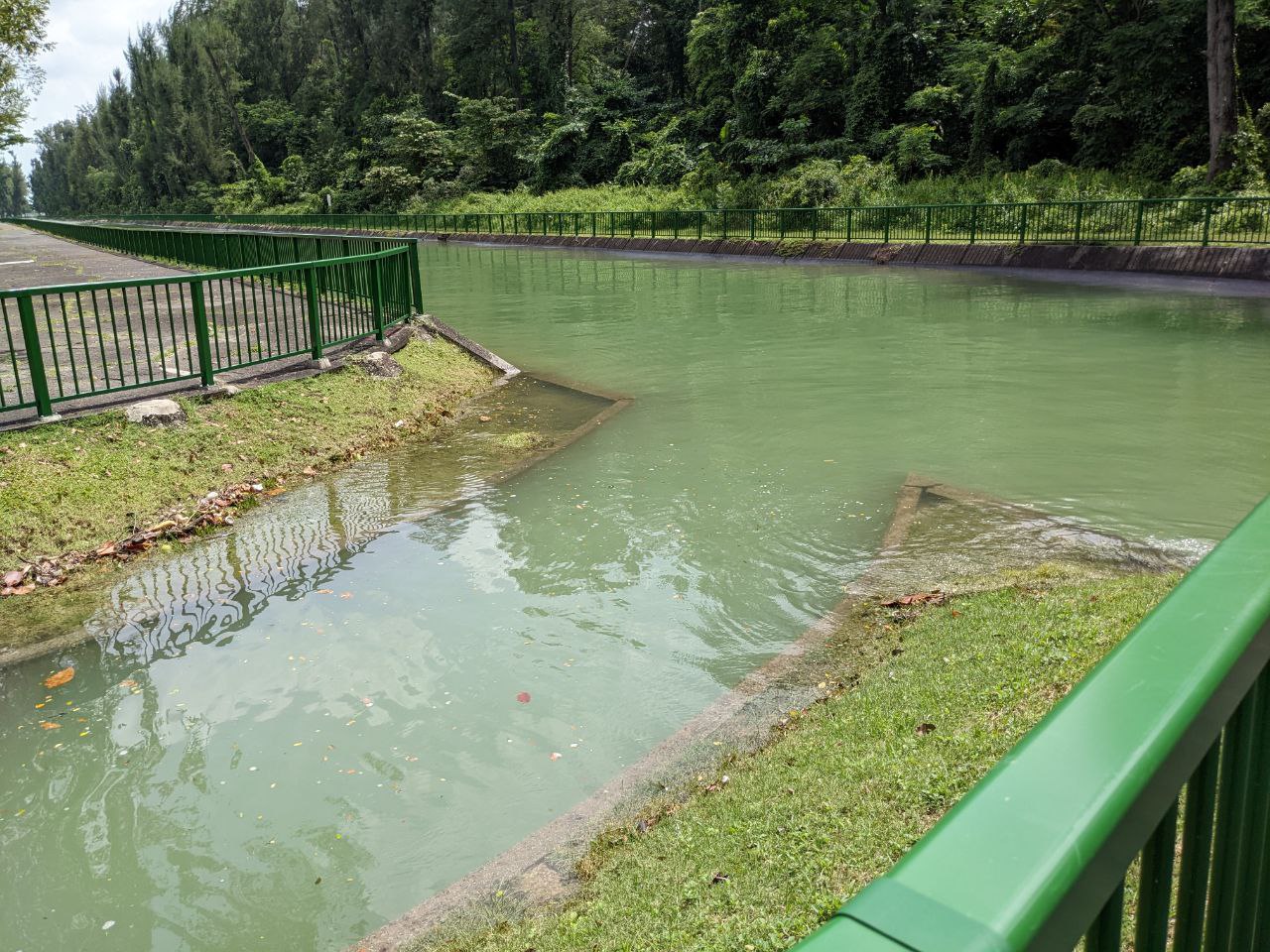 "Exceptional high tides" naturally occur 1-2 times a year: PUB
Responding to queries from Mothership, a PUB spokesperson shared that "a higher-than-normal" high tide of 3.4m set in Singapore's Southern Coast areas at around 1pm on Jan. 25.
"As a result, the outlet drain at Tanjong Katong Road South within East Coast Park experienced high water levels, causing seawater to overflow to the surrounding areas", the spokesperson added.
The PUB spokesperson also explained that such "exceptional high tides" are caused by a natural phenomena called "spring tides":
Such exceptional high tides, known as "spring tides", are a natural occurrence. This may occur once or twice a year (usually during the Jan/Feb period), when the Sun, Moon and Earth are aligned, resulting in the gravitational pull of the Sun to be added to that of the Moon's. Based on historical tidal data over the last 10 years, a 3.4m tide level in our southern coast was also observed during the Jan/Feb period in 2014, 2015, 2018 and 2019.  
Second video which showed high water levels
In a separate video shared by a Mothership reader, the shoreline at a park appear to have risen all the way inland, close to the park walkways.
The timestamp visible in the video indicates that the footage was shot on Jan. 25 at around 1:34pm.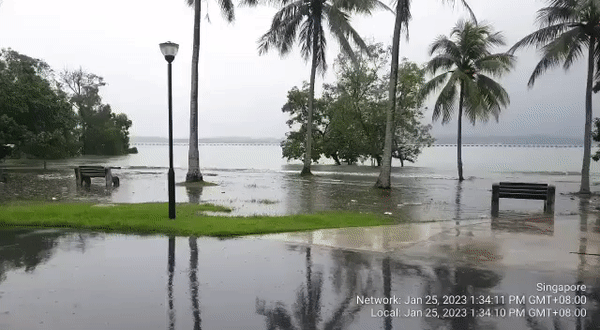 A cluster of park benches can be seen sitting atop a body of water that has pooled around them.
Waves repeatedly swept against the shore, near where the benches are located.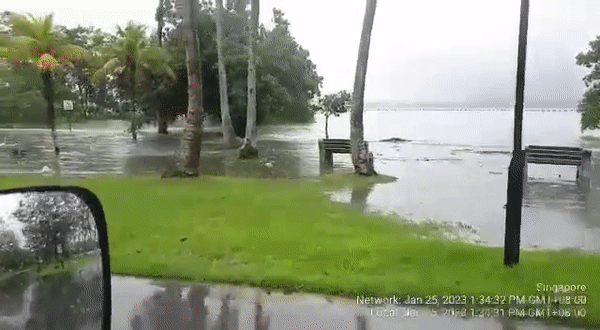 Mothership understands that the video was taken in Pasir Ris Park.
Singapore sea levels 14cm higher than pre-1970 levels
Singapore is a low-lying nation, where 30 per cent of its land sits less than five metres above the mean sea level.
Much of the nation sits just 15 metres above the mean sea level.
This makes it coastline susceptible to sea level rise caused by the effects of climate change.
According to PUB, mean sea levels are rising at around three millimetres to four millimetres per year.
In Singapore, sea levels could rise by a metre by 2100.
However, this number could go as high as four to five metres if we compound the effects of other weather phenomena such as tidal activity, storm surges, and land subsistence.
The 2019 MSS climate report pointed out that mean sea levels around Singapore is 14cm higher compared to pre-1970 levels.
Coastal protection measures in the works
In 2021, PUB, the agency in charge of protection Singapore's coastline, announced that work has begun on a modelling system that will aid in predicting how sea level rise and heavier rain will affect Singapore.
It is being developed by PUB alongside the National University of Singapore and Hydroinformatics Institute, a water management solutions provider.
According to The Straits Times (ST), the S$13.4 million system will simulate and evaluate coastal and inland flood risks separately or together when operational.
The information will help PUB pre-empt steps to mitigate these risks.
PUB is also undertaking site-specific studies in different coastal areas of Singapore in order to formulate appropriate coastal protection measures.
The studies will include a literature review of coastal protection strategies adopted globally, data collection and formulation of adaptation measures and pathways.
The study on the City-East Coast area began in 2021, and will take four years to complete.
This area stretches from Greater Southern Waterfront through to Marina Bay and Changi.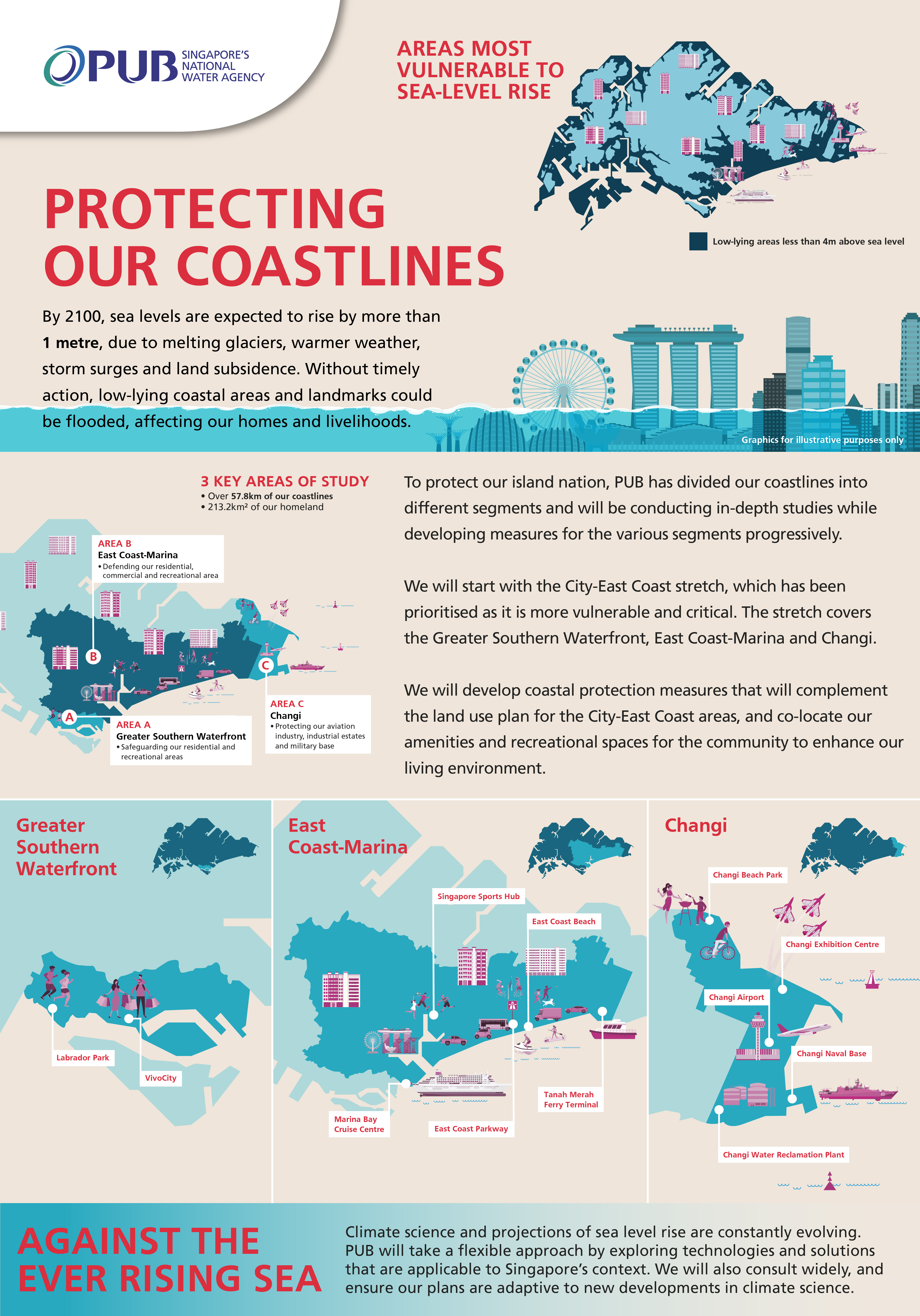 Similar studies on Jurong Island and the north-west coast, which includes areas like Sungei Buloh Wetland Reserve, began in 2022.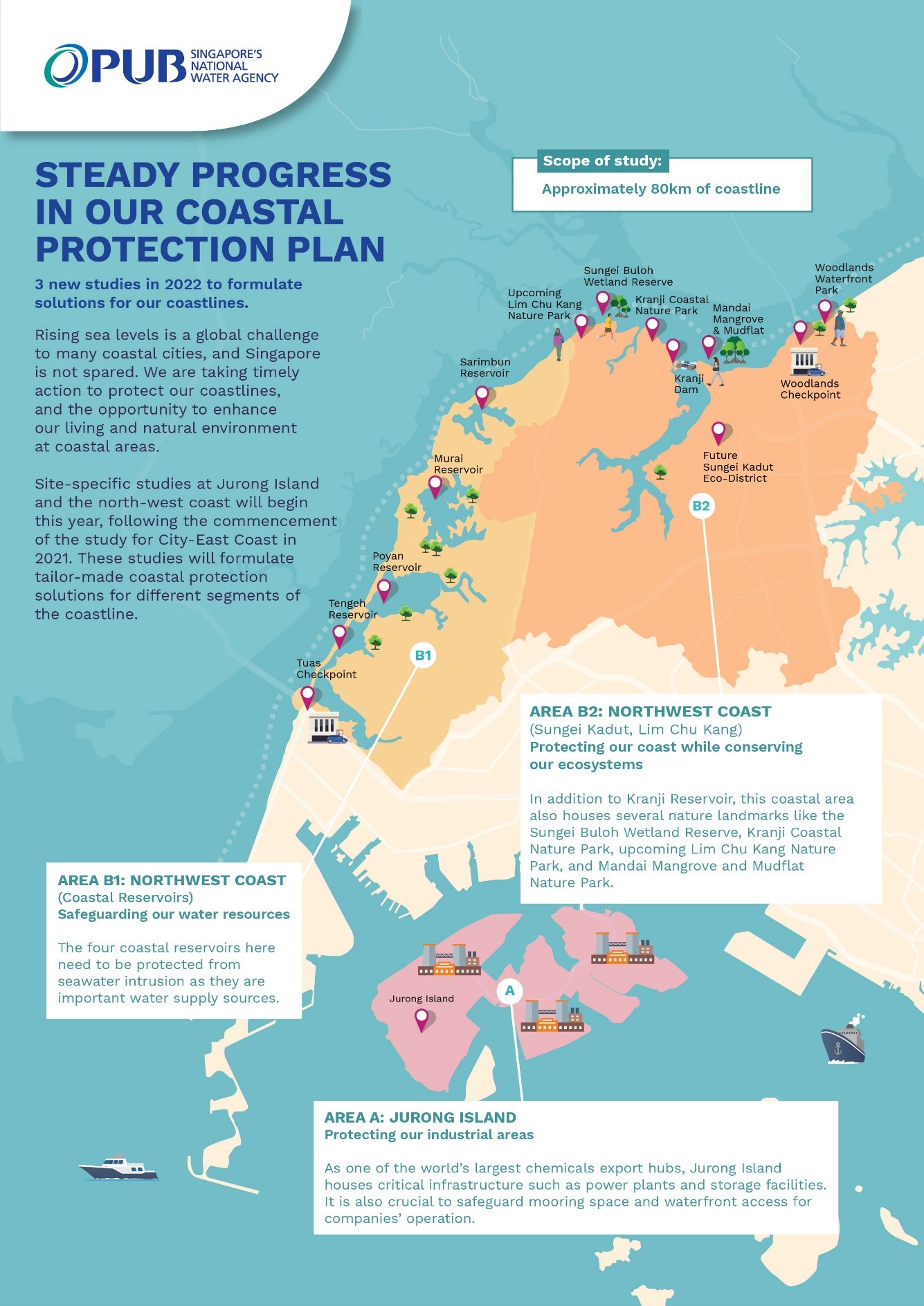 Top image via @tsubiri/TikTok, Mothership reader
If you like what you read, follow us on Facebook, Instagram, Twitter and Telegram to get the latest updates.